Sales Opportunity Stages: Do you know the basics?
Sales can be unpredictable because leads arrive from existing client referrals or various marketing campaigns.
Then, through a series of conversations, prospects may convert into paying customers. But, sales don't come naturally to all businesses, and the process might be unstructured and haphazard. To overcome this, companies need to develop and assess their sales pipeline.
By reading this post, you will be happy to know which sales opportunity stages bring you the most potential to make sales.
What is a sales pipeline?
For the uninitiated, a sales pipeline refers to summarizing all the upcoming and available sales opportunities. It is a visual representation that helps managers and the sales team ascertain the revenue they will generate and the bottlenecks in their sales funnel.
In addition, building a well-researched sales pipeline helps managers develop a more structured and disciplined approach to sales, which makes it easier to achieve larger business goals and needs.
By creating a sales pipeline using a readymade sales pipeline template, business owners can delve deeper into the data and discover the following insights about the best sales opportunity stages.
Sales opportunity stages
Expected revenue and cash flow: All your leads will not convert into opportunities won, but some of them will. Knowing that managers can forecast sales to help plan human resources and budget. It also makes it easier to adjust sales targets according to the performance of the current sales funnel.
Identifying resource gaps and overallocation: Within the sales pipeline, you might notice your sales team focusing on leads who might never convert while they're unintentionally neglecting those who are eager to purchase your goods or services. This data will help managers better utilize the sales team to drive long-term results.
Length of the sales cycle: It may take a few weeks to months to close a deal. You can use your sales pipeline to understand how long your team typically takes to move leads from the top of the funnel through to the sale. In other words, sales opportunity stages vary in duration.
Overcome hindrances and bottlenecks: Creating a sales pipeline will give you an idea of the hindrances and bottlenecks you need to overcome. For instance, you may find that the proposal stage is delaying the sales process by a few days or weeks due to the need for bespoke (custom) quotes. You can use this information to search for solutions that can automate the process of producing project estimates.
Shortage of sales representative skills and success: A promising sales pipeline offers insight into which of your salespeople closes most of the sales, needs help and training, and has the highest ticket value. Armed with this information, you can provide your sales team the assistance they need to boost their performance.
Editor's Note:
A Princess Cruises employee closed many sales and expected to be promoted to someone who trains the other employees to close sales. When the promotion never came, an inquiry as to the reason revealed the employee had such a high close ratio, the powers that be wanted to keep the employee on the phones where more sales could be made.
Next, let's take a look at the critical stages of a sales pipeline so that you can start building a sales pipeline for your business.
Stages of a sales pipeline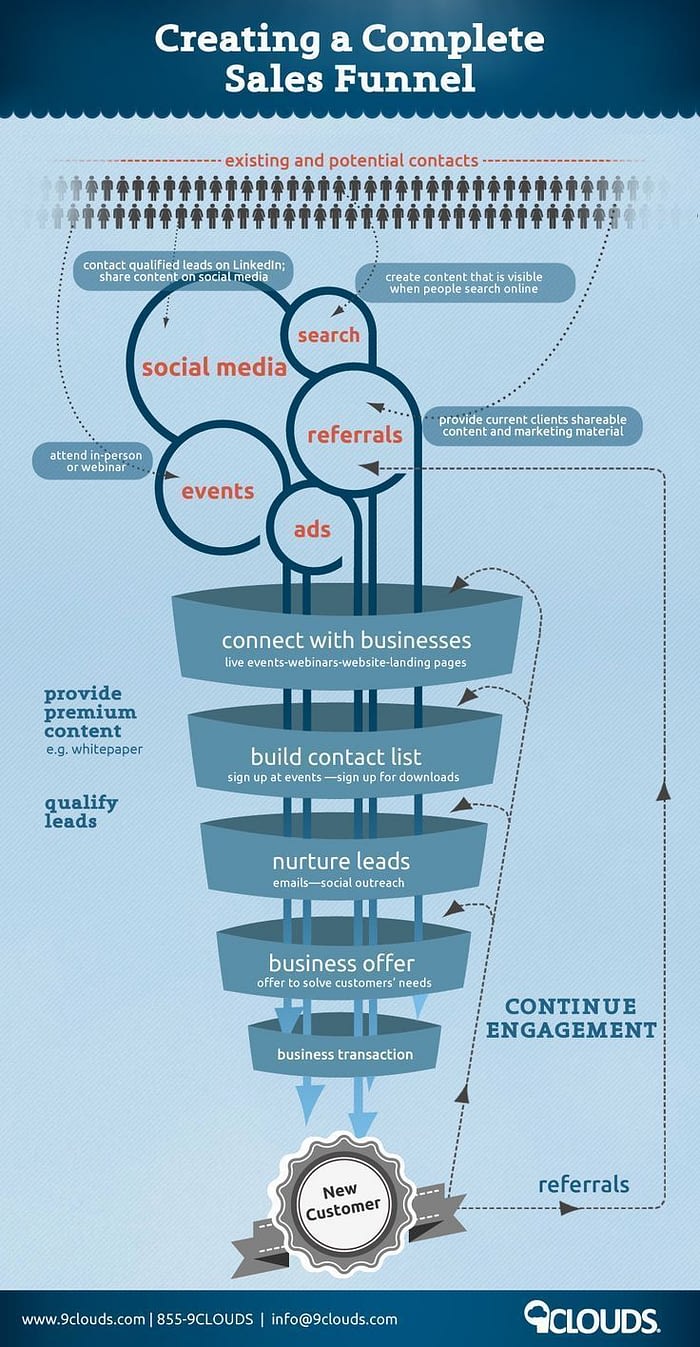 This infographic shows the viable sales opportunity stages.
Generating leads
The first stage is lead generation, where sales and marketing teams need to work together. The infographic shows sales opportunity stages where leads are generated: on social media and at events. Also, leads are generated through referrals and advertising.
When a new lead is identified for the pipeline, their contact information must be recorded. The collection of this information can automatically trigger an opportunity record, which your sales team can use as a reference throughout the sales process. In addition, it can be used to access contact information and move the lead from one stage to the next in a sales pipeline.
Prospecting
At this stage, it is time for your sales team to do some cold outreach and build long-lasting relationships. Also, your sales team needs to carry out preliminary research in this stage to ensure that the leads fit the buyer persona of your solution. 
Lead qualification
Once your sales team has found the prospects who qualify for the product or services your company is offering, the next stage is to ask several questions to understand the budget, needs, and authority in the prospect's buying process. If the prospect doesn't meet your requirement, there's no need to take the person through to the next level. So, this stage is all about determining whether your leads are genuinely good to buy.
Scheduling a meeting or demo
Now that your leads have qualified and are interested in knowing more about your products or services, you need to schedule a meeting or demo to introduce prospects to your solutions and offerings. If, after talking to your prospects and telling them about your product or service, you feel they're ready to be converted to an actual customer, move them along to the next stage. This is one of the most important of the sales opportunity stages since your lead is moving closer to purchasing.
Submitting a proposal
The next stage is drafting a proposal and submitting it to your prospects. It involves summarizing how your company can help address the needs of your prospects, demonstrating how the prices proposed to deliver value and outlining the competitive advantages of your products or services.
At this stage, you need to set a fixed timeline for following up with the prospects at a reasonable time interval so that the deal can be finalized. People get busy and a follow-up is often necessary.
Let's explore the remaining two sales opportunity stages.
Negotiating over the deal
Getting approval on your first proposal is rare, but you will get a lot of questions from the prospects before they decide to sign a contract with your company or purchase what you are offering. The negotiation stage is where you will discuss shrinking or expanding the scope of work, adjust pricing and manage expectations. Finally, you will arrive at a mutually beneficial partnership.
Closure
Once the deal is final, it gets moved to the closure stage. Having won the contract, you need to start the onboarding process for your client and ensure it is hassle-free and smooth. Also, it is crucial to remember that efforts don't stop after the contract has been signed. It would help if you came up with ways to keep your clients and customers happy so that you can retain them.
However, it is essential to note here that not every deal will be fulfilled. You might lose a few deals, and it is vital to keep track of the lost deals. Analyze the hidden trends in the lost deals so that you can turn the table around and win the deal next time.
Sales Opportunity Stages FAQ
What is the sales opportunity process?
The sales opportunity process can be compared to a funnel. A funnel starts wide at the top. Many people might enter your funnel who express interest in your product or sales. As they go through the funnel, they get closer to purchasing. Therefore, fewer people go through all the sales opportunity stages than begin the process.
Wrapping Up: Sales Opportunity Stages
So, these are the seven stages of a sales pipeline. In between the stages, sales leaders can come up with better ways to enhance customer engagement.
This post explained the various sales opportunity stages so you know which of the stages you have the best chances of making a sale.
Readers, please share so marketers know the seven sales opportunity stages. This way they will know when they have the best chance of turning leads into customers.
Authors: Janice Wald and a Contributing Author

Janice Wald is the founder of MostlyBlogging.com and co-founder of the Mostly Blogging Academy. She is an ebook author, blogger, blogging coach, blogging judge, freelance writer, and speaker. She won the Best Internet Marketer Award and the Best Blogger Award at the 2021 Infinity Blog Awards. Wald was also nominated as 2019 Best Internet Marketer by the Infinity Blog Awards and in 2017 as the Most Informative Blogger by the London Bloggers Bash. She's been featured on Small Business Trends, the Huffington Post, and Lifehack.
This post was made possible by the support of our readers.