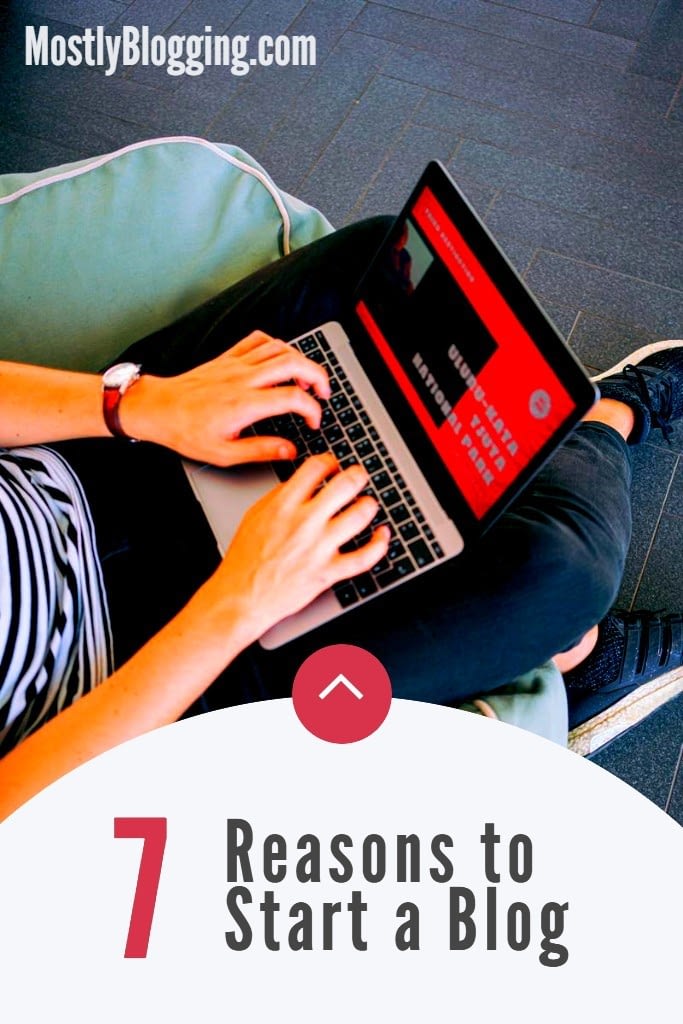 Do you know compelling reasons to start a blog?
There are many important reasons to start a blog:
Improve your writing.
Become more disciplined.
Solve people's problems (pain points).
Blog for happiness.
By reading this article, you'll learn 7 important reasons to start a blog.
They are important reasons since you improve yourself as well as other people when you start a blog.
This guide shares the positive effects of blogging on student bloggers, other bloggers, and blog readers.
Let's get started and learn reasons to start a blog that include helping yourself and others.
Reasons Why Blogging Improves Your Writing
Currently, there are over 600 million blogs on the internet, and the number is constantly growing. There are over 30 million active bloggers in the United States, who are monthly sharing their experiences, opinions, and ideas on different topics.
Blogs can be created on any kind of topic, and you will find blogs on topics such as graphic design, movie reviews, photography tips, parenting, and many more.
The number of bloggers and blogs will likely rise tremendously after 2020 when people found themselves in gloomy and joyless moments. Finding a new hobby, keeping a journal, or just trying to monetize blogging are just a few of the actions that many people took this last year.
However, being a blogger is a true passion for many of them, especially for students who are now facing a lot of challenges. Writing blog posts can indeed be more pleasurable for many students and it also comes with a lot of benefits.
So, even though some students might think that by having a blog they will fall behind deadlines or not even manage to begin their dissertation writing, this is not true.
Blogging can indeed help you improve your dissertation writing skills, even though you write on topics not relevant to your dissertation topic.
Which are the reasons your writing skills will be improved by your blogging?
Discover these reasons to start a blog and more below.
1. Writing Will Become a Habit And You Won't Have to Outsource
When you first begin writing, it may be challenging. You have so many ideas going in through your head, but when you write them down, they might not seem as powerful as you imagined them to be. Writing improves with practice, and blogging helps many people improve their writing skills.
Blogging is usually about writing shorter pieces of text. But blogging is usually done daily or at least weekly, as this is one way that helps bloggers relieve emotions and express opinions depending on the blogging niche. Blogging is a passion that helps many people make writing a habit.
Although in most cases blogs are not related to the topic of your niche, it helps you form a new habit. Becoming a better blogger comes with writing and a lot of practice.
Let's look at the effect of blogging on students:
Many students who are not blogging decide to buy dissertation at affordable rates to meet their deadlines and dissertation requirements. But if you already write as a habit, it will be easier and less challenging to start writing your dissertation.
2. Blogging Allows For Experimentation
Usually, there are some requirements you need to follow when writing. You need to have a structure, use the right formatting, and many other guidelines. While these can help you give structure to your writing, they can restrict your creativity.
Blogging allows you to experiment with many types of texts, formats, structure, and so on. You do not need to follow any requirements and guidelines, so all you have to do is to unleash your creativity and let your ideas pour on paper. Only by experimenting you can find your unique style, which you can show in your writing.
3. Blogging Comes With Feedback
Many theories suggest that a piece of text becomes real only if it has at least one reader, except the writer.
There are two types of blogs: private and public blogs. While some bloggers feel some pieces of text should be private and not read by anyone, others want to publicly express their ideas and share their experiences.
If you publish your pieces of text, you will reach a certain audience. Some people from your audience will engage with your content, leave comments, answer your calls to action, share it on their blogs or social media profiles, and so on.
If you choose to make your blog posts public, you will find out if your content is good or bad. This is feedback and it is a nice and fast way to improve your writing.
4. Blogging Keeps You Motivated
When talking about writing, many bloggers think that the only skills they need to complete are writing skills. But this is not entirely true. While writing skills can indeed help you create a compelling, powerful, and relevant blog post, motivation, productivity, time, and research can help you create the best article.
Blogging keeps you motivated. As you know readers are expecting another blog post to indulge their reading pleasure. And this can be the source of motivation you need when writing your blog post as this process often turns into a frustrating and demotivating one.
As a result of being a blogger, you become more disciplined. Since you become better at managing tasks, you become more organized and productive as well.
5. Blogging Improves Your Writing
Practice makes it perfect and blogging helps students improve their writing skills. Blogging helps you logically express your ideas, use the right words to describe specific feelings and emotions, and enrich your vocabulary.
Structure, vocabulary, perfect grammar, and spelling are just a few of the things you should take care of when writing your blog post.
By constantly writing blog posts, you perfect all these, even though this process is not one that you are aware of. It comes with practice and time, but if you read your first and last blog post, you will surely notice an improvement.
More Reasons to Start a Blog
6. Solve People's Problems
Blogging isn't all about self-improvement. Blog posts help people solve problems.
According to data, Google receives 3.8 million searches each minute as people look for information about ways they can solve their problems (called "pain points"). The technique of helping blog readers solve problems is called "Sticky Blogging."
This is the reason so many blog title builders start with "How to…" This is what people search at Google.
Listicles do well as blog posts too. Headlines starting with numbers are the second most popular blog post titles. Often you will see blog post headlines resembling "6 Ways to…"
7. Blogging for Happiness
Self-improvement and sharing information are not the only reasons to start a blog.
For instance, many people are blogging for happiness.
If you go to sites like SelfGrowth.com, you'll see many bloggers blogging for happiness.
In fact, I have been blogging for happiness at SelfGrowth.com. Feel free to check out my article about how to stop being lonely.
I have also been blogging for happiness on my own site.
For instance, during the holidays 2019, I shared a list of good vibes quotes.
During 2020, I interviewed experts who helped me compile a list of reminders that you matter.
I also interviewed people determined to cheer people up when the lockdown started. All of them used their Facebook status to brighten people's days.
Conclusion: Reasons to Start a Blog
Blogging is a hobby for many people nowadays. Through blogging, they can share their experiences and opinions on some topics but also improve their writing skills.
Even though it seems more like an irrelevant experience, blogging helps students as well as other bloggers. For instance, blogging keeps students motivated, comes with the perfect environment for experimentation, and expands students' vocabulary.
If done consistently, writing will become a habit and practice will make it perfect.
Author Bio: Michael Turner is a dissertation writer and blogger who loves sharing writing tips and tricks. He also loves traveling and photography, so he has created his own traveling blog. Michael's goal is to become a nomad and travel the world.
In closing, this post shared compelling reasons to start a blog.
Important note: You don't even need to blog on your own website to experience these benefits. You can blog at LinkedIn, Medium, or Steemit, just to name a few sites where you can blog. Here is more information about Steemit.
Did you notice none of the reasons to start a blog included monetization? Making money should be the frosting on the cake, not your main motivation for blogging.
Takeaways
This post shared
the two types of blogs: public blogs and private blogs.
how blogging helps students.
how blogging helps other bloggers.
how blogging helps your readers.
Readers, please share so people considering blogging discover these important reasons to start a blog.
I look forward to your views in the comments section. Can you share any additional reasons to start a blog? Why did you start?
This post was made possible by the support of our readers.