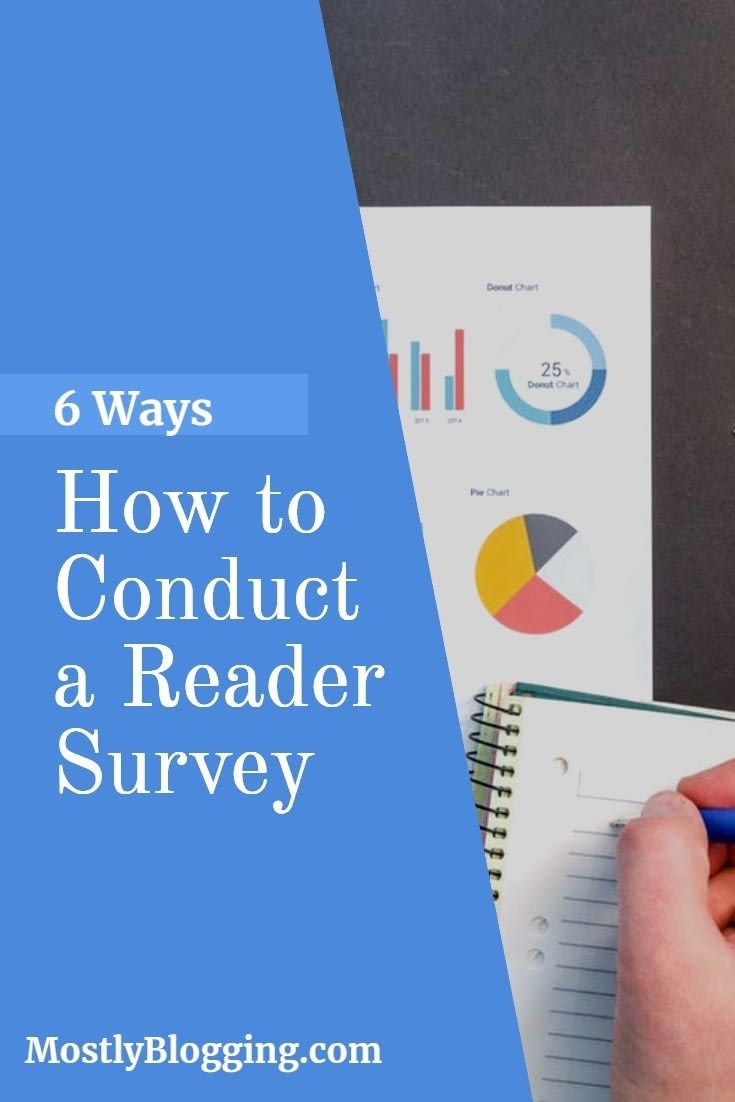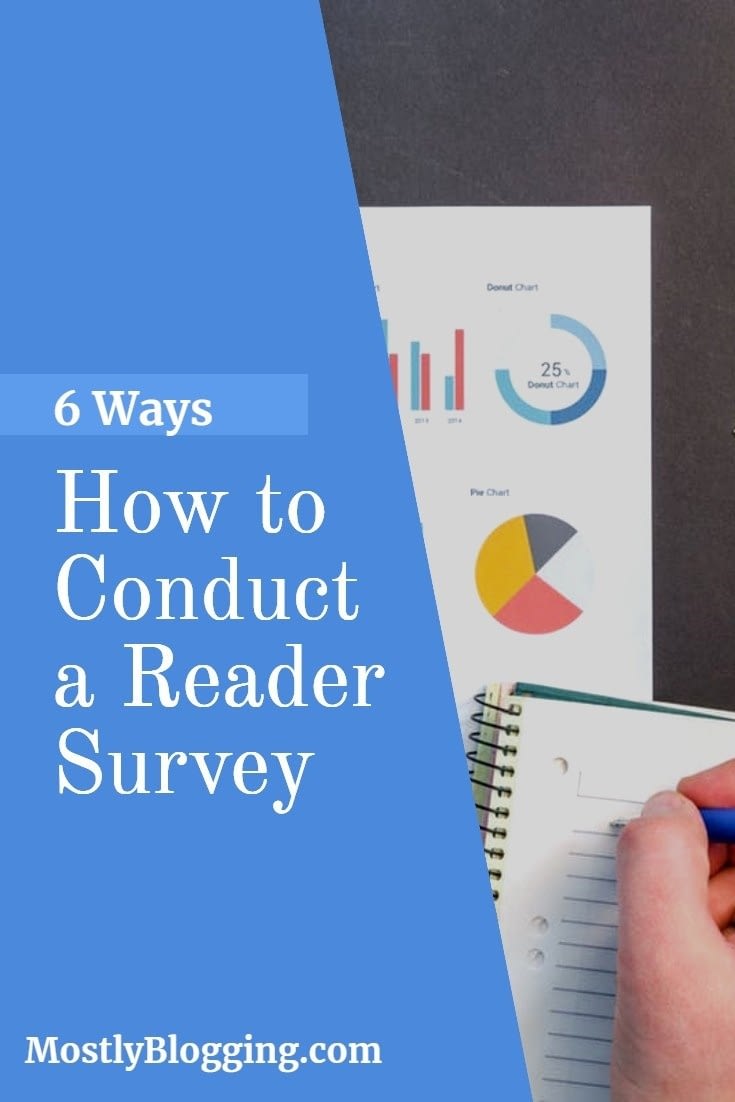 Janice Wald
Reader survey.
Could you use one?
I assume that's why you are here.
Use a reader survey and experience the benefits:
Traffic.
Income.
Brand Recognition.
How do you get all those seemingly elusive blogging goals?
Not so elusive at all.
You succeed in blogging by giving your readers and potential customers what they want. 
That is Basic Blogging 101. 
The problem is you don't know what your readers want. 
Are you supposed to be a mind reader to succeed in the blogging world?
No!
The ways to discover what you could give your readers that would make them so happy they'd give you return visits to your site, their hard-earned money and social shares are simple: 
Ask them.
This post will explain how to use survey companies to survey your readers for free. 
By the end of this post, you'll know why you should use an internet survey, which survey companies to use, how to survey your readers, and which surveys or polls you should conduct that could result in income for you.
The result: Everyone is happy. Reader experience is better since you gave your readers what they wanted. Your experience is better too knowing you made your readers happy.
As a blogger, your goal should be to please your overall blog population. You can do that by conducting an internet survey.
This post will explain the difference between a poll and a survey and describe the following free internet survey tools:
Instagram Polls
Twitter Polls
Survey Monkey
Facebook Polls
Google Forms
MeWe Polls 
This post will end with ways you can use polls or surveys to make money and a bonus tip. 
Let's get started and see how to make a reader survey.
Why You Need a Reader Survey
Consider these comments:
In a recent Twitter Chat about blogging hosted by SEMRush, people wrote in that they get to know their audience better when they use an internet survey.
"[A reader survey] helps us create the best potential customer profile picture so we may market to readers more effectively."
"Audience will shape the tone, content, pitch, perspective, length, and purpose of an article or blog. That's why it's important to know the audience."
"Focus on who is engaging with you!  Get to know their habits and what they need from you. Send out some surveys and get them involved."
From Gaurav Kumar:
The easiest way to convince the customer is to offer the same thing he wants to buy.
But, how do you know what your customer wants?
The easiest way is to analyze customer behavior.
How can you analyze customer behavior?
That's where surveys come in.
Conducting surveys gives you important insight into the minds of your readers by providing data to you. You need this clarity to make decisions such as content planning and marketing. For example, when I decided to publish my first ebook, I didn't know what to make the book about, blogging tips or social media tips. Do you know how I decided? I asked my readers using Survey Monkey.
These survey companies don't charge for using their tools. These are free tips. 
Answering one question is quick and easy. Your readers are more inclined to help you since they know they will only be asked one question. Answering one question takes little time. 
You might need to survey other bloggers.  For example, I recommend you conduct expert interviews. They're great traffic and social share generators. If you do conduct an expert interview, you will need a way to survey the experts participating in your interview. 
There are other reasons to survey bloggers.  For example, Facebook group administrators survey bloggers in their groups about types of threads they'd like to see and the frequency of those threads.
Conducting surveys is free for you and quick for your readers. Sounds great. Let's keep going.
Which Internet Survey Will You Choose?
Poll vs Survey
Polls and surveys are not the same tools. People think they are synonymous, but the terms are not interchangeable. 
A poll relies on asking only one question. When you survey, you generally ask a series of questions. 
Many articles have been written about how to take paid online surveys. This post will explain how to use free tools provided by six survey companies to make polls or surveys. Some of the tools described here will explain how to make polls and some will explain how to make surveys. 
Instagram Polls
You should use Instagram polls for three reasons: To engage your followers, generate future Instagram followers, and make decisions regarding content planning. A poll is a feature of Instagram Stories.
Look: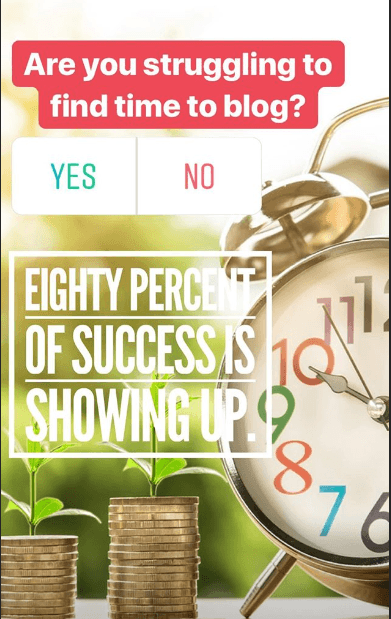 This poll helps me make future content planning decisions. For example, if I plan on publishing a productivity post in which I tell people how to save time blogging, but my audience feels they have enough blogging time, then no one will read my post.
Also, this poll engages my followers. How? If I am correct, my followers will be able to relate to the question and my poll will resonate with them.
Let's look at another example.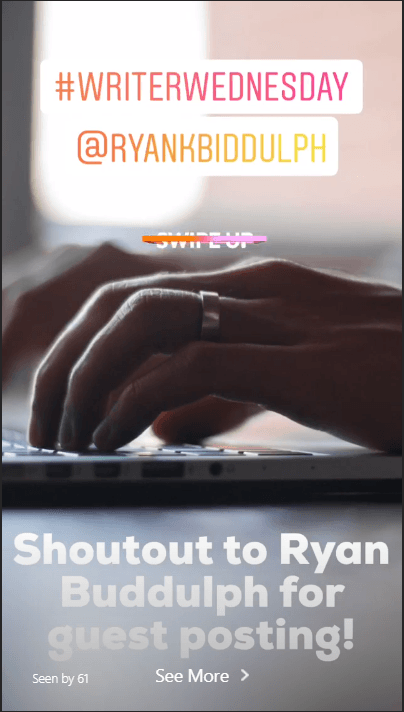 Clearly, this is not a poll. However, it varies from the Instagram Story above it. The second Instagram Story contains a hashtag. At the time of this writing, 22,343 posts have the hashtag #WriterWednesday. People follow hashtags on Instagram. If someone is following the #WriterWednesday hashtag, they'd see my content. As you see, this Story extended my reach; 61 people viewed my hashtag.
Did you notice the Swipe Up GIF? This Story contained a link to my post. Therefore, the hashtag had the potential to generate traffic and new followers. You can and should put a hashtag on your Instagram Poll.
First, you make your Instagram Story. Then, you click the GIF icon to add the hashtag and the poll.
Many free tools are available for you to make your Instagram Stories. They can also be resized for Instagram posts.
Your Instagram Poll will only last for 24 hours unless you add it to your Instagram Highlights. The reason: You can only add Instagram polls in Stories and Stories only last 24 hours unless you add them to your Highlights.
Update June 2020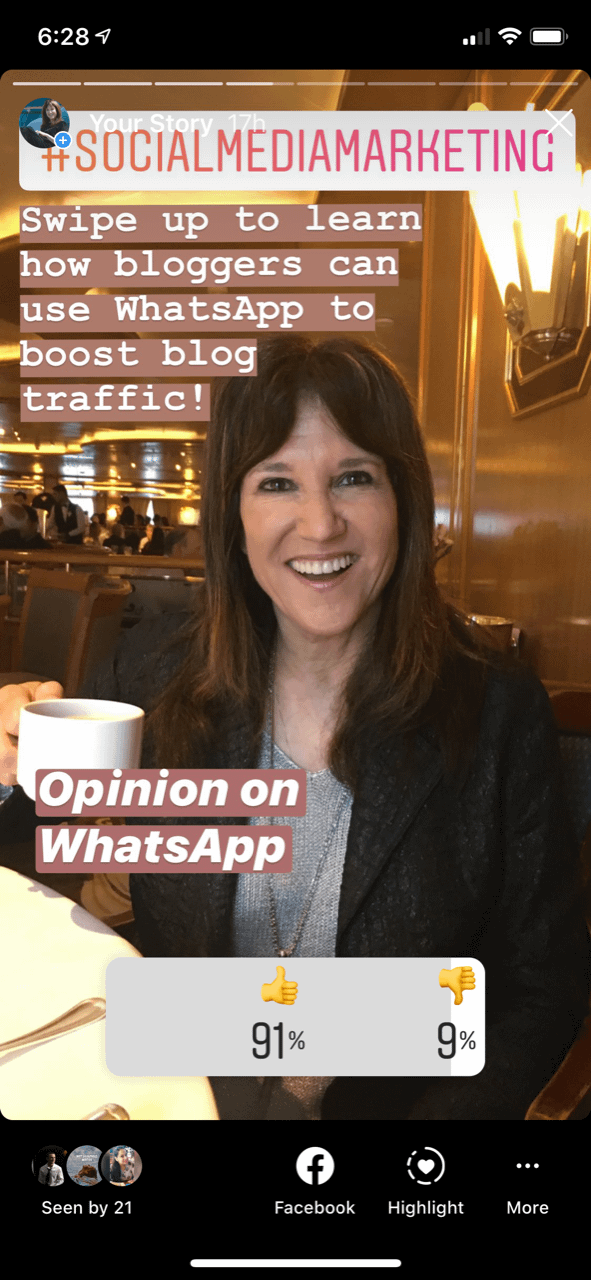 This is my most recent example of using an Instagram poll. 
I used this poll to engage my readers. Once engaged, they'd be more likely to click the link to my WhatsApp review resulting in traffic for me. You get a Swipe Up link when you have more than 10,000 Instagram followers. 
Twitter Polls
Like Instagram polls, Twitter polls also only last 24 hours.
Blogger Gary Jefferies and I used Twitter polls for our study about blogging seasons. We asked experience years vs. traffic.
Creating a Twitter poll is easy:
Go to Twitter.com and sign in to your account. Click tweet.
In your tweet, ask a question. Click Poll.
Type the 2 choices. Click tweet.
That's all there is to it.

I could have asked any question. My goal by asking this question was to engage my followers and use the answer for content planning. By asking for a retweet, I had the opportunity to generate and engage additional followers.
Twitter polls are considered so valuable, they were discussed in a recent #SEMRush Chat:
According to Christian Lowery @clowerycontent when discussing polls:
"Definitely not just to increase engagement, although that's a plus. I use them when I have a burning question that my peers can definitely help me answer. Obviously, some polls are just for fun, but most times they can give you really great insight when needed #semrushchat".
Christian continued:
"I have gotten such great feedback from my freelance/social media peers just by using Twitter polls. Plus, they're a fun way to increase your overall engagement!"
Survey Monkey
When you go to SurveyMonkey, you'll see the reasons you should conduct a reader survey: You can get feedback on a product or service idea before you waste your time and try to market your startup to people who may not be interested. It's true!
Go to SurveyMonkey.com and click Create Survey.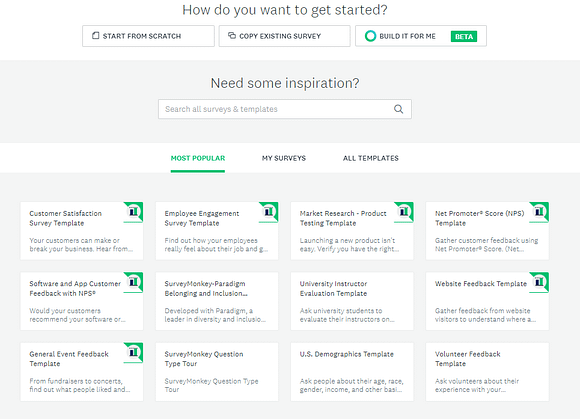 Look at the screenshot to see how easy using SurveyMonkey is. There are pre-made templates depending on the kind of poll you want.
You can search for templates, choose from the most popular templates, modify your existing survey templates, or choose from the templates at the bottom.
As you can see, SurveyMonkey has templates for all purposes. The tool has all-purpose formats as well. For example, you can include a multiple-choice survey.
Just follow the prompts. Since SurveyMonkey helps you make surveys instead of polls, you're not limited to just including one question in your reader survey.
When you're done, SurveyMonkey gives you a link to your survey.
SurveyMonkey allows you to embed the link in your blog posts and your Emails. Your email subscribers have already agreed to give you their email. They'd certainly agree to answer your survey. 
You can also put the links in Facebook groups. Put the link in Facebook groups, Twitter posts, and Instagram posts.  People love to help.
You don't have to restrict your use of SurveyMonkey to making a reader survey. SurveyMonkey can be used anytime you need to survey people. For example, my school administrator surveys teachers about their classroom needs using SurveyMonkey.
Facebook Polls
Go to Facebook.com. Make an account if needed. Click Create Post/Poll.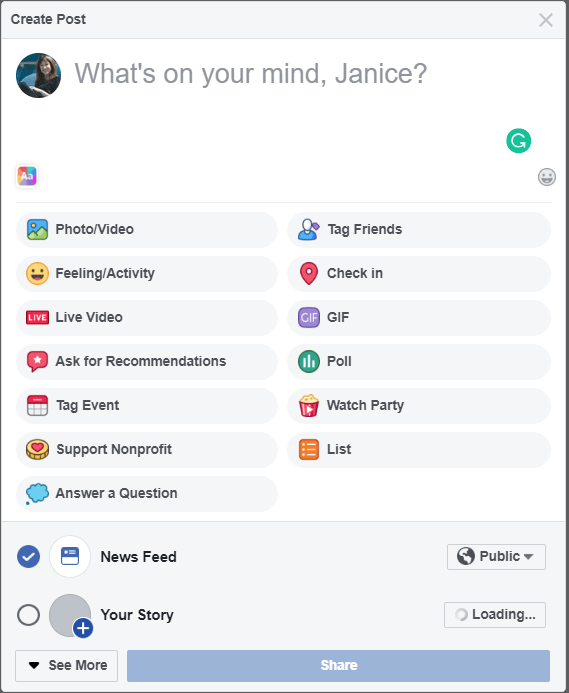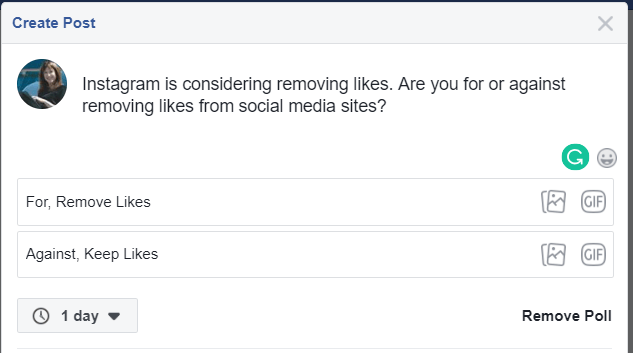 In order to get accurate data, I used the same wording as the Twitter poll.
Look at the dropdown. When you make a Facebook poll, you can keep the poll for 1 day, 1 week, or customize the time period. This is in contrast to a Twitter poll that only allows you to keep the poll on Twitter for 1 day and doesn't give you a choice.
Google Forms
Using Google Forms you can survey people in over 50 countries. Thanks to this international advantage, you can survey people in different countries to discover which country has people receptive to your new startup idea. 
I consider Google Forms so reliable, I use them when I conduct an expert interview. I make a survey and email the link to people I want to participate in my interview. 
Google Forms lets me know who has and hasn't responded and asks if I want to resend the form to people I haven't heard back from. 
Go to https://docs.google.com/forms/u/0/. Click the large plus sign to create a new form. 
Google Forms saves the forms you used in the past so you don't have to recreate a form that worked for you. You can simply modify it for your new survey. 
MeWe Polls 
MeWe.com is a relatively new site. This new social media site began as a response to Facebook's and Google+'s data breaches. Mark Weinstein, MeWe's founder, has assured users your data is not for sale. The site's tagline is #Not4Sale. 
More information about MeWe can be found in MeWe review, a Facebook alternative. 
Go to MeWe.com. I like to post to individual groups. I clicked the name of the group I wanted to post to, I typed in the same message as on Twitter and Facebook to ensure accurate polling data, and then I clicked Poll. I added emojis and a hashtag.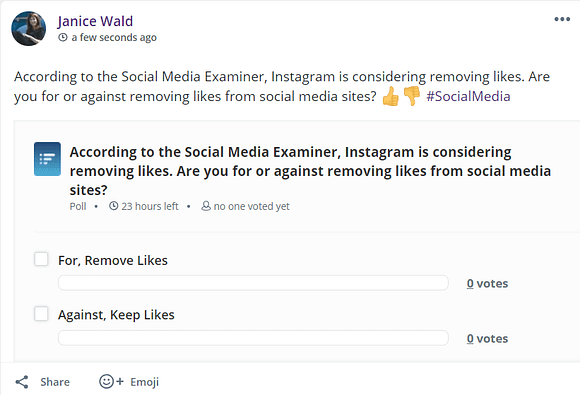 Bonus Tip: Virily Polls
You can also use the poll feature at Virily.com. 
Here is an example of a general poll for Virily members conducted by Virily member Norman Darlington.
[For more information about how to use Virily, see How to Make Money from Virily and 6 More Revenue Sharing Sites.]
How to Use an Internet Survey or Poll to Make Money
These are the ways I made money using polls and surveys:
SurveyMonkey: As explained, I used SurveyMonkey to question my subscribers about the kind of ebook they'd like to see me publish. They already had an investment; they chose the topic. I didn't waste my time, and my reader survey still results in profits for me today. My subscribers continue to buy my book.
Instagram: Since Instagram Stories allows me a Swipe Up link due to having over 10,000 followers, I am able to Swipe Up to the link to my ebooks sold on Amazon.com. I've marketed my ebooks this way. You can use Instagram Stories to make a poll. If you have over 10,000 followers, you can use a Swipe Up link to where they can buy. If you don't, you can use a live link in an IGTV (InstagramTelevision). More information about Instagram Marketing can be found here: 89 Instagram Secrets You Need to Know and here Monetizing Instagram. 
Reader Survey Strategy 
Although I asked the same question at all the social media sites, you are free to ask different questions at different sites. 
Also, everyone is busy, so let people know it won't take them very long to take your poll. When I polled my readers about an Ebook they'd like to see me write, I was quick to let them know it was only one question long.
When you put your SurveyMonkey link or your Google Form link in your email, you might put the following in your subject line: "Quick Question." I find I get the best response that way. 
Takeaways: Reader Survey 
In closing, user feedback is important. You can get that feedback by making a reader survey. 
You'll save time by having insight before you make and market your product or service or design your content, and your readers will be happy knowing their opinions mattered to you and were taken into consideration. 
Readers, please share so bloggers learn the value of conducting a reader survey for both themselves and their readers. 
I look forward to your views in the comments section. Did I miss any? Are there any other tools for making a reader survey you can recommend?