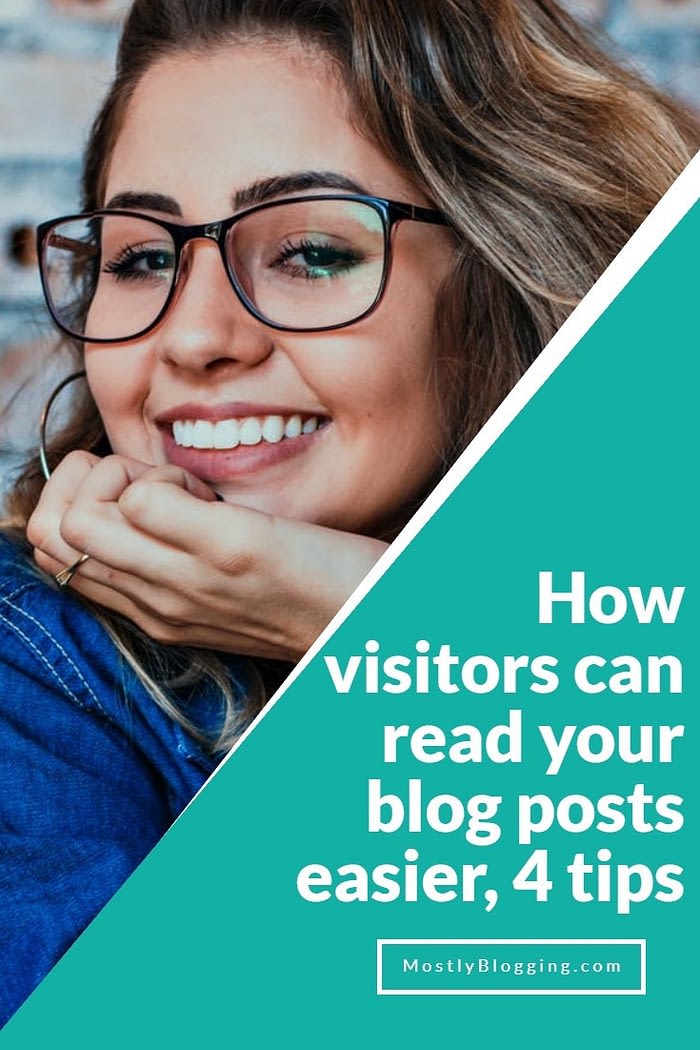 How to Improve the Readability of a Blog Post
Do you check readability statistics?
Not all blog posts are created equal.
While a high-quality blog post can generate lots of meaningful traffic for a growing business's website, poorly written blog posts can have a severely detrimental effect. Indeed, bad blogs that confuse or irritate readers can damage a business's brand and reputation.
With that in mind, today we're going to focus on a key aspect of blogging success: readability.
No matter how complex your subject matter is, it's imperative that your blog conveys information in a straightforward, easy-to-understand manner.
These four tips will help you do just that. Be sure to stay to the end to receive bonus tips about readability statistics.
Let's dive in and learn how we can use readability statistics to have blog posts that result in such happy visitors they lead to return traffic, signups, and social shares.
Define Your Terms
Have you ever read an article that contained all sorts of words, phrases, or acronyms that you weren't familiar with?
If so, then you know just how frustrating it can be to look up these terms. Rather than sending your readers on a wild goose chase, copywriters must remember to define all relevant terms in their content. Remember, just because you're well-versed in a particular topic, it doesn't mean your readers will be.
Note: I actually published a list of blogging terms and definitions since I publish blogging tips. I want people to understand my posts. I thought a blogging terms glossary would help.
This clarity is especially important for an eCommerce copywriter since sales may depend on how well consumers understand your writing.
Keep it Simple
The best business writing is often the simplest. Inexperienced copywriters may feel tempted to write long-winded introductions or to use unnecessary modifiers within their sentences. Resist these urges. Instead, write in active voice, keep adverb use to a minimum, and avoid misleading or ambiguous language like idioms.
Ask yourself, "Why do we use idioms" before deciding to use these cultural expressions knowing you are risking making the reading level of your post more difficult.
The more precise and simple your writing is, the easier it will be for readers to absorb.
Use a Reading Level Test
There are many free reading level tests you can use to ensure your blog post is not too difficult to understand.
Flesch
In the past, I use Flesch, a popular reading score checker. Yoast, a free SEO tool, determines the readability of your blog post.
Flesch uses two types of readability statistics: Flesch considers the number of words in your sentences in order to determine the average length and the average number of syllables per word.
Keep your writing simple. Writing a blog post is not the time to display your knowledge of multi-syllable vocabulary words. Keep your ego out of blog post writing.
If you find yourself unable to stop yourself from flaunting your vocabulary while you are writing, use readability statistics to keep your decisions objective.
Fry
Fry's Readability Tool is also an option. Fry's calculator uses readability statistics to determine the reading level of the writing.
Edward Fry developed the Fry Graph Readability Formula.
This is a free tool. All you do is copy your blog post and paste the writing into the tool. Fry's readability statistics will take over and tell you the reading level of your writing.
The Fry readability statistics calculate the number of sentences, words, syllables, and characters in your sample.
Look: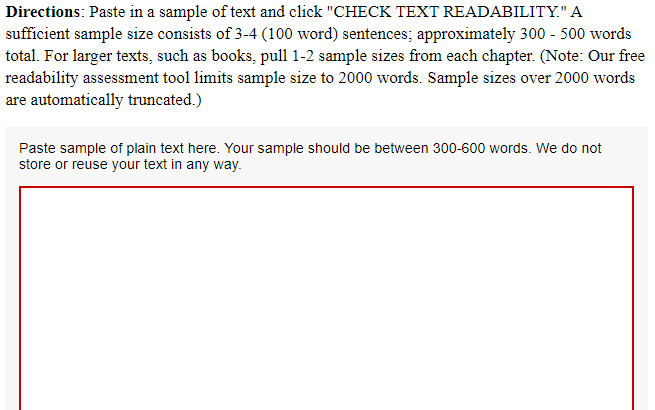 This readability tool explains you don't need to paste too much of your writing for the readability statistics to tell you your reading level. Between 300 and 500 words is fine.
Steps for using Fry's readability statistics:
Step 1: Go to Fry's Readability Tool.
Step 2: Paste a sample of your blog post.
Step 3: At the Security Check, click "Yes" when asked if you are a human.
Step 4: Click Check Text Readability.
You will get two results that plot your readability statistics on graphs.
You can choose to see the Fry Graph or the Raygor Graph.
Bookmarklets
There are readability bookmarklets you can use to determine the reading level of any website.
Readability is an example of a Chrome extension you can use. The extension is also available for Firefox.
Use Visual Aids
To lean on the cliche, a picture really can be worth a thousand words.
Occasionally, copywriters may not be able to explain how a product or service works without a visual aid.
So, for instance, if you're writing a blog about lab equipment, don't hesitate to include pictures of items like 1 ml serological pipettes to enhance the context of the piece.
Pictures, graphs, and videos not only add depth and meaning to your blog, but they also can serve to break up unseemingly text blocks on a web page too.
Stay on Subject
Blog readers do not have long attention spans. At best, a copywriter may hold the attention of a reader for a few minutes.
Given that fact, it's crucial for blog writers to stay on the subject at hand and to address the blog topic as quickly and efficiently as possible.
True, some blog subjects are very complex. You're unlikely to be able to cover everything there is to know about loyalty programs in 500 words or less, for example.
If you do decide to write a long blog post, though, be sure to clearly separate sections with large headers.
This way, readers will be able to read what interests them most and skip what doesn't apply to them. And the happier your readers are, the more successful your blog will eventually be.
Readability Statistics Bonus Tips
In order to have clear writing, you need to use transitional words and phrases. In order to have your writing flow, you need to avoid passive voice and write in an active voice.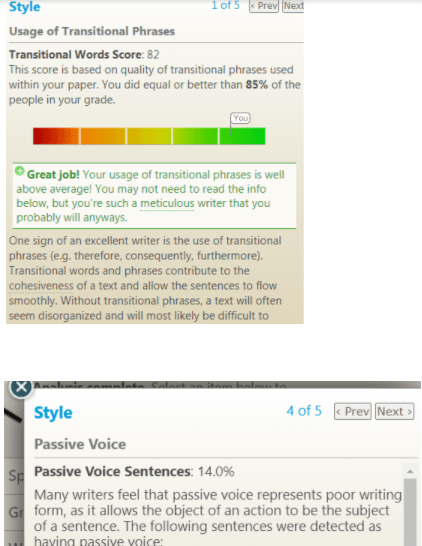 Readability Statistics: FAQ
How do you interpret readability statistics?
I don't interpret them. I let the free reading level tool makers like Flesch and Fry interpret the reading level of my writing.
What are good readability statistics?
I try to keep the reading level of my writing at seventh grade or below.
Wrapping Up: Readability Statistics
In closing, in 2021, Google will count user experience more than ever before. Therefore, if visitors can't understand your blog posts, they will leave your site, your bounce rate will worsen, and your SEO will fall.
This post explained how to improve the readability of a blog post:
Define your terms.
Keep your language and reading level simple even if you have to use readability statistics.
Use visual aids.
Stay on the topic.
Note: Even though these tips were written for bloggers, anyone can use these blog hacks to improve the readability of their writing.
Readers, please share so bloggers get used to being aware of readability statistics in order to make sure visitors can understand their writing. Happy visitors make for happy bloggers.
I look forward to your views in the comments section. Do you have any suggestions for improving the readability level of a blog post?
Author: Wahab Ullah Amjad
Related Reading:
If you are interested in improving your blog success with readability statistics, you might want to consider using a free CTR calculator. This helps you use statistics to boost your Click Through Rate.
This post was made possible by the support of our readers.