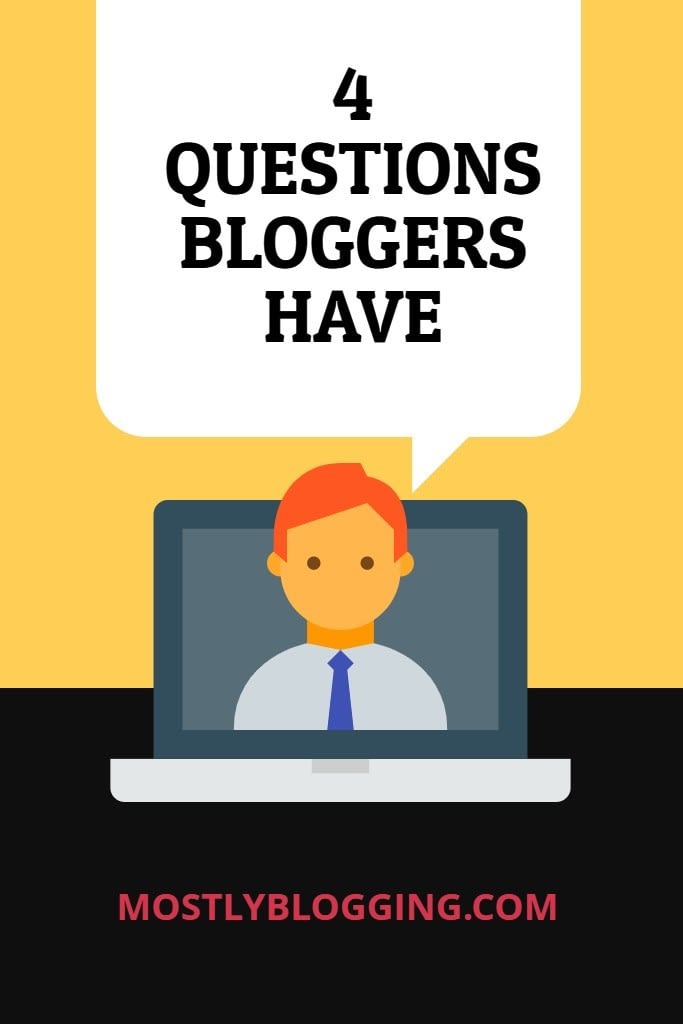 Are you thinking about setting up your own blog? If so, then there are definitely a few questions for bloggers you need to have answered that you might have on your mind.
The most important questions for bloggers revolve around these topics:
Money
Marketing
Wait Time
Content
Here are some key answers to the common questions for bloggers.
Pexels Source CCO License
Important Questions for Bloggers Asked and Answered
How Much Will It Cost?

One of the key questions to consider here is the cost that you will need to pay to get your blog up and running.
Basically, you need to think about the cost of running a website. The average cost of a website is about three thousand.
You might have heard that you can set up a blog for nothing. This is technically true but it's not quite the full story.
While it's possible to pay nothing on the set up for a blog, it's going to look like every other website online. This is going to make it impossible for you to separate what you're offering from key competitors.
Note: Some of the answers to these questions for bloggers such as cost will vary.
For example, a self-hosted blog costs more than a blog hosted by WordPress.com.
If you do self-host, you pay more depending on your website's resource demand.
Look what I received from my host, SiteGround, when I almost ran out of my monthly resources: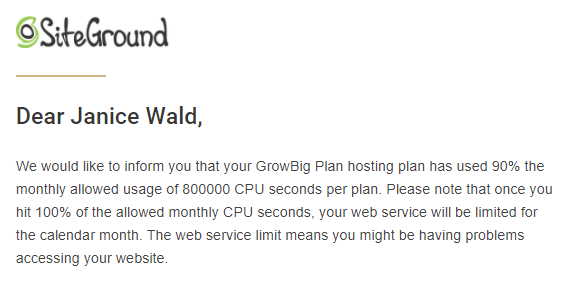 Have you ever received this scary notice? This means that unless I pay more money, I won't have enough resources for my blog to make it through the month.
Either I pay more to my host, or my blog goes offline.
In addition, you need an email vendor to send your blog posts to your email subscribers. The prices of email vendors vary depending on the length of your subscriber list. The more subscribers you have, the more you pay to get your newsletter sent out.
Also, you need to decide if you will pay for push notifications so people who want to receive your publications through ways other than email have that option.
Clearly, blogging costs vary.
What Forms Of Marketing Are Needed?
If you want your blog to be successful, then you are going to need a comprehensive marketing campaign with all the right pieces included.
Some of the key marketing aspects to think about include SEO, social media, and guest posts.
SEO is a big one because this isn't one tool, it's an umbrella term that includes a variety of options.
If you have no experience with SEO, then your best option is always going to be to hire one of your local SEO companies to complete the work for you. This is always going to be useful as it means that you can visit the team completing the work in person. If you choose an international business you can run into trouble with turnaround times.
How Long Will It Take To See Success?
There's no concrete answer to this question. It largely depends on the type of blog that you are establishing and what you want to achieve.
You need to think about everything from your audience to what your end goal is. Monetizing a blog is always going to take longer than just building up a group of readers.
On average it will probably take at least six months before you start seeing any real signs that your blog is moving forward and gaining momentum.
Google rewards older blogs with traffic. Be patient. Learn your new craft, blogging, while waiting for Google to recognize you as an authority in your niche.
Google gives strong rankings to blogs that meet the E-A-T criteria. You must be an Expert (E) and an Authority (A). This will show Google you are trustworthy so Google shows your blog content to its readers.
Use a Search Engine Results Page (SERP) checker to check your keyword rankings. SERPRobot is free and checks up to five keywords at a time. Here is a SERPRobot tutorial.
Earning this kind of reputation as an expert in your niche could take years. Be patient and put in your best efforts.
Wouldn't it be exciting to be a blogging influencer in your niche? If your answer is a resounding "yes," than be patient and work hard while you are waiting for the time to pass.
How Much Content Should You Add?

Content is king in the market world but blogs are something different because when you run a blog, your content is also the product that you are offering customers. So, you need to make sure that you are adding enough content to your blog.
Don't forget though, it's not just about boosting up your numbers. You need to guarantee that the quality is there too. Issues with quality are going to drive users away and make them question whether they want to keep checking on your website.
Strive for a quality post that answers all aspects of a user's query at least once a week.
Do your keyword research so you know what people want to know about topics in your niche.
Questions for Bloggers FAQ
Where Do Bloggers Get Information?
Bloggers should do their research before they start. Hopefully, by reading articles offering answers to questions for bloggers like this one, bloggers will have the information they need to make decisions such as hosting and an email list provider.
What is the Best Advice for Blogging?
Be patient. It often takes months or years to see success. Google rewards blogs with longevity with traffic.
Wrapping Up: Important Questions for Bloggers

We hope this helps you understand everything that you need to know before you get started blogging.
By answering these key questions. you'll have a clear understanding of what you should expect here and the right steps you will need to take to guarantee your website is a success.
When you are a new blogger, you have many decisions to make.
Hopefully, these Frequently Asked Questions for Bloggers helped empower you with the information you need to make these decisions.
Readers, please share so bloggers learn these answers to these vital questions for bloggers.
I look forward to your views in the comments section. Are there any additional questions for bloggers you can provide? I'd be happy to answer any added questions for bloggers you contribute.
Related
If you need more help, the Mostly Blogging Academy teaches aspects of blogging such as search engine marketing.
This post was contributed and made possible by the support of our readers.