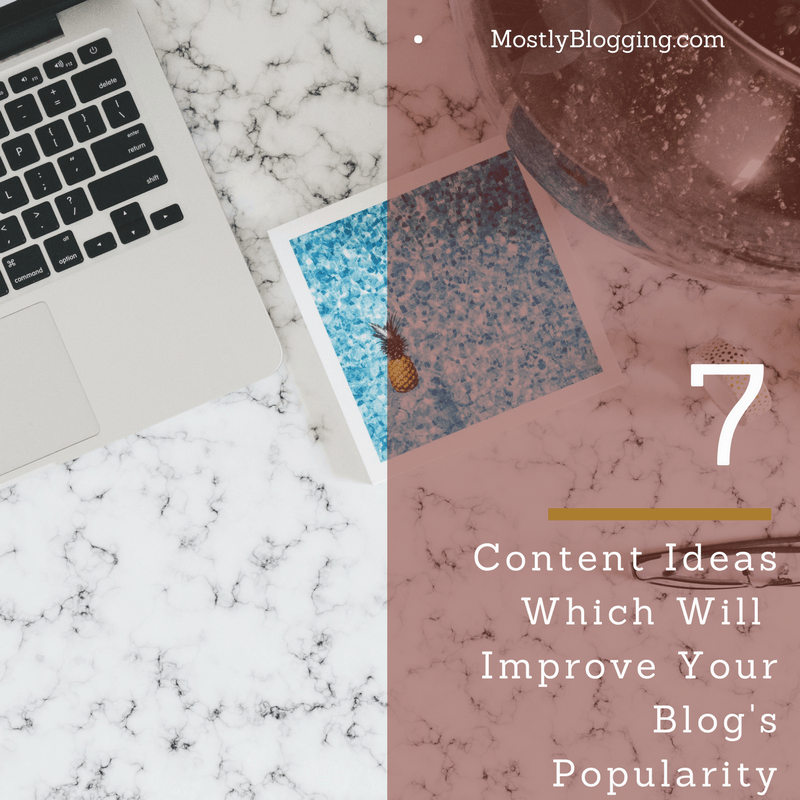 Do you have a strategy for producing quality content?
I don't mean a schedule or editorial calendar which tells you what to publish and when.
I mean a strategy, a plan, a checklist of ideas for publishing quality content on your website.
Guest author Jane Sheeba provides that strategy. In this post, Jane provides 5 types of content you should publish if you want to generate your readers' excitement.
I follow Jane's strategies with 2 additional types of quality content.
By the end of this post, you'll have a 7-step action plan for producing quality content.
5 Types of Quality Content You Should Consider Creating in 2018
by Jane Sheeba
Every one of us knows that content marketing isn't easy.
It requires a strategy which includes researching topics that are relevant, producing content in a way that delivers on business goals and distribution across channels where the target audience spends most of their time.
But the biggest hurdle, as many marketers believe, is the scarcity of ideas to create interesting and engaging content.
The key to generating a great ROI (Return on Time Invested) is to understand exactly what types of content your audience needs.
Since user requirements continue to evolve with time, it is important that you keep a tab on the latest trends and know what would stick over a given span of time.
Last year, there were some content types that did extremely well in contrast to others. In the same way, some content types will most likely dominate the others in 2018 as well.
Here's a list of five types of content that are projected to make a splash this year and return a better ROI.
People are addicted to success stories. You can easily hook your audience with a success story that brings a smile to the face (or a tear to the eye) and inspires for taking action.
As success become more difficult to achieve, the need for telling success stories attains greater importance.
As a business, you should focus on those success stories that come from your customers.
A customer's success is what other customers want to replicate and that's where your business comes in.
To put together a great success story, you'll need statistics, facts, and visuals.
Plus, it needs to be crafted in a language and tone that immediately builds and connects and keeps readers engaged till the last word.
Make sure you do adequate research and gather all the necessary data before you sit to write a success story with which you want to make an impact.
And remember you don't just 'tell' a success story. Instead, you make readers actually feel it.
2. Infographics
Visuals attract humans more than anything else. Since infographics present data in a visual format, they are liked a lot.
Keep infographics in your content arsenal this year too.
But before you start to create more infographics, you need to take a deep dive into how killer infographics are designed.
Even when it's an infographic, it should address the pain points of your target audience.
Most importantly, the data used in your design has to be pulled from authentic sources, the list of which is usually given at the end of the infographic.
When you want to create infographics, you don't always have to seek the help of graphics designers.
There are many infographic tools (free and paid) that you can use to craft nice infographics yourself.
3. Videos
Without a doubt, videos have emerged to be the best form of content. And if you don't create videos, you're losing out on revenue.
Most of an internet user's time is spent watching videos on Facebook, YouTube, and Instagram.
If you plan to take your content marketing to a new level this year, definitely consider investing in video creation.
Videos are not only shared in high volume, but they are best at attracting traffic, engaging people and generating more conversions.
When creating videos, you should not forget about mobile device users who like to watch videos in vertical and square format.
4. In-depth Guides
This year, more businesses will bet on long-form content. In-depth blog posts or guides offer a wide range of benefits.
Both users and search engines look for long-form content because it digs deep into a topic or subject.
Comprehensive content is read and shared by people in large numbers.
Equipped with long-form content, you'll also boost your chances of appearing in Google's Featured Snippets.
Long-form content refers to guides or blog posts that contain at least 1,500 words. The longer your written content is, the more benefit you can garner in terms of traffic and engagement.
To accomplish great results, you'll need to do a lot of research, use a concise language and have an attractive presentation.
It takes time and effort to create long-form content, but you'll also see that it pays great dividends at the end of the day. In fact, longer content will serve as a steady source of traffic for years, when done right.
5. Podcasts
Both the use and production of podcasts will grow this year. Millions of people listen to podcasts every month.
If you plan to attract more traffic and increase engagement for your website, you should definitely have podcasts on your list of content types this year.
If you are a beginner, you may need to do some research before making podcasts.
There are some proven tips, techniques and guidelines that you should follow to achieve success with your podcasts and increase the number of downloads and subscribers.
Primarily, podcasts are used to educate an audience.
So, you should know what your purpose behind creating a podcast is and what you can do to engage the audience you're seeking.
The average length of a podcast is 20 minutes but you can stretch it up to 40 minutes.
Quite often people who listen to podcasts are either commuting in a car or by train and so anything longer might prove to be inconvenient for them.
When recording podcasts, you should pay special attention to sound quality and the tone in which you speak.
Most podcasts use a relaxing and conversational tone because it feels real to listeners.
In Conclusion …
Content creation is both science and art. The future of content marketing looks bright and promising.
Whether you're an entrepreneur, a CEO or the president of an organization, you too should devise a content marketing strategy which falls in line with your business goals.
Just make sure you include these content types so that you can drive more traffic and revenue.
Jane shares business tips purely from her own perspective and experience at her blog janesheeba.com. Don't forget to claim your FREE access to her Blogging Success Foundation Course (a must-have if you are a blogger).
Host Blogger's Comments:
Last year, I published 7 Best Blog Posts That Will Make People Subscribe in 2017.
Two of these content types stand out as still being especially popular:
6. Contests
People love contests. You could structure your contests in a number of ways.
For example, you could enter people in a drawing who leave a comment on a post. Rafflecopter is a tool bloggers often use to hold contests.
7. Quizzes
People like to put their knowledge to the test and can easily have their curiosity piqued with a simple challenge: "How much do you know about…?"
In fact, people predicted the revenue sharing website started last year, Virily, would fold like Niume and other revenue sharing sites. When Virily started challenging their website users to take quizzes, they reinvented themselves, in my opinion.
Consider these comments about the popularity of quizzes.:
"I was on Virily for about 3 months and wrote a few posts, but what I found most enjoyable were writing quizzes on this site. I had never written a quiz before and became addicted; anyway, they brought in the most comments, likes, favorites etc for me."
I recommend you use all 7. This post helps you avoid the monotony of the same format in every blog post.
Readers love variety. Use this post as a checklist of ways to vary your formats. You'll be more excited about your blog content and so will your readers.
Please share so other content creators discover the types of quality content which will generate excitement in 2018.
I look forward to your views in the comments section: Are there any other types of quality content you can recommend for a successful blog post?