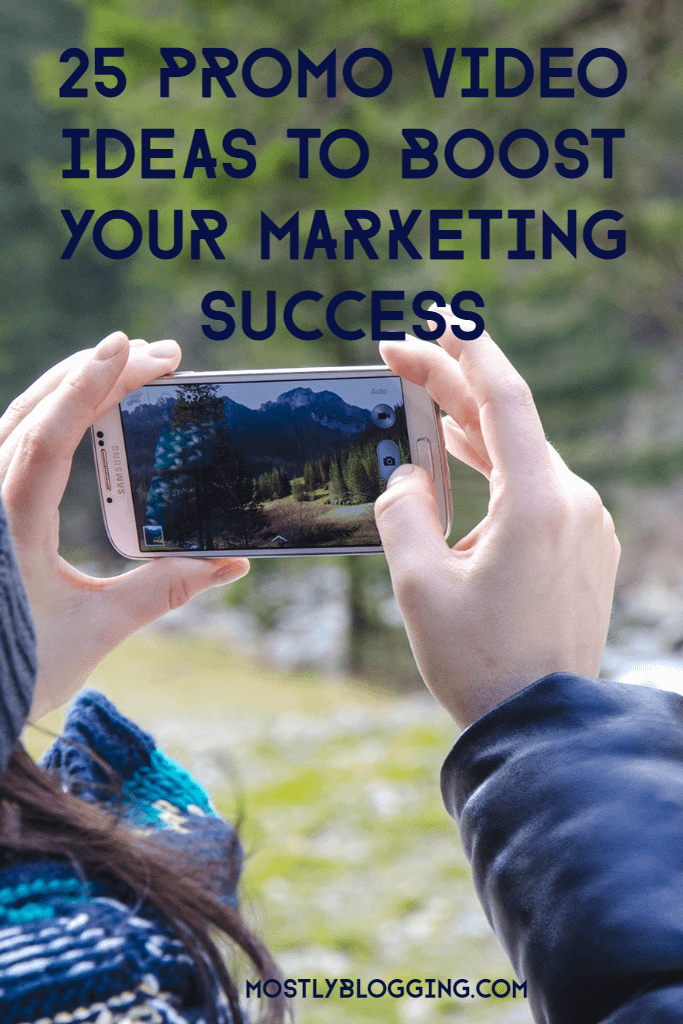 Do you need powerful promo video ideas to save you time in 2022?
Videos were all the rage in 2021 and are predicted to become even more popular in 2022.
However, video creation is time-consuming.
By reading this post, you get promo video ideas and cross-promo video ideas. You also see examples of videos you can use to promote your own brand.
What are promo video ideas?
Promo video ideas help you use video to promote your brand.
Cross-promo video ideas show you how to use videos across different channels. Save time by extending your reach across multiple channels with one video.
The cross-promo video ideas in this post will explain how to repurpose your videos.
Since video creation is now a must for marketers, you might as well discover how to use your video to promote your business and then extend your business's reach by using the video on different channels.
By the time you are done reading, you will be able to use these promo video ideas to boost your brand and extend your reach without creating any new content.
Let's examine sites where you can promote and cross-promote your videos. Bring on the promo video ideas!
What are Promo Video Ideas?
Are you looking for places to post videos?
Here are mainstream platforms that let you post videos:
Facebook
Instagram
LinkedIn
MeWe
Pinterest
Reddit
Rumble
TikTok
Tumblr
Twitter
YouTube
What are the Benefits of Promo Video Ideas?
These promo video ideas will help you use videos to promote
Your brand or business
Your blog
Your social media accounts
The tools and methods explained below are free strategies.
One important note though:
Although some of the tools require you to get a premium account in order to enjoy all the features, they all have free plans.
Promo Video Ideas
Animoto
Introbrand
TubeBuddy keyword research
TubeBuddy A/B testing
Ahrefs Keyword Explorer
Reddit
Quora
Live Video
Video holiday greetings
Video testimonials
How to/Demonstrations
Listicles
Check out your competitors
ASQ
Email
Call to Action
Optimize
YouTube Shorts
Animoto
You can use the Animoto Video Editor to promote your blog or your business. I used this video to promote my blog consultation services.
Introbrand
You can boost your brand by making a logo in video format. Put the logo at the beginning or the end of your other videos. The Splice app is perfect for splicing together video components.
TubeBuddy keyword research
There are many advantages to YouTube:
Google owns YouTube. Getting your video to rank helps your business get seen on both YouTube and Google.
YouTube is one of the world's top search engines. People go to YouTube and search "How to…"
Tools exist to help your videos get seen on YouTube. For instance, TubeBuddy is the most popular tool for boosting YouTube SEO.
If you want your business to be seen on YouTube, use the TubeBuddy Extension.
The TubeBuddy Keyword Explorer tool helps you find keywords people are searching for with low competition.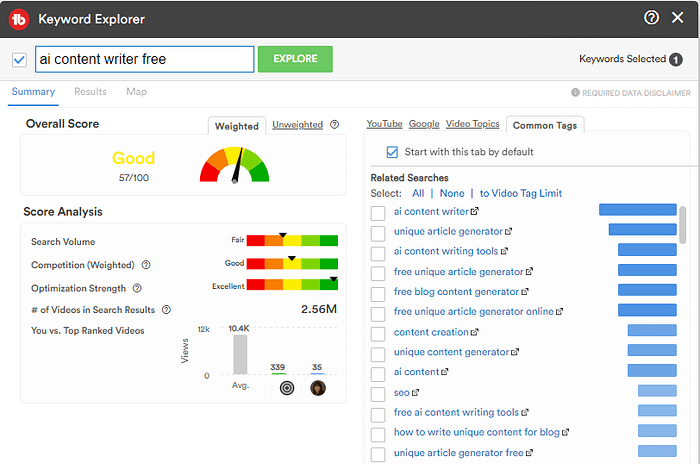 I explored the potential of making a video about the QuillBot AI Content Writer to put in my QuillBot review post.
As you can see from the screenshot, TubeBuddy tells you the weight of the search volume, competition, and overall optimization strength. As indicated, there are over two million videos on this topic.
Therefore, you make informed decisions about whether you will get your ROI with your video creation.
TubeBuddy A/B headline testing
As you saw above, when you make YouTube videos, you encounter a great deal of competition.
In addition to conducting keyword research, you can boost the chances of people seeing your video by A/B Split Testing your headlines.
The premium TuBeBuddy account offers this feature.
Make two YouTube covers. Upload both. TubeBuddy will send your video with both covers and let you know which cover performed better.
Look: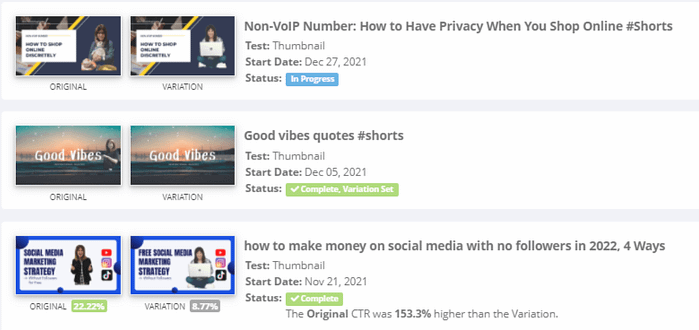 These are some of the A/B tests of my YouTube covers.
The middle and bottom tests are completed. In the middle pair, the cover without my image, my variation, performed better. In the bottom pair, the cover on the left, my original cover, performed better.
The top test is still running. Which cover do you predict will perform better?
If you are interested in trying TubeBuddy, I hope you will use my affiliate link: https://www.tubebuddy.com/MostlyBloggingBuddy.
Ahrefs Keyword Explorer
Did you know that Ahrefs helps your videos get found on YouTube?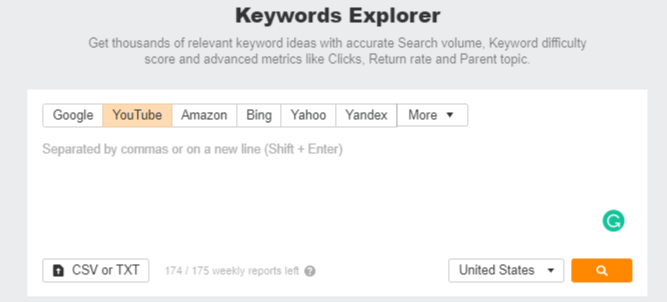 Just click the YouTube tab at Ahrefs to find keywords you can compete for before you start making your videos.
Reddit
Full disclosure…
Whether you offer Redditors a link to your blog post or your video, you risk looking spammy.
However, if you are part of a conversation and let Redditors know you have a video with more information, they will often ask you to share the link.
Quora
You are allowed to put a relevant link in an answer you share on Quora. Many bloggers know this and share links to their related blog posts in their answers.
The rationale is the same with videos. Provide the link to the video with more information.
When you paste your YouTube video link, your video cover shows which entices people to click and see your video.
Live video
I have gone live on Instagram several times. Many bloggers go live on Facebook. It is my New Year's Resolution to go live on TikTok!
Video holiday greetings
I used the power of video to brand my blog by wishing my followers well.
YouTube
TikTok
By making an electronic greeting card in the form of a video, you boost your branding by spreading good vibes. Your clientele will remember your brand fondly year-round and especially when it's time to purchase.
Do you see how easy implementing New Year marketing ideas can be?
Let's look at more promo video ideas.
Video testimonials
Word-of-mouth is important in order to brand your business.
Video testimonials are powerful since consumers trust people they can see and hear in a video.
Marketer Mark Newsom asks commenters to share their compliments in a video.
YouTube
Here Mark is offering his own video testimonial.
TikTok
Have you been to TikTok?
People can comment a reply in a video.
TikTok is predicted to be widely used by marketers in 2022.
Why not make video testimonials part of your TikTok 2022 marketing strategy?
Tutorials
YouTube is a major search engine. People use YouTube to search for how to do things. Show them the steps in a video. Make sure you use "How to" in your headline.
Videos are ideal for demonstrations. People follow the demonstrations they see in videos to learn how to solve problems and learn new skills.
In my video tutorial, I showed people how to use a Pinterest video downloader.
The tool I used was Zoom software. Zoom has a screen share function that enables me to show viewers how to master skills. Zoom also lets you record the video to upload on YouTube with the click of the record button.
Be sure to start and end your video with "For more _____ tips, subscribe."
Listicles
Listicles give people various ways to accomplish tasks in contrast with the How to post that offers a demonstration or a tutorial.
In your headline, let people know how many ways they will discover to solve their problems. The more, the better. The higher the number, the greater the chance people will believe there is a solution in your video for them.
This video is a listicle. The video offers a list of ways retirees make money.
Be sure to begin and end your video with "For more ways to _____, be sure to subscribe to this channel."
The tool I used was Lumen5. You will find more information about Lumen5 and a tutorial in these reviews of Splice alternatives.
Competitive Analysis
Before you publish your video, go to YouTube, and type your keyword into the search bar.
Look at the video covers. Does yours stand out? Look at the number of tips in the headline. Does your video offer more strategies?
ASQ
"ASQ" stands for "Ask Specific Question."
Some of my content generates the greatest traction when it answers a specific question. For example, I answered, "How to Get Out of Facebook Jail" in a video.
Email
Don't forget about your email list members.
Email your videos to your list members. You email your blog posts. Why should your video creations be any different?
Call to Action
Tell viewers in your videos what you want them to do.
As mentioned, I tell people to subscribe for more tips.
I know of a YouTuber who tells people to get into his mentorship program.
Other video creators ask viewers to share.
Always include a CTA with your content.
Optimize
Use relevant hashtags to tell the social media algorithms what your video is about. That way, social media sites will show your video to interested people.
YouTube Shorts
Shorts are YouTube's answer to TikTok's short videos. YouTube Shorts is only 60 seconds maximum in length.
How is this a promo video idea? YouTube is pushing out Shorts, its new feature.
In fact, my best-performing video of 2021 was a YouTube Short.
More information about YouTube Shorts can be found here: How to download YouTube Shorts.
Cross Promo Video Ideas
Do you know the difference between repurposing and cross-purposing?
When you repurpose, you find another use for your content.
In his podcast, social media expert Derek Videll offers a strong testimonial for repurposing. He explains not repurposing would be a huge mistake due to the amount of time you'd lose.
When you cross purpose, you share your video across channels such as social media platforms and your blog.
For the purposes of this guide, you will find another use for your videos by promoting your videos on various channels like social media platforms and your website. For instance, share your TikTok on Instagram Stories and Instagram Reels in your grid and vice versa.
Here are cross-promo videos ideas that let you cross-promote the video you make on the first site mentioned in the pair with the second site mentioned in the pair.
YouTube and Pinterest, Tumblr, and LinkedIn
YouTube and Instagram
YouTube and Twitter
YouTube and Quora On Quora, you can promote your YouTube videos in Quora Spaces designed for YouTube video promotion. Search for these Spaces in the Quora search bar.
YouTube and Reddit You can promote your YouTube videos in Reddit communities. Search for these popular subreddits in the Reddit search bar.
TikTok and ? Click Share and select the social media where you want to share. Your choices are Twitter, Instagram, Snapchat, Instagram stories, and Facebook.
Web content and ? Are you using social share buttons? You should. This enables visitors to share your work. You can share your own work to social media sites too. WordPress, for instance, allows you to set up sharing to social media sites as soon as you publish.
YouTube Cross Promo Video Ideas
I was able to boost my subscriber count without frequent publishing.
How did I do it? I used these cross-promo video ideas by cross-promoting my YouTube videos with Twitter and other social media channels. When you're done reading, you can too.
YouTube and Instagram
Although there is not an Instagram share button at YouTube, you can still find a way to cross-promote your YouTube video on Instagram.
For instance, I spliced together the Instagram Live video I did with my logo at the end. Also, using Splice, I took off the beginning and the end which were ideal for Instagram Live but not YouTube before putting my live video on YouTube.
Promo Video Ideas Frequently Asked Questions
How can I promote my videos?
You can promote your personal videos and your business videos on social media sites and your own website.
What makes a good promo video?
There are many ways you can brand your business by posting informational videos on social media sites. You'll brand your business and look like an authority in your niche.
How do you make an amazing promo video?
There are many tools to help you make amazing promotional videos. These promo video ideas include tools like Splice, Lumen5, and Instasize.
Wrapping Up: Promo Video Ideas
In closing, this guide gave you two action plans: one to promote your videos and the other to cross-purpose your video to boost your ROI and extend your reach.
By cross purposing, you save time. Use your videos for more than one purpose and boost your ROI. Apply these promo video ideas, save time, and boost your success across channels in 2022.
Please share these promo video ideas so social media marketers and entrepreneurs who want to create less content but experience more success across channels discover this guide.
I look forward to your views in the comments section. Can you recommend more promo video ideas to boost your ROI in 2022?

Janice Wald is the founder of MostlyBlogging.com and co-founder of the Mostly Blogging Academy. She is an ebook author, blogger, blogging coach, blogging judge, freelance writer, and speaker. She won the Best Internet Marketer Award and the Best Blogger Award at the 2021 Infinity Blog Awards. Wald was also nominated as 2019 Best Internet Marketer by the Infinity Blog Awards and in 2017 as the Most Informative Blogger by the London Bloggers Bash. She's been featured on Small Business Trends, the Huffington Post, and Lifehack.