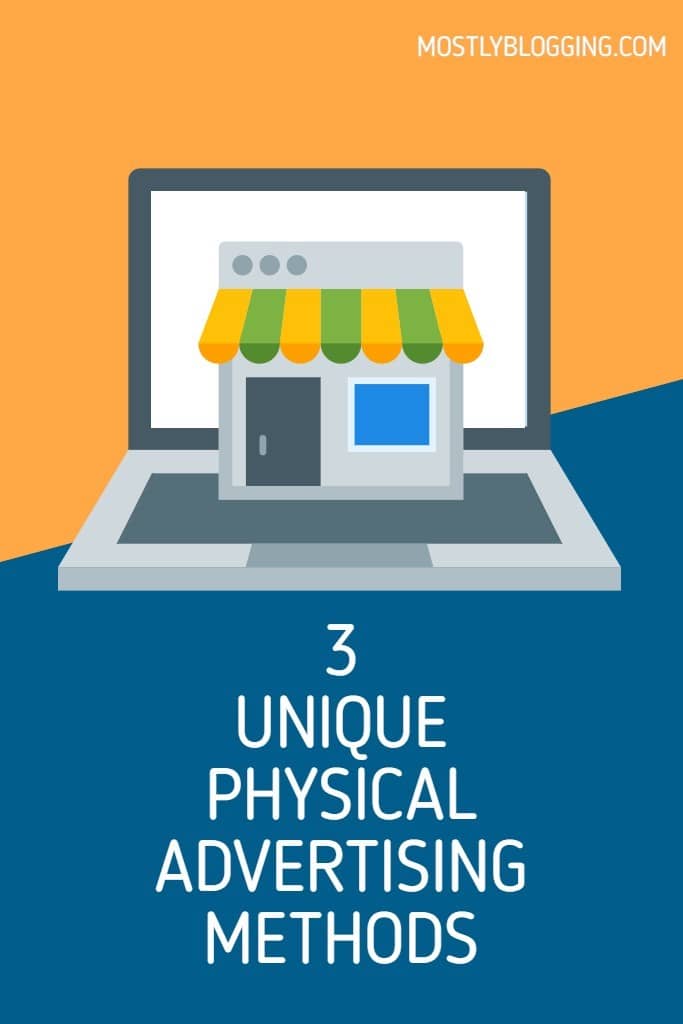 If you run an affiliate site, you are probably already accustomed to thinking of new ways to make money and bring in customers.
After all, starting your own affiliate site and maintaining it long enough to attract readers and make an income requires some innovative advertising.
However, all too often website creators are hung up on digital advertising and overlook physical advertising opportunities.
Here are three physical advertising opportunities:
Merchandise
Banner Signs
Cause Marketing
Even the most creative affiliate website advertisers may not have thought of these physical advertising ideas.
What is Physical Advertising?
When using physical advertising strategies, marketers have a more personal approach with potential customers. This B2C (Business to Consumer) strategy is effective since you have a face to face dialogue about the merits of your products and services.
The criteria for physical advertising entails a physical interaction between marketer and consumer. This is the reason physical advertising is so effective: The consumer's attention is focused on the marketer and the product or service being sold.
According to studies, consumers can more easily remember what they saw in person within a week in contrast to what they saw on a screen. This means physical advertising is more effective than digital advertising in terms of recall.
3 Innovative Physical Advertising Ideas for Affiliate Sites
1. Merchandise
You probably won't be able to influence enough potential customers with merchandise to make it worth your while in advertising, so why should merchandise be part of your strategy? While you may not be able to affect enough customers directly with your merchandise to make it a worthwhile advertising tactic, the stretch of merchandise can go much further than what people may see in person.
Merchandise that can be worn or used, particularly merchandise that has good share quality on social media, like something funny, innovative, or especially useful, can be seen by thousands of viewers for every piece of merchandise worn or used.
Look at this recent example:
On January 20, 2021, at the U.S. Presidential Inauguration, politician and former presidential candidate Bernie Sanders dressed so comfortably and casually, a meme was born.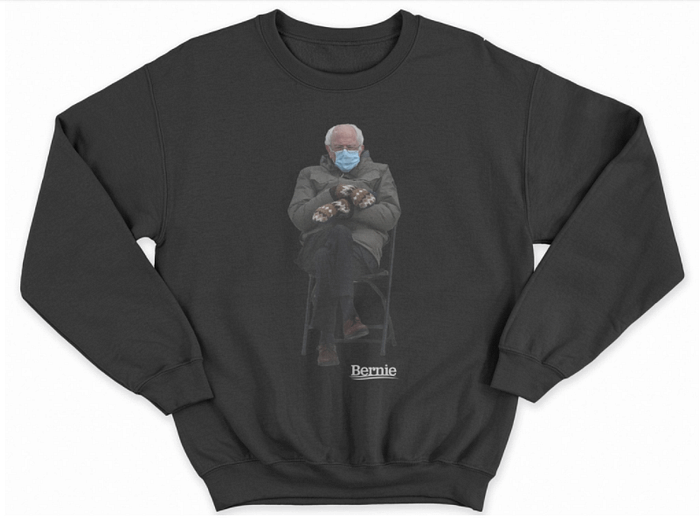 A photo of him wearing his casual, warm, outfit and gloves went viral. The Sanders campaign team took the photo, put it on a sweatshirt, and began a new marketing campaign with the proceeds from the sale of the sweatshirt going to charity.
Do you see how the merchandise extended his brand? This physical advertising tactic extended the Sanders brand by donating to charity. The strategy showed Bernie Sanders has a good sense of humor as well.
Whether you want to sell merchandise, use it as a free gift or giveaway, or get it out to your readers in another way, merchandise can be a superb way to provide the kind of viral organic marketing that can launch an affiliate site from an unknown into a popular brand.
You may be astounded by how little you need to spend on merchandise to make the desired effect on your readers. Want to bump up the effect? Try giving your merchandise to social media influencers and paying them to promote or even just use it.
If needed, you can put a Designhill logo on merchandise.
There are many ways to capitalize on the use of merchandise for marketing.
As explained, you can use this form of physical advertising as part of your influencer marketing campaigns. In addition, you can give the merchandise to your loyal customers to thank them for the business at the end of the year.
Have you tried wearing your merchandise to see the effects of this physical advertising tactic? I have.
It's true: My husband gets us matching Mostly Blogging sweatshirts and T-shirts. We wear them when we vacation on crowded cruise ships. People ask us about the merchandise, and we get free advertising.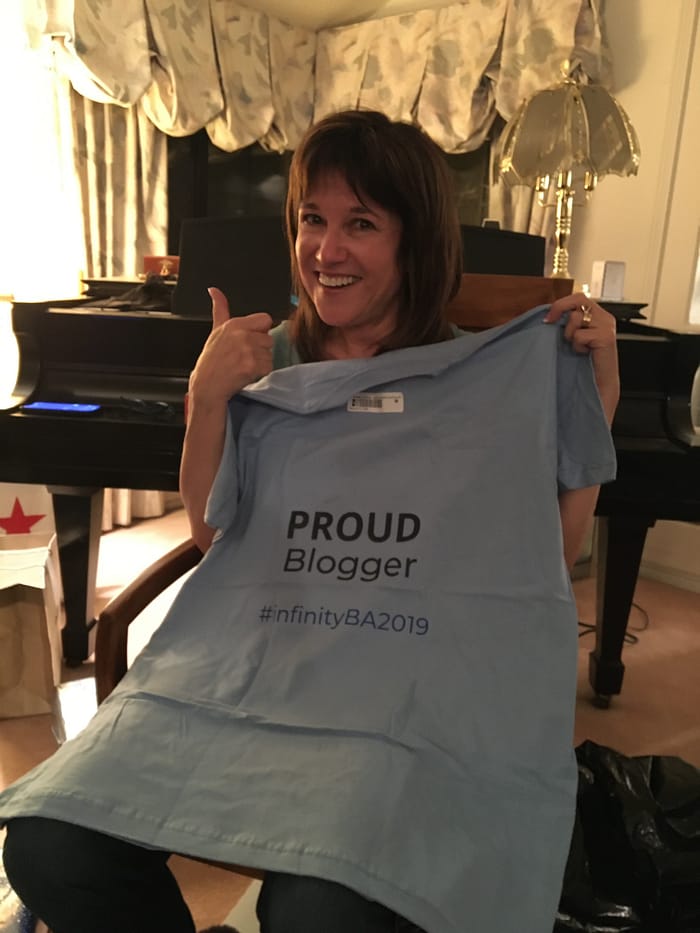 Since we are using the clothes as a form of physical advertising for my business, the cost of the merchandise is a tax-deductible business expense.
2. Banner Signs
Banner signs can be an effective way to rapidly build strong credit for your affiliate site. They can easily be rolled up and taken from location to location, which makes them ideal for displaying in the background of social media events, pop-up events, or trade shows in your affiliate area of expertise.
There seem to be nearly endless opportunities to get your branding out there in a physical way that will make an impact on your readers.
A physical presence represented by your brand can do a lot to build trust not only with anyone who sees the banner but also with online audiences. High-quality banner signs can easily be moved from place to place to effectively advertise to your target demographic.
3. Cause Marketing
Today's audience wants more from business than quality services or information. They expect businesses to act as responsible agents in the community. You can immediately build a greater level of trust in your affiliate site by regularly donating to a cause and pairing with them for marketing opportunities.
It is less important what cause you donate to than that they are a clearly recognizable organization that publicly gives you a shout out on social media and in other outlets.
Physical Advertising FAQ
What is the Best Form of Advertising?
That is depends on what you mean by "the best." Physical advertising is more effective in terms of recall but might be more expensive than digital advertising.
What Are the Two Types of Advertising?
The two types of advertising explained in this guide are offline and online. Offline advertising is advertising in person, also known as physical advertising. In contrast, digital advertising means advertising online where people see your marketing efforts on a digital screen.
There are actually more than two types of advertising. Here you will find differentiated marketing strategies.
Give Physical Advertising a Try
Physical advertising is frequently overlooked by online businesses, but failing to utilize physical advertising is a missed opportunity. Keep in mind that anything that advertises your business physically can also be photographed and provide trust-building advertising online as well and you'll find all kinds of creative new ways to advertise your affiliate site in physical ways.
Readers, please share so marketers discover these innovative physical advertising strategies. Even marketers who don't run affiliate marketing businesses can benefit from these physical advertising methods.
This post was contributed and made possible by the support of our readers.