Google Analytics is folding next year. Are you looking for other Google Analytics alternatives?
With Google Alternatives morphing into GA 4, you might be interested in checking out some Google Analytics alternatives.
Despite the popularity of Google Analytics, other Google Analytics options should be at the front of your mind as we get closer to GA4.
By reading this post, you get reviews of a selection of other SEO tools that serve the same functions as Google Analytics and tutorials about how you can use other Google Analytics alternatives for content creation and to boost your SEO.
What comes to your mind when you think of another Google Analytics alternative?
I don't know about you, but my answers have always been Moz and Semrush.
In the SEO niche, Moz and Semrush are considered the other Google Analytics alternatives that are top of the line if you are in the market for an SEO tool.
Like Google Analytics, Moz and Semrush are "one-stop." In other words, they contain many helpful SEO tools all in one platform.
However, Moz and Semrush are premier SEO tools. In other words, you must pay to use them.
Pricing for Moz starts at $99 per month and pricing for Semrush starts at $119 per month.
More about Moz later.
Wouldn't it be great if you could find other Google Analytics tools that serve the same functions but are free to use?
By reading this post, you discover other Google Analytics alternatives that won't cost you a dime.
When looking for Google Alternatives options, other possibilities should include an all-in-one metric dashboard similar to what Google Analytics offers.
The SEO analytic tools reviewed in this guide all share that commonality. They are all "one-stop" when it comes to filling your SEO needs.
Make sure you stay until the end of this guide for a Bonus Tip. Since scheduling this post, I discovered another Google Analytics tool to share with you.
Let's get started finding other Google Analytics alternatives that are free to use.
What Is Analytics?
Analytics are data that give you insights. You need these insights in order to build on what is working and get rid of what isn't working.
With analytics, you don't shoot blind. To coin a phrase, you don't throw spaghetti at the wall and hope something sticks.
If you are going to succeed at digital marketing, you need to measure and check these metrics.
Analytics is the key tool that helps content creators understand the statistics of their content. Some online content creators check their analytics constantly to the point of obsession.
Certainly, there is a happy medium.
One important note…
Although you can actually stalk your website visitors in real-time using Google Analytics, if you do, you won't be productive. You will be too busy checking out your analytics to have time to create content.
Related Reading: Instagram Insights on Desktop
Other Google Analytics Alternatives
MozBar
MozBar should not be confused with Moz. As indicated above, Moz is a premier SEO tool. However, MozBar is a browser extension that allows you to use the features of the Moz SEO tool for free.
MozBar is one of my favorite SEO tools.
By looking at the screenshot, you can see, MozBar shows you the Page Authority, the Domain Authority Rank, and the Spam Score of any website you are on.
MozBar allows you to check your own metrics.
In addition, you can do a competitive analysis and check the metrics of your competitors.
You might also want to check the metrics of your would-be collaborators. If a content creator contacts you about working together, you might want to check out their credentials before agreeing to make sure the collaboration benefits you both.
To SEOs, the Domain Authority Rank (DA) is that credential.
In the SEO world, the Moz Domain Authority Rank tells the quality of the website, the higher the rank, the better the website.
Do you even want to see your blog's metrics?
Some bloggers are so insecure about their DA, that seeing it will bring down their morale.
No problem!
You can easily toggle MozBar on and off by clicking the "M" on your browser extension toolbar.
MozBar is available for browsers such as Chrome and Firefox.
Here you will find more information about this powerful SEO Moz Extension.
Let's explore other Google Analytics alternatives.
Jetpack Analytics
What is Jetpack?
Jetpack is a WordPress plugin that provides data so you can see how your blog is performing.
Are you familiar with your Jetpack analytics?
Have you looked at them?
If so, checking your insights is not enough. You must learn from them in order to create more popular content.
Let's examine an example from my blog:
As you can see, my post which explains how to get out of Facebook Jail received over 14,000 page views for the quarter.
Since the post resonates much interest, my business manager suggested I write about how to get out of other types of social media jails.
Based on the success of these metrics, I wrote about how to get your TikTok account unsuspended. When TikTok locks you out of your account, your TikTok account is suspended which is the same as being in TikTok Jail.
Although the post was only published three months ago, at the time of this writing, the post already brings in 3% of my traffic.
By looking at the screenshot, you can see the article is my third-best traffic generator for the quarter.
Here you will find more information about predicting the success of content creation in this post about topical authority.
Jetpack Analytics and Content Creation Method 1
Here is how you can conduct the same analysis of your Jetpack analytics:
Go into your Jetpack Site Stats.
Click Top Posts & Pages/Summaries.
You have a choice of seeing your metrics for the last 7 days, last 30 days, last quarter, last year, or all-time.
I encourage you to browse these metrics. However, in order to replicate your wins, you want to examine the last quarter. Since trends change, your popular content that generated interest even a year ago may not be popular today.
Jetpack Analytics and Content Creation Method 2
Click Search Engine Terms/Summaries
You have the same choices: 7 days, 30 days, quarter, year, all time.
Click Quarter.
Let's look at the search terms that generated traffic for my blog posts.
These search terms brought up my blog post articles since I have published posts about these topics.
Or so I thought…
On review, I now realize I never wrote about some of these topics. For instance, I never wrote about the benefits of streamlining email groups. In addition, I never wrote about the disadvantages and advantages of Facebook for married women.
Why would a search term bring up my blog post when I never wrote about that topic?
I did write about the advantages and disadvantages of Facebook which is why that search term is bringing up my post.
By looking at my Jetpack analytics, this search term is helping me overcome Writer's Block. If people are typing these terms into search engines and my post is coming up, imagine how much traffic I'd get when they typed these in if they were actually my blog post topics!
Wait, we are not done with the advantages of Jetpack Analytics.
Have you heard Google likes you to update your posts?
Google gives priority search engine rankings to blogs that have fresh content.
If these terms are bringing up your posts, and you have not included these terms in your article or in your tags, update your post by adding these terms and tags.
We have one other Google Analytics option.
Google Search Console
Like Google Analytics, Google Search Console is a free tool.
Like Google Analytics, GSC offers a thorough dashboard of SEO metrics.
Like Google Analytics, Google Search Console is accurate.
There are many benefits that make Google Search Console one of my most visited websites.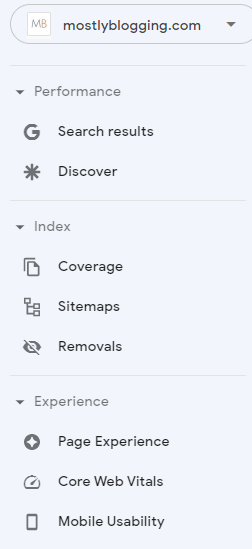 At Google Search Console (GSC), you can see important metrics of your blog's performance such as:
Clicks
Impressions
Pages with first impressions
Top growing pages compared to the previous month
Top performing pages
Top growing queries
Top-performing queries
Your audience's devices
Your audience's location
How people found you: Web, Image, or Video
Google Penalties. Google gives you a chance to validate the errors by fixing them.
Learn about SEO. Google Search Console's videos and textual information help even people just beginning to learn SEO.
Improve user experience at your website.
Keyword Rankings
Go to Acquisition > Search Console > Queries to view all the keywords that your website is ranking for.
Blog Problems
Google Search Console lets you know the problems with your blog so you can fix them.
Growth
Google Search Console even emails you metrics.
Look: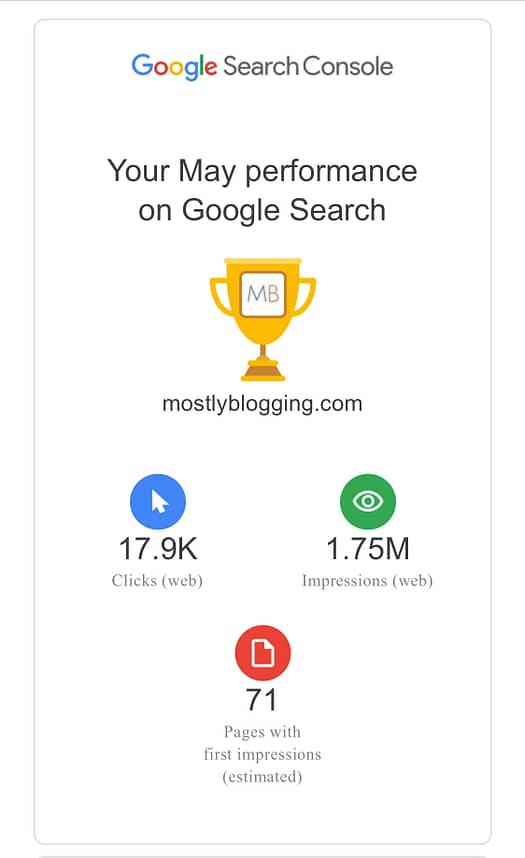 GSC sends you monthly metrics in the form of awards.
My favorite feature of Google Search Console is "Inspect any URL."
After I update my blog post with fresh information I send the post to Google Search Console to inspect since there are changes in my article.
On rare occasions, Google did not Index my articles, and I was able to make the request for indexing this way.
Here you will find more information about Google Search Console vs Google Analytics.
Bonus Tip: Similarweb
Similarweb is a free tool that gives you comprehensive reports on your website's metrics.
Are you familiar with HARO? Help a Reporter Out is a free service that will match you with bloggers who will provide tips for your articles.
Or so I thought…
It turns out that you need a Global Ranking on Similarweb that is less than 1 million or HARO won't allow you to use the service as a publisher.
Are you interested in using this other Google Analytics alternative to see where your site falls?
Go to https://www.similarweb.com/.
Enter your blog name where prompted. Click Enter.
This is a perfect tool if you are looking for another Google Analytics-type tool since the data is powered by Google Analytics.
As you scroll down, in addition to Global Rank, you see your site's ranking in your country and your niche. You also see your bounce rate, average pages viewed, and the average time on your site.
You get to see your competitors' global rank and your traffic over a three-month period.
Also, view reports on your audience demographics and interests. Finally, see your top keywords.
Google Analytics Other Choices That Won't Work
Prior to May of 2022, webmasters looking for other Google Analytics tools used to use Alexa.
Alexa.com was also "one-stop" when it came to insightful SEO metrics about your blog.
For instance, you saw your Alexa rank which showed you how many websites in the world were better than yours, the lower the number, the better your website.
You also saw which websites your visitors frequented before coming to your site.
Alexa also showed you your competitors so you didn't have to wonder.
Finally, Alexa even gave you content gaps which showed you ideas for new blog posts.
Alexa.com folded in May of 2022.
Other Google Analytics Options: FAQ
Are there different versions of Google Analytics?
Yes. There are other Google Analytics versions. For instance, GA4, Google Analytics 4, will be coming out in the spring of 2023.
Wrapping Up: Google Analytics Other Alternatives
In closing, by reading this post you received four other Google Analytics choices that have the same advantages of Google Analytics. You also received tutorials to help boost your content creation ideas and chances of ranking on Google by using the other Google Analytics tools.
Readers, please share so other online content creators discover these Google Analytics alternatives and tutorials.
I look forward to your views in the comments section. Can you think of other Google Analytics alternatives to recommend?
Janice Wald is the founder of MostlyBlogging.com and co-founder of the Mostly Blogging Academy. She is an ebook author, blogger, blogging coach, blogging judge, freelance writer, and speaker. She won the Best Internet Marketer Award and the Best Blogger Award at the 2021 Infinity Blog Awards. Wald was also nominated as 2019 Best Internet Marketer by the Infinity Blog Awards and in 2017 as the Most Informative Blogger by the London Bloggers Bash. She's been featured on Small Business Trends, the Huffington Post, and Lifehack.