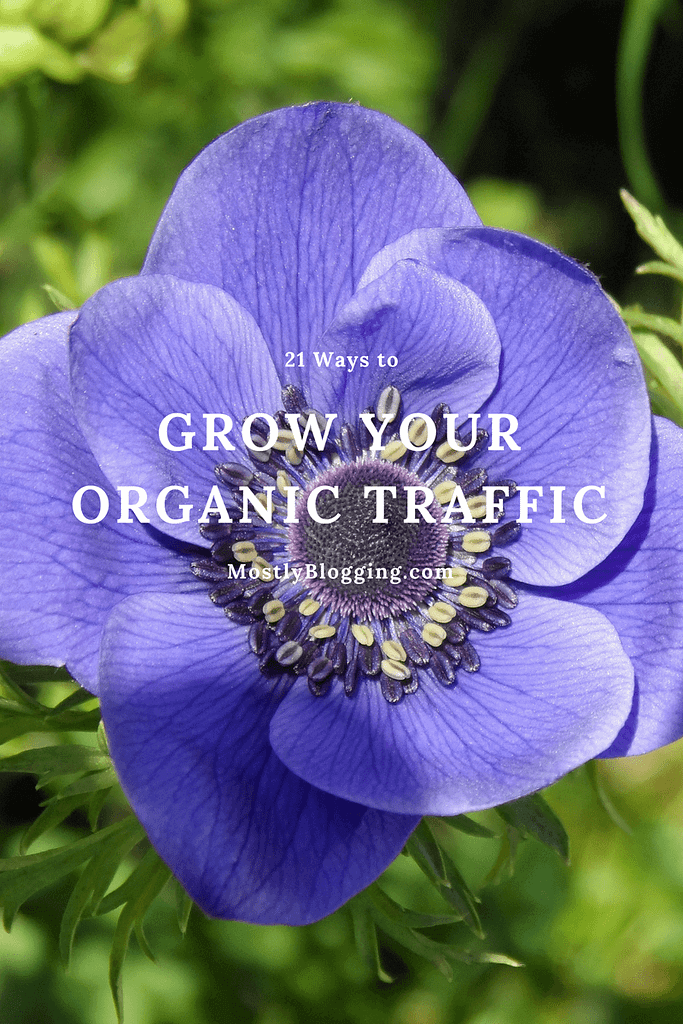 In his guest post, Top 5 Reasons Why You're Not Getting Search Traffic (What To Do About It), Theodore Nwangene explained what you aren't doing correctly when it comes to boosting organic traffic.
In today's article, guest author Amelia White explains 21 activities you should be doing in order to boost your organic traffic.
Amelia discusses all aspects of your blog post. The best part, all of her organic traffic-generating tips are free.
How to Create Content That Increases Your Organic Traffic
by Amelia White
Organic traffic is your website's most valuable asset. One of the best ways to generate organic traffic from search engines is through the creation of high-quality content.
Creating high-quality content consistently is one of the biggest essentials for seeing an increase in the number of search engine visitors that visit your website. Improving your SEO efforts is massively essential – a report suggests that search engines drive 10 times more traffic to shopping websites than social media marketing. An older study reaches the same conclusion – 51 percent of website traffic comes from search and only five percent is derived via social.
So, to enjoy all of these benefits and maximize organic traffic, you have to put an emphasis on a few important aspects of your content strategy. This article will shed some light on the most crucial changes you have to make to your current approach in order to see better results.
Start with the Basics: The Headline
The world of online and digital copywriting is quite different from other types of writing. The audience has a limited attention span and a large number of potential information sources to choose among.
If you want to see a growth in organic traffic, in the long run, you will have to consistently focus on the creation of high-quality, engaging headlines.
Writing good headlines in the digital realm isn't just about making the audience curious. The right title should also provide search engines with enough information about the topic and the issues that the article will discuss.
Thus, an ideal headline is catchy and descriptive at the same time. Accomplishing the goal may be difficult but you can rely on the following strategies to improve your headlines:
Make it highly specific – vagueness doesn't cut it in the digital realm
Try to include a long-tail keyword
Newsworthiness is also great if you're not creating evergreen content
A bit of entertainment value is also good: make it humorous, make the reader wonder or want to find out more
Add numbers to your headline when appropriate
If possible, convey a sense of urgency
Explore Different Kinds of Content
Depending on the specifics of the audience that you're attempting to attract, you may want to experiment with different content types.
Looking at your Google Analytics reports will give you a pretty good idea about the formats that deliver the best results. Additionally, you may want to rely on professional analyses pertaining to effectiveness and the current use of specific formats.
According to the Content Marketing Institute, the brands have the most effective strategies out there rely on at least 15 different content types. The reason for this effectiveness is easy to understand. Different content types utilize different channels. Each one of these channels has its specific audience, which is why organic traffic can be expected to grow significantly.
While creating at least 15 different types of content may be a challenge for you, try to focus on a few essentials. Some of the formats that currently deliver the best results in terms of boosting organic traffic include the following:
7. Articles and blog posts
8. Social media posts and updates
9. Videos and images, infographics
10. Email newsletters
11. Whitepapers
12. Ebooks
See What the Competition is Doing
13. Competition research can be highly beneficial in a number of ways.
For a start, exploring the blogs and websites of other brands in the respective field will give you a good idea about the topics that have been spoken the most about and the ones that generate the biggest number of comments/social shares.
Based on this competition research, you can learn more about the needs of your own audience and you can also discover unique topics that haven't been explored a lot. Focusing on such topics will make it easier for you to rank well for relevant keywords and grow the organic search traffic that your website gets.
The Most Important Rule: Focus on Quality
14. Once you're done with the preliminary research, you can move on to creating your content itself. This is the most crucial step. Even the best of ideas will flop if you can't execute and your content lacks the quality that the audience is looking for.
Always work on high quality, whether you're creating visual content or texts. If you can't do the job on your own, hire a professional. Content marketing brings a high return on investment, which is why you shouldn't worry about the expenditure.
Texts that feature typos, grammar errors and claims you haven't checked for factual accuracy can potentially ruin your reputation. Your online reputation plays an important role in your SEO efforts, as well as in social media marketing. A single mistake can be difficult to fix and it can ruin all of the work you've done in the previous months.
Promote Your Content
Promoting your content is the final step that will build you a distribution network and produce an immediate increase in organic traffic. Not only that, content promotion can also enhance your long-term SEO efforts and grow your audience consistently.
Content distribution can be done in a number of distinctive ways:
15. Social media marketing
16. Distribution via social bookmarking websites
17. Promotion is done by the audience itself (adding a Facebook share or a tweet button at the bottom of a post, for example)
18. Newsletter promotion
19. Paid advertising in social media, PPC campaigns, even banner ads on relevant websites
20. Participation in communities and forums where your content can be shared
21. Guest posting and partnering with relevant websites
Needless to say, all of this will have to be done consistently. You can't update a Facebook profile with new links two times per month and expect to see results.
Content is the number one tool you can use for the purpose of growing your traffic organically. In order to make it happen, however, you need to be strategic and very dedicated to sticking to a schedule. Don't underestimate the importance of the preliminary phase, either. Careful planning and a bit of originality will help you go a long way and build a market niche for yourself that will make the organic traffic you get highly targeted.
Author Bio: Amelia White is a freelance writer for NSWriters.com.
Related
Learn How To Quickly Boost Your Blog Post Rankings