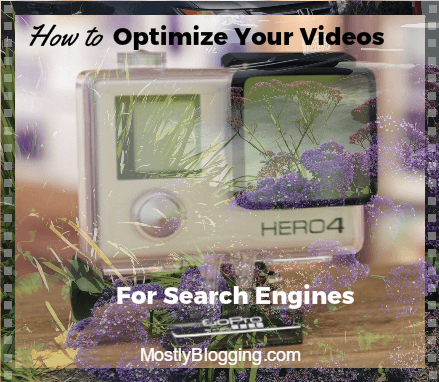 You know this blog has published articles on the importance of optimizing your posts for search engines.
You also know this blog has published articles on the importance of video use in blogging.
However, Mostly Blogging has never combined the topics and explained how to optimize your videos for search engines.
Even new bloggers know the importance of optimizing their blog posts so they can be found in a search engine. However, do you know you need to optimize your videos?
It makes sense: After all, famed blogger Jay Baer explains videos are the new blog posts.
Guest author Jessica Morgan has brought her expertise in the area of SEO for videos and her impressive infographic to empower us.
Your Quick Guide to Search Engine Optimization for Videos
by Jessica Morgan
Videos have taken the world of Internet marketing by storm in the last couple of years. From social media platforms to your inbox, they are everywhere.
More and more businesses are turning to video marketing for attracting organic traffic to their websites, for driving sales, and for helping customers understand their products and services. A significant 76% of businesses that use videos for marketing and promotion say that this strategy gives them a good return on their investment. Conversion rates are huge – 74% of consumers who watched an explained video ended up buying the product or service.
But do you know why videos are so popular among consumers? Studies indicate that the profound love that people have for videos has a lot to do with the way the human brain is wired.
Apparently, we can process videos 60,000 times faster than text. Videos do not require us to use much of our reasoning skills, while reading obviously involves a lot of cognitive strain, which humans, by nature, are programmed to avoid.
The fact that people are also more likely to get attached to something they saw in a video rather than something they read may also have an important role to play. No matter what the reason, videos are here to stay.
However, considering that nearly 300 hours of video are added every minute to YouTube, it can be pretty tough to make sure that your videos manage to stand out from the rest of the crowd. At least 53% of businesses that use videos for advertising and marketing say that they have struggled to promote their video content, which brings us to the importance of using SEO for helping videos rank higher on search engines.
So what is SEO for videos exactly? In addition to making sure that your content is unique, relevant and valuable to your audience, you should also try to use keywords in your title, file name, description and meta tags to help search engines index your content properly and guide your target audience to your videos. And that's not all.
Since search engines cannot "watch" your videos to know what it is all about; you should add closed captions, transcripts and subtitles to your videos. These smart add-ons will not only help the search engines learn more about your content but will also make your videos accessible to millions of people across the world who have hearing disabilities or speak different languages.
A study by Liveclicker showed that revenue could go up by an average of 16% if you add transcripts to your videos. Similarly, adding subtitles to videos has been shown to increase viewer engagement time by more than 40%.
The below infographic from Take1 Transcription shares some great ideas and tips to make your videos rank higher in search engine results and get more viewers. Don't forget that more viewers translate to higher search engine rankings, which in turn, encourages more people to check out your website!

Source: Take 1 TV
Host Blogger's Comments:
More and more bloggers and marketers are using videos to convey their information. Follow Jessica's advice and the tips in the infographic, and your videos will soar to the top of the search engine rankings.
Please share so other bloggers and marketers know how they can get their videos found in search engines.
What did you think of Jessica's tips and the information in the infographic? Are you using videos to supplement the information you put in your blog posts? I look forward to your views in the comments section.
Related Posts
Your Blog Needs Video Content. Here's Why…
How to Use YouTube to Be a Better Blogger
Source for video camera:
Pixabay