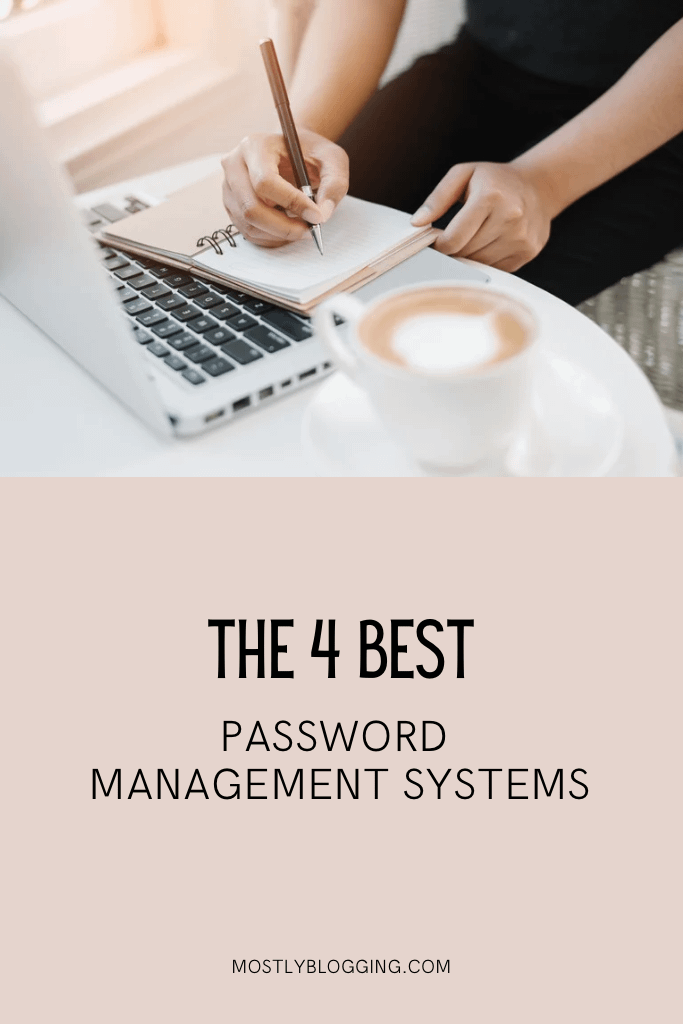 Are you here to compare NordPass vs Dashlane password organizers?
Are you looking for a password management system?
You should be.
According to the folks over at NordPass Password Manager, we have over 100 passwords to try to remember.
To make matters worse, we keep changing our passwords when we hear of data breaches or if our passwords have been compromised.
In addition to trying to remember our current passwords, we must share them with people who need access to our accounts but keep them private from people who you don't want accessing your accounts.
By reading this post, you will receive reviews of four password organizers: 1Password Authenticator App, Dashlane, NordPass, and LastPass. You will also read reviews from users of password organizers reviewed in this post.
This guide also has a LastPass tutorial.
By the time you are done, you will be able to choose between NordPass vs Dashlane, as well as select a password organizer from among these four.
Let's discover information about NordPass vs Dashlane and more password organizers.
1Password Authenticator App
Advantages of 1 Password Authenticator App:
Easy to use for the primary account holder
Great reputation
More features than competitors
Caters to individuals and families
Browser extensions
Organizes your data into vaults. The vaults are called "categories." They include passwords, passport, and credit card information.
Only remember one password to unlock all your passwords.
Alerts you of security updates
Alerts you about compromised passwords
2-Factor Authentication
Controls who in your family sees what
Boosts your cybersecurity efforts
14-day free trial
Encryption
As you can see, the 1Password Authenticator App has many helpful features if you are looking for password organizers.
Disadvantages of 1Password Authenticator App:
No phone number
No free plan
The 1Password Authenticator is too safe!
The 1Password Authenticator requires more steps than Dashlane.
With the 1 Password Authenticator, you need a master password, you need to generate a key, and there is a kit you need to deal with as well.
My husband and I tried to use the family plan. He could generate a key with the 1 Password Authenticator, but I could never generate a key, so I could never see the passwords he put in the app.
We left the 1 Password Authenticator and switched to Dashlane
Dashlane
Dashlane shows you the websites you use.
You choose each website each manually. The app tells you the instructions to be able to get the password into the app.
Dashlane is convenient too. Once the password goes into the app, Dashlane stores your login information in the memory. Therefore, you won't have to remember your login information going forward.
You can sync your phones if you are sharing and you can sync to the computer as well.
Dashlane has family plans so many family members can share passwords.
However, you can select to only share certain passwords with different family members. This is helpful if you want your spouse to share all your passwords but your children to only share some of them.
I am a fan of Dashlane.
Each time I type in a new password, Dashlane gives me the chance to securely save it for automatically populating password fields the next time I need. The tool gives me this opportunity even on my mobile device.
Dashlane is easy to use once you set it up.
Dashlane Testimonials
According to a Dashlane user,
"I like the premise of Dashlane, but I think they need to make things smoother on the tech side of things.

For instance, after adding myself to the Family Account, I was able to log in through Safari. However, the app kept telling me I needed to make an account even though we already had one.

I consider myself fairly tech savvy, so the fact that I wasn't able to easily figure out the solution means they need to make it easier for the user.

Also, I wish they had more options regarding what you can upload to the system for the passwords they make you add a website each time, but I wanted to add additional passwords such as one for a safe pin number, etc.

You can add them through a Notes section, but I just think additional customization for the user as well as smoothing out some of their technical issues would make the rating much higher.

I would probably rate it a 3 out of 5 stars."
This Dashlane user has a more favorable opinion of the Dashlane Password Organizer:
"We have been using this for about eight years.

I love it because we have the same app on our phone, and we share the login and password.

I don't have to tell [my husband]. He can look at it on his phone when he has a hard time logging in.

And, it's much safer than having to write passwords down."
NordPass vs Dashlane
NordPass vs Dashlane Similarities
Like Dashlane, NordPass has many YouTube tutorials if you need help.
NordPass automatically logs you into your accounts.
Both NordPass and Dashlane allow you to access your passwords and log in using them on many different devices.
Both NordPass and Dashlane have an upgrade service.
NordPass vs Dashlane Differences
When comparing NordPass vs. Dashlane, NordPass has many features that are worth mentioning:
NordPass is intuitive.
NordPass has premium tools.
NordPass creates and locks your passwords for you.
Use NordPass even when you're offline.
Let's explore more password organizers.
LastPass
Last Pass is like a secure vault. This password storing service is so secure that even Last Pass doesn't know your passwords.
This can be a disadvantage if you ever get locked out. You only need to remember one password. Make sure you remember it since Last Pass can't retrieve or help you reset it.
Also, LastPass has a Chrome extension, so you can add Last Pass to Chrome.
Step 1: Go to the App Store and search for download. Click "Get."
Step 2: Scroll right through the information. Click Enable Notifications.
Step 3: Click Sign Up. Type in your email. Click Create My Account! Last Pass will ask you for a way to remember your password in the event you forget. Set this clue.
Step 4: If you turn on autofill, your passwords in Chrome and Safari can be filled in for you. Click Turn on Autofill.
Step 5: Enable Autofill: Tap More Toggle Last Pass to On. Tap Done. Tap the Last Pass icon.
Step 6: Browse to a site in Chrome or Safari. Tap Share. Sign in with Last Pass.
Last Pass is great if you can remember one password, according to reviews at the App Store.
To download your passwords to your Lastpass Vault:
Click the plus sign in the upper right-hand corner of the screen.
Click a website you want to save the password for.
Enter your username and password.
Disadvantages of Password Organizers
When I originally discovered that I needed to manually enter each password individually, I abandoned my idea to use password organizers. The thought of manually adding all the passwords my husband and I accumulated felt overwhelming.
Consider these comments:
Honestly, finding a strong password for every site is a struggle — but it's definitely worth it (Source.)
NordPass vs Dashlane: FAQ
Is NordPass a Dashlane?
No. they are different password organizers.
What is better than Dashlane?
I have used several password organizers, but I have not found any better than Dashlane.
Wrapping Up: NordPass vs Dashlane
In closing, I now realize the inconvenience is worth the peace of mind the advantages of using password organizers bring.
By reading this post, you discovered information about Dashlane, NordPass, 1Password Authenticator App, and LastPass. You also received information that enabled you to compare NordPass vs Dashlane.
Readers, please share this post, so when it comes to comparing NordPass vs Dashlane and the other password organizers people seeking a password management system can make an informed choice.
I look forward to your views in the comments section. Do you have a preference when it comes to NordPass vs Dashlane, LastPass, or the 1Password Authenticator App?

Janice Wald is the founder of MostlyBlogging.com and co-founder of the Mostly Blogging Academy. She is an ebook author, blogger, blogging coach, blogging judge, freelance writer, and speaker. She won the Best Internet Marketer Award and the Best Blogger Award at the 2021 Infinity Blog Awards. Wald was also nominated as 2019 Best Internet Marketer by the Infinity Blog Awards and in 2017 as the Most Informative Blogger by the London Bloggers Bash. She's been featured on Small Business Trends, the Huffington Post, and Lifehack.