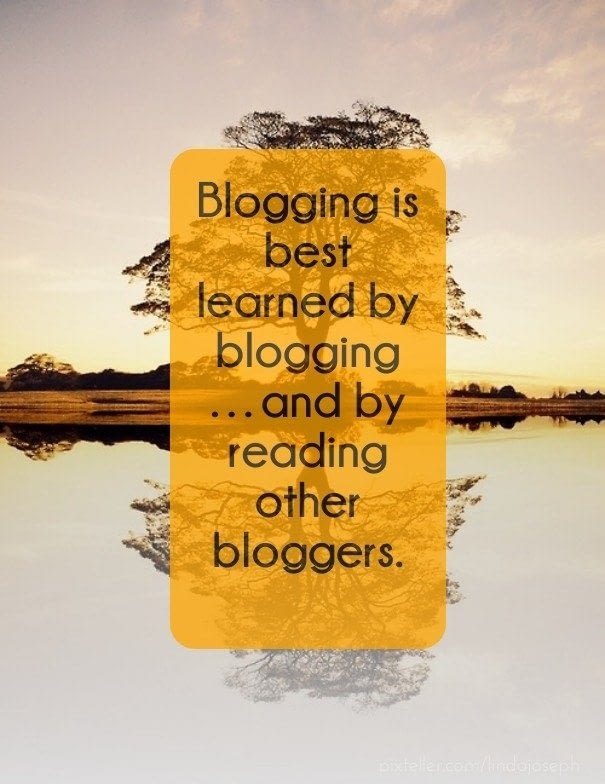 Are you familiar with various commenting tools?
Did you know that there are various commenting tools?
There are many commenting tools designed to entice readers to return to your blog.
CommentLuv is one of those tools, for example.
Guest author Enstine Mulki has developed another commenting tool: MyCommentAuthors.
This post will explain how to get visitors to return to your blog and how you can get his popular free plugin.
Thanks to Enstine's tool and this post, you can generate traffic, comments, and new email subscribers.
There are two categories of readers you should care about:
New readers
Returning readers
Every day, we get new readers from social media, search engines, links, etc. Some of these will immediately bounce off. Others will take a few minutes to read your articles and engage a bit more.
We are interested in everyone just discovering our blog. So we must gird our loins and stand firm to catch and keep them. It's crazy to constantly lose new visitors to our competitors considering how hard it is to attract them.
Returning visitors are those who make up your active community. They are the ones who have fallen in love with your blog. They can easily click your links and make a purchase based on your recommendations.
This group of visitors will be quick to share your posts on social media, link to your content from theirs and talk to others about you.
This has been my experience so far. If you've been blogging for a while, have you also noticed this? Let me read your comments below.
Looking at stats from Google Analytics, you'll find out that returning users spend more time on your blog and click to read more pages.

Seeing how this category of readers engages more, taking a nonchalant position will make us really dumb.
So as bloggers, how do we convert new readers to repeat visitors?
Considering my stats above, I knew something serious must be done to reverse the "users" figures in my favor. Here are a couple of things I propose you do:
1 – Make your new readers feel truly welcomed
Now, this is very important, isn't it?
We know the first impression counts a lot. This does not exclude online marketing. Your blog should be goaled to impress first-time visitors so they will not just land, but stick around to explore your offering.
So keep it really simple. Get a premium clean and professional blog theme. Having an attractive layout with well-labeled menus can give your visitors a "road map" for where to go as they explore.
Avoid annoying popups. People are just blowing it out with this. Generally, popups are annoying. Why not try intelligent lightboxes? These are triggered by scroll and click events. It means readers only get to see the boxes if they scroll to a certain portion of a page or should they click a link.
Kick those cheap web hosts off. Cheap is price-friendly but can be a business killer. Cheap means limited resources. Generally, you are going to get hosted on some sluggish web servers. This may lead to slow load speed. It can be so irritating for a new visitor to click and wait tirelessly for your page to load.
One of the reasons your bounce rate is sky-high could be your site speed: degrading poor performing web servers, underoptimized graphics, a boatload of plugins referencing external resources in a loop, awfully coded theme, etc. Trust me, a huge portion of your new readers will bounce away never to return. What do you think?
Now, I moved my blog to what I consider one of the fastest WordPress hosting providers of our time. This brought my blog speed from 10s down to less than 2s. Incredible!

This may be pricey, but it's worth it.
Use your brain: What else can you do on your blog to make new readers feel delighted? What else will make your blog truly welcoming?
2 – Be conversational in your writing
Some bloggers write like robots. It's annoying to be reading a blog post and have the impression you are reading a machine-generated text. If you don't pour out your emotions into your writings, you will make it hard for your readers to connect.
Avoid using unnecessary jaw-breaking terms. Avoid long sentences. Remember you want to help your readers get a message not impressed.
Write like you are talking to someone who should contribute to the discussion. It's a conversation. Give your readers a chance to speak.
How?
Ask them questions and provoke a response. Direct them to the comment section of your blog. Or offer them something irresistible, locked up behind a lead capture form. My friend Sue Dunlevie has a post series on list building I recommend you check out.
3 – Don't neglect commenting
One easy way to turn your new visitors to raving repeat visitors is to pull them to the comment section and interact with them.
Once someone drops a comment, it will be easy to bring them back:
First, reply to their comments. Ask a question in your comment reply to bring them back to the blog post. For this to work, you are going to need a system that will allow comment authors to subscribe to comments. Thrive comments is what I use and this works incredibly well. I wrote about it here.
4 – Use MyCommentAuthors
This is a blog engagement plugin that is certain to turn your first-timers to repeat visitors. MyCommentAuthors runs at the backend and only helps to generate a list of comment authors on your blog for a given month.
The next thing to do is publish the generated list on your blog on a Thank You blog post.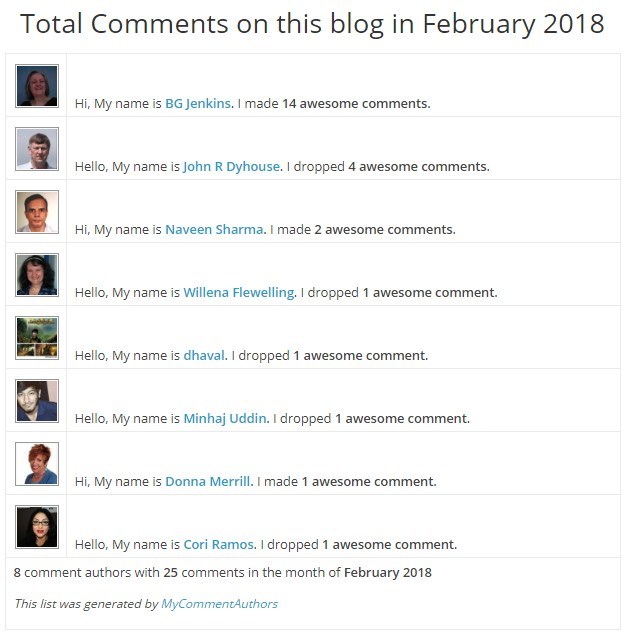 This list was generated and published on MonnaEllithorpe.com. Lisa uses the plugin to publish her Thank You blog post here. Joy Healey also published her list here.
MyCommentAuthors has an inbuilt alert system. You can use this to send a friendly email to everyone that commented in that month, pointing them to the new Thank You blog post. Definitely, the result is that they will be coming back to your blog for more.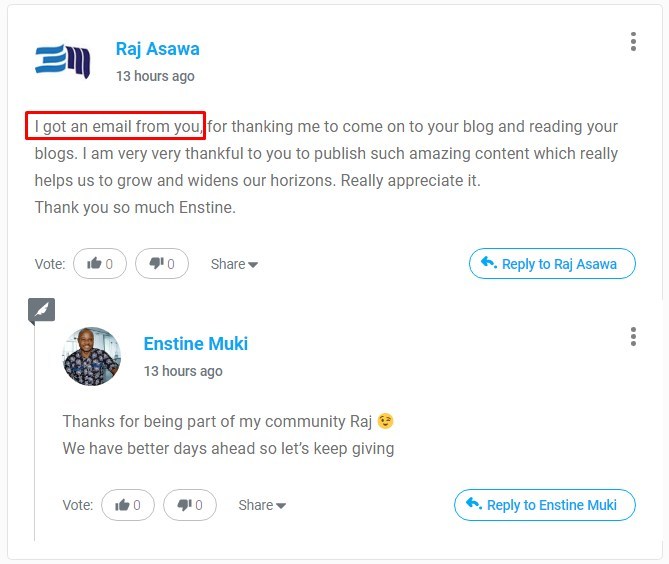 Here is a comment I got from a repeat reader, who came back thanks to the email sent by MyCommentAuthors. So it works. What do you think about it?
Download MyCommentAuthors from WordPress.
Conclusion
Some new visitors will land on your home page. Others will be driven straight to a blog post. Your blog should be able to convert more of them to repeat visitors.
Let me hear what you think in the comment box. What else do you think should be done to turn new visitors into repeat visitors?
Readers, please share so other bloggers learn about Enstine's MyCommentAuthors plugin.