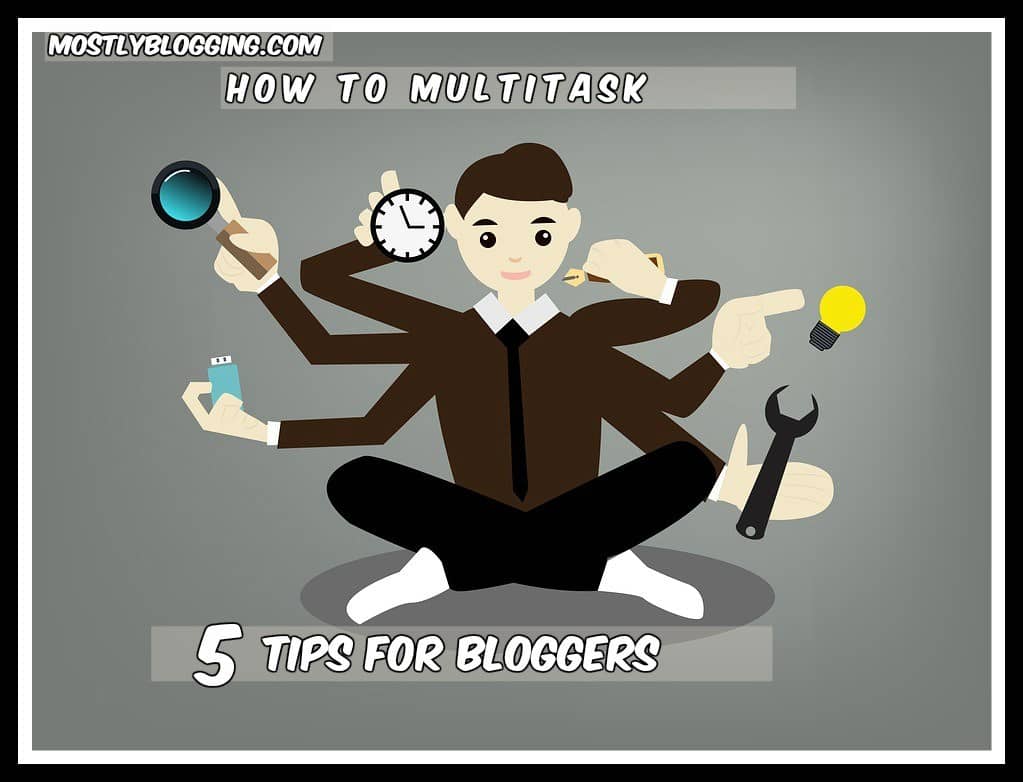 Recently, I guest posted for a big blog, Write to Done, which offers writing tips.
Did I write an article on how the readers could improve their writing?
No.
My guest post was not about how to improve writing skills; the topic was how to improve time-management skills.
Consider these comments from readers:
I needed to take my life back from blogging. This is really taking all of my time already.
We have to take time for ourselves, but as a blogger, we have to maintain lots of work, and I am also working almost 12 hours on my blogs,
By blogging, we do spend time. I, myself, spend about 8 hours each day. Researching keywords, taking pictures, editing it, research the article, making it good, readable, and understanding and also the last part is SEO.
Bloggers have so much to do to be successful in both their online and offline worlds.
We hear so much about the necessity of multitasking, in all areas of our lives, but is that really the answer?
Fortunately, our guest author, Alice Jones, is here to explain the pros and cons of multitasking for bloggers.
Multitasking As A Blogger: How To Keep Track Of Everything?
By Alice Jones
Multitasking is insidious. It seems that you can really handle several tasks simultaneously, but the results are dreadful: you mix the ideas, repeat your thoughts several times, and your tasks are completed only on 30%. Only 2% of all people are capable of working with several tasks and getting proper results. The other 98% should work hard to improve their multitasking skill.
For a blogger, the ability to get involved in several processes without losing a quality of the performed job is a priority. The matter is that blogger is a writer, photographer, marketing manager and sometimes even a developer rolled into one. If a problem appears, he finds the solution alone. And it does not matter whether this problem is connected with web hosting or with the lack of ideas for blogging.
Even if you do not belong to that 2%, you can always master the skill of multitasking. There are several effective methods that can help you cope with several tasks at the same time and get to know how to become a multitasking pro.
Practice your daily routine
The best way to understand how multitasking works and how it is incorporated into your everyday life is to check your daily routine. Usually, we do several tasks simultaneously and do not even notice them. For example, when you prepare your food, you can simultaneously watch TV, wash the dishes and clean the room.
Try to do several things in your daily routine at the same time. Observe how your brain starts to work harder with each added task. With the time, you will notice that multitasking became easier for you. You can add new tasks to find out how many of them you can handle.
Divide your tasks into separate groups
If you have a list of several urgent tasks, and you have no idea how to handle all of them, batch these tasks according to some principle. For example, you can batch the tasks related to video content, images, and tasks for finding technical solutions.
Create a detailed plan for each task
The main problem of multitasking is that you forget about important things. For example, if you write an article for your blog and at the same time write 5 more articles and choose the link-building strategy, you can forget about adding a title or editing the article. To avoid such situations, create a detailed plan for every task before you start to work on it. Of course, it takes some time to note everything, but you invest this time in a good result.
Make a list according to priorities
For better efficiency of multitasking, set priorities to the tasks. Always start with the most urgent tasks and move to less pressing.
There is another approach for listing tasks according to priorities. You should start with the most complicated tasks which require much focus, attention, and efforts and move to the least complicated. In this way, you spend your energy efficiently.
Do not distract
Distractions ruin your results of multitasking. When you add to the existing list of blogging tasks talking to your friends, checking Facebook and Instagram updates (if this is not a part of your job), and watching some guilty pleasure shows, you lose your concentration. You waste the energy and cannot focus on the tasks that demand to find a solution right now. It is always better to get rid of all the factors that can distract you from doing your job.
Of course, multitasking has many disadvantages: you become less productive, the stress rate starts to grow, you even start to cheat unintentionally as you want to solve the problem quicker. But at the same time, multitasking has some benefits. You get more revenue, you do not need to hire employees to help maintain your blog, and you become a professional in different niches.
Find a balance between multitasking and working in a normal mode. Remember, for any blogger creativity and perfect quality of content has a prior value. If you lose creativity and the quality becomes worse, change your way of performing tasks to less complicated.
Bio: Alice Jones is a tutor and freelance writer, who is interested in education, blogging and sharing her ideas. She also loves inspiring and motivating people and has spent the last 5 years improving and helping the others to improve. Follow Alice on Twitter, Google+, or find her in other social media, pop in there and say "Hi" to her!
Readers, please share, so other bloggers struggling to keep up with online and offline tasks have Alice's tips.
How do you manage to have time for a life in and out of the blogosphere? How do you have time to do "it all"? What is your most effective productivity tip? I look forward to reading your technique in the comment section.
Related Posts
How to Use a To-Do List to Be a More Productive Blogger
19 Strange Ideas That Will Amplify Your Productivity
7 Ways Blogging Helps You Better Navigate Life
How to Blog and Still Have Time to Sleep Part II
Source:
The picture is from https://pixabay.com/.