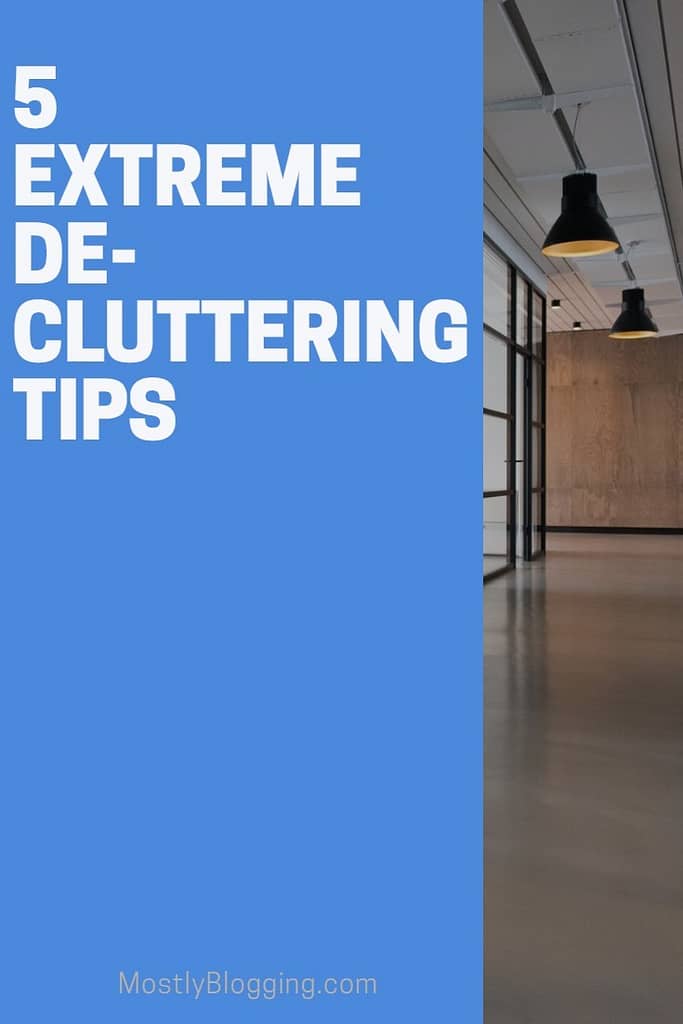 Are you in need of extreme decluttering?
Many people save everything. They are what is called "pack rats."
If you are in a couple, and one of you is a minimalist, and one of you is a packrat, you balance each other, and your overwhelm decreases. If you are both minimalists, your overwhelm from owning too many things is nonexistent since neither of you saves too many items.
However, what if you and your partner are both pack rats, and you both save everything? There is no balance and overwhelm consumes you.
Overwhelm can be suffocating.
Overwhelm leads you to feel you are drowning in your possessions.
Overshelm can be dangerous.
It's true. I know of a couple that even saves expired prescription drugs and food that is so old the color darkens and the smell sours.
When asked why they save these old items, the answer is the same: You never know when or if you might need them.
My husband actually has a "black hole" he is proud of full of old items he just might need one day and wants to make sure he has on hand. He believes he is being frugal by not going out to buy items he already owns.
As an adult, my size hasn't changed, but styles sure have. Is it time to get rid of my bell bottoms when they still fit?
Extreme decluttering entails getting rid of clothes you haven't worn in a year. I thought of getting rid of a brown scarf I haven't worn in a year, but the time may come I want to wear a brown scarf, and then I won't have it to wear.
Clearly, what my family needs is extreme decluttering. Does yours?
Overwhelm can be stressful, overwhelm can interfere with the quality of your life when you don't have space for new items you really need.
Productivity is the combination of 2 E's: efficiency and effectiveness. By reading this guide to extreme decluttering, you discover how to declutter effectively so you can lead a more efficient life.
If you want to make extreme decluttering easy, read this article till the end. We'll share tips and tricks that we have learned from our experiences.
5 Hacks to Make Extreme Decluttering Easier
If you think that extreme decluttering is an overwhelming process, you're right, but you can make it easy by dividing the whole process into smaller junks. When you plan ahead of time, it makes extreme decluttering smooth and easy.
Follow the below-given hacks and make your extreme decluttering experience stress-free.
Create a Schedule
First of all, you need to create a timetable. You can't do all the tasks at the last minute or last night. Create a schedule and find how much time it will take to pack all the items you've decided you can live without. Divide the schedule by room to make things easier.
After creating a schedule, follow it strictly, and it will make you feel relaxed on a decluttering day.
Only Keep Essential Items
Don't rush the process. You don't want to have remorse if you give away something you need or keeps something you should have tossed.
These are not easy decisions. For example, is a study table essential if you haven't actually studied anything in years?
Before starting, make a list of essential items that you need. It can include blankets, toothbrushes, toilet paper, prescriptions, medicines, mobile and laptop chargers, and eyeglasses.
Extreme Decluttering Trick: Start packing all the goods present at home. In this way, you are forced to decide what you can and can't live without.
Sell your old items online or to your neighbors. By knowing there is a bright side, you pick up some extra spending money, you are more inclined to follow through on extreme decluttering.
Are you still interested in extreme decluttering? Keep reading.
Label Items According to Room
One of the reasons we buy so much and suffer from overwhelm is we can't find our belongings. Pack rats such as myself save everything, so it's no wonder we can't find what we need. We go out and repurchase believing we are in need not realizing we already own what we are purchasing.
These extreme decluttering tips save you money as well as boost your home organization.
Another useful hack for making extreme decluttering easier is to pack your items in boxes and label them according to rooms. You can use different colors for labeling. Extreme decluttering can be fun.
Use colored packing tape to differentiate boxes. You can also take pictures of these boxes to get an idea of what's inside.
Let's learn more extreme decluttering strategies.
Move
Are you done battling the overwhelm? Maybe it's time to throw in the towel and move. You can downsize to force you to get rid of what you don't really need, or you can upsize to make sure you have room for everything you do need.
In the event you realize moving is the answer, follow these suggestions:
Keep your moving boxes light
It doesn't matter whether you want to make a move yourself or hire a moving company; you need to keep your boxes light. Use the right-sized box and pack items wisely. If you hire movers, they'll pick easily, but it will be difficult for you to carry these boxes when you reach your new home.
When you pack items in boxes, pack them full. Don't leave empty spaces because they can lead to breakage of items when they strike with each other. Use blankets and towels to fill up space.
Choose movers wisely
You have done all the hard work in packing your items, and you make a blunder while selecting a moving company. It will waste all your efforts. Get suggestions from your friends. Don't pay all the money in advance. Ensure that they'll come at the right time.
Ensure that company is insured
First of all the company will be trustworthy and secondly, they will handle your luggage with care. In case of breakage, they'll have to pay you. Get full-value replacement coverage.
Be smart and load your stuff carefully
Keep heavier items at the bottom and place lighter items on them. Moreover, ensure that boxes are close to each other and there is no room for them to slip away. Pack delicate items in the original boxes to avoid damage. If you need to replace your broken items, your sense of overwhelm you were trying to decrease heightens.
The packing of items can be overwhelming. So, the best option is to contact Movers NYC for a hassle-free experience.
Take Your Time
Another mistake that people make is they start opening boxes when they reach their new home. Take your time, get relaxed, and number the rooms as you have done in your previous house.
Unpack boxes accordingly and start shifting items one-by-one. It will ensure that all the items are safe and in place. You won't need extreme decluttering in your new home since your items will be organized from Day One.
Extreme Decluttering: FAQ
Why is decluttering so difficult?
People can't decide what is and isn't essential, so they save everything believing they may need the items one day in the future.
Final Words: Extreme Decluttering
Extreme decluttering can be a daunting task, especially if it's not planned and organized well. We have learned from our experience; now you can learn from reading this article. These hacks may sound hard-core, but they make your extreme decluttering easier.
Let's summarize the tips we have shared in this article:
Plan and stick to a schedule. Pack essential items. Label boxes according to room numbers. If you decide to move, choose professional movers. Keep your boxes light.
Follow these hacks, and your extreme decluttering experiences will be easier than you thought.
Readers, please share these extreme decluttering hacks.
I look forward to your views in the comments section. Do you have any extreme decluttering hacks you can suggest?
Author: This post was contributed with an introduction by Janice Wald.
Note: These extreme decluttering tips reflect the views of the contributing author and not necessarily Janice Wald or Mostly Blogging.