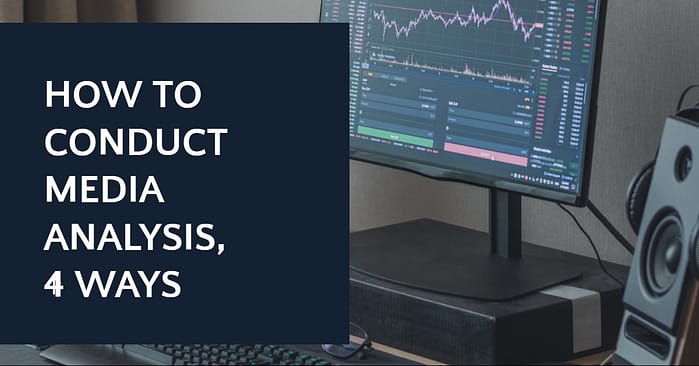 No marketing strategy exists in a vacuum. You need to always monitor your and neighboring niches, keep track of news outlets and analyze ever-changing market trends.
This is what media analysis is for: It helps a business to be on top of their niche and adapt their marketing strategy to meet your customers' needs.
What is Media Analysis?
Media analysis includes both news media analysis and social media analysis on a given topic.
Media analysis can be of two types:
Quantitative: Focusing on trends, visualizations and summaries;
Qualitative: Focusing on interpretation of content, popular topics, etc.
A solid media analysis should include both, however, I consider the qualitative method to be more actionable.
Media analysis is a broader term that may include tactics you are already well aware of:
Social listening: Monitoring real time conversations on a given topic
Competitive analysis: Investigating your competitors' keywords, content creation tactics, media copies, etc.
Brand monitoring: Monitoring the online context around your brand
Content analysis: Researching all content that has already been published on a given topic (possibly in an effort to find content gaps or unique content angles)
By reading this post, you discover how to conduct media analysis in these four ways.
Let's start with the basics of media analysis.
Basics of Media Analysis
Like with all digital marketing strategies, media analysis starts with your goal. Media analysis can help with:
Content ideation
Reputation management
Competitive research
Market analysis
Seasonal marketing
Trend research
Audience research
Product positioning, and so much more.
Depending on your goals, media analysis can include different sets of tools, but the steps are generally the same:
Identify your keywords and data sources
Collect and curate data (articles, social media updates, forums threads, etc.)
Analyze common language and sentiment
Note keywords and common messages
Create an actionable report based on your findings (What do I do?)
Depending on your tasks and goals, here are a few tools to help you with your media analysis:
Social listening
Goals:
Generating target audience insights
Understanding popular topics and questions
Being able to participate in popular discussions in real time (for brand awareness building and lead generation)
Awario is one of the best social media listening solutions because it incorporates corporate analysis and artificial intelligence to help you react to what needs an immediate reaction and generate meaningful insights (both quantitative and qualitative analysis):
The tool provides useful tools for tracking media updates across every existing channel on the web and comparing data from different periods to identify important trends, measure demand and determine any product seasonality.
If you are still planning to launch a project, social media listening will help you research your future market, gain some audience insights, and define the most effective media channels.
When launching, it is important to focus on what is likely to bring in results and no channel is effective for just about any niche. For example, TikTok works best for technology, food, and gaming brands, and the top-performing industries on Instagram are fitness and fashion.
Related Reading: TikTok MP3 Download: How to Legally Download Music [for Free], 4 Ways
But even with these numbers, use cross-channel media analysis to identify opportunities your competitors are missing because they use the "obvious" channels.
Competitive analysis
Goals:
Identifying best-working competitors' marketing tactics
Determining competitors' SEO priorities
Understanding and avoiding their failures (when building our own reputation)
Identifying content gaps your strategy can cover
Finding the best way to position your brand for it to stand out in the industry
SEO Powersuite offers a comprehensive competitive intelligence platform allowing you to analyze, compare and monitor your competitors.
Visualping is a different tool allowing you to monitor your competitors' pages and social media profiles and get alerted of changes. You can select what kind of changes or what area of the page you'd like to monitor for changes.
This is a great way to keep an eye on your competitors' digital marketing campaigns, pricing adjustments, promotional efforts or seasonality-driven marketing.
Competitive media analysis is important at all stages of your business but it is especially crucial before you even launch your business because it will help you avoid some grave mistakes like picking a misleading brand name or launching a product that misses essential features.
Namify is the tool that will help you avoid those branding mistakes because they already have niche research built in their algorithm that allows you to find a business name and brand identity that will trigger important associations:
Brand monitoring
Goals:
Analyzing the overall perception of your brand
Curating and publicizing positive customer reviews
Participating in brand-driven discussions to influence the context and the sentiment around it
Both Awario and Buzzsumo offer powerful brand monitoring dashboards (both social media and news listening) that include alerts and market analysis.
Content analysis
Goals:
Identifying niche content needs and demands for product planning and development
Finding unique content angles
Investigating content topics that resonate with the target audience
Text Optimizer uses Google's search snippets to identify underlying concepts and entities and optimize landing pages for them to meet your target searchers' expectations:
Text Optimizer allows you to discover content angles as well as identify related entities to associate your business with to get into Google's Knowledge Graph.
Google Trends helps with both quantitative and qualitative analysis by allowing you to see and compare content trends and interest peaks. Google Trends allows you to set a particular country or (when it comes to the United States) a certain state, so it is a useful tool for both local and global businesses trying to predict content demands in certain areas.
Using some free WordPress plugins you can create even prettier graphs using data from social listening tools or Google Trends.
Content analysis often includes:
Keyword research and monitoring
Niche question research and monitoring
(Seasonal) trend analysis and monitoring
Niche content curation
Media Analysis: FAQ
How do you do a media analysis?
Here are ways to conduct a media analysis: Social listening, brand monitoring, competitive analysis, and content analysis.
Conclusion: How to Conduct Media Analysis
Media analysis is an integral and fundamental part of any digital marketing strategy helping you understand the niche demand, general audience needs, and brand perception. It is also not rocket science that would require huge budgets or separate training.
Using the tools above (or their alternatives), you can perform media analysis and monitoring and keep that process in-house without hiring additional staff or investing too much money or effort.
Readers, please share so marketers discover the benefits of media analysis to boost their marketing success.
I look forward to your views in the comments. Have you performed a media analysis? What were the results?
Author Bio: Ann Smarty
Ann Smarty is the founder of SEOSmarty.com. Smarty has been in internet marketing for seven years, she is the former editor-in-chief of Search Engine Journal and contributor to prominent search and social blogs including Small Biz Trends and Mashable. Smarty is also a frequent speaker at Pubcon and the host of regular Twitter chats.