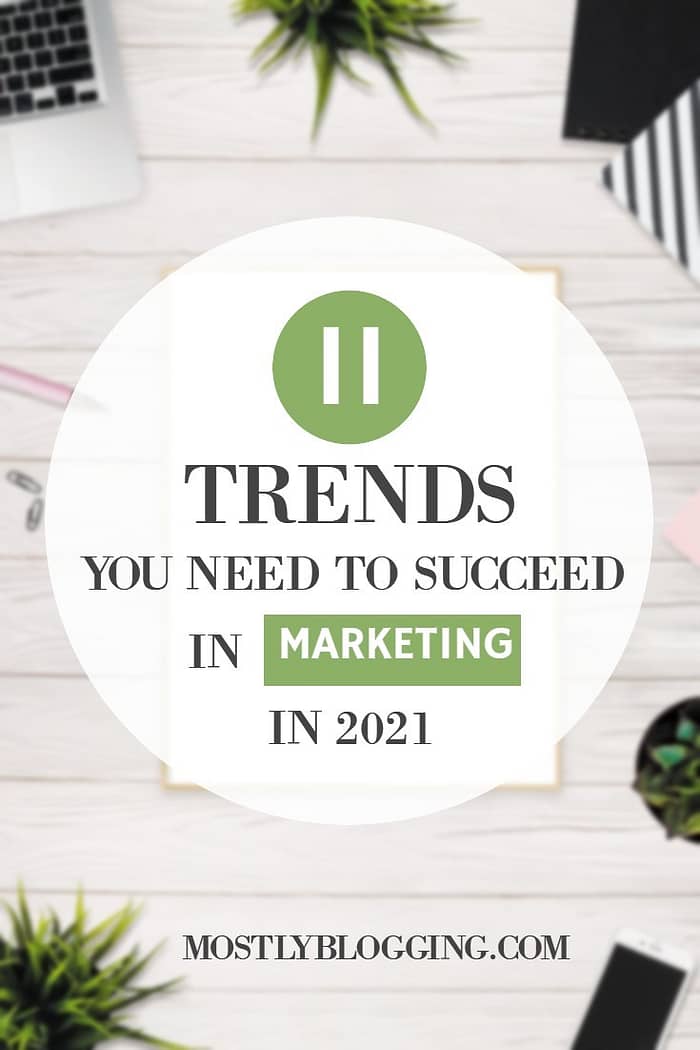 Are you familiar with marketing research trends for 2021?
You need to know how to effectively market without using outdated techniques.
This guide reports on the latest marketing research trends.
This report shares marketing research trends for 2021 based on Duct Tape Marketing podcaster John Jantsch's predictions as well as my own predictions.
In the new year, you'll see a variety of marketing methods bringing you success.
If you want to be ready for 2021, follow the 11-part action plan for successful marketing presented in this marketing research trends report.
By the time you're done reading this report on 2021 marketing research trends, you'll know 11 currently effective marketing strategies, how to implement these methods, and the most important marketing trend, so be sure to stay until the end.
Let's get started learning about marketing research trends for 2021.
What are Marketing Research Trends?
Trends are predictors of the future based on data collection. Since this guide offers marketing research trends, you find predictions of successful marketing methods that will work in 2021.
I did a great deal of reading about methods that should work for marketers in 2021 and then I analyzed the reading to bring you the results in this post.
These trends are based on my research and John Jantsch's research. Jantsch is a marketing expert and marketing podcaster.
Note: Like all predictions, there are no guarantees that these marketing trends, although based on research, will be truly successful in 2021.
2021 Marketing Research Trends According to John Jantsch
Source: John Jantsch, Duct Tape Marketing, 2021 Trends for Small Businesses
According to John Jantsch of the Duct Tape Marketing podcast, these are the marketing research trends for 2021:
1. Pay Attention
We can change quickly. Trends change quickly. 2020 proved that.
Talk to your customers. They'll enlighten you.
2. Everything Gets Smaller
Videos are getting shorter, for example. The reason: People want something more personal.
Smaller can mean less complex. For instance, cars turned to bikes in 2020.
These changes show that one of the marketing research trends is a move toward simplicity.
3. AI Gets Practical
AI is embedded in our applications. For instance, Google Docs corrects our mistakes when we type.
Jantsch predicts AI will write articles, but they already do. See this Mostly Blogging article about Articoolo, the writing robot.
The Your Story blog agrees with Jantsch.
"With advanced software development, AI has become more accessible to businesses, making itself a very valuable tool for marketers. It also influences the customer's choice by giving relevant recommendations as per the taste and preferences."
4. Talent Investment
Previously, small businesses couldn't afford talent development. Jantsch predicts small businesses will pay to develop their employees' skills.
5. Video Gets Personal
The video will grow as a content medium. This is a bridge to getting attention and making things smaller.
Jantsch asks, "Do trends creep up on you or overwhelm you?" He offers Zoom as an example. In 2020, Zoom became a fact, not a trend.
In 2021, from Zoom, videos will get customized for instance for collaboration, sales, and customer support. For example, Loom, a video tool, has these capabilities.
6. User Experience and SEO Get Attached
Content structure and site speed are examples of what is already part of the User experience (UX).
In 2021, Google's focus will be on Mobile First. Since more consumers search on their electronic devices, Google wants the user experience to be as smooth on a mobile device as on a computer.
If Google doesn't think you excel as far as a mobile experience, your traffic will suffer.
7. Coaching as a Profession
In 2020, many people were laid off from corporate jobs and started coaching businesses. This has overlap with businesses developing their employees.
2021 will be a year of recovery, personal development, and changing priorities.
More 2021 Marketing Research Trends
8. Search Engine Marketing
Marketing research trends are also important in the area of SEO.
I agree with Jantsch that Mobile First is one of the marketing research trends.
There are ways to give mobile users a seamless journey. For instance, you can boost your site's loading time.
In 2021, you should boost your website's loading speed for the following reasons:
First, Google is rolling out a "Mobile First" plan that includes site speed. Google wants to be user friendly. User experience is increasingly important to Google. This won't change.
By boosting your site speed, you are making Google's users happy since they won't have to wait for your site to load. If you want Google to show your site to its users, you need to make sure your loading time is not longer than two seconds. Use GTMetrix, a free tool, to test your site speed.
Many search engine marketers sell on the internet. If people have to wait for your site to load, they will leave and buy from someone else.
On the other hand, a happy consumer is bound to recommend your website. For all these reasons you need to boost your site speed. You'll make Google happy; you'll make consumers happy, and you will make yourself happy with the increased traffic, customers, and sales.
Another way to make Google happy is by having long content.
Let me offer you some data: Posts with 3,000 words or longer get 3 times more traffic, 3.5 more social shares, and 4 times more backlinks than posts that are 1,200 words or shorter (Source).
The reason long-form content makes Google happy relates to its focus on Expertise, Authority, and Trust (E-A-T).
You sound like more of an expert when you have a quality, in-depth post. Link out to authorities. Let Google know you are trustworthy so Google shows your posts to its users.
In addition to making sure content creators follow the E-A-T criteria, Google has emphasized user intent when sending webmasters traffic.
A Quora user was asked, "What is the next phase of SEO in digital marketing?" The answer was "user intent."
9. Video Marketing
With so many videos being uploaded to social media sites, 428 million in the last year alone (Source), social media algorithms need to change to determine which videos should be shown to users.
2020 marketing trends predicted video would explode, and video consumption did. In 2020, consumers watched more videos than ever before, and this trend will continue.
These statistics support the popularity of videos:
During the Coronavirus, video exploded even more than it already had in previous years.
In 2020, 80% of all people admitted watching at least one video while sheltering in place. That number is expected to rise to 82% by 2022.
Therefore, you can expect to see more videos on social media.
Stories
More data: More than half a million people admit to watching Instagram Stories daily.
Consider TikTok's overwhelming popularity; Reels, Instagram's version of TikTok; and the use of video in stories on Instagram, Twitter, LinkedIn, and YouTube.
Also, we now have free tools like Combin and Inssist that allow you to put video stories on Instagram from a desktop. It is clear that the rise of video in mainstream marketing is only getting more prevalent.
Related Reading: Here is a tutorial for the Inssist Instagram desktop viewer.
More social media statistics:
Nearly 54% of people preferred to watch a video about brands or products (Source).
While isolating during the pandemic, videos gave consumers a personal connection they might not have otherwise had while sheltering in place. According to statistics by Forbes, 55% of people admit to watching videos daily.
According to the source, 80% of consumers now pay for video streaming services. The trend is expected to rise and keep climbing. Predictors speculate streaming will eventually replace television watching.
Even mobile phones now are being built to sustain more video watching. Therefore, the top 2021 trend for marketers is videos.
There are many free online video editors and paid video tools that will help marketers make videos and many video ideas as well.
Marketers can have testimonials and demonstrations in videos, for instance. You can then multipurpose these videos by using them across social media channels. We are already seeing marketers' video ads before and during a YouTube video.
New types of video marketing will start including the use of cartoon animation and shoppable videos. Shoppable videos have a "Buy Now" link on a product shown in the video. To be prepared for 2021, you need to know how to market using videos.
10. ECommerce
ECommerce and social media will become more tightly connected.
For instance, Instagram makes shopping possible using Reels, and shopping on WhatsApp is easier due to the implementation of shopping buttons and a shopping cart.
In addition, more brick and mortar stores will close as shopping becomes increasingly easier online.
Voice search using tools like Amazon's Alexa will increase. As explained, user intent is important to Google. Voice search makes users' desires clearer.
For instance, users make requests using long-tail keywords. Search engine marketers need to continue to optimize their content with these keywords.
ECommerce businesses will incorporate video marketing strategies.
The result: Marketers will see the worlds of eCommerce, search engine marketing, video marketing, and social media marketing blur.
People who already followed these strategies ended 2020 ahead of their fellow marketers. The rest would be wise to play catch up by following these marketing research trends in 2021.
Are you aware 2021 will see new types of marketing?
For instance, cause marketing has brands supporting popular causes to attract new customers. There is also now D2C marketing.
Direct to Consumer (D2C)
D2C marketing takes out the middle person. In the past, entrepreneurs used a 3rd-party such as a store to sell to consumers.
D2C marketing now has marketers selling directly to consumers without the help of a third-party.
Business to Consumer (B2C)
These B2C marketing research trends also involve network marketing.
"Chatting" is actually predicted to be a 2021 marketing trend. However, this networking activity is not expected to only occur on free social networking sites.
In fact, Live Chat and chat apps are increasing in popularity and expected to take off in 2021.
Celebrity Currency
Cryptocurrency
Will consumers pay in cryptocurrency?
The best way to transfer money in the future may be in cryptocurrency.
Celebrities are starting their own currency. Since people are wowed by the celebrity brand, the value of celebrity cryptocurrency rises.
For instance, Steve Wozniak, Apple's co-founder recently launched the WOZX token. So far, the token's price rise has been astronomical.
Do you think this is more because of the token or because of its connection to Steve Wozniak?
Social Tokens
"Social tokens" have recently been rising in popularity: Celebrities influencers accept these coins as currency which are redeemable for goods and services.
Will celebrities affect the eCommerce market? Let's keep an eye on these marketing research trends involving eCommerce in 2021.
11. Influencer Marketing
Let me offer some data about the power of influencer marketing:
Influencer marketing is so effective, companies report spending 17% of their advertising budget on this type of marketing.
In 2016, the influencer marketing industry was worth 1.7 billion. Today, the influencer marketing industry is worth more than 9.7 billion dollars (Source).
According to the source, influencers will get paid differently going forward. Instead of a flat fee, payment will be based on performance such as the number of sales or the amount of engagement.
Also, micro-influencers will continue to be valuable to brands since they are more affordable. In addition, in 2021, we will see the rise of the nano influencer.
Nano influencers are influencers with between approximately 1,000 and 5,000 social media followers. In contrast, a micro-influencer might have up to 100,000 followers.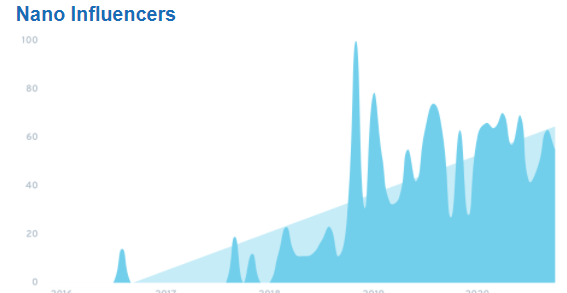 Screenshot courtesy of Exploding Topics
Micro-influencers: Instagrammers and YouTubers with a smaller number of followers are more affordable. Micro-influencers will accept products in addition to compensation. Agencies exist that match influencers and brands. These will continue to thrive.
More tools and services will appear to match brands with influencers as this marketing research trend grows.
Related Reading: How to Become an Instagram Influencer
Influencer marketing will continue to evolve in 2021. What's fascinating to watch as this trend evolves is that influencers are becoming AI.
For instance, LilMiquela is a virtual influencer. Here is a link to LilMiquela's bio.

Look at her profile picture. Can you tell LilMiquela is a robot?
According to trend research, companies plan on using virtual influencers to market their clothes and other products.
I currently use Influencer Marketing. I find influencers on Instagram and we share each other's Instagram Stories.
I also include Instagrammers in my content and I tag them so they know they are included. They then share my content with their followers. This works on Twitter as well.
Related Reading: How to Easily Get an Instagram Sponsorship.
Marketing Research Trends FAQ
What are the recent trends in marketing?
Search engine marketing, video marketing, eCommerce marketing, and influencer marketing are recent marketing trends.
What is the future of market research?
Keep your eyes on the eCommerce space as new types of marketing and new types of currency become popular.
Wrapping Up: 2021 Marketing Research Trends
In closing, this report presented 11 predictions of marketing methods you should follow in 2021 in order to be a successful marketer.
The marketing research trends provided in this report in the areas of search engine marketing, video marketing, eCommerce, and influencer marketing were supported by empirical data in the form of statistics and anecdotal data compiled from my research.
Of the 11 top marketing trends, the most important is video marketing.
Understanding consumers' changing desires helps you become a better marketer by making more informed decisions.
Readers, please share so marketers discover these marketing research trends predicted to be successful in 2021.
I look forward to your views in the comments section. Do you know any marketing research trends you can add to the conversation?

Janice Wald is the founder of MostlyBlogging.com and co-founder of the Mostly Blogging Academy. She is an ebook author, blogger, blogging coach, blogging judge, freelance writer, and speaker. She won the Best Internet Marketer Award and the Best Blogger Award at the 2021 Infinity Blog Awards. Wald was also nominated as 2019 Best Internet Marketer by the Infinity Blog Awards and in 2017 as the Most Informative Blogger by the London Bloggers Bash. She's been featured on Small Business Trends, the Huffington Post, and Lifehack.