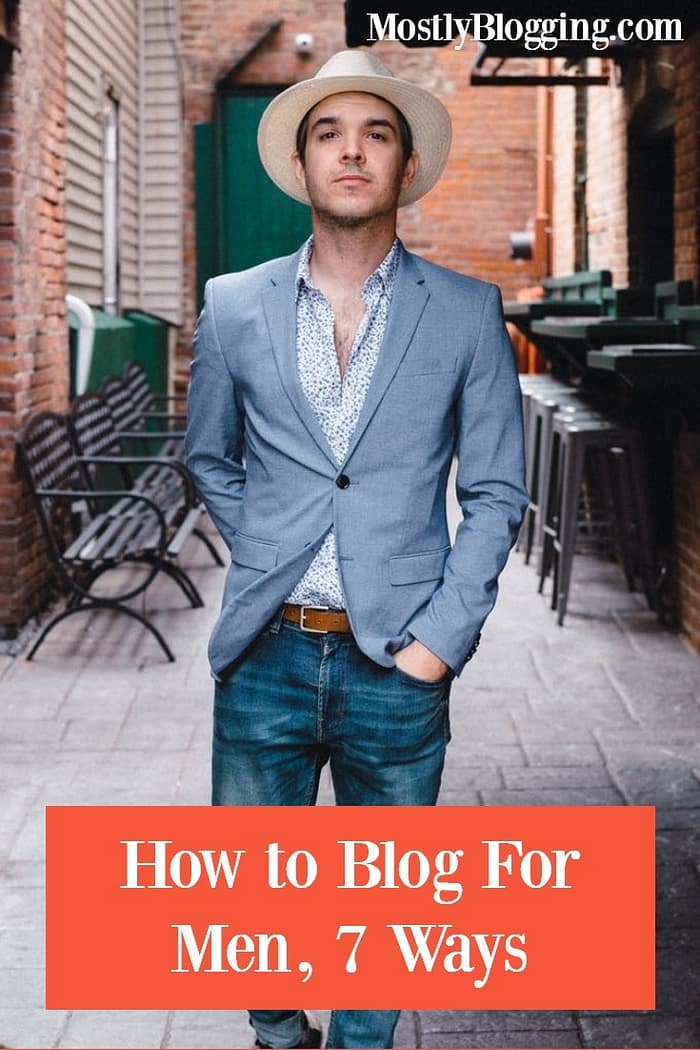 Man stuff.
Do you know how to run a guy site?
Today's contributing author will show you 7 ways to run a blog for men.
Let's get started finding out how to blog about man stuff.
7 Ways to Run a Blog for Men
Contributed Post
Being a man with a blog in the 21st century can be hard.
In the sea of blogs and expert bloggers, men bloggers have to fight to get to the top. First of all, they need to work on their skills all the time. Besides, they have to keep updated with the latest trends.
Additionally, as a growing number of women run blogs, men struggle to find their voice without ever falling into patterns that denote toxic masculinity. It takes them a lot of effort and time to make the perfect man blog.
That is why we have created this top list of crucial elements for running a blog for men.
If you follow our guidelines, you will design an ideal blog for the modern man that you'll be proud of.
Bring on the man stuff!
7 Ways to Write About Man Stuff
Be a Reader
First and foremost, to be a writer, you have to be a reader. That's just how things work.
Drop by the local library or browse Amazon for new releases. Another option is to check out the "BookTube" section on YouTube. You'll find dozens of like-minded book lovers who'll recommend the best reads.
Furthermore, your options regarding genres are limitless. Different BookTubers prefer different genres. Discovering various reader types will help you figure out to which group you belong.
This way, you will be exploring subjects that you could be writing about on your blog. Another important asset is the development of your writing style.
Learning about things that interest you will make you a stronger person as well. Boosting one's capacity and building character is the main weapon in today's fast-paced world.
As former president Harry Truman said,
On a side note, the term "reader" has expanded over the years. Now it includes listening to audiobooks, which is another great source of knowledge.
Research Your Audience
Any person with a blog knows the importance of knowing their target audience.
If you are new to blogging, you might want to get familiar with blogging terms like SEO, SERP, and organic traffic. That will be the foundation of your blogging. Once you have that out of the way, you can move on to researching your readers.
Bear in mind, however, that mastering the skills required for blogging takes time. It is a process that you execute by daily improving your expertise. Nothing worth having will ever come easily to you.
As you'd like to run a blog for men, you should focus on the male population.
If you are a man yourself, think about your general interests. What would you like to read about? What questions would you like to find the answers to? Then write about it.
The final piece of advice is never to expect immediate results. There are thousands of blogs on the web. It will take Google some time to recognize yours. So, be patient.
Choose a Relevant Topic
To follow up on what we just said above – you need to know your readers.
At the same time, you should be typing about what you are interested in. Decide on a topic and get informed about it.
Your target audience will tell you about what they want to hear about. Just listen to them and look at what they search for.
Make sure that the subject is relevant, though. Once you know your audience, everything about blogging will be easier.
Some of the hottest topics for men right now include style and entertainment. The former is an all-time classic. Men are always looking at new trends. You can talk about what was in fashion earlier and what is now. Explore accessories and suits – the list goes on.
Another topic for men to talk about is online gaming. Discuss popular games and what a modern gambler is into. You can even recommend new titles. Expert sites like CasinoBloke examine and review online casinos for your convenience. You can take their helping hand to assist you in creating the best blog content.
Know Your Competition
Just as you should be acquainted with your helpers aka readers, you need to know the opponent as well. What better way to get inspired to push yourself further?
And not only is that inspiring, but it will also tell you what people want to hear about. If you're at a loss for new topics for blog posts, look at what other bloggers are up to.
While at it, try and copy them. That way, you will get the best blogging tips and tricks for free! And who doesn't like free stuff?
Knowing who you're competing with will lift you higher in the ranking list. The more you know – the better.
On the other hand, you might not be competitive at all. If your goal is to ride solo without a trace of competitiveness, that's great, too. Just keep doing your thing and move on to the next blogging tip.
Be Up-to-date, Always
One of the most pivotal tips we can give you is to be on top of the game.
And how do you achieve that?
You stay on top by knowing what's going on in the world.
Follow leading newspapers (online or offline) and check out big networks in your field of writing. Since you have a blog for men, you should keep an eye on relevant topics for men.
Linking back to tip number 3, knowing your topic is one thing. But things are changing all the time. That's why you need updates.
No one is going to care about gym tips from 2015. So, to have a good blog for men, you need to talk about current circumstances. Focus on the now.
Just as you live in the present moment, so should you blog.
Here are the best tips for running a successful, creative blog. Check them out for even more advice. After reading the article, you'll be ready to rock the best men blog out there!
Be Consistent
Having picked a topic (or more topics) and gotten to know your readers, there's another thing to do.
It is not enough to just chat about working out, style, jobs, women and so on. No, you need to have a stance.
In your blog posts, show an attitude. Take a stance and stick to it. Let your opinion shine through every article you write. That will make your posts unique and give them a special whiff.
An attitude gives texts a personal touch no one else could ever provide. When someone reads your posts, make sure they know it's you. Write opinionated pieces that show resolution and passion.
Be a passionate blogger.
Naturally, you need to be open to discussion. Make sure to allow comments in the section below the posts. That's another way to see what readers think about your content.
Post Regularly
Last but not least, you should keep your blog for men alive. To do that, you need to write and post regularly.
This is especially true if you already have an existing audience. People do not like to be kept waiting.
So, create a schedule for posting and stick to it.
Additionally, this tip applies to newbies to blogging. Google will not acknowledge your blog for men if you post on it once in a blue moon.
Make blogging a habit that you love. That will help you post consistently. Consequently, your blog will grow in popularity and visitors.
Bonus Tip: Write About Man Stuff on Tumblr
Practice makes perfect even when writing about man stuff.
Sure, that's a cliché, but that doesn't make it false.
Choose modern alternatives for blogging such as Tumblr, for instance. A Tumblr blog offers you options such as image and video posting alongside your articles.
You can get as creative as you'd like. Get to know your style and choose your perfect platform. Here is how you can gain Tumblr followers.
Wrapping Up: How to Write about Man Stuff and Publish a Men's Blog
And those were our top tips on how to run a blog for modern men. What do you think? Do you have more suggestions for writing about man stuff? Let us know in the comments section.
This post about man stuff was made possible by the support of our readers and solely reflects the views of the contributors and not necessarily Janice Wald or Mostly Blogging.