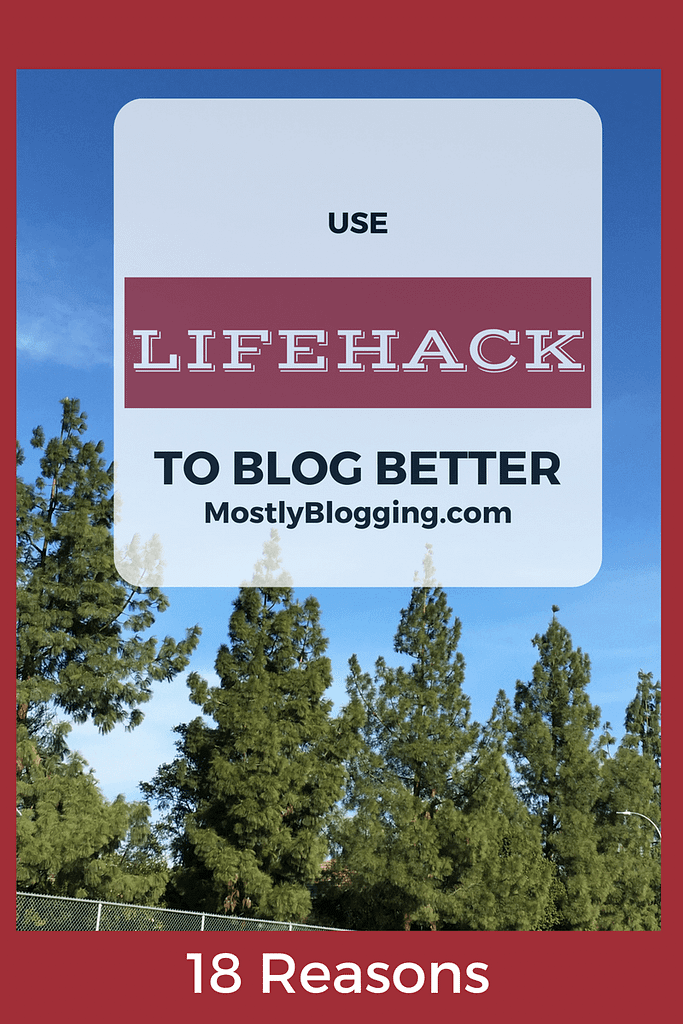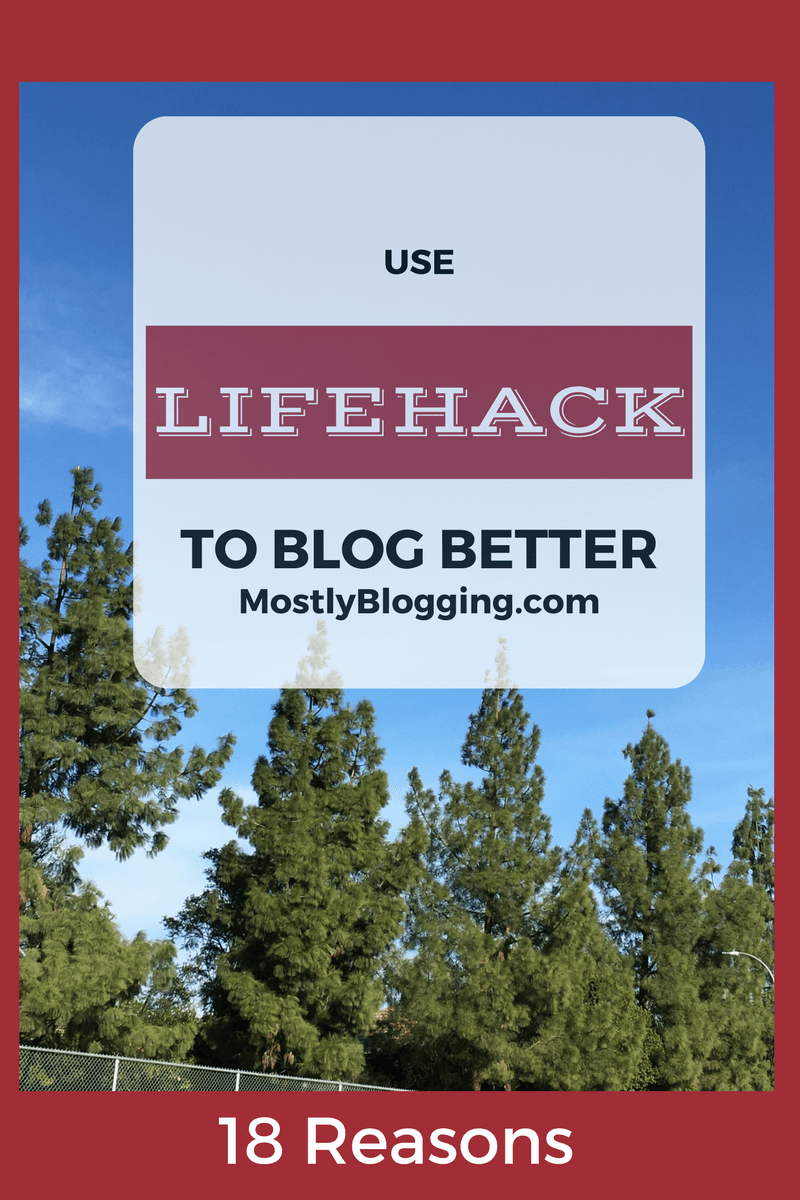 Lifehack.org lives up to its name.
The popular blog is aptly named "Lifehack" since the articles contain tips for life.
For a long time, I read Lifehack to become a better person since using the tips will make you a better individual.
However, there is far more to the site than the ability to become a more productive individual.
You can actually become a more successful blogger.
Both as a reader and also as a writer, Lifehack will enhance your ability to blog as well as navigate life in 18 unexpected ways.
What You Need to Know About Lifehack
Lifehack.org is one of the most popular blogs in existence. It boasts almost 2 million daily visitors according to statistics. Its articles are syndicated all over the planet.
Lifehack has categories of article types: communication, lifestyle, money, productivity, and tech are just a few of them. An additional section is titled "For You." This last section helps you to meet goals that you set when you make an account.
Anyone can write for Lifehack as long as you apply and get accepted. The approval process requires you submit a piece of writing. Although Lifehack does not pay its writers, the link from the site, the prestige of writing for such a well-known blog, and the exposure to such a wide audience definitely counts as compensation for your time.
18 Ways Lifehack Can Help You Succeed at Blogging
Your health will improve. Bloggers sit for long periods when they type. Blogger Kathleen Aherne actually experienced the consequences of sitting too long as a result of blogging. Realizing the adverse effects of blogging on our health, I was planning the post describing the dangers. The post is on hold! Lifehack explains how to counter the dangers of sitting too long by exercising while you're sitting.
Lifehack is so committed to improving your health, you are able to select the goals you'd like to work on. When you log into Lifehack, articles that will help you meet your goals are suggested. (I chose to work on my skeletal system. Since I spend so much time sitting at the computer, I want to improve my posture. Now I can with the relevant articles the site will send to my email inbox.)
Reading Lifehack will make you a better blogger. Since Lifehack has readers that are not all bloggers, I never expected the site would have articles written just for bloggers. Yet it does; it's true! The publication has articles offering blogging tips.
Your time management will improve. Don't have enough time to blog? Lifehack has articles filled with productivity and time management quotes.
You will be more inspired to write your blog posts. Lifehack has articles containing tips to motivate you.
By reading the articles, you will get educated about all sorts of topics. You will find sixteen topics at Lifehack: communication, lifestyle, money, relationships, productivity, and tech are just a few of them.
Lifehack is a valuable site for self-education. For example, 5 Simple Steps to Get Motivated When You're in a Rut explains how to do just that– empower yourself to overcome barriers to motivation.
The site provides a real ego boost. For example, writers are usually creative types. I, myself, wrote 17 Reasons Creative People are Wonderful Partners. Also, writing for a blog syndicated worldwide is a self-esteem enhancer. When I saw my article syndicated in Russian, I felt more confident. Also, when 2,000 people shared my technology article, my self-esteem was definitely enhanced. In addition, the folks over at Lifehack send you complimentary letters. Look what I received!

You have a chance to find like-minded people. For example, when I wrote about why writers are creative people and why writers are lovable, many people wrote me on LinkedIn to tell me they could relate.
Writing for Lifehack will save you time blogging. First, if you give Lifehack credit for the original publication, you can use the articles on your blog. For example, Everyone's Always Looking at Their SmartPhones first appeared on Lifehack and then on my blog with the title 1 Easy Way to Find More Time in Your Day. In addition to changing the headline, I also dramatically tweaked the content to avoid any concerns Lifehack might have over content duplication. Also, unlike other blogs that like you to guest post, you don't have to answer comments which can be time-consuming. The articles don't have comment boxes.
The posts provide interesting reading. The content is not quite what you'd expect. For example, the article Uncommon Ways to Largely Improve Your Sleep Quality has unusual ways to help you get more rest, as the title indicates.
Writing for Lifehack can lead to financial opportunities. Do you want to make money blogging? I have been approached three times with lucrative offers from companies who found me on Lifehack. I accepted the third offer and am now a freelance writer! Lifehack is that high-profile. People will notice you and find you.
Writing for Lifehack gets you a valuable link to your site. As a matter of fact, Danny Ray, from the Dream Big, Dream Often site, expressed to me that's why he wanted to start writing for Lifehack. His insistence on the importance of having a link from Lifehack helped inspire me to return to writing for the publication after a long absence. I found proof at Alexa.com that I received a link from Lifehack. Look–
You get bragging rights. Once you get accepted, you will be a regular contributor to one of the biggest blogs on earth. Even before you publish, you should add the credit to your About page. I have a whole section devoted to being a regular Lifehack contributor on my About page.
In addition to helping you, Lifehack will provide support for people who know you. For example, 11 Things to Remember if You Love a Writer, my article, offers understanding to people in relationships with writers.
Writing for Lifehack increases your exposure at social media sites. Lifehack asks its readers to share on sites such as Facebook, Twitter, Google+, LinkedIn, and StumbleUpon.
Your blog traffic could increase. When people find you at Lifehack, if they like your writing, they might click your link or backlinks to see what else you've written of interest to them. When I wrote my tech post about an air conditioner that doubled as a table, I backlinked to a 2014 tech post I'd written. I received so much traffic to that old tech article, Alexa.com said Lifehack was one of the top 5 places I received traffic from.
You will be a happier person after spending time at Lifehack. For example, I found a human interest story about a cancer patient actually uplifting. The article guarantees any reader perspective and valuable life lessons.
Lifehack administrators help you. The folks over at Lifehack give you personalized coaching. After I published my ebook, AN INSIDER'S GUIDE TO BUILDING A SUCCESSFUL BLOG, Felix from Lifehack emailed me. Look what he wrote: Although my blog link was already in my profile, receiving Felix's email reminded me to add my book link to my profile. He explained this will help me with branding and SEO in addition to the financial possibilities of selling more ebooks.
Conclusion
In conclusion, the article's productivity tips help make Lifehack what it is– you get hacks, shortcuts for life. As it turns out, you get them for blogging too.
You will be a richer more well-rounded person for having spent time at the site. If you're a more successful blogger too– hey, icing on the cake!
Readers, please share, so bloggers and other writers know Lifehack's value.
What are your experiences there? Have you heard of Lifehack? Are you a reader? Have you published there before? I look forward to your views in the comments section.
Related Posts:
1 Insanely Powerful Blog You Need to Follow
How to Actually Blog Better with the Huffington Post
4 Simple Things You Can Do to Be a Better Blogger [MidLife Boulevard]
19 Strange Ideas That Will Amplify Your Productivity