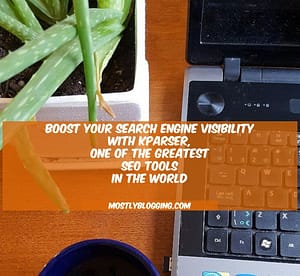 How To Boost Your Results In SEO And PPC Using Kparser, One Of The Most Convenient Keyword Research Tools In The World
Have you heard of the Kparser keyword tool?
Most likely you've read plenty of articles about internal and external SEO optimization, editing PPC campaigns, and others.
Every SEO specialist has its own understanding of effective techniques on how to reach the TOP. Thus, I want to share my working knowledge.
To start with, we should find some 'axioms' which are the basis of our success.
Principles of organic ranking in the search engines
We don't own exact Google, Bing, Yahoo formulas, or any other search engines. And it's not a big deal because operating methods are changing every year.
Thus, we should understand the main working principles. The best way to dive into search engines work is to imagine a large group of people and process of communication connected with each other.
What if you need some question to be answered or a problem to be solved, and you don't know where exactly to ask for help? What should you do? Right.
Ask your friends. Such actions promote increasing their own opportunities and help to find a master with a good reputation.
So, there is competition almost in every branch of society. And the next question – who will get the most clients?
The answer is here:
The person, who has shown good results in the past.
The person, who is aware of its strengths, and can explain the advantages of technologies in simple terms.
The person, who lives in people's minds as a master in a particular sphere.
Thus, the secret of success in the information society is simple.
Choose your niche, obtain only good results, grow a permanent client base, study to explain 'who you are and what are your strengths.' And what about the web environment? Does this algorithm feel for it?
In some ways. A search engine is a "generic social brain," where every step is recording. However, that brain uses his own language, not a human one.
In order to reach the TOP, you should:
Design your site's structure and content in two languages (for people and algorithms)
Be recognizable among people, who visit your site in two ways:
By users' behavior on the site
By recommendations to your site from other web resources
As a result of the two first steps, be loved by search engines.
Principles of paid ranking in the search engines
Using paid search traffic is one of the quickest ways to attract a bunch of new users to your site. But it works in accordance with an auction model. Thus, you should find out the techniques of getting the most convertible traffic for the lowest possible prices. The rules are as follows:
The most clickable ads (with high CTR) have a smaller price than others.
The most clickable ads are those with a set list of keywords (and correct blacklist too), comprehensive and relevant information in titles, descriptions, and extensions.
Every keyword has its own auction price.
Keywords with low competition have the least cost.
A conclusion lies in growing your base by keywords with low competition, create great ads, accent on keywords that best suits your ROI. Thus, we've understood the main principles of algorithms that rank our pages and ads. What are the main steps to get to the TOP?
Understand your audience
"To create a great product, compose a marketing strategy for that product, at first" – Somebody Smart
A sense of marketing tendencies is critical to the success of every business. Moreover, professional insight is a king of possession of correct information.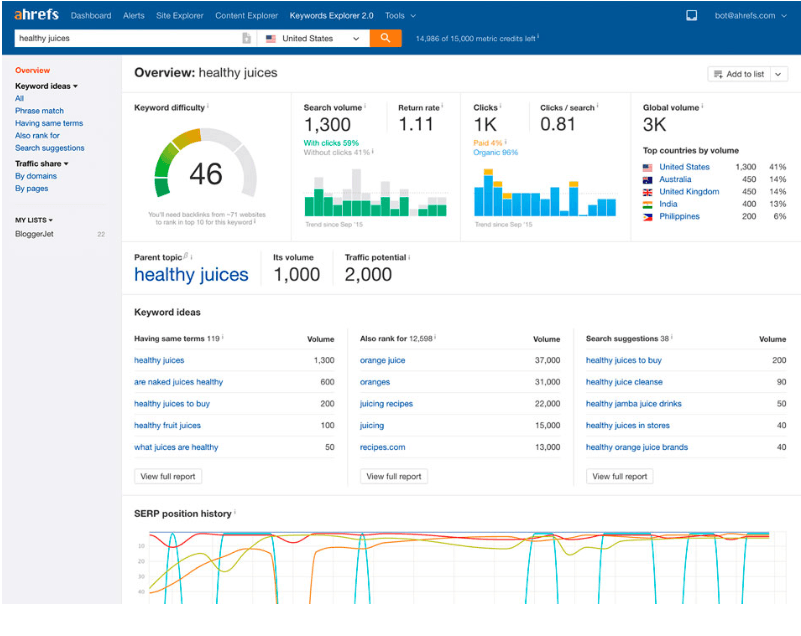 A market niche investigation is the first step in every startup. You will hardly find an empty affiliate now. The main possibilities are arranged in niches, which are not visible for investing time and money at the moment. Use ahrefs.com to estimate some of your guesswork. Search for unobvious patterns in the data. One more useful tool is similarweb.com. A free version even allows you to research your main competitors with one click in the browser extension.
Queries, which people use to find information or products are the most actual information about market trends that may provide you with helpful insights.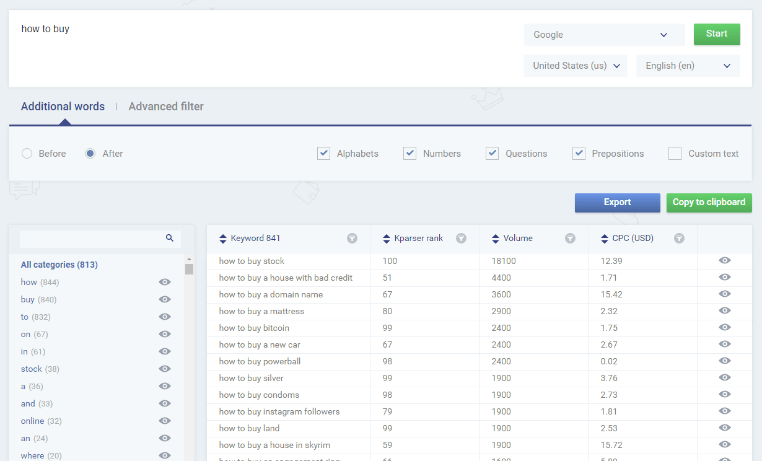 Longtail keywords and the formula 'high search volume – low competition.'
Imagine, you have a product or informational material, and you need to drive traffic. How can long-tail keywords help you to grow cheap and relevant traffic?
In SEO, using longtail keywords raises your chances of getting to the TOP in an organic way.
In PPC, using long-tail keywords increases your chances to receive convertible traffic for less CPC.
For example, look at the screen below. There is an option to find keywords with high search volume and comparatively low competition. The formula 'high search volume – low competition' is an ideal variant we should find. You should understand that keywords frequency and niches occupancy became more overwhelmed in these latter days. That's why considering specific keywords are essential here.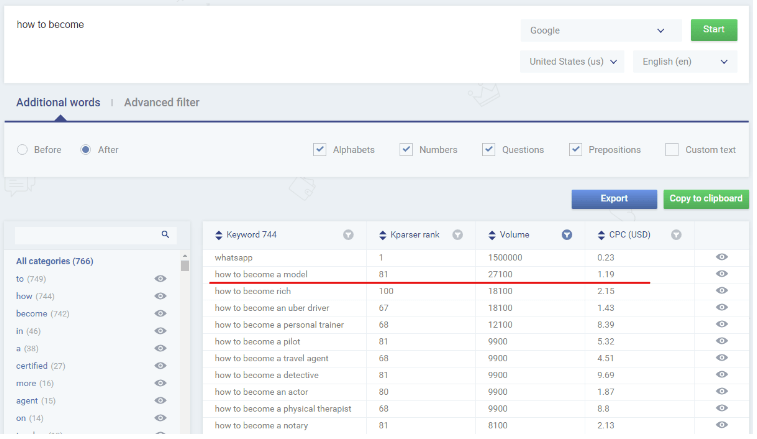 Create user-friendly and compelling content
How to create the great content for people? It's easy if you have an experience in your niche. Imagine that you friend has asked for sharing your experience. He needs to comprehend only one question in your sphere. Which your answer will he choose? I think your answer should include the following and necessary points.
Structure. Transforming your knowledge in a structured way is heavy. It needs your attention and energy. But without logical structure, your sense won't be recognized well.
Size. The general rule of search engines is that pages rank better with a longer text than with a short one. I guess, there are two related reasons. At first, a long size gives a comprehensive answer to a search engine user's question. At second, search engines detect that people are interested in your content, hence it has big value.
Experience. Share your experience and give examples with details. If you've done any experiments, describe them. It shows your professionalism and provides a unique value for readers.
These three points are general for posts and for product pages.
Optimize your content due to algorithmic strategies
Using 'machine language' is the best way to show to search engines for whom your content is intended. Correct title, description, keyword tags are the messages to search engines about the purpose of your text. As stated on the screen of yoast.com interface in WordPress, you can entrust a lot of intellectual work to the plugin. The main advantage is that you can concentrate on the value of user content. And after creating the article, optimize it for search engines. Take into account that Yoast also helps to improve the readability of the content.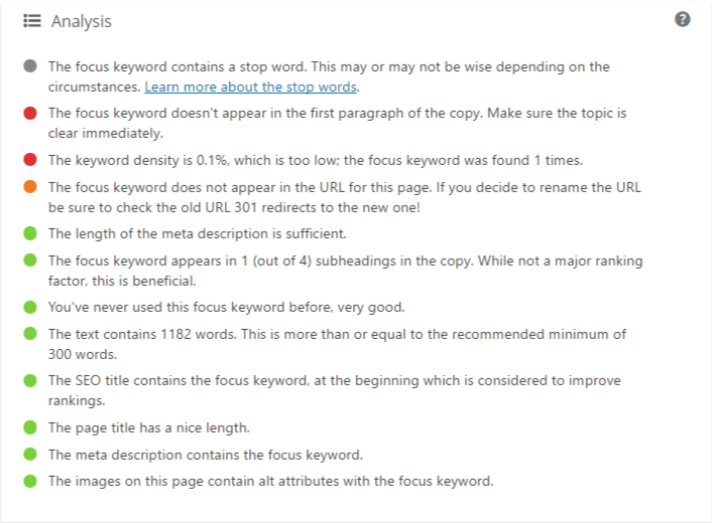 You can learn about the ideal algorithm for SEO optimization in two ways. The first is to conduct your own experiments for years. The second – use SEO tools, theory, and advice from SEO masters. The best way is the unification of these ways.
Scientific approach to decision-making
The last and most important element of SEO and PPC improvement results is a scientific approach.
This method can be divided into 4 steps:
Research. Learn all the details which influence your result.
Hypothesis. Find growth points and form a hypothesis for the experiment.
Experiment. Conduct an experiment to test the hypothesis.
More productive behavior. Draw conclusions and change your behavior to be more efficient.
Repeat the cycle. Make tests while deciding the most effective technology to use.
Thus, you should define your audience, the axioms of creating content, and the steps of the scientific approach for getting to the TOP. What else do you need for quick and efficient work? Tools. Great tools.
We've tested a lot of SEO tools until we understood that we could design something better. As a result, we have launched our internal keyword research tool – Kparser.
Why can Kparser help you in a better way than other keyword tools?
Most likely, you have already used some keyword tools. Nevertheless, you have the required experience and can estimate the convenience of our tool with ease.
We created it on conditions of our poor user experience with similar instruments. Below, we have highlighted the advantages of kparser.com as a keyword tool.
Look at the benefits of using Kparser!
An opportunity to enable/disable using additional words in parsing.
An opportunity to choose the depth of parsing, as well as included and excluded keywords.
3. An opportunity to sort the gathered results by any parameter, to export the results in a CSV format, and to copy the results to the clipboard or negatives.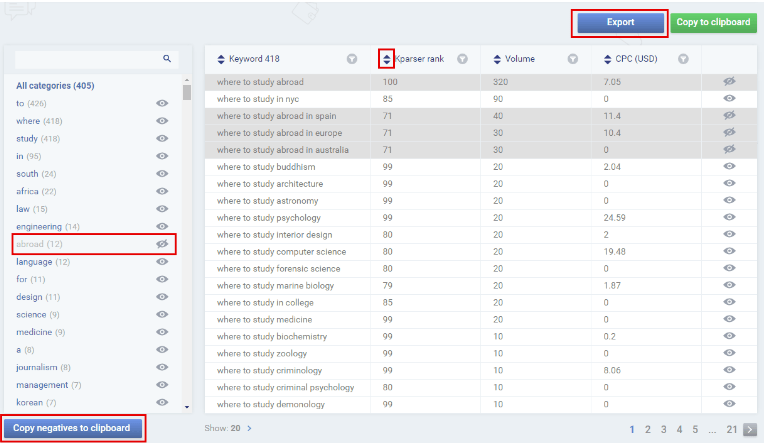 4. Opportunity to use grouping. This is our experimental feature. This is a clever keyword clustering that is capable of processing hundreds of thousands of keywords at a time. For example, you have 10 thousand tips on different topics that Kparser has carefully collected for you. Or even a million. These words are difficult to break down into groups. The group (cluster) does everything for you.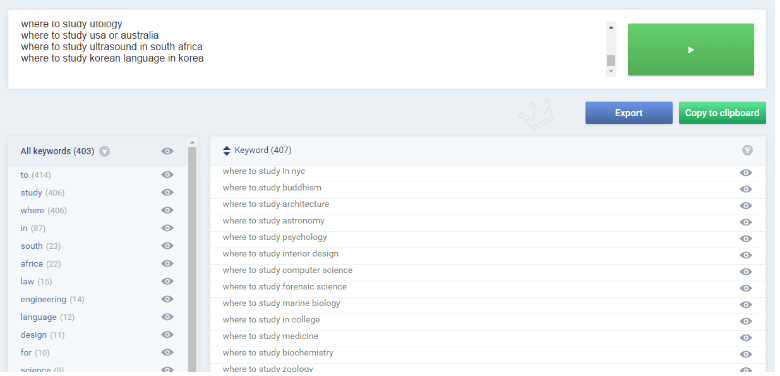 As a result, you can get all the information you need only in a few clicks!
In addition, it helps to:
Earn more money due to the accuracy of optimizing pages and PPC campaigns.
Save your precious time.
Thus, if you want to know what it means to have a really convenient tool, get your 7-days trial in PRO membership for Kparser and realize the two points above for your own business.
Readers, please share, so others discover the benefits of Kparser as an SEO tool.
This Kparser review was made possible by the support of our readers.
Related Posts:
13 Best Free Tools You Need to Improve Your Long Tail Keywords
11 Free SEO Tips That Will Make You See More Traffic
Photo Source:
Practical By Default Homeschooling Community