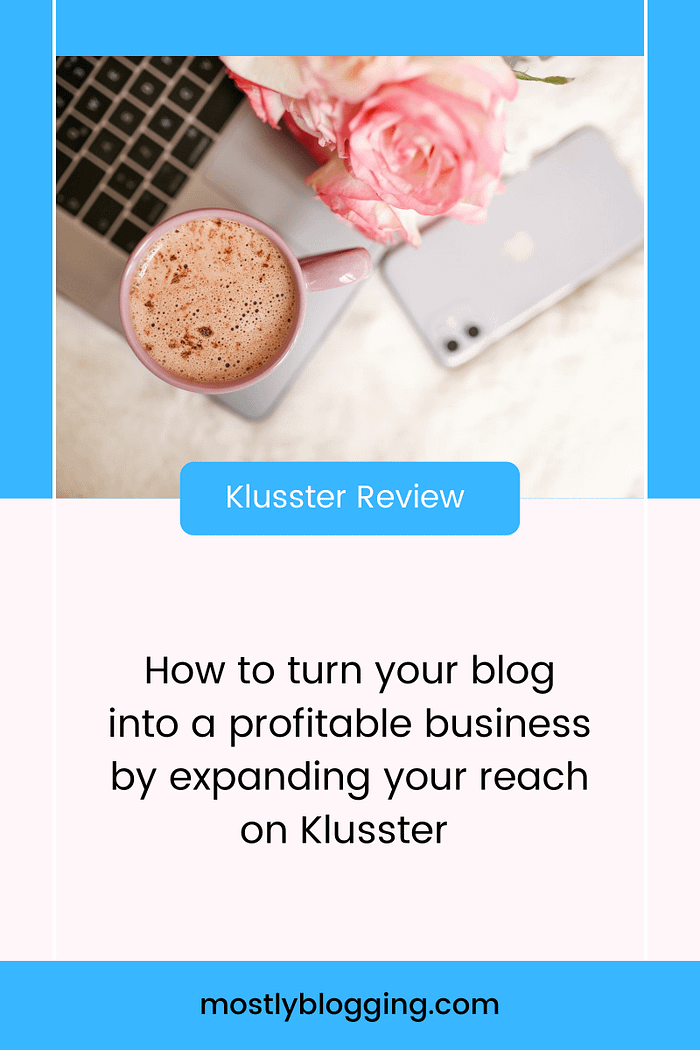 Have you heard of Klusster, the content syndication site?
This review is for
Writers
Marketers
Business people
Do you want to extend the reach of your brand through organic methods? This content syndication website is for you.
Klusster
Extends your organic reach
Saves you time
Helps you meet like-minded content creators
Boosts your SEO
Helps you market with free tools
You might have heard of the Medium content syndication site, and the Medium Partner Program, but many people haven't heard of Klusster.
This review changes that by offering a guide to using Klusster.
By the time you're done reading, you'll know the benefits of using Klusster, how to use the website, and other important features. You also discover how to use the site to make money.
Let's get started exploring what Klusster has to offer.
What is Klusster?
Klusster is a content syndication site you can use to get help extending the reach of your content.
Your content is syndicated when it's published on another platform. You can syndicate any kind of content. The third-party platform gets free content, and you get more exposure.
Bloggers who use this content syndication network collaborate by contributing to group publications.
Any business can upload content. Other businesses on the site provide exposure for you.
You can join other content group publications. The global community supports you.
If you need more content ideas, look no further than this site that syndicates articles. The website is home to over 100,000 articles.
Discover incredible content and more connections through the power of community. Like-minded content curators meet at the site to share articles. They share their own content, and they share each other's content.
About Klusster
The website became available to the public in 2015. The company is based in Toronto, CA.
More than 30,000 content creators use the site.
Why You Need Klusster
Get more eyeballs on your writing.
The site saves you time since you don't need to compose new content.
The website distributes your content for you for free.
How to leverage Klusster's content:
When you find content you like on the platform, curate the post. When you curate other members' content, they get spotlighted.
You also get a spotlight when you feature your content. Your logo and social links get shared along with your content.
Your brand grows when you post your content on the site and other people curate and share your content. Your reach grows exponentially.
You can make money. Use Klusster's free lead generation tools.
Klusster's Group Publications
An alliance can combine their content into a group blog. Let your business reach more people by combining your content with other content creators in your niche.
Upload content.
Create a group blog and submit content
Invite like-minded business to collaborate
Your team gets notified when you upload content.
The content you upload doesn't even have to be your own. You can your client's content or any content you find worthy of sharing.
Benefits of Using Klusster
Since the website is free, using the site is a way for you to boost your reach through organic means. You can advertise without needing an advertising budget.
Here are more advantages of using the site:
Klusster is ad free.
The articles on Klusster get ranked on Google, so you get SEO benefits.
You do not have to create original content. This is a huge time-saver for you. You can repurpose the content you already have. Some bloggers fear reprisals from Google for publishing duplicate content. Google announced it doesn't care about duplicate content.
You can create original content if you prefer.
You can upload images and videos in your content.
There are no maximum number of uploads. You can upload as many articles as you want.
When you add content, your article gets an SEO rating. Boosting the SEO score increases your chances of ranking.
You can build an online portfolio on the platform.
Extend your brand with your author profile.
Spread your online presence with help from the community.
See your content stats.
If you need help, you can contact Klusster support here.
Klusster explodes your content's reach.
The Klusster team explained why using Klusster helps you grow exponentially:
"If one Klusster Publication had 10 contributing members, and if each member has 1000 people in their social media audience, the collective reach of the group is 10,000. Just by collaborating together, each group member has effectively increased their social reach by a factor of 10x!"
Finally, Kluster helps with marketing.
Look: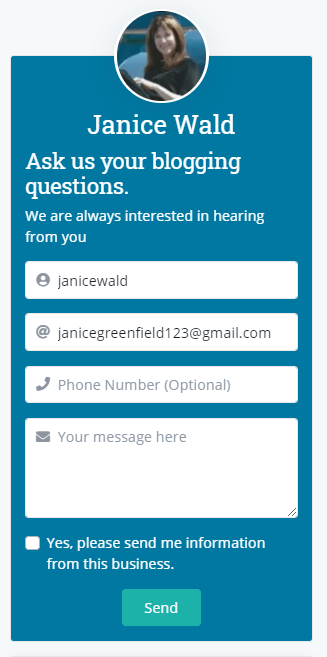 Can you see how Klusster helps with lead generation? When someone is interested in your business, they fill out the form, and you get notified by email.

At the top of the form, give your Call to Action. You can advertise any product or service For instance, I can market my blogging academy. You can ask people to check out your content as well.

Not all content marketers have a budget to spend on advertising. Klusster solves that problem by providing free lead generation tools when you create content and on your author page.
How to Use Klusster
Go to Klusster.com and create an account. Agree to the terms. You can also sign in with Twitter or Facebook.

These icons help you navigate the site. You see them when you log in.
Home Feed: Filled in when you start. You can unfollow these defaults.
The page icon takes you to your articles.
The grid icon takes you to your publications.
Click the bell to see your notifications.
The next icon allows you to upgrade your account to premium.
Profile Picture: You need to fill in the author profile before you can start. This is where you put in your content information like your website and your social media accounts so readers can find you outside of Klusster.
If you want to see my profile, you will find it here.
To create content, click "Create." You find the button in the upper right-hand corner of the screen.
Click Create New Content. This opens the editor.
A minimum of one image is required. If you don't choose one, a default abstract image will be used.
Use the editor to place additional images and subheads. You can insert a live link.
When you are done, leave the Style and Content Tab and click Settings, Call to Action, and Activation.
Fill in the Call to Action information and relevant content tags.
Content Expiry: The content is no longer active past a date you selected date. This is helpful if you post content that isn't evergreen.
Click Save Content. Click on the question mark to integrate best SEO practices. The higher the score, the higher the SEO potential.
When you're happy, click Activate Now. Share with social media accounts if desired.
Troubleshooting Klusster
I experienced a few challenges.
First, I noticed a problem after submitting my first article. For instance, my image wasn't there. The default image was back. Make sure after you upload an image anywhere on the platform, you save the image.
Next, I had a problem with the headline. The default headline remains unless you delete it. If you find you have a problem after publication, find the Manage Content tab and that will help you edit your already published content.
How to Use Klusster's Group Publications
Search to find a publication you want to contribute to.
Content, Publications, and Authors populate.
On the left, you see the contributors.
The publication has a manager. You can send the manager a DM or click submit content and choose the live article you want to submit. Click request. The manager gets notified you made the request. When approved, your article will be added to the publication.
Klusster Case Study
I created content by copy-pasting an old article.
I added an image, bolded what needing bolding and linked to a relevant article.
I added 5 relevant tags and searched marketing.
I found a relevant publication and submitted my article.
You see your SEO rating in case you want to try to boost it.
You can Save or Active Now.
I also created my own publication and added a banner, my logo, tags, and my article. I kept email notifications turned on so if people contribute to my publication, I'll be notified.
After submitting my article, Klusster recommended SEO and business publications which are relevant to my niche.
In addition, I subscribed to another relevant publication so I can learn from the information and the bloggers in the publication could learn about my brand.
Wrapping Up: Klusster Guide and Review
In closing, Klusster works to extend the reach of your content and your brand. You also get help with networking and marketing.
These are organic strategies since the website is free to use.
This guide shared 14 benefits of using Klusster and a tutorial. You also received information about Klusster.
While it is too soon to tell if Klusster will work to boost my ROI and extend my reach, exploring this new content syndication site was interesting. I trust you will think so too.
Readers, please share so other content creators discover the Klusster content syndication platform and the benefits for marketers.
I look forward to your views in the comments section. Are you familiar with Klusster or Medium? Do you recommend writers use content syndication sites?
Related Reading
Steemit is a content syndication site for writers. As with Klusster, you don't need to create original content, and you have the potential to make money on the platform. See How to Make Money with Steemit.

Janice Wald is the founder of MostlyBlogging.com. She is an ebook author, blogger, blogging coach, blogging judge, freelance writer, and speaker. She was nominated as the 2021 and 2019 Best Internet Marketer by the Infinity Blog Awards and in 2017 as the Most Informative Blogger by the London Bloggers Bash. She's been featured on Small Business Trends, the Huffington Post, and Lifehack.