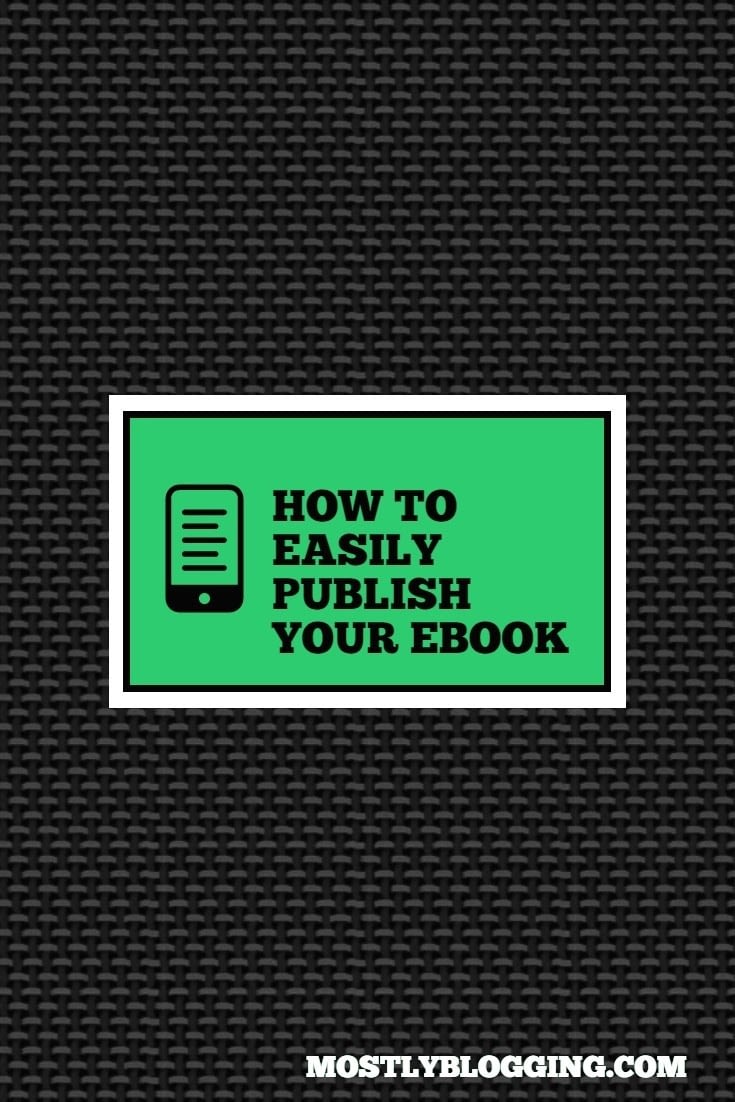 That's how I felt upon receiving notification from Amazon.com that I am actually able to sell ebooks through the Amazon Kindle Program (KDP).
Yet, many writers don't want to attempt to publish their writing in an ebook fearing the Kindle book format is too confusing.
This post answers questions about the Amazon Kindle book format.
By the time you're done reading this article, you will know why you should make an ebook, how to make an ebook, how to publish the ebook as a paperback, and how to sell the book on Amazon.com.
You'll be able to do all of this without spending a penny as you watch the passive income roll in.
It gets even better: Some articles tell you it takes months or even years to publish a book. This post tells you how to make and publish an ebook and a paperback using the Amazon Kindle book format all in one evening.
This post is divided into two sections: How to publish an ebook and how to publish a paperback.
Advantages and disadvantages of publishing using the Amazon Kindle book format and an interview with the author of 126 ebooks are also included. The post ends with reasons you need a Bitly account for book promotion and how to get one.
Are you ready for an easy, quick guide to book publishing?
Let's go.
How to Make Money Online by Selling an Ebook
Why should you publish a book?
There are many ways to make money online. One of the easiest is by selling an ebook.
First, your web content is already written. Compiling your content into an ebook is a form of repurposing your blog post content. Don't you want to monetize your knowledge? You're already sharing your information for free on your website. It's time to make some money.
Next, if you have a website, selling your ebook on your website is easy. Just advertise the book in your sidebar. You don't even need an advertising or marketing budget. Selling your ebook on your website is definitely a way to increase website sales.
In fact, this is passive income for you. You publish the book and then go about your day while the book sells itself.
Perhaps you have a story to tell. Perhaps you've broken barriers and want to inspire others.
Also, ebook writing is a great "work from home" job. [Related Kingged Massive Stay At Home Mom Jobs Article]
Finally, composing an ebook is a time-saving activity! Put your blog posts together and BAM you have an ebook.
Why I wanted to publish a book
In addition to the above reasons, I had personal reasons for wanting to be an author.
Blogger Ryan Biddulph encouraged me and let me know how easy publishing using the Amazon Kindle book format is.
My children were proud of me.
It was my dream to be able to hold a copy of my published book.
How to use the Amazon Kindle book format
Ebook instructions
Step 1: You need to make an account with Amazon's Kindle Program called KDP at kdp.amazon.com. You have a choice of what type of book you want to create here– a kindle version or a paperback.
Step 2: Choose the content you want to put in your ebook and upload the content to a Microsoft Word Document. Fill in the information for the book such as the title and then click Upload Manuscript.
Step 3: Choose a cover. Amazon's stock photos are perfect for your cover. Once you choose an image, all the various cover styles are presented to you. Make your selection. If you don't like Amazon's stock photographs, you can design your own cover with simple graphic design tools. For one of my books, I was only presented with two photo choices so keep your options open. For example, you can outsource your cover needs to Fiverr or a Fiverr alternative like Upwork.
Step 4: When you're done, Amazon will do a spell check, so you can make any needed corrections.
Step 5: If you want to choose the option of making a paperback, you can, but you may need to resize the cover photo even if it's Amazon's photo.
Step 6: Choose how much you're giving Amazon. Giving Amazon 40% of your royalties is standard.
Once you're done, you'll have a link to start marketing your new ebook within hours!
The paperback takes longer to be approved, up to 3 days.
I went to sleep after submitting my ebook for publication and by the next morning, I'd heard from Amazon that my ebook, ALL THE INSTAGRAM TIPS AND TRICKS YOU NEED TO KNOW: 89 MOSTLY-FREE HACKS, A GUIDE TO USING AND MONETIZING INSTAGRAM was approved.
Step 7: Market your book. You can use your live link to sell on social media sites, your web page, anywhere. I used an Instagram Story to market my book and it worked! I heard from Amazon I sold books. This form of passive income is easy and free for you.
Kindle Book Format: The Cover
How I make a cover using Amazon's stock photos
Fill in the requested information. If a block says Optional, you can skip it.
If you're in doubt, go with the default selections.
Make sure to launch the previewer so you can see what the front and back covers of your book will look like.
Note: I could only get to formatting when I received an error message that my book was outside the margins.
I called Amazon Customer Service. Although I had to be transferred several times, I got to someone who could advise me what margins to pick for my book.
On the customer service operator's direction, I clicked "Have us scale…". BAM! My book was inside the margins.
In this screen, you'll see your front and back cover. Click the right arrow to see a preview of the rest of your book. If you're happy, click "Approve."
In your Word Doc, you can change the margins to avoid these conflicts when trying to make your paperback.
In Word, choose Page Layout. Your book should be 6″ x 9″.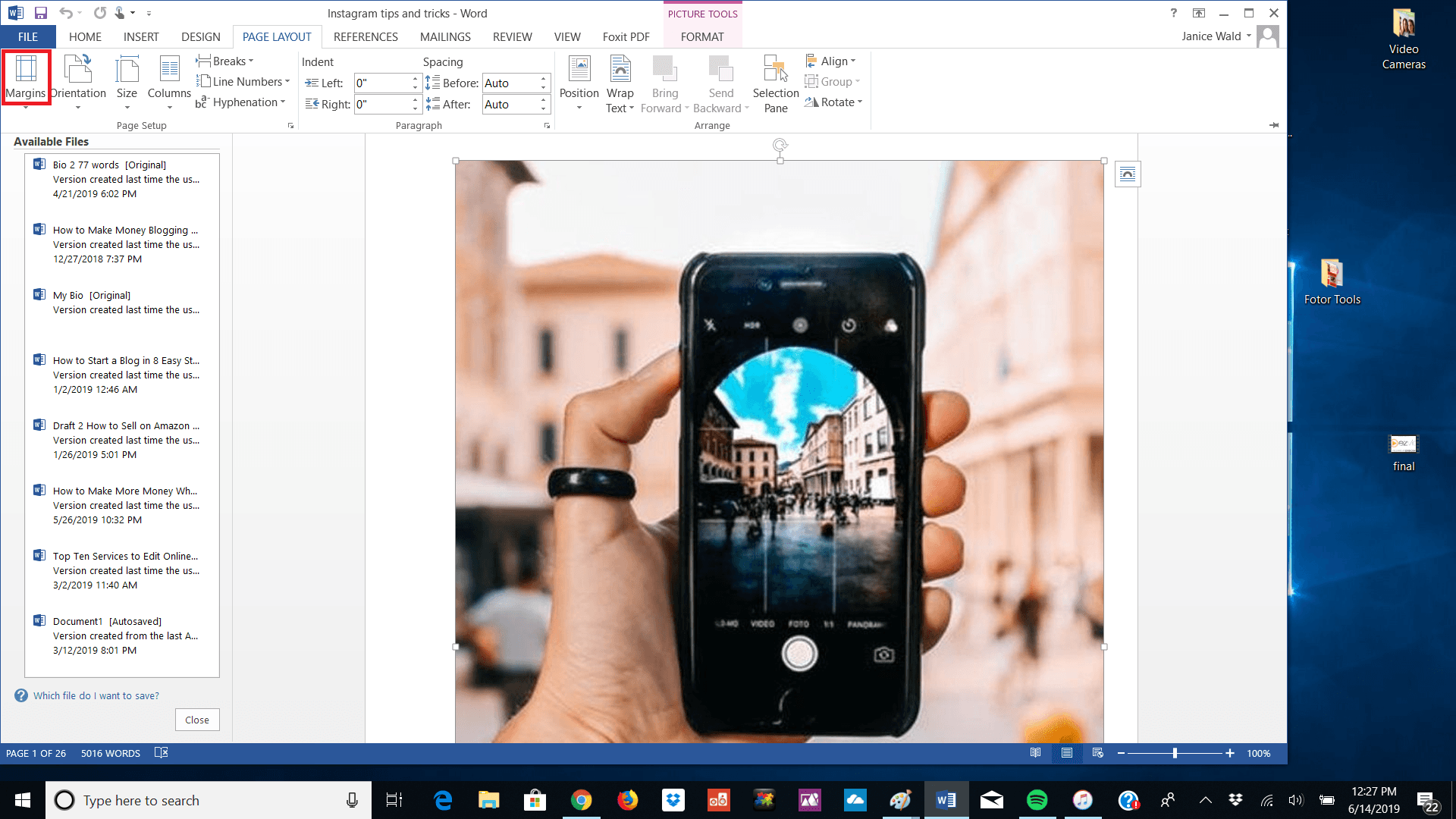 Click Margins. Scroll down to Custom. Choose 6″ x 9″.
You'll also have to make a decision about any color graphics or screenshots you have inside the book. Color is more expensive.
I chose a color cover with black and white graphics inside. It seemed to be a given that the cover would be in color.
How Ryan Biddulph makes ebooks
I had the privilege of interviewing Ryan Biddulph, the author of 126 ebooks all published using the Amazon Kindle book format.
"I use Canva, upload my pictures from paradise and my logo, and am set.
All my covers are personally snapped by me all over the world."
How to make the ebook cover and how to get it edited for free:
"I go with
Phillip (Dews
, his IT helper) or most times, just make a simple, basic cover. I proof-read and have Kelli (Ryan's wife) re-read. Simple, clear, clean. Once you have your reader base your readers buy your eBook with a simple cover and little editing. Then their buys and shares spread the word, boosting sales."
How to make the ebook:
"I have written best sellers
in 24 hours
Janice 😉 That's not bragging buddy; you may have fears/mental blocks around perfectionism, and that holds you back. You can easily write successful eBooks in 24 to 48 hours too; I see how you write blog posts, it's a natural transition. Just write a 6000 word eBook like a long blog post, sell it to your readers who love your content and they will buy it and spread the word.
I write a pillar style blog post in each eBook, save a few where I did 15,000 words. All the rest are 6K; no forwards, little details save formatting for Amazon. It is more about creating and connecting through your blog – like all my guest posting and blog commenting – and less about eBook details.
If you are in your reader's heart, just write from your heart my friend and you will be really, really really successful selling these eBooks.
No need to write an eBook over a year. 1 week or 2 weeks, tops, and ship/self-publish 6 K to 10 K words, you're golden."
Paperback instructions
Go through these three tabs at your Kindle dashboard. Fill in the information required. The name of the book will be filled in for you.
To upload your book: Under Tab 2, Paperback Content, is where you will upload your book.
Important: Click "Have us try to scale your file to match the book's trim size" to make sure your pages fit a 6″ x 9″ paperback. Then, save and continue.
Please note: When you're done with your tab, it could take some time for your book to generate. It should not take longer than half an hour depending on how many other people are uploading books at the same time as you and how many graphics or screenshots are in your book.
Writers' thoughts on ebook writing
Consider these comments from writers on Instagram when they heard I publish ebooks:
"I am a novice. I want to publish something in the future, and I guess I'm working on it." Source @thoughtsbyag
"Amazing! I've been trying to start an e-book at some point but I'm not quite sure how that works!"
Perhaps writers believe publishing is confusing due to social media posts like this
Can you relate? Then, read on.
Perhaps the steps that went into publishing used to be complicated, like a journey on these tangled roads. However, that was all before the ease of the Amazon Kindle book format.
When you're done publishing, it's time to promote your book.
How to promote your book
You can use Goodreads to promote your book.
Use Instagram to market your book.
Use Twitter.
Give interviews on author sites.
Advantages of self-publishing using the Amazon Kindle book format
Convenience.
Creating a cover is extremely easy.
Friendly Support Staff.
Support staff available by phone if you need help. The phone number for Amazon Customer Support is (866) 216-1072. Tell the person who answers you have questions about publishing with the kindle program (KDP), and they'll direct you to someone who can walk you through the steps from there.
You get a free ISBN.
You don't have to put out any money ahead of time. Amazon deducts from your royalties.
Amazon will only print the book when the paperback is ordered and then deduct the money from your payment. You're not stuck with a lot of unsold paperbacks lying around.
The customer pays the printing charges.
When you order a book for yourself, you don't have to pay Amazon's share for using their platform. You only pay the printing fees. You order the author copy through your KDP platform. You can order up to 999 author copies at a time.
Do you want your book available in bookstores? You can opt for an Expanded Distribution.
Disadvantages to the Amazon Kindle Program
Publishing through Amazon Kindle is easy. I recommend it due to the convenience.
However, in life, as with the Amazon Kindle Program, you pay for convenience.
For every paperback I sell, I must give Amazon 40% for letting me use their platform. On top of that, Amazon takes $2.15 printing costs which eat into my profits.
For example, on a paperback that costs $9.95, You keep 60% which is $5.97.
On top of that, Amazon takes $2.15 in printing charges which leaves me with only $3.82.
Also, Amazon won't print any graphics with watermarks or logos unless they're yours. Since I use free tools, my graphics have watermarks on them, and my paperback was originally rejected.
If you order your book and you have a Prime account, the two-day shipping that normally comes with Prime doesn't apply.
Finally, Amazon won't put my income from book sales into my PayPal account. Amazon puts the money into my checking account. Then, I need to transfer the money to my PayPal account where I keep my blogging income.
Why you should get a Bitly link
What is Bitly?
Bitly is a free link shortener.
I use the Bitly link shortener so often when I promote my book, I downloaded the app to make copy-pasting my link easier.
When you promote your book, you need to link to your Amazon account. However, a link that looks like this amzn.to/2YeDuX2 is not likely to be typed by people on Instagram who are not given live links. Instagram doesn't allow live links in captions.
However, someone might be more likely to type this into their browser http://bit.ly/IG89Hacks. You can edit the link and call it whatever you want, but if your name for your link is taken, Bitly won't let you use it. Note: Bitly links are case sensitive.
An additional reason I always use the Bitly link shortener is Bitly has analytics. The site gives me data about how many people have clicked each of my links and in what time frame.
Go to https://app.bitly.com, make an account and create your links.
Wrapping Up: How to use the Amazon Kindle book format
Do you want to see a dream come true?
Look!
You dream to be a paperback writer can come true as well when you follow these tips involving the Kindle book format.
Publishing an ebook is easy passive income for you. Making and selling an ebook on Amazon is definitely a way to make money fast on the internet.
Readers, please share so other writers and bloggers with a book inside them learn these easy tips for publishing using the Amazon Kindle book format.
I look forward to your views in the comments section: Do you know any additional reasons to publish a book? Have you published before using the Amazon Kindle book format? What are your experiences?
Janice Wald's Ebooks
ALL THE INSTAGRAM TIPS AND TRICKS YOU NEED TO KNOW: 89 MOSTLY-FREE HACKS, A GUIDE TO USING AND MONETIZING INSTAGRAM ebook format
AN INSIDER'S GUIDE TO BUILDING A SUCCESSFUL BLOG
Janice Wald's Paperback
ALL THE INSTAGRAM TIPS AND TRICKS YOU NEED TO KNOW: 89 MOSTLY-FREE HACKS, A GUIDE TO USING AND MONETIZING INSTAGRAM
Janice Wald's Money-Making Resource
HOW TO MAKE MONEY BLOGGING BY VARYING YOUR INCOME STREAM: YOUR STRUGGLE TO MONETIZE IS OVER.
Related Reading
This article offers more ways to make money with website content and even presents a 6-month timeline for you to follow in your monetization action plan:
Blog Ideas That Make Money: How to Make More Money in 6 Months
Source
Portions of this article originally appeared on My Trending Stories.