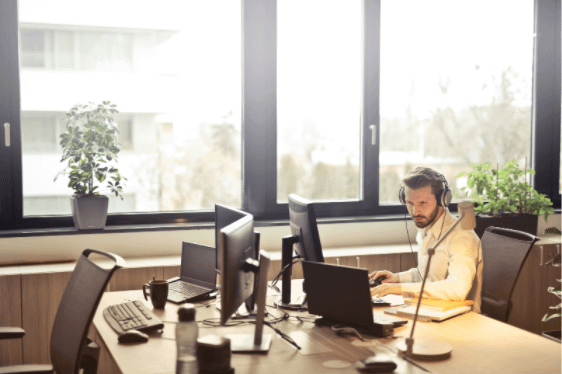 Are you considering an IT career switch? Consider switching to IT staffing services.
Working in the IT staffing services industry gives you options.
For instance, you can staff the tech support teams that companies hire you to send out. On the other hand, you can be one of the tech support team members that get sent out.
If you enjoy working with information technology (IT), consider a move to IT staffing services.
This website recently published a post about the best day jobs for writers. This article is a guide for people who are considering an IT career switch and want to consider a move to IT staffing services.
By reading this guide, you'll discover a review of jobs that might be appealing for someone involved in IT staffing services. In addition, you'll get a review of the Certbolt CompTIA Security+ Certification Program.
Let's get started learning about jobs in the IT staffing services industry.
Jobs in IT Staffing Services
If you are unhappy in your current position and you enjoy technology, consider an IT career switch.
What are IT staffing services?
Picture this: You work for a company that sends tech support to needy businesses. Whether you send one member of your tech support team or the whole team, you work in IT staffing services.
Before you can start at the top and send tech teams to businesses, you need to start somewhere. Today's contributing author, Paul Bravo, offers information about a type of IT certification, the Certbolt CompTIA Certification.
What Everybody Ought to Understand About the Certbolt CompTIA Security+ Certification
Stuck in a role that doesn't fulfill your monetary needs? Tolerating an average job simply because it pays your bills? Ready for a career switch but unsure where to start? Don't worry. We got you covered.
Drawing on experience, many IT experts report that deviating from the conventional rules can greatly improve your chances of getting into a role you enjoy. And as you focus on a new professional path, there are plenty of lessons you will learn along the way whose conclusions could seem dreamlike. For example, you can launch a cybersecurity career without even an educational degree. Sounds unreal?
Is the CompTIA Security+ Certification Worth It?
The Certbolt CompTIA A+ Certification 220-1002 Dumps Security+ certification is a benchmark for starting a cybersecurity career. It gives the hiring managers a glimpse of what you can do and how you can help their organizations achieve their goals.
As one of the fastest-growing niches today, nobody can doubt the importance of a valid cybersecurity credential in a crowded job search market.
Here are the 5 best reasons we believe attaining this badge makes perfect sense in 2021:
Get paid for your skills
Familiarize yourself with in-demand services that will transform your career for the better
Gain the accepted standard showing you are eligible for various jobs in the field
Stay abreast of the latest developments due to comprehensive training
Show your dedication to professional growth
How Do You Become CompTIA Security+ Accredited?
You will qualify for Certbolt CompTIA Security+ by acing one exam, SY0-601. In its most basic form, this assessment compares favorably to most of the certification tests you might have taken before. It lasts for 90 minutes and uses a maximum of 90 multiple-choice questions, performance-based activities, and drag-and-drops to confirm if you are ready for a cybersecurity career.
When it comes to recommended prerequisites, applicants must be familiar with basic security concepts, understand how to secure applications and networks, assess risk management, and detect threats and system vulnerabilities. If you already have Certbolt Exam-Labs CompTIA Security+ Dumps Network+ credential and about two years of experience in the field, it will be a great advantage.
What Exactly Is on the Security+ Exam?
SY0-601 covers 6 major domains an aspiring cybersecurity professional is required to know. They include the following:
Identity and access management
Technologies and tools
Risk management
Architecture and design
Cryptography and PKI
Threats, attacks, and vulnerabilities
What Jobs Can You Get with the CompTIA Security+ Certification?
As you may probably guess, the Certbolt CompTIA Security+ badge prepares candidates for different jobs at the foundational level.
The 3 most popular IT security roles are listed below:
Security Administrator
Network Administrator
Systems Administrator
Other honorable mentions along the same line include security specialists, security engineers, and security consultants. Interested? Exam-Labs CompTIA Network+ Dumps is for you.
IT Staffing Services: FAQ
What is the difference between staffing and recruiting?
Recruiting entails acquiring full-time talent for a company. In contrast, staffing could imply you help on a temporary basis.
Conclusion: IT Staffing Services
In the depths of frustration about your job hunt, you will see plenty of signals, indicating all the nice things about to come your way. All you have to do is grab the slightest opportunity and make things happen. Many success stories today revolve around cybersecurity. And you can join this area by pursuing the Security+ certification that's offered by CompTIA for only $349.
In closing, this post discussed the types of jobs you might consider if you made an IT career switch:
IT staffing services: Recruiting
IT staffing services: Serving as a team member
Security administrator
Network administrator
Systems administrator
Security specialists
Security engineers
Security consultants: For instance, you could consult companies that specialize in installing professional security systems.
Teacher. For instance, you could teach email security best practices to firms.
In addition, you received a review of a certification program you might consider joining if you want to work for IT staffing services as a recruiter or a member of the team.
Readers, please share so IT workers considering a career switch learn about the certification program and what is entailed in working for IT staffing services.
I look forward to your views in the comments section. Can you suggest any additional jobs in the IT sector?
This post is contributed and made possible by the support of our readers.