Are you here for an InVideo Review?
If you are looking for the best video editor, look no further.
InVideo video editor is the best tool for video editing since large size video files can be instantly accessed for editing. Due to InVideo's large image library, you'll discover that InVideo is your first choice for a video creation tool.
7 Reasons Why InVideo Can Be Your All-in-One Video Editing Tool
The accessibility and affordability of consumer electronics have made it easier to create content. More specifically, this trend is highly noticeable in video formats.
Smartphones, with their powerful cameras, are transferring creative freedom into the hands of the common public. However, professional-looking videos are part creation and part editing. As such, you can achieve the desired results only when you have a video editing tool that is as competent as your video-making skills.
In this aspect, InVideo can be the panacea to all your video editing woes. Continue reading this InVideo review to discover why.
What is InVideo?

InVideo is a comprehensive video editing tool with powerful capabilities.
The software platform caters to SMBs (small and medium businesses), media houses, large enterprises, freelancers, and individuals who wish to create videos. This extensive clientele list indicates its infinite scalability potential. 
Most importantly, InVideo does not mandate its user to have in-depth technological knowledge.
What Makes InVideo the Perfect Video Editing Tool?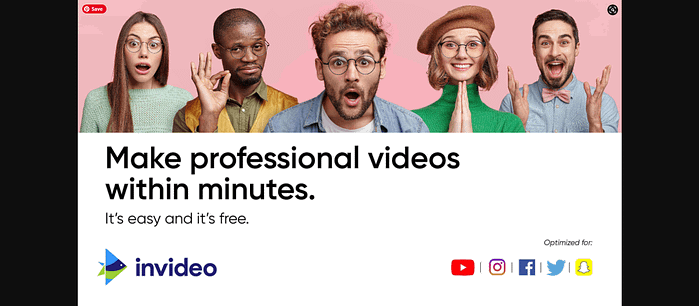 Here are a few reasons why InVideo makes a compelling case to be considered as a perfect video editing tool:
Platform Agnostic
As an online video editor, InVideo does not depend on the make or build of your device. So, whether you wish to edit videos on a desktop or create something in the iPadOS environment, InVideo will remain consistent throughout. All one needs is a stable internet connection, and you can edit videos in your studio or on the go!
Intuitive and User-Friendly Interface
As stated previously, InVideo serves the purpose of all individuals, regardless of their competence or technological prowess. Its highly intuitive graphical UI makes it easy to create or edit videos with its drag-and-drop functionalities. Plus, InVideo is one of the first video editing tools to offer an Intelligent Video Assistant (IVA), simplifying your ease of usage.
Affordable and Flexible Plans
Budget is often a major concern, especially when you are a freelancer or a small business. Fortunately, InVideo offers competitive pricing plans depending on your requirements. And when they state "free," it legitimately means free as the videos do not contain any watermarks.
A video editing enthusiast or freelancer can opt for a free version, while large teams can choose the unlimited plan. The mid-range Business package is also lucrative for those churning out video content on the regular. If you are unsure of your needs, you can always test InVideo out with their 14-day trial period.
Presence of Plug-and-Play Templates
The presence of preset plug-and-play templates makes InVideo truly user-friendly. Browse through the 4000+ templates created to serve various industries, and find the one that you seek. These templates can save you time and effort while also offering sufficient room for branding and customization.
Other prebuilt elements, such as CTAs, overlays, and stickers, can make your videos more engaging, effective, and immersive.
Rich Media Library
InVideo grants access to a rich media library containing more than 8 million stock images, audio, and video clips from reputable sources like iStock and Shutterstock. This vast data repository is your perfect one-stop destination for all your media requirements. You can use an array of royalty-free media suited for the occasion to make your videos unique and more interesting. You can even personalize your video further by adding voice narration to your creation.
Content Creation Versatility
Whether you wish to post your video over YouTube or upload it on Instagram, InVideo will have you covered. InVideo allows you to save the same video in different aspect ratios and sizes so that you can post them over your preferred platforms without losing any information or having to redo the entire video creation exercise.
Robust Customer Support
InVideo offers seamless training, onboarding, and customer support. Users can get in touch with live 24/7 chat support or refer to the documentation available for self-servicing purposes. The thriving InVideo community is also a great source of help, support, and information. With creators, marketers, and even developers in the mix, everyone has something to learn through such networks.
InVideo Review: FAQ
How do I use InVideo?
InVideo uses simple drag and drop technology. Also, as this InVideo review explained, InVideo uses Artificial Intelligence (AI) to help you create videos.
InVideo Review Final Thoughts: Why InVideo is the Best Tool for Video Editing
InVideo is a feature-rich, highly functional, user-friendly video editing platform for everyone to use. Use the powerful text-to-speech feature or convert blogs or listicles directly into videos – your imagination can run free without any limitations. With its smart AI-driven engine, InVideo will take care of most of the grunt work so that you are left with just the minor tweaks and finishing touches.
Readers, please share this InVideo review so other video creators and video marketers discover the power of InVideo.
I look forward to your views in the comment section. Have you heard of InVideo? Do you think you might try Invideo? If you already have a video creation tool, what is your favorite?
This InVideo review was contributed and made possible by the support of our readers.