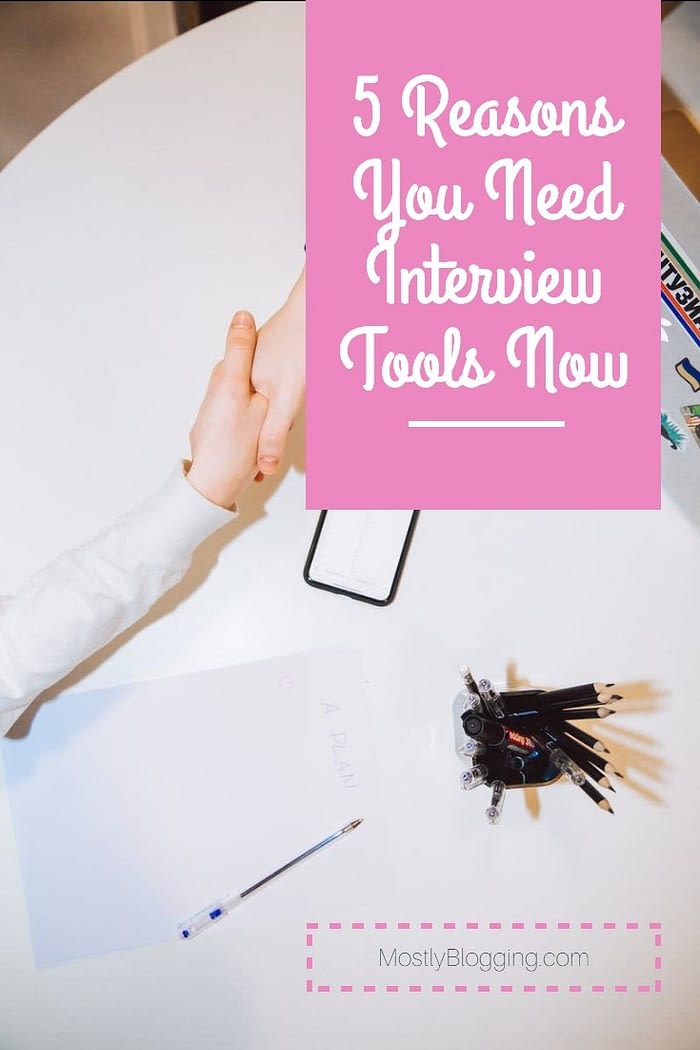 Greg Wilson
Do you need interview scheduling software?
Why would you?
Do you ever pitch a HARO reporter as part of your link-building strategy?
They often interview you using interview scheduling software.
Have you ever been a podcast guest?
They also often interview you using interview scheduling software.
Have you ever been a speaker at a virtual or offline conference?
They also often interview you using interview scheduling software.
Have you ever interviewed anyone in those situations? If you do, you might need to use interview scheduling software.
Especially in 2020, when the Coronavirus poses a threat to people who network offline, interview scheduling software is more important than ever.
Today's guest author shares 9 necessary features of your interview scheduling software. Although he focuses his post on employees in a company, anyone who needs interview scheduling software can benefit from these tips.
Let's dive in.
9 Must-Have Features for Your Appointment Scheduling Software
Scheduling an appointment through phone or through the exchange of emails is exhausting.
Whether the customer is a regular client or even a prospect, it becomes frustrating after a while.
This is why organizations turn to appointment scheduling software to help them retain customers and build a long-lasting relationship with new prospective clients.
But not all scheduling tools will be the right choice for you, here's what features you need to consider while evaluating an intelligent appointment scheduling software.
Real-Time Automated Scheduling
The platform has the ability to book appointments in real-time and can also cancel them whenever the user changes their decision.
Depending on the availability, waiting lists can also be formed, and new appointments can be added on. Once a booking or meeting has been canceled, the next appointment from the waiting list queue takes its place.
Online Booking
When considering interview scheduling software, it is essential to check that it offers the ability to provide a seamless onsite experience to book appointments online. For retailers, it is vital that they make the experience simple enough that the customer can do it online, even from an app from their phone. Some apps also come with the ability to synchronize across other devices automatically.
Calendar Management
Users should have the ability to create an appointment at their suitable time and then share it with others at multiple locations. The software can also offer synchronizations to popular calendar apps such as Google Calendar, which almost everyone uses on a day to day basis.
Customer Scheduling
In the event you work for a company, customers should have the ability to see the calendar of all the employees in the company so that they can book an appointment with the employee they prefer. The customer can then directly remain in contact with the employee and remains transparent on communication.
Integrated Payment Options
An added advantage for you is that it will have an appointment scheduling software with the option of multiple payment methods. Visitors can make the payment directly with a payment method they like when they visit the platform to make an appointment. Getting the customer to pre-pay for their appointment also reduces the chances of cancellation later on. Also, you can collect the payment details from the backend and balance your finances accordingly.
User-Friendly and Intuitive Interface
The consumer wants convenience but on their own terms, and they want to execute the simple steps themselves.
The millennials today are very well versed in web-based services, so putting them in the driver seat is not enough. The application through which you are offering your services should also be intuitive and provide a seamless, user-friendly experience to the people visiting it.
Furthermore, in today's influencer approach, you can collaborate with influential figures and promote your app along with them.
Integration with CRM Tools
Just like the ease of use, integration is also one of the features that are essential to have. Your scheduling tool should be integrable with the existing CRM software also. For companies to benefit most from the scheduling tool, it is critical that the appointment records easily sync with the CRM software like Salesforce or other such tools.
Pick an appointment scheduling tool that does not only sync but should also have an easy to use interface. The last thing you need is for your employees to communicate with the IT team to learn about the platform continuously.
Mobile-Friendly Interface
Whether your customer visits your platform using a desktop, laptop, or smartphone, the experience should be seamless across all the devices. You don't want your first impression to come across as slow to load web app with poor page structure.
For different platforms such as Android and iOS, you will need to design your platform accordingly that it performs as expected on both platforms. Also, the application should be compatible with all the popular browsers used by your customer.
Intelligent Matching
It's time that AI has been included in almost all platforms developed by industry-wide tech companies. Knowing what your customer needs and acting proactively according to their demand is a necessity.
The software you pick now should be able to combine AI and machine learning to understand customer intent based on their shopping patterns. After tracking, the intelligent matching will then step in to guide the customer towards the team member with the right skills and location closer to them.
Summing it up: Interview Scheduling Software
At last, it is essential for you to go through a thorough test of the scheduling tool you choose before implementing it in your organization. Let your employees get to know the booking process as it will help them use the tool to its optimum efficiency
Author Bio: I am Greg Wilson, a Content Writer working with GoodFirms, a research and review platform for service and software companies. I am passionate about blogging, creative writing, social media, and content marketing. I write blog posts for GoodFirms about SEO software, Cloud computing, IoT development, and many more such categories.
Host blogger's comments:
While Greg shares his tips, did any uses for interview scheduling software come to you?
Certainly, people involved in business networking in the B2B (Business to Business) space can benefit from interview scheduling software. In fact, anyone who collaborates can use these tips.
Due to the Coronavirus pandemic of 2020, online training may occur. Interview scheduling software is certainly needed.
A great many tools even come with free appointment reminder software that integrates with Google. Therefore, you can see the reminders on your Google Calendar and get notifications in your Gmail.
Readers, please share so people who need interview scheduling software have access to this information.
I look forward to your views in the comments section. Can you think of any uses for interview scheduling software?
This post was made possible by the support of our readers.