An Internet Security Policy.
Do you have one?
You should.
In less than two months, you'll need to change yours. Your Internet Security Policy needs to apply to the new year, 2020.
What does your Internet Security Policy say?
What should it say?
If you don't have an internet security policy, you should get one or risk having your content plagiarized.
These issues and more are covered in this post which includes an example of an Internet Security Policy.
Internet Security Policy Example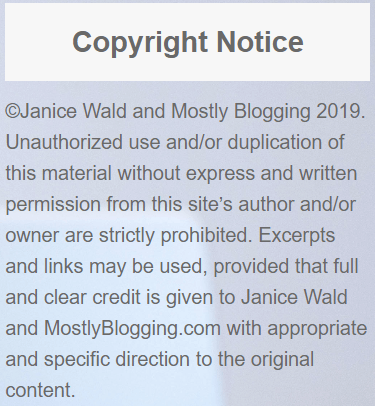 This is my Internet Security Policy.
This disclaimer in my right sidebar keeps my blog content secure.
Do you notice the contents contain the year?
Your Internet Security Policy should contain the year so would-be content thieves can't say your policy is out of date and no longer applies.
You can put any text you want in your Internet Security Policy. There is no "right" policy.
However, I believe mine shows my intent– the content on my blog is mine. No one can use it unless they give me credit and link to my site or the post they are borrowing content from.
Let's hear from today's guest author about other precautions you can take in addition to having an Internet Security Policy on your blog or website.
Contributed Post
So you run a blog and it's become a huge success. Your monthly page views are impressive, you're making good money and you might even have some hired staff. Congratulations! 

Now is the time to start thinking about protection for your blog business. The internet is a scary place full of copy thieves, hackers and people that might try to sue you for any number of reasons. Fear not, there are many ways in which you can start protecting your beloved blog business and it's not as difficult as you may think.
Be Original and Authentic

Photo by Green Chameleon on Unsplash

This cannot be stressed enough but always create authentic, original material for your blog and make sure your staff does too.
Not only does this make your blog more interesting for readers but it also protects you from any copyright infringement issues. This is territory you definitely want to steer clear from as there are people out there who can't wait to find you with their material and sue your pants off. 

If you create all your own material, you know with 100% certainty nobody is going to come knocking with any copyright issues. When it comes to photography always try to use your own, buy from Shutterstock or use one of the many free photo websites such as Unsplash or Pixabay. 

Ask for Permission

Using other people's content can be useful and relevant to your readers so you might want to share it on your own blog. This could be anything from an article, opinion piece, infographic, diagram or photograph. It's always best to ask the person for permission to use anything they have created before publishing it to your own site.

You will find that most people are more than happy for you to use it as long as it's credited back to them or their website. It's additional exposure for them and the backlink also benefits their website analytics. Failure to ask for permission could lead to a nasty email arriving in your inbox, a demand for money or even threats to sue. It's not worth it so always send a polite message and ask kindly to use their content before posting.
[
Host blogger's comments:
This happened to me. I thought I had permission to use a guest author's photo.
I drew this conclusion for several reasons. First, I thought I'd received consent from her. Also, there is a disclaimer on my blog that anything sent to me, whether it's an article or an image, is the property of Mostly Blogging. Nonetheless, the guest author was irate. Rather than replace her image, I chose to give her credit and link to her site.]
Watch Out for Hackers

Image by Pete Linforth from Pixabay

Unfortunately, the internet is full of people trying to hack your information. They are always getting better and more sophisticated in their methods too. This makes cybersecurity a real issue for anyone running an online business. There are simple things you can do to help prevent cyberattacks.
How to Protect Against Cyberattacks

Frequently change your usernames and passwords – Make your passwords difficult with a combination of random letters, numbers and special characters.

Get the best protection– If your computer or one of your employee's computers is attacked then so is your blog. Whilst premium protection from McAfee or Norton is great, they may not be the best solution for your expanding business. You should consider the services of a professional IT company such as activermp.ca who can help audit your blog business and give you the best protection available for your specific business needs.
Wrapping Up: Internet Security Policy
Readers, please share so other webmasters learn about the importance of having an Internet Security Policy now, in 2020, and in the future.
I look forward to your views in the comments section. Do you have any suggestions for how to protect your blog other than with an Internet Security Policy?
This post was made possible by the support of our readers.