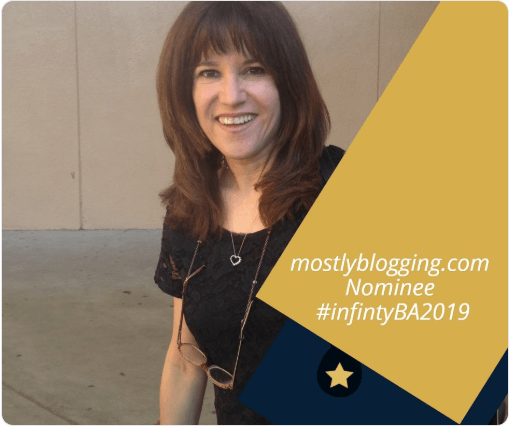 Thrilled beyond words.
That's how I feel about being nominated for the best internet marketing blogger of 2019 by the Infinity Blog Awards. I'm so excited words can't describe my reaction.
Did you know this blog is nominated for the Best Internet Marketing Blog of 2019? I'm over-the-moon excited.
I'd be so grateful if you could take a quick moment to vote for me. Just click this link https://www.infinityblogawards.co/poll/best-internet-marketing-blog/. My blog is first. You can't miss me!
However, this post isn't about me. This article is about you.
By the time you're done reading this article, you will know why it's important to be an internet marketing specialist and how you can become one.
Note: If your niche is not blogging or marketing, still apply the tips in the post to your niche. This article contains generic tips that can enhance the reputation, traffic, and SEO of any blogger in any niche.
Benefits of being considered an internet marketing specialist
You're asked for expert interviews.
Your SEO increases. The links from the blogs that conduct the interviews boost your SEO since the bloggers link to you from their sites.
You gain recognition as an expert in your field. More people find you, discover you're an expert in your niche and ask you to be in their expert interviews. This, in turn, boosts your traffic as you're exposed to new audiences as well as continuing to boost your SEO.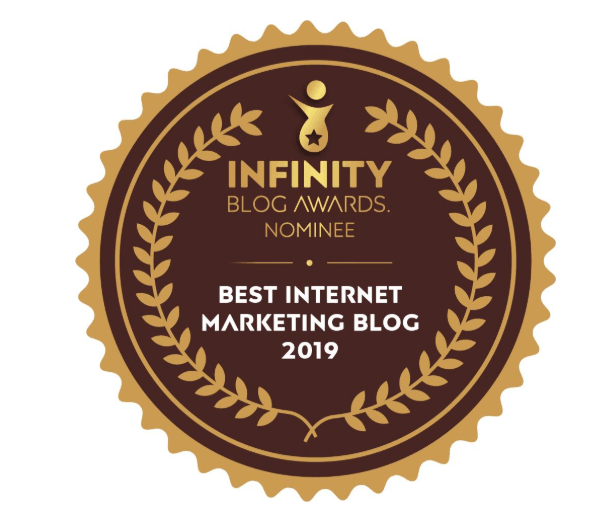 These are the 16 criteria for getting nominated for the Infinity Blog Award.
This is how you can meet these criteria and be considered an internet marketing specialist.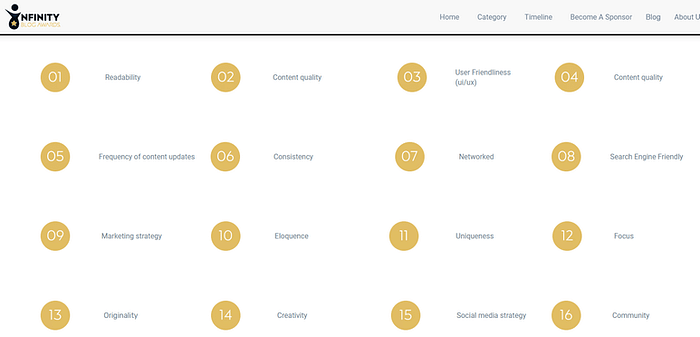 1. Readability
Do you use Yoast? Yoast's strength lies in the plugin's ability to make sure our posts are optimized for SEO.
Did you know Yoast also makes sure are posts are readable? The average reader needs to be able to understand your posts.
You don't need an education class to ensure your post is readable. At the bottom of your draft, click the Readability tab. The Flesch reading score will tell you if your post is understandable.
Additional factors considered when Yoast decides if your post is readable:
Passive voice
Shorter sentences
Consecutive sentences
Subheading distribution
Paragraph length
Sentence length
2. Content Quality
When the Infinity Blog Awards first notified me of my nomination, I reflected.
I asked myself if I genuinely felt I deserve to be in a marketing category with some of the biggest names in the blogging community.
My answer: Yes, I do.
I'm well versed in different marketing strategies. In fact, these posts about marketing rank on Page 1 of Google for various keywords:
Social Media Marketing (Position 22 on Google)
In addition, my article explaining the benefits of nofollow external backlinks is also on Page 1 of Google's SERPs.

Finally, my posts detailing various marketing methods also rank on Page 1 of Google.
3. User Friendliness
This includes User Interface (UI) and User Experience (UX). Both are closely related.
UI includes the features on the blog like the share buttons. UX refers to the general user experience. For example, is your blog easy to navigate?
4. Content Quality
My posts include helpful, detailed tips.
Realizing Google likes long-form posts, I make my posts as detailed as I can. I don't stop writing an article until I feel I've been thorough.
For example, at more than 5,000 words, my post about Instagram secrets is so long, I turned it into an ebook.
Note: I realize the second criteria is also Content Quality. I don't know the reason the Infinity Blog Awards listed this criterion twice other than to stress the importance of content quality.
5. Frequency of Content Updates
Are you aware you need to update your blog post content after publication? Google likes fresh content. You might even update your meta description to include words like "new" and "updated."
I predict my MeWe review will be my best-performing post of 2019. I've already updated the content three times.
Is Google impressed? Yes! The post is on Page 1 of Google's SERPs several times for different keywords.
According to Hubshout, the post is among my top-ranking content. Eighteen keywords will bring up the post.
6. Consistency
I certainly publish consistently.
Each summer, I vacation with my family for three weeks. Not wanting to break my blog's publication consistency, I even publish on vacation.
Thanks to the ability to preschedule, I try to schedule as much as I can before I leave for vacation.
7. Networked
I network my blog. Due to my day job, I don't network as much as I would if I had more time, but I do network.
Some of the Facebook groups I frequent require reciprocal networking.
This has several advantages. First, I've made blogging friends this way.
Also, my blog posts get more comments as a result. Google likes to give priority visibility to active blogs. Comments tell Google your blog is active.
8. Search Engine Friendly
I make conscious efforts to ensure my blog is search engine friendly.
For example, I regularly go to GTMetrix and check my site speed. I have far fewer plugins than I would if I didn't take pains to keep my site loading time down.
Also, I pay for the Kraken image compressor which helps with site speed as well.
In addition, I optimize my posts for search engines. The Yoast SEO plugin is a huge help. I highly recommend the plugin.
9. Marketing Strategy
I recommend the SMART Marketing strategy.
You need marketing goals to ensure you're maximizing your time.
Your goals should be specific, measurable, achievable, relevant, and timely.
Specific – Do you have specific goals?
Measurable – How will you measure if your goals are achieved?
Achievable – Are your goals realistic? Is it possible to achieve them?
Relevant – Will people care about your content?
Timely – How long will it take you to achieve your goals?
10. Eloquence
I'm a credentialed English teacher. I also have a Masters Degree in Education.
People have commended me on my ability to explain complex concepts like SEO in a simple way. As a teacher, I know how to break down complicated information into understandable information.
11. Uniqueness
When I first became a blogging tips coach, I read the complaint that many readers feel they find the same information on many blogs.
I keep this in mind when I blog and strive to make my information different than other blogging tips coaches.
For instance, my post offering 47 blogger tips is standout strong in unique content.
12. Focus
One of my educational mentors taught me the importance of coalescence in a lesson years ago. When I inquired as to the meaning, I learned coalescence is focus.
Your article coalesces, or comes together, under one unique umbrella topic.
Make sure that topic is introduced at the beginning of your post and reviewed at the end.
13. Originality
For me, originality is on par with uniqueness.
I try for originality in format. For example, I have had pro/con posts, review posts that are one-sided, factual posts, posts with videos, memes and GIFs.
I also published guest posts, blogging events, case studies, interviews with one expert, and interviews with a panel of experts.
These are examples of the variety of formats I strive for.
14. Creativity
Varying your blog post format is a way to be creative so clearly there's overlap between the criteria.
There are many additional ways to blog creatively.
For example, you can embed HTML code and include GIFs, memes, and videos in your posts.
Using free tools like Piktochart, you can make infographics.
15. Social Media Strategy
Almost daily, I use different graphics on Instagram than I do on Twitter, Facebook, and Pinterest.
I also have different contextual messages on different social media sites.
I have a strategy for Instagram and a different strategy for Twitter, Facebook, LinkedIn, and Pinterest.
On Instagram, YouTube, and Twitter, I post videos.
I also use Stories on Instagram and Facebook.
I have recently begun using GIFs on Twitter.
Did you know using emojis boosts your engagement rate? For this reason, I try to use more of them on Instagram.
Many bloggers express concern as to the amount of time it takes to be omnipresent on all these social media sites.
Remember your prescheduling tools like Buffer and Hootsuite. They allow you to preschedule to social media.
I use the Missinglettr service. Missinglettr is a free service that writes your social media content for you.
IFTTT is another helpful, free tool that saves you time with social media promotion by actually promoting for you. [See my IFTTT tutorial.]
16. Community
I have a Blogging Collaboration Group to help bloggers with blogging tasks.
Mostly Blogging also has a Link Exchange to help bloggers with SEO.
I host blog parties twice a month and a linky party every week.
All of these actions are instrumental in building a blogging community on my site.
Wrapping Up: How to Be an Internet Marketing Specialist
In closing, being nominated for the coveted Infinity Blog Award in Internet Marketing is not the only acknowledgment I've received.
See this list of the Top SEO Experts to follow on social media. Look who was named at Number 6: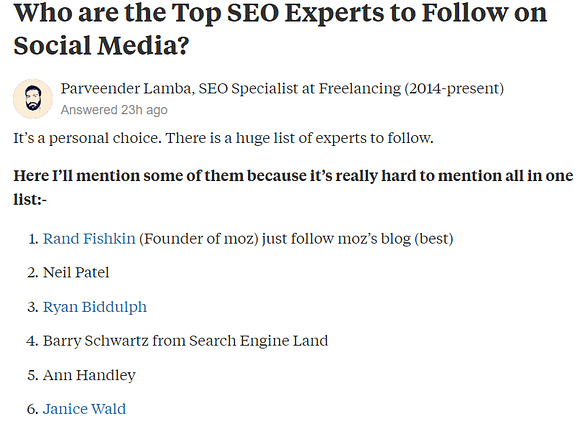 Screenshot: Courtesy of Quora.com.
In addition, I was a featured speaker at the Uppercase Conference.
Takeaways:
Follow these 16 strategies and you can be considered an internet marketing specialist too. The methods are free and result in boosting your SEO and your brand.
Here is an excerpt from a letter from the Infinity Blog Awards Committee:
Congratulations for being Nominated into this year's Infinity Blog Awards. You were nominated because you are doing an incredible job in society through your blog. We received over 3000 blogs and we nominated only 224. You are among the few who stood out. So congrats again.
At the time of this writing, I'm in 3rd place. I don't know who will be the winner of the Infinity Blog Awards, but it would be a great honor to win.
I'd appreciate your vote. You can vote for me by clicking this link:
Janice