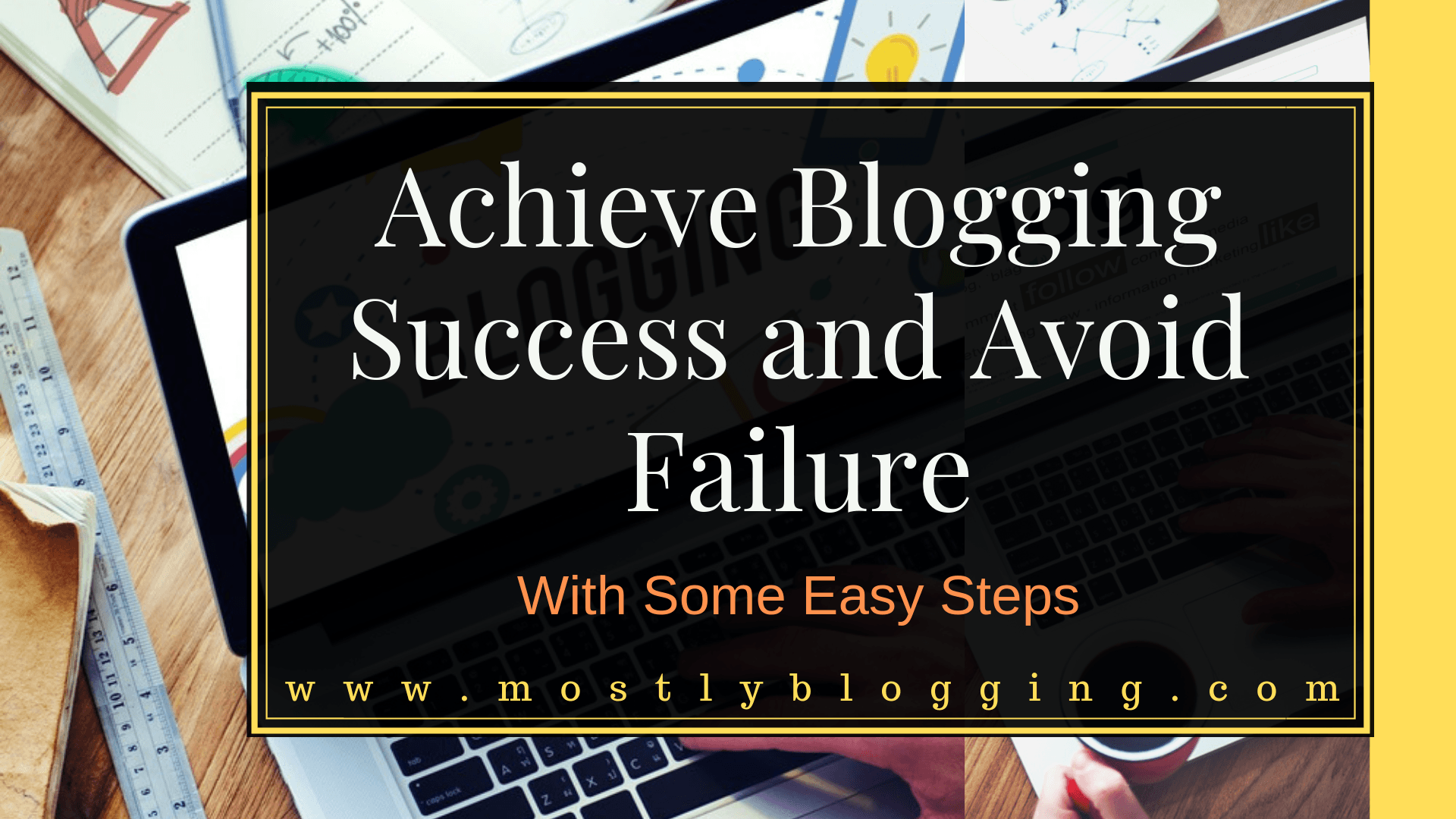 Achieve Blogging Success and Avoid Failure With These Easy Steps
Rekha Pant

If there's one thing that bloggers share, it's the desire to succeed. Sure they have different ways of coming up with online content and designing their websites, but at the end of the day, these bloggers go to bed wanting to become successful. The dictionary has a different definition for the word, but in the blogosphere, success means having thousands of loyal followers, which does not come easy since there are so many bloggers out there.

Newbie bloggers commit so many mistakes since they are still trying to figure out how the blogosphere works. When not addressed immediately, these mistakes lead to failure, making it difficult for the blogger to bounce back. The good thing about these mistakes is that there are ways to work around them. With some shift in perspective, topped with a few tweaks here and there, you can achieve blogging success. Check out the tips we listed below to have more interesting blogs and avoid failure.
What's Your Niche?
A lot of bloggers tend to write about different topics because they don't know what to focus on. This is a common problem for the Jacks and Jills of all trades, leaving their identity as bloggers a huge question mark for their followers. Before you set up your blog, sit down and make a list of things that you want to write about. Work through the process of elimination until you find your niche.
[
Host blogger's comment:
Look for a topic you find interesting. You can only run interesting blogs if you have a passion for the topic. If you find the niche dull, your lack of enthusiasm will be clear in your writing and your readers will be bored.]
Niches can include DIY home decors, travel, fashion, web design, parenting, etc. but if you really want to achieve blogging success, you need to narrow down your topic just a bit more. Look for loopholes in the market and try to zero in on that. This cuts down the competition immediately. Plus, you become an instant expert in that niche.

Self-promotion is Key
If you want to succeed as a blogger, you need to put yourself out there. Most bloggers fail because they do not promote themselves online. While it's understandable that those who do come across as spam and intimidating, self-promotion is the only way to inform people that your blog exists.

There's nothing wrong with tooting your own horn as long as you know how to balance. There's a fine line between humility and self-promotion so make sure you don't mix the two. One way to do this is by following the 80-20 rule: 80% of your comments should be used to promote the works of others and the remaining 20% should be used to promote yourself. That way, you don't strike people as a self-centered, cocky blogger because nobody wants that either.

Always Experiment
Successful bloggers are always on their toes. They are always keen to see what works and what doesn't for their followers. From using image tools like Canva to editing short but interesting videos, these bloggers are constantly creating content that tickles their followers' fancy.

The new elements in the blog do not need to be complicated. This can be something as simple as guest postings, ads, or even a weekly blogging series. Use your website's commenting functions and statistics to see how followers feel about these additions. If the indications are unclear, use a poll to know what your followers think.
[
Host blogger's comments:
I use Instagram Stories to ask followers what topics they believe they'd find in interesting blogs. If the topics are in my niche, I write about them.]
Bloggers who fail at blogging are afraid of getting feedback from their followers. The successful ones constantly ask for feedback so they know what to improve on.
Perform the Elevator Pitch
Hold up, we're not telling you to invite random people on an elevator ride so you can pitch your blog. What we mean is the counterpart of an elevator pitch called "above the fold". This refers to the content that your followers first see on your blog without scrolling.
You don't have a lot of time to make a good impression so you need to put all of your blog's crucial information above the fold. Case in point, visitors of your website should be able to identify who you are sans the need to scroll down. If your blog's title is not enough, you can toss in a tagline. If you want people to find your call-to-action button with ease, put it above the fold.
Bloggers fail when they make it difficult for their followers to navigate around their website and their social media pages. People these days don't have the luxury of time to wait for pages to load or scroll through links to find what they want. You need to take this into consideration if you want to be a successful blogger.

Encourage People to Keep Reading
Bloggers call it "sticky" and it means to encourage people to stay or keep returning to your blog. You can do this by linking relevant articles from the archives on your blog. You can link it within the content or add as a list of resources at the bottom of the blog post. The logic behind this is you are offering more in-depth information to your readers. By doing this, you are increasing the chances that people will stay and subscribe to your blog.
Wrapping Up: How to Have Interesting Blogs

It does not take rocket science to become a successful blogger. You just need to keep yourself updated with the latest blogging trends while observing the behavior of your followers. It pays to listen to what they want because this lets them feel that they are valued. Also, don't forget to put yourself out there and promote your blog!
Author bio: These 5 tips for interesting blogs were written by Rekha Pant, a representative from Canva, a graphic design company. Canva has been helping bloggers since 2012.
Readers, please share so other bloggers new and experienced read Rekha's tips for having more interesting blogs.