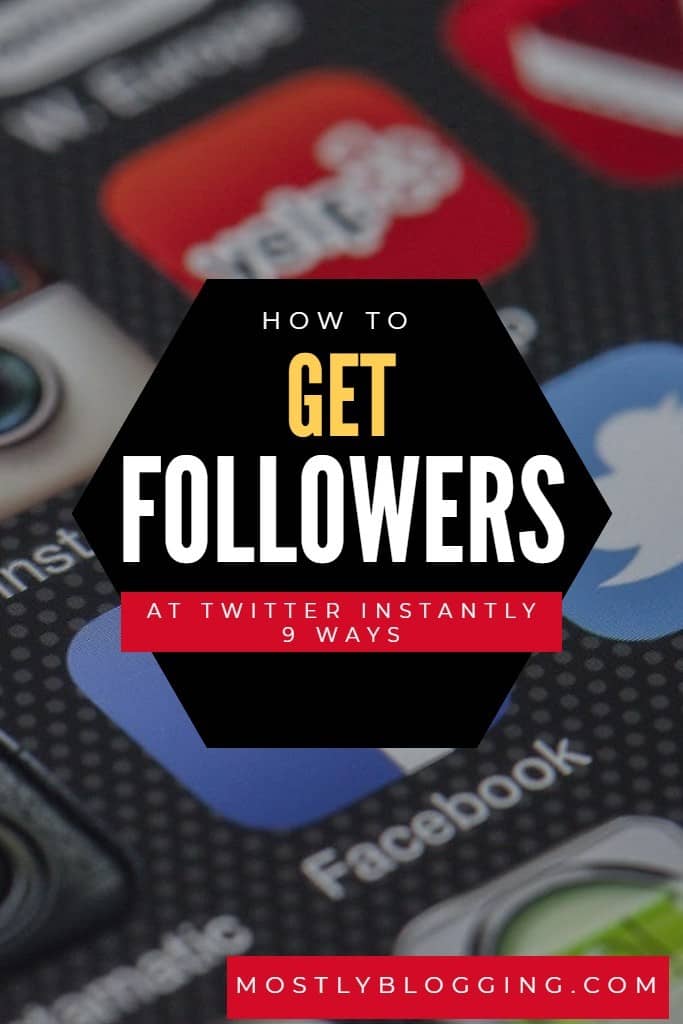 Why do you need instant Twitter followers?
After all, isn't your Twitter following count merely vanity metrics, in other words, good for nothing?
No. You receive many benefits on Twitter when you grow your account.
You need instant Twitter followers for these reasons:
Twitter won't allow you to follow more Twitter followers unless your follower count is a minimum number of 500.
Next, you can monetize your Twitter account. Many businesses offer social media sponsorships to brands with high follower counts.
In fact, when brands express interest in collaborating with me, I assure them I will share their content with my Twitter followers.
In addition, a large Twitter following shows you are a thought leader in your industry.
Finally, a larger Twitter following shows Twitter users are interested in your content. This generates more interest which results in more Twitter followers.
By reading this post, you'll get mostly free strategies for generating instant Twitter followers. Eight of these nine strategies are free.
By the time you're done reading, you'll know how to get instant Twitter followers with little effort.
Let's dive in and learn how to generate instant Twitter followers.
What is Twitter?
Twitter is a mainstream social media site. Users are called "Tweeps."
Twitter is considered a microblogging site since the content is shared in tweets a maximum of 180 characters long.
More information about microblogging sites can be shared in this article about Tumblr followers since Tumblr is another microblogging site.
Run by Jack Dorsey, Twitter's CEO, Twitter's headquarters is in San Francisco, CA.
How to Get Instant Twitter Followers
At the time of this writing, my Twitter account has 19,600 Twitter followers.

When the number dips, I follow these strategies contained in this guide to get instant Twitter followers.
Join Twitter Chats
Twitter Chats are conversations based around content niches. Attend Twitter Chats in your niche.
When the Chat is over, follow everyone in the chat and you will get free Twitter followers instantly.
Here is a schedule of over 1,000 Twitter Chats.
Follow People in Your Niche
This is my favorite strategy since this works so fast.
Follow people in your niche. The culture on Twitter is to follow back people in the same niche.
Make sure your bio explains what niche you are in. You should also have a profile picture. Although this article explains how to write the best Instagram bio to get followers, you can follow these strategies to write a strong Twitter bio.
Find people in your niche by following an influencer's followers. For example, I follow Neil Patel. Influencers have many followers; you won't run out.
Find influencers in your niche. Go to their account and click the Search Twitter bar and your recent searches will come up.
Click on the name of an influencer in your niche with many followers. I generally use Neil Patel's account for this since he has 378,800 followers at the time of this writing. I click "Followers." His followers appear. Twitter puts a Follow button if I'm not following the Twitter users.
If they are following Neil Patel, an influencer in my niche, odds are they are in my niche. I click 15 every few hours.
Stipulations: They must have at least 150 followers and a profile picture. This shows the account holder is an active Twitter user. Some Twitter marketing experts insist the account holder must have 300 followers, not 150. They should also tweet in my language, English; otherwise, I won't be able to read their tweets.
By the next day, my account shows growth. If this post is about instant Twitter followers, why does it take until the next day to show growth?
They might be sleeping when I follow them. Everyone is on different time zones.
Note: Even though you can follow up to 400 people a day, that doesn't mean you should. Don't red flag Twitter. You could get your account disabled.
Host a Giveaway
If you host a giveaway, make the requirement people follow your Twitter account in order to enter. If they want the prize, they will follow you, and you will get instant Twitter followers.
You can give away anything that people might want.
For instance, you can work with a brand to give away a premium tool. Another idea is to give away an ebook.
How about giving away an ebook about how to succeed on Twitter? You'll have a built-in audience with a vested interest.
Blogger and Twitter user John Mulindi is a big fan of using giveaways to get instant Twitter followers.
According to Mulindi,
"One of the most incredible ways to boost audience interaction is by hosting social media giveaways. People always pay attention to giveaways and contests.

Also, giveaways have the chance to go viral on Twitter. Giveaways will reach lots of people that way; your engagement rate will increase. Giveaways are the best marketing strategies to attain people's time."
Collaborate with an Influencer
Sometimes, I collaborate with Mobile Monkey's Larry Kim.
Larry is an influencer with 763,000 Twitter followers.
I promote Larry on my blog while he promotes my blog posts to his massive Twitter account.
Although we have only collaborated a handful of times, each time I get instant Twitter followers and my account grows.
If you want to let an influencer know in a tweet you have given them exposure without a prior agreement to collaborate, be sure to tag them in a tweet. When people tag on Twitter, they use the @ symbol. Here is more information on social media tagging.
Buy Followers
You might choose to pay to play.

Boosting your account's visibility will result in more growth.
Give a Call to Action
Ask people to follow you back. Sometimes people don't realize you want this.
On occasion, I'll be chatting with someone on Twitter who will thank me for following them. I reply, "KFB." This stand for "Kindly Follow Back."
In the Twitter search bar, type #Follow4Follow. You'll instantly find people looking for new followers. When I typed it, I found the hashtag was used within 24 hours, so it's an active hashtag.
#FollowMe works as well and seems to be as actively used.
Note: Read the bios. Are you interested in the content niche? That may make a difference whether you are looking for targeted followers or any followers.
Hashtags help you generate targeted followers.
There are many free hashtag tools you can use to find hashtags to help grow your account. I use All-Hashtag.
Use Twitter Lists
Follow people on Twitter Lists in your niche.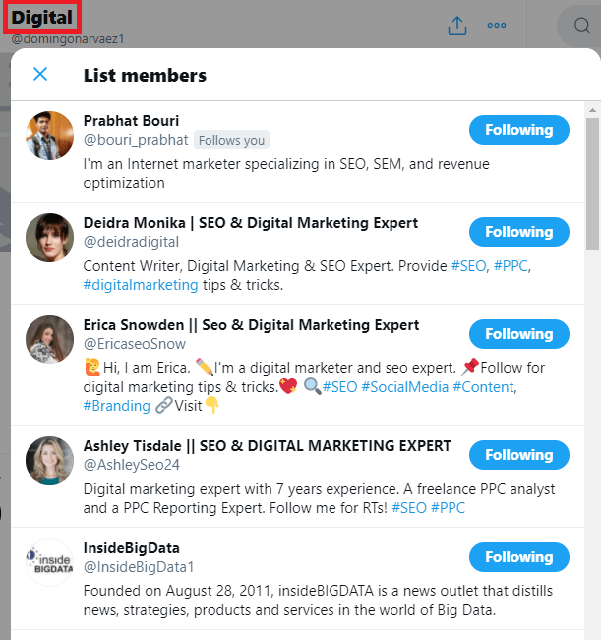 When people put me on Twitter lists, I receive a notification. I follow others on the list. Since they are in my niche, and the culture of Twitter is to follow people back who are in your niche, I boost my chances of receiving instant Twitter followers with this method.
Join Reciprocal Engagement Groups

The Twitter Marketing Group on Facebook is a group that will get you instant Twitter followers.
Look: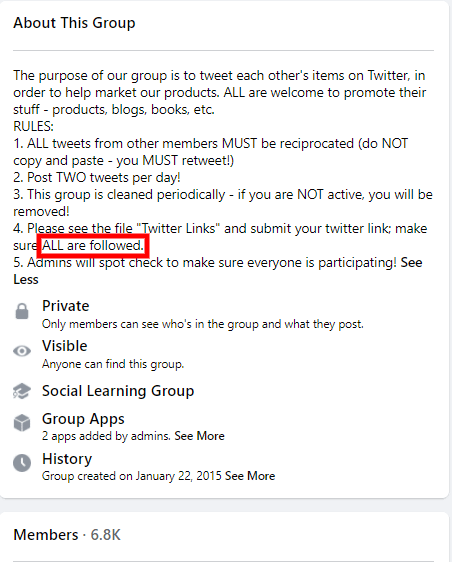 As you can see from the screenshot, this group has 6,800 members who are required to follow you. That's a great deal of instant Twitter followers!
More Methods of Growing Your Twitter Account
While these methods may not get you immediate Twitter followers, they are still effective in growing your account.
Twitter Directories
While adding yourself to a Twitter Directory may not get you free Twitter followers instantly, joining a directory should help you grow your Twitter following.
Here is a list of Twitter Directories.
Keep Your Ratio in Check
Make sure you keep the number of people you follow way under the number of Twitter users that follow you.
The Herd Mentality says, "If something is popular, it must be good." Having a strong number of followers when you don't follow that many people yourself results in making your account look popular.
Unfollow people who don't follow you back using a Twitter unfollow app. My favorite Twitter unfollow app is Commun.it.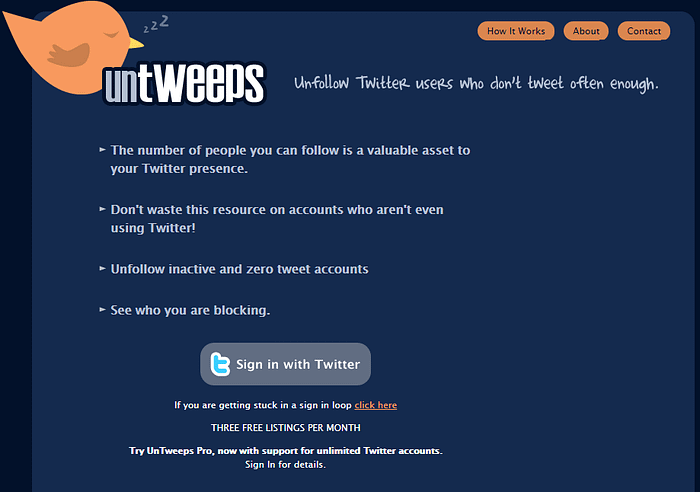 Untweeps is a free service that lets you know which Twitter accounts you are following that are inactive.
You determine the length of time the follower must be inactive before you want notification to unfollow the Twitter users' account.
Untweeps provides you a White List to ensure you don't accidentally unfollow any Twitter users.
Note: Since Commun.it recommends accounts for me to unfollow, I have never personally used Untweeps.
Be Active
While this won't get you instant Twitter followers, this strategy will prevent you from losing them.
People unfollow inactive accounts on Twitter. How inactive is inactive?
I find if I don't post for even a day, my follower count drops. If I go on a 10-day vacation, forget it.
As explained, there are free tools which tell people that I haven't posted.
The solution: I preschedule using my free Buffer queue. Buffer allows me to preschedule 10 tweets for free.
Instant Twitter Followers FAQ
How Do I Get Instant Twitter Followers?
Join Twitter Chats, follow people in your niche, host a giveaway, collaborate with an influencer, buy followers, use hashtags, use Twitter lists, join reciprocal engagement groups.
Is It Worthwhile Buying Twitter Followers?
There are many services that would be happy to take your money. However, paying for followers has disadvantages. First, you don't know for sure if they are bots. Next, you won't generate targeted traffic. Finally, there are many free methods of generating Instant Twitter followers you can use.
Wrapping Up: How to Get Instant Twitter Followers
Admittedly, "instant" is a subjective term. Since everyone is on different time zones, for the purpose of this post, "instant" means by the next day.
In closing, this post explained why you need to grow your Twitter account and nine strategies to get instant Twitter followers.
Just because you can get instant Twitter followers doesn't mean that you should. Enjoy the experience of networking on Twitter and take your growth slowly.
Please share this guide so people know how to get instant Twitter followers.
I look forward to your views in the comments section. Do you have any suggestions for how to get instant Twitter followers not shared in this guide?
Related Reading
This article shared tricks to get instant Twitter followers. Here you will find cheats to grow your Instagram followers: How to Get More Instagram Followers Cheat Sheet.

Janice Wald is the founder of MostlyBlogging.com and co-founder of the Mostly Blogging Academy. She is an ebook author, blogger, blogging coach, blogging judge, freelance writer, and speaker. She won the Best Internet Marketer Award and the Best Blogger Award at the 2021 Infinity Blog Awards. Wald was also nominated as 2019 Best Internet Marketer by the Infinity Blog Awards and in 2017 as the Most Informative Blogger by the London Bloggers Bash. She's been featured on Small Business Trends, the Huffington Post, and Lifehack.