How to Get Instagram Followers:
13 Ways to Become Popular on Instagram
by Ionut Lacatusu
It is easy to understand why celebrities are really popular on Instagram.
However, when you see that there are so many teenagers and 20-year-olds that have thousands of followers while making money from Instagram, your curiosity is spiked.
Truth be told, creating a community on Instagram requires a lot more than creating a beautiful aesthetic on your feed. So, if you want to get more Instagram followers, do consider the following tips.
Even if I said that having a visually appealing feed isn't enough, this doesn't mean it doesn't matter. That's because people won't eagerly follow an account if the profile has poor quality images. It's as simple as this. As a rule of thumb, make a habit out of posting your best pictures only.
[Host Blogger's comment: Many free Instagram tools can help you create a stunning feed.]
Engage with Your Instagram Followers
The truth is that most people are obsessing over the number of followers they have on Instagram. But, the truth is that being popular on Instagram isn't only about the number of people following you. If that were the case, we would all buy fake followers.
It's about engaging with your audience and establishing a real bond. Your goal should be to build a relationship with them – which will keep your followers happy and engaged.
Choose Your Profile Pic Wisely
Your profile picture must be representative of what you do on Instagram. It should encompass the very essence of your account. Therefore, make sure you don't choose it on a whim, or change it on a regular basis.
[Host blogger's comment: 
Look: This is my Instagram profile picture.
I offer blogging tips on Instagram. Therefore, a photo of me working on my iPad is representative of what I do on Instagram.]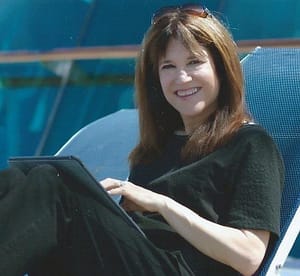 Your bio could draw people to your account as well. You don't have to make it too long or just make it a one-word bio. Try to say something interesting within 150 characters. If you have the right audience for it, try adding some emojis as well.
Also, if you would like to give some insight about your account, you could try something not too explicit that draws attention. For example, you could say something like "I'm on my way to becoming a professional artist".
[Host Blogger's Comment: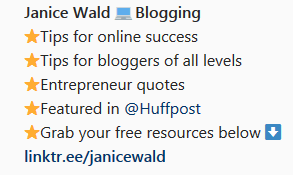 Look: I have three different emojis in my Instagram bio.]
Most likely, you want the best pictures featured on your profile. Usually, tagged photos are the ones that are not looking good, especially among professional photos. Although you can't entirely remove Instagram tags, there's something else you could do.
By choosing "Edit Tags", you can check which ones you like and which ones you don't, and hide them from your profile. This way, your Instagram profile's aspect won't be ruined anymore.
Approve Photo Tags Beforehand
Social media now comes with multiple settings that allow you to choose what you want on your profile and what you don't. You have the option of choosing to review a picture you've been tagged in before having it on your profile. This way, you can reject the Instagram tag and thus not have to put effort in hiding pictures anymore.
Add Representative Captions
When scanning various Instagram accounts, you'll notice that some people really put a lot of effort into creating captions that instill personality and uniqueness to the post. Still, some people couldn't care less about this. Hence, they either include a monosyllabic caption or a caption that doesn't transmit a specific message.
But, the truth is that captions are overlooked tools we can use to become more popular on Instagram. There are so many beautiful accounts on this platform. What will make people follow you is your personality and the things that make you unique.
[Host Blogger's Comment: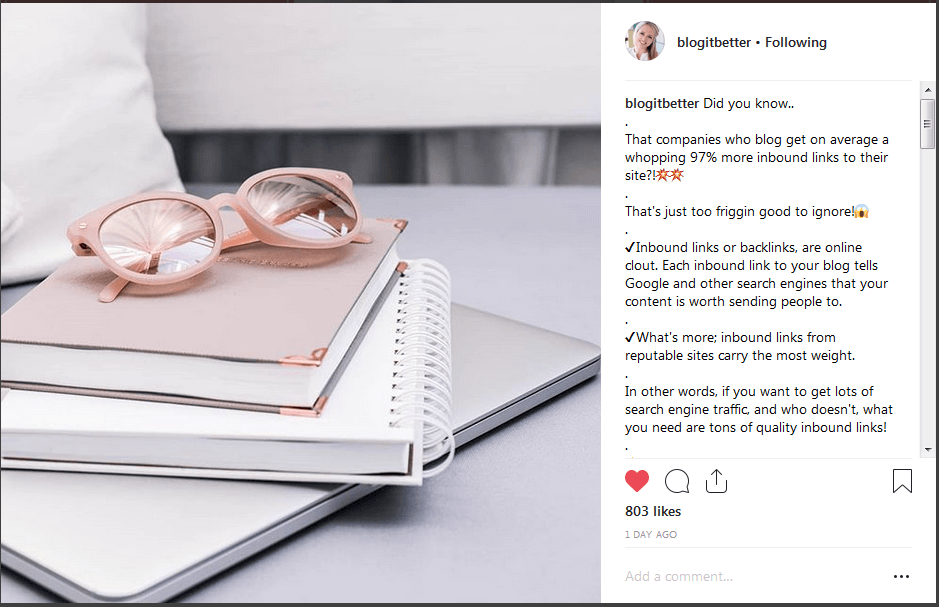 This is a post from Kristine Ofstad's account BlogitBetter.
Look: Kristine received 803 likes on this post. She totals 15.9 Instagram followers (at the time of this writing).
Notice the length of her caption. Instagram isn't Twitter. Your character count isn't limited. Use the caption to your advantage.]
Posting a certain amount of content everyday is a very important aspect. Your followers love consistency and know that they should expect something new everyday. That doesn't mean you should flood their feed with posts – unless you want to keep people away. For example, you could either post two pictures a day, or just several things a week, but you must be consistent in your posts.
Over time, you will notice that you have a certain audience that is most active at a set hour of the day. This could be because of the timezones. That doesn't mean that you have to wake up in the middle of the night to post a picture. There are ways to determine the right time for you to post and receive feedback. This will surely make your account more successful.
If you are good at something, why not show it to the whole world? You can draw a lot of attention and supporters.
For instance, maybe you are good at singing. Your Instagram account can be based on your journey as a singer who strives for success. Or, maybe, you are good at drawing and painting. You could get in touch with other artists and  do fun things, like draw a certain thing for them each week.
Having an account based on a talent or hobby could make you very popular if you know how to do it properly.
If you don't have any talent, maybe you can make fun of it. People like good humor, so this can also make you quite popular.
Interact with Other Users
I'm not denying that there is an array of Instagram business tools that are very effective, but there are also simple things you can do – such as interacting with the people in your niche. This means liking other people's photos, commenting on their photos, tagging them, so on and so forth.
Experiment with Different Hashtag Variations
It's crystal clear that hashtags are the key to increasing your visibility. But how do you choose the ones that will aid you to accomplish this? There's no fixed recipe, unfortunately: you'll have to try different variations and determine what works best for you.
While I already talked about the importance of using interesting captions, implementing calls-to-action is just as important. How can you do that? It's relatively simple: you can ask a question and invite them to give their answers in the comments. Or, you might encourage them to use a unique hashtag that represents your profile.
Wrapping Up
Without a doubt, the tactics described above will help you to become more popular on Instagram. Remember, though, you should be patient – as getting a massive number of Instagram followers doesn't happen overnight!
Host Blogger's Comments:
Which Instagram strategies have you found to be successful? I look forward to your views in the comments section.
Readers, please share so Instagrammers looking for additional tips to get more Instagram followers and bloggers looking to use Instagram to get exposure for their blog content learn these strategies.