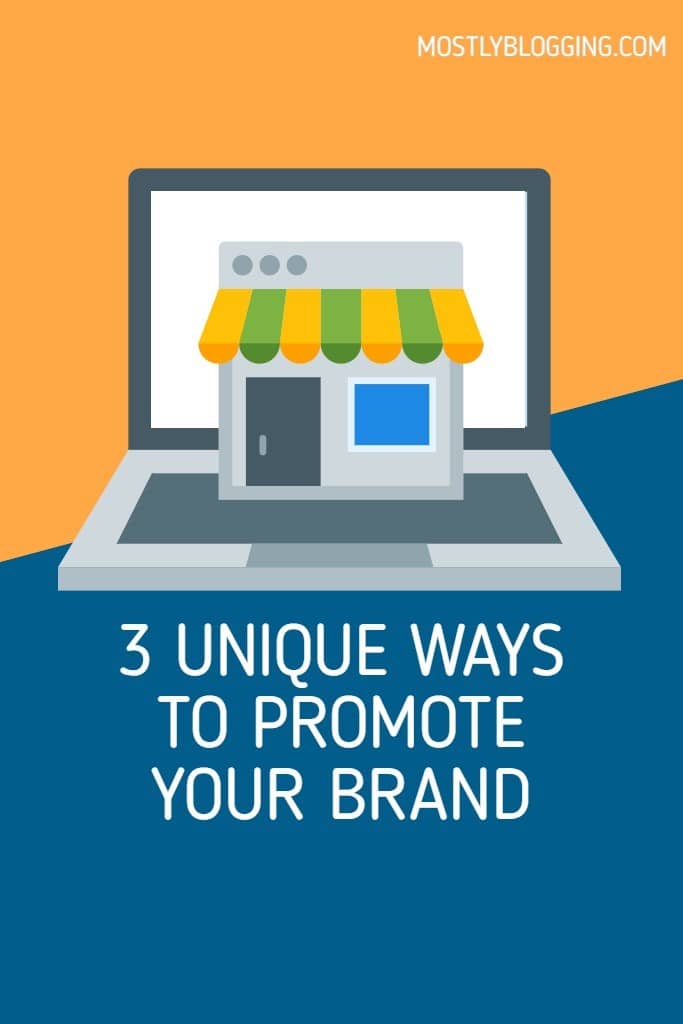 Online competition is so fierce, you might want to consider using indoor digital signage.
Do you know how many websites there are in the world?
According to 2021 stats, there are 1.83 billion websites in the world, and 32 million of them are blogs (Source).
In the past, brands would use traditional signage and social media sites to advertise.
In order to stand out on the web in 2021, you need to follow unique methods in order to market your products and your content.
This guide shares ideas for unusual ways to stand out in a crowded market.
By the time you're done reading this guide, you will know what is indoor digital signage, outdoor digital signage, the advantages of digital signage, and see examples of both indoor and outdoor digital signs you can use to promote your brand or business.
Let's dive in and learn how you can use outdoor and indoor digital signage to market your brand.
What is Signage?
Signs that brands use to advertise is called "signage."
There are many effective ways brands can use signs to advertise.
Some brands advertise on cars.
Did you hear about the WallStreetBets subreddit that inflated the Game Stop Stock? They are planning to use a sign to tell members to hold on to the stock.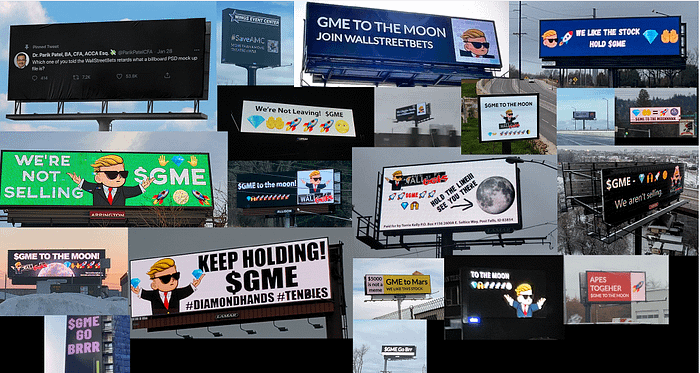 These examples, the vehicle branding and the billboard, are examples of traditional signage.
What is traditional signage?
Traditional signage is a group of signs used by brands that can be set up anywhere without special equipment.
Types of Digital Signage
What is digital signage?
Digital signage is a type of electronic sign that brands use to display digital images.
There are two types of digital signage: indoor digital signage and outdoor digital signage.
Indoor Digital Signage
One type of digital signage are advertising done on digital screens indoors.
Advantages of Indoor Digital Signage
From dusk to dawn, the human resources are putting in their efforts to boost operating efficiency.
To help them reduce the workload, digital signages are employed in work centers. They have proved to be the perfect solution to the out-dated approach of interacting and managing customers and hence improves the efficiency of the organization.
Imagine displaying your promotional information on a digital signage screen. People get captured by the content they see on screen instead of reading the same on paper. They are much more receptive to this digital content. With the digital signage screen, brands can display informational content that potential customers will never read otherwise.
By displaying facts on the screen, you can educate potential customers about your brand.
Indoor Digital Signage Ideas
Social Media Wall
A social media wall can be the best choice to display signage content on the big digital screens at businesses. To decrease the waiting time of the customers, such that 40 minutes time seems like 15 minutes waiting time, you can display engaging social media content on the screen.
Social media wall on hospital display
Work centers can display a hashtag wall curated using a specific hashtag from various social channels. These hashtag walls can consist of some motivational quotes, product updates, etc.
Moreover, business locations can display user-generated content that showcases the reviews by the customers.
These reviews can be curated from Google, Facebook, Twitter, etc. using a social media aggregator tool like Taggbox and can be displayed on any screen size to display your services.
Queue Management
Impatient customers are yet another struggle for the managing staff of businesses. To manage the long queue, you can display your information on indoor digital signage screens at different locations especially in the waiting area of a business.
Also, to enhance the customer experience during the long waiting lines at the businesses, you can display entertaining as well as useful information about your brand.
You can highlight the awareness programs that relate to the field you serve in. It will help you generate awareness about the goodwill you promote in your community.
Outdoor Digital Signage
In addition to using traditional signage, the Redditors who wanted to promote the idea of holding onto their Game Stop stock also used outdoor digital signage by advertising in Time Square.
Look: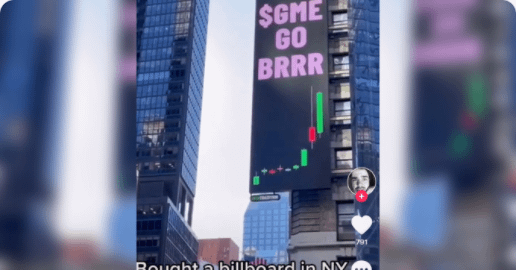 I know what you are thinking.
How could you ever afford to advertise in New York's Time Square?
According to digital billboard maker Matei Psatta, the charge for use of the billboard was only $18.00 for one hour (Source).
Over To You: Outdoor and Indoor Digital Signage Ideas
In closing, you can use outdoor and indoor digital signage to promote products, content, brand perception, or even ideas as with the Game Stop idea to keep the stock.
This post offered you three digital signage ideas: The Social Media Wall and the Queue were examples of indoor digital signage and the Times Square Billboard was an example of outdoor digital signage.
With the integration of proper and right content, indoor digital signage can trigger the thoughts of your potential customers at businesses. It will not only help you educate consumers but also reduces the considered wait time.
As you can see, these outdoor and indoor digital signage content ideas will help you enter the minds of consumers in a unique way.
If you are going to stand out in a crowded field, unusual methods are the most effective. Outdoor and indoor digital signage ideas are definitely unusual methods of advertising.
Readers, please share so entrepreneurs discover ways to use outdoor and indoor digital signage to promote their brand.
We look forward to your views in the comments section. Digital signage is not an example of traditional signage. What is your opinion? Do you think you might ever use outdoor digital signage or indoor digital signage to promote your brand?
Authors: Reina Jones and Janice Wald

Janice Wald is the founder of MostlyBlogging.com and co-founder of the Mostly Blogging Academy. She is an ebook author, blogger, blogging coach, blogging judge, freelance writer, and speaker. She won the Best Internet Marketer Award and the Best Blogger Award at the 2021 Infinity Blog Awards. Wald was also nominated as 2019 Best Internet Marketer by the Infinity Blog Awards and in 2017 as the Most Informative Blogger by the London Bloggers Bash. She's been featured on Small Business Trends, the Huffington Post, and Lifehack.