Have you been trying to increase blog traffic organically?
Guest author Belle Balace gives you valuable tips and an impressive infographic containing an SEO checklist.
Keep reading to discover free blog traffic generation tips. By the end of Belle's post, you'll have 3 ways to generate your blog traffic and 21 ways to boost your organic traffic coming to your blog from search engines.
By Belle Balace
Do you want to increase your blog traffic without paying for ads? What if I told you that you can do this alone without hiring any SEO or online marketing expert? Would you believe me?
You should because it's true. You can drive traffic to your blog posts on your own especially if you are your own team and you're currently on a tight budget.
There are actually three ways to increase your traffic organically, and that is by email, social media, and optimizing them for search which is what we call SEO.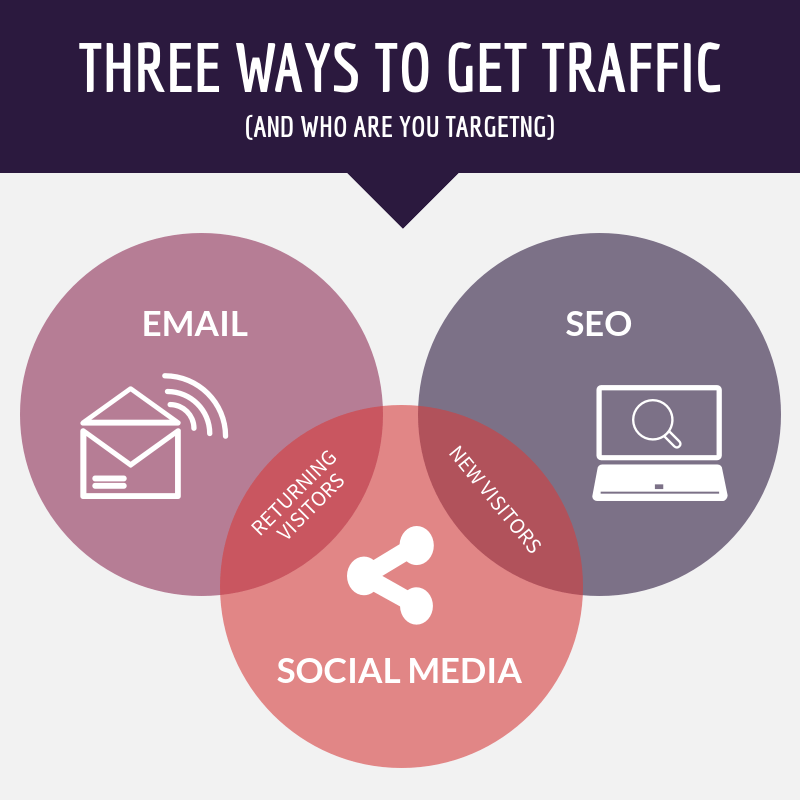 3 Ways to Boost Your Blog Traffic Naturally
Getting blog traffic via email
The thing with this is that you must have people subscribing to you so you can get their email address. No email address, no blog traffic via email.
When you email people who didn't subscribe to you, it is just plain spamming and completely unprofessional. Work hard for their email address. You make them want to give their information to you, don't force them.
You can offer them something worthy such as a freebie, e-book, discounts in exchange. Be creative.
If you're using Medium or WordPress or other blogging sites, you won't have a difficult time setting up a subscription button. You can just customize it. When people follow you, they'll automatically receive an email about your new blog posts.
[Read: This is What You Need to Know to Get Subscribers at Medium]
Getting traffic via social media
Here's what you do: use your business or organization page and your personal page.
For your business or organization page, grow your fan base or your followers count. You won't really be able to get traffic if you have a few people following you. Be consistent when sharing your content and, more importantly, don't always just share your blog posts. Share the other content you found helpful and informative that are related to your topics.
For your personal page, use it to join groups where you can share your blog posts. There are tons of groups on Facebook, LinkedIn, Google+, Pinterest, and other sites you can join. If you have a partner or a small team, ask them to do the same.
[Read: 18 Facebook Groups You Need to Join Today]
One important tip: strategize! Don't just simply share and share. Know the best time to share and experiment with the ideas you found. Keep doing the ones that you found effective and stop doing the ones that are just wasting your time.
Getting traffic via search engines
Here's something you should know.. You really don't have to hire an SEO expert to optimize your blog posts for search. That's correct but… you do need to read and work a lot. Now I'm not saying that SEO experts aren't helpful because they extremely are. They're actually going to help you even if you don't pay for their valuable services.
How exactly? Read their articles and blog posts and watch their tutorial videos! Follow them on their social media pages. They'll give you tips and advice on how you can optimize your content on your own. Isn't that amazing?
21 Ways to Boost Your Organic Blog Traffic
Now here's a very helpful checklist Barry Feldman visualized in this infographic made with Visme on how you can optimize your blog post for search on your own. Simply follow this guide and you'll have organic traffic coming in via search.

Host Blogger's Comments:
Now you know how to boost your organic traffic thanks to Belle's 21 point SEO checklist. Her other tips offer ways to grow your readership naturally.
Readers, please share so other website creators learn how to increase blog traffic organically also.
Note: Janice will be responding to blog comments as her internet connectivity and vacation schedule allow.