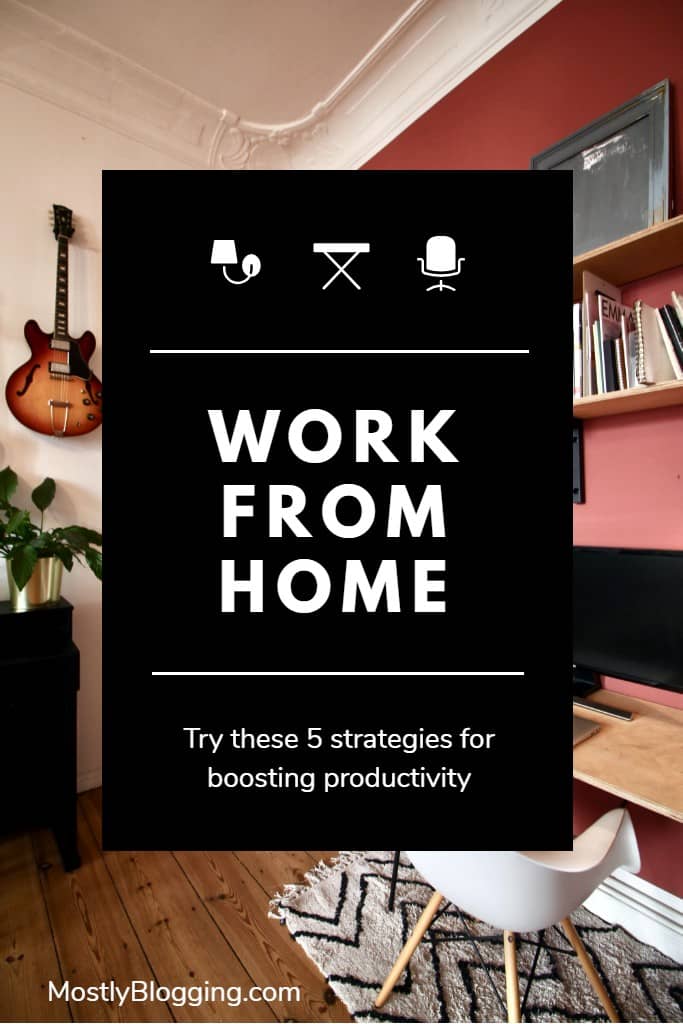 Do you find yourself in a situation where you now say, "I am working from home?"
During the lockdown of 2020, many companies found they can give up their brick and mortar locations so employees now find themselves saying, "I am working from home."
Although time is an important resource for any individual and business, many people still haven't mastered how to manage it. Being able to keep track of what, why, how, and when you do things is crucial for your success. In fact, that's the reason why most businesses opt to invest in scheduling and time-tracking software and other related applications.
However, as an individual who now says, "I am working from home," it can be quite difficult to manage your time, given the number of duties at home and your work environment.
For instance, a mom who has just landed one of the most popular entry level virtual jobs for beginners will have to plan her schedule to fit all her duties.
Switching from one task to another every now and then can hinder your productivity. But you can avoid this when working from home by focusing on your time management.
In this article, you'll discover all the effective tips you'll need to keep track of your time and become more productive. These tips work whether you have technology careers you pursue at home or other types of at-home jobs.
Read on and see how I implement these tips since I am working from home.
5 Time Management Tips For Handling Multiple At-Home Jobs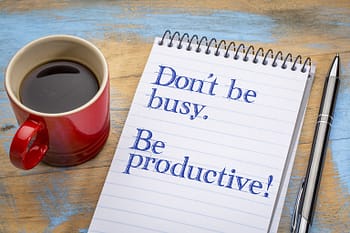 Tidy desk for a tidy mind
Imagine having a messy desk where you have to spend almost ten minutes trying to find an item. Time management starts with small things like organizing your desk and ensuring that everything can be accessed within seconds.
It's not all about piling books on one side and other items on the other end of the table. Make sure that you categorize everything according to the importance and relevance to the day's tasks. For instance, if a notebook contains some notes you'll need in your first meeting of the day, make sure you put it on top or separate it from the rest of the other notebooks.
Remember, a neat and tidy environment allows your mind to stay organized and focused on one task at a time. This improves your productivity and will ensure that you complete your projects within the expected deadlines.
Find a designated space
As earlier mentioned, the environment plays a huge role in one's productivity. However, it's more than just your desk. How far is your office from the living room? Is it soundproof? These are some of the factors that can greatly affect your time management, either directly or indirectly.
For example, take an office space that's located right next to a living room full of children or teenagers. The noise from that area of your house will reduce your concentration, and you might find yourself messing up with the quality of your work. Apart from that, you'll definitely spend a lot of time on one task, which might not be the case in a silent space.
As someone who's serious about working from home, you'll need to find a space that's not full of distractions. It's always recommended that you invest in soundproofing solutions to block out outside noise and eventually increase your productivity. The more you can concentrate on your tasks, the better you'll be at managing your time.
Establish clear objectives
Now that you have a well-organized environment, it's time to set your goals and focus on them. Creating short-term, mid-term, and long-term targets can go a long way in ensuring that you manage your time wisely. Remember, you can either set revenue, customer, or community outreach goals. Either way, ensure that every time you sit in your office, you have a daily target that must be reached.
So how does goal-setting and time management relate? Well, when you have a clear target, you'll be motivated to do the right thing at the right time. For instance, if you decide to complete a task within the next four hours and you do so, you'll find the rest of the schedule falling into place. Remember, if you continue working toward your short-term goals, time management will become a habit in the long run.
Balance your personal and professional life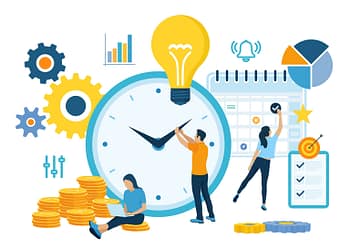 Many people believe that spending a lot of time in their office every day can improve their time management and overall productivity. However, that's not the best approach, regardless of whether you're a highly experienced freelancer who has worked at-home jobs for a long time.
Inasmuch as you'd like to accomplish multiple tasks within the shortest time possible, your social life and mental health are also important. When you prioritize your well-being, you'll be able to complete tasks within the required time without taking too many unnecessary breaks.
That's not to say you shouldn't take breaks! Pausing your daily tasks to take a breather and some fresh air is very important because it improves your overall productivity.
Invest in time management tools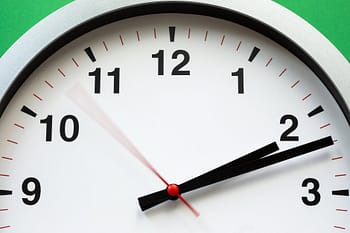 Every employee working from home should invest in some of the best time management tools. This includes a calendar and a scheduler or any other app designed for the same purpose. As you become busier, you're likely to start forgetting things quite easily. To avoid such a scenario, it'd be better to have a system that'll keep reminding you whenever you need to work on a certain task.
Today, there are many applications designed to send alerts to its users. Of course, all of them come with different features, depending on your needs. Therefore, it's imperative that you do a little bit of research before settling on one.
I Am Working From Home
Many of my readers know that I am working from home. I have been teaching remotely since March of 2020.
I run my blog, my freelancing business, I publish my school's yearbook, and I teach medieval history. As you see, I am working from home doing multiple jobs.
Let's apply these "I Am Working from Home" Productivity Tips to my situation:
Tip 1: Have a tidy desk.
Absolutely! I have my school materials on one side of my laptop and my blogging materials on the other side of my laptop. I have my yearbook materials on the other side of the room.
Tip 2: Find a space to call your own.
When I am working from home, I use a room downstairs in my house. Everyone in my family calls this room my "office."
Tip 3: Establish clear goals.
I have a to-do list that has my goals for the day. When I am working from home, I check off the tasks as I complete them.
Tip 4: Balance your personal and professional life
When I am working from home, I take breaks. I spend my lunch break with my husband who is at home.
I take a "nutrition" break to tend to my dogs. I would normally get this break at school when I am not working from home, so I make sure to take a nutrition break when I am working from home. This occurs mid-morning.
Tip 5: Invest in time management tools
I have the Amazon Echo in my office with me. When I am working from home, if I'm afraid I will forget to go to an online meeting or tend to a task outside of my norm, I will have Amazon Alexa remind me.
There are many affordable tools that can help you. For instance, the Pomodoro timer tells you when to take breaks. There are also tools to turn off your internet browser at designated intervals.
I Am Working From Home Frequently Asked Questions
How do you say "working from home?"
You can say that you are working remotely or that you are a remote worker.
Is it "working from home" or "working at home?"
When you work from home, you work remotely for someone else. When you work at home, you are completing personal chores around the house.
Conclusion: I Am Working from Home
Time management is a very important aspect of any business, whether as an individual or as a company. As someone who now says, "I am working from home," you also need to learn this skill for you to be successful in the market.
One of the best ways of managing your time wisely is by having an organized environment. When your desk is tidy, it becomes easier to trace even the smallest item, which will save you a lot of time.
You might also want to set your short-, mid-, and long-term goals. Although your business is important, your well-being should be prioritized at all times. Balance your business and personal life to avoid unnecessary breaks during working hours. Time management tools like a calendar and a scheduler can also go a long way in ensuring that you always complete your tasks on time.
You can always look for more work-from-home job opportunities on Jooble.
Readers. please share so employees who suddenly find themselves saying, "I am working from home" discover these tips.
I look forward to your views in the comments section. Do you have additional productivity methods for people who suddenly find themselves working from home?
References
"5 Time Management Tips When Working From Home", Source: https://www.forbes.com/sites/carolinecastrillon/2020/12/06/5-time-management-tips-when-working-from-home/?sh=4f2d5f574874
"Examples Of Long- & Short-term Goals For A Business", Source: https://smallbusiness.chron.com/examples-long–short-term-goals-business-4551.html
Authors: Janice Wald and Editorial Staff

Janice Wald is the founder of MostlyBlogging.com and co-founder of the Mostly Blogging Academy. She is an ebook author, blogger, blogging coach, blogging judge, freelance writer, and speaker. She won the Best Internet Marketer Award and the Best Blogger Award at the 2021 Infinity Blog Awards. Wald was also nominated as 2019 Best Internet Marketer by the Infinity Blog Awards and in 2017 as the Most Informative Blogger by the London Bloggers Bash. She's been featured on Small Business Trends, the Huffington Post, and Lifehack.
This post was made possible by the support of our readers.