Resumes that meet the needs of a particular employer will help be one step ahead of other applicants.
So, find out how to write a perfect resume.
Are you interested in discovering how to write career objectives in a resume?
A professionally written resume increases the applicant's chances of getting a dream job. So to interest a potential employer, you need to make an effort to polish it.
Your resume should stand out from many others. An employer should get interested in you as a candidate once they start reading it. That is why the content and formatting must be catching.
Writing a resume should be approached as writing a bright, exciting story about your life and work – there are certain rules that you must follow.
First, try to imagine yourself as a potential employer. Reading your story should be not only convenient but also interesting. Your employer should clearly understand what specific job you want and will not look for functional skills that are interesting for the company throughout the resume.
Remember that you have no more than 40 seconds for the first acquaintance. If your resume doesn't interest an employee of the company at this moment, they will read the next one.
Let us share some important data: An HR employee receives an average of 240-280 resumes per day, reads at least 120-140 of them, and makes no more than 7% of calls to interested applicants in this job.
You can also turn to professional resume writers. But first, find the answer to "is top resume worth it?"
Resume Tips to Get the Job You Want
First, you should periodically rewrite your resume because you enrich your experience with new skills and competencies with each new job. At the same time, each new place of work allows you to evaluate your experience and achievements in previous places differently. In this case, you need to correct the description and last places of work.
What Should Your Resume Look Like?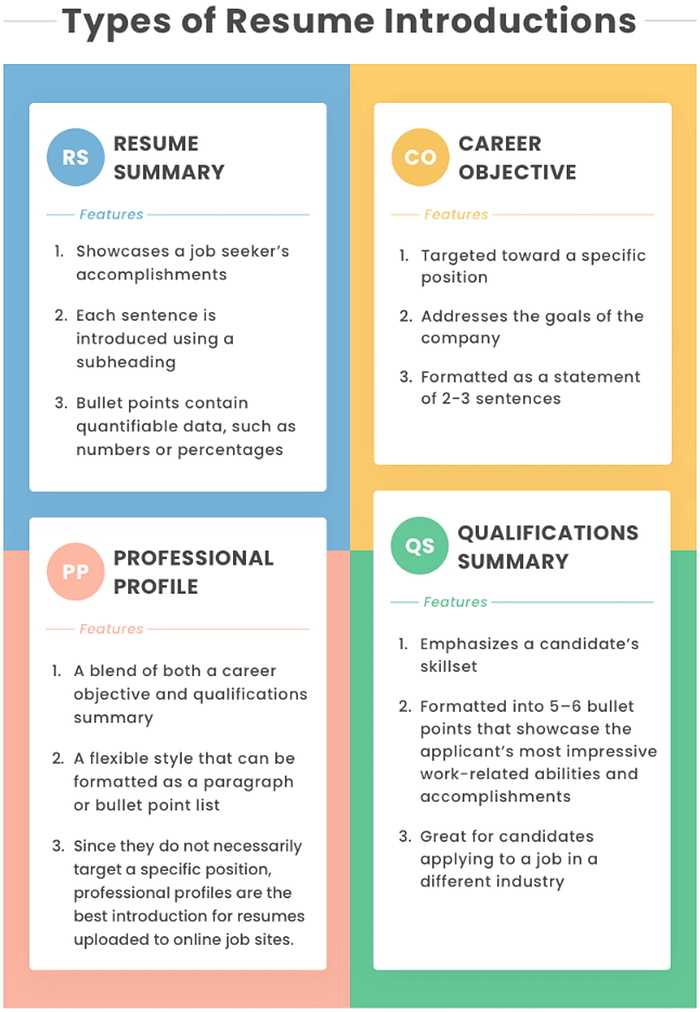 Brevity
Many, imagining themselves as high-level specialists, clarify the huge number of duties performed at their former place of work and explain in stages how exactly they managed to take their career up to several positions.
Even if it is a part of your real-life story, these details are tedious, and your story will only be interesting until the second page. Not getting to the point, HR will put your resume aside, considering it too vast and complicated to catch the most critical points, thus not worth spending the work time on it.
Keep your career objectives focused. Notice in the image how focused the career objectives are. They are targeted toward the company's needs and are only two to three sentences long.
Honesty and relevance
This principle is most valued. Your desire to make yourself a specialist of a higher level can eventually lead to sad consequences. Many organizations prefer to outsource recruitment to special services and recruitment agencies. You have to go through intermediate stages before the conversation with the employer.
So, remove all the unnecessary information even if you are unsure about what you are writing. Superficial knowledge of programs, the ability to make only preliminary calculations, and knowledge of foreign languages ​​​​with a dictionary is not an indicator of your achievements.
Goal
Your goal is to focus on the needs of an employer. Therefore, you need to tell what specific job you are applying for and not force them to think about a job that may suit you.
Literacy
Even the greatest merits fade if you make grammatical mistakes. To avoid such a situation, check it for grammatical and lexical mistakes. For example, let a friend read your resume before submitting it or use an online spell checker.
Personal information
Write your full name, residence, date of birth, e-mail, etc. Reveal only the information you think is relevant at the stage of preliminary acquaintance.
Education
First, indicate the main education (don't forget to indicate the start and end dates), and then the additional one (if you have it). Also, you can add the list of courses you have attended. But mention only the main ones because the optimal size of the resume shouldn't exceed 2 pages.
Experience
The resume description of your job background should be consistent and written in an easy-to-read structure. Each place of work should be emphasized in the resume and starts with a new paragraph. It makes text perception better.
It should include the job position and work duration. List your main duties. If you think it is right, indicate the number of assistants (if you had any) and the unusual projects you took part in. In the end, list the results gained.
Additional information
Here, you can tell some more facts about yourself. Add the list of your interests, personal qualities, skills (knowledge of languages, computer skills, or driving), hobbies, and other information that will help get a better idea of ​​you.
Volume
As a rule, the length of the resume should be no more than 2 pages. A larger volume is difficult to summarize, and short resumes where you need to read between the lines are difficult to perceive. A typical mistake is to indicate the position and the minimum list of responsibilities. The functionality of employees holding the same position in different companies may differ significantly.
How to Write a Career Objective in a Resume: FAQ
What do you write in your career objectives?
Keep your career objectives focused. They should be targeted toward the company's needs and only 2-3 sentences long.
In Conclusion: How to Write Career Objectives in a Resume
Don't take all the recommendations literally. In any business, there should always be a place for creativity. Before you start filling out a blank word sheet, you first understand that not a single HR understands what an ideal resume should be. There are no perfect resumes, just like people. There are standards and recommended criteria, but they are variable and controversial. A well-written resume is always good.
Remember the main thing – you must interest the reader. So, resume writing needs to be creative.
The perfect resume is boring and always makes the HRs suspect that you lied somewhere. Even in a structured text, you should describe yourself as well as possible.
Use numbers and facts, but don't forget about emotions. After all, your reader is an employee of the company. This person should be interested in you.
If you interest an employer or an HR with your resume, you get 50% success. The remaining 50% is an interview, a demonstration of professional skills, and matching the job you want. Your resume is your business card. One way or another, the resume moves you forward.
Readers, please share, so this post about how to write career objectives in a resume for freshers gets discovered by job candidates.
This post was contributed and made possible by the support of our readers.