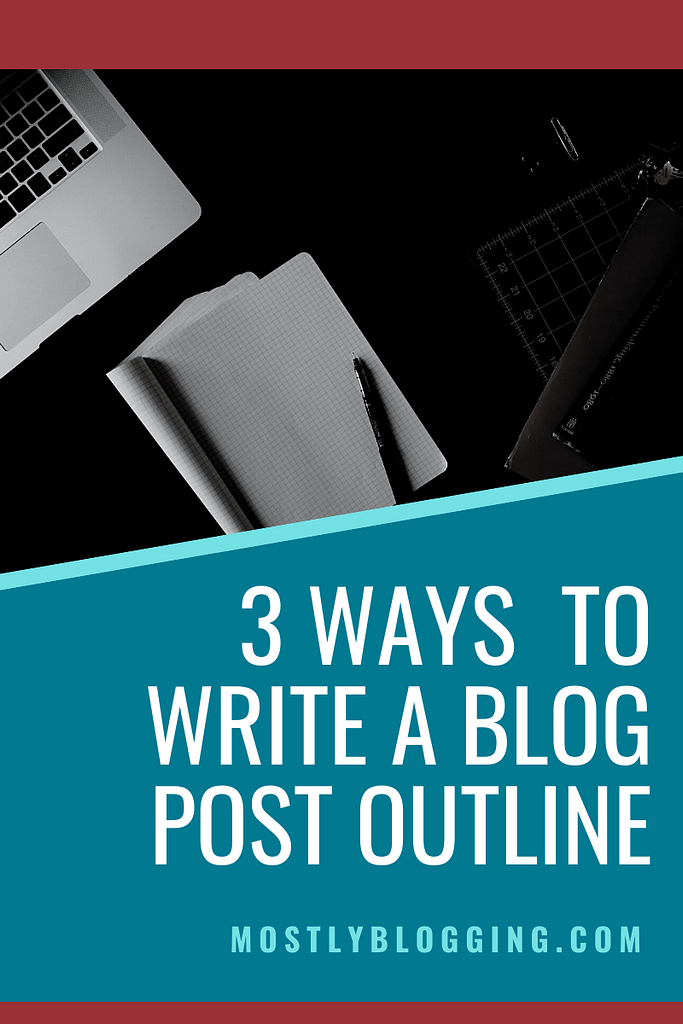 Do you know how to write a blog post outline effectively?
Writing a blog post that hits the reader's expectations has always been a huge task especially for newbies. I think this is because of their content creation approach.
Many of us jump in to write a blog post without an outline or a road map, which isn't a good marketing strategy.
In this post, I want to help you with useful tips on how to write a blog post outline that enables you to come up with a meaty piece of content, giving your readers the exact same thing they are looking for.
Note: This post is not on how to write a blog post but how to write a blog post outline.
What is a blog post outline?
A blog post outline is a a skeleton for a perfect blog post.
By reading this guide, you learn three simple blogger hacks that result in writing a strong blog post outline.
Let's get started learning how to write a blog post headline.
How to Write a Blog Post Outline
How to Write a Blog Post Outline Part I: The Market and the Idea
1 – Begin with the target market
The cornerstone of your content is the target audience. If you fail at this point, your entire blog post may collapse so soon. If you are not writing for a specific market, it will end up not yielding any results.
Every piece of content you publish should be targeting a specific group of readers. If you are a mom blogger, for instance, you may want to target pregnant women, focusing on young ladies with their first pregnancies.
While this shrinks the market to a very reduced number of readers, it makes it super targeted and conversion-rich. Don't start your next article without identifying the target market. To create content that delivers results, it must begin with identifying the consumers who are hungry for that content.
2 – The idea
Digging deep and locating a specific niche market makes it very easy to come up with a hot post idea that meets a need. Going with our example above, you can't just be writing for ladies carrying their first babies. You must find something that's unique and deal with it in depth.
For instance, many ladies with a first-time pregnancy experience go through some fears of the unknown. Just that alone is a big market idea.
As a blogger and content marketer, you don't have to be in a rush at this point. You should spend time and make sure you don't start writing about the wrong idea. The blog post idea should be one of the key points to focus on.
3 – What are your expectations?
This is a very important point of your blog post outline but unfortunately many are those who skip over it. If you do not have expectations, you will completely not understand your calls to action. You should expect certain reactions from your readers.
Your blog post should be aimed at something:
Growing your list
Selling a product
Getting more social actions
Etc
4 – Keyword and Intent
There is no search experience without a keyword. Every keyword has an intent but this is often not easy to get especially if you are dealing with a broad market. If you are able to filter through the noise and find a small portion of hungry readers, it will be quite easy to come up with hot keywords and their intent even without the expensive tools.
Many marketers have been advised to write and just flow without any need for keyword and search intent research. Well, if you care about natural traffic, some reasonable amount of time should be set aside for keyword research. Come up with a list of keywords and semantic alternatives.
Now you have the niche market, the post idea and keywords to target. The next thing is to come up with the actual blog post template.
Let's now talk about developing the idea and learn more about how to write a blog post headline.
How to Write a Blog Post Outline Part II: Developing the idea
5 – Title your blog post
The title of your article should be attractive and keyword-intent oriented. While adding the keyword to your title is a good SEO practice, it may not have any big impact on ranking. The blog post title should be crafted for human readers with search intent.
6 – Introduce the idea
Many readers are skimmers and a sticky introduction is their trap. A good title (and possibly META Description) on Search Engine Result Page (SERP) attracts clicks. But your post introduction is among the factors that sets the number of minutes the reader spends on the article.
Your post Keyword, post Title, Meta Description and content Introduction should be closely chained. If your readers go through the introduction and don't feel spoken to, chances of them leaving are high.
7 – Break the body into subtitles
This is the most important part of learning how to write a blog post outline.
Note that the body is where you really detail your idea and completely win the trust of your readers. Following our example above, write down every point about getting pregnant for the first time, from fears to excitement and expectations.
A good blog post, well written to encourage reading, is made up of headings and proper formatting. You have to make sure the body of your content is split into subtitles and bullet points. Where necessary, note down minor takeaways and calls to action for each subsection or heading of your content.
8 – Content upgrades and post extensions (External links)
In your post outline, do not forget to note down any content upgrade or external links that will be needed to add more value to the content. If you intend to attract your readers to a list-building object, then you will need to have your content upgrade items set beforehand.
Content upgrades are simply pieces of content that add more value to your blog post but available only to a fraction of readers who really want it. You may have another copy of your blog post with some extra information available in PDF format as an upgrade. Readers who want to get that PDF upgrade may have to submit their emails or Tweet/Share a piece of information to be given access to the upgrade.
9 – Images and video
A blog post without at least one image may be boring. Adding some videos to it may raise its value and give it another SEO lift. Many bloggers avoid making videos since they don't know what to make videos about. Here is a resource you can use to find inspiring video ideas.
A good approach is to get some of these elements ready as soon as possible. Some of these may help with some more inspiration as you write the blog post.
How to Write a Blog Post Outline Part III: Concluding the Idea
A reader who goes through your blog post to the conclusion is near conversion. A poor conclusion is a quick way to waste this opportunity.
Before I go further in this section, my friend, Hunter Branch has a wonderful piece on how to end a blog post. I think it carries a reasonable amount of value for you.
Now, one of the reasons people mess up with blog post conclusions is the fact that they don't write down their expectations. A blog post created without expectations will definitely not help your business grow.
You may see some leads jump on your list or generate some few sales. But that won't be as much as you would get if you came up with post objectives and expectations.
Your conclusion should be made up principally of takeaways and calls to action aimed at bringing the readers to two main things:
Grab something substantial to go away with after having read your post.
Take some necessary action for your benefit: Make a purchase, sign up to your list, drop a comment, share on social media, follow you on social media, etc
How to Write a Blog Post Outline: Frequently Asked Questions
How do I make an outline for a blog?
Conduct keyword research to determine reader intent. Then make an outline for a blog that includes these components: Market your idea, develop your idea, and end with a CTA (Call to Action) asking your reader to take action.
What is a blog outline?
A blog outline is a skeleton bare bones draft you make before you start writing. An outline ensures all the necessary parts of the blog post like the introduction, the body, and the conclusion with the Call to Action are included.
Wrapping Up: How to Write a Blog Post Outline
At this point, before you go, you should take note of the three main sections of a post outline:
The Market and the idea
Developing the idea
Concluding the idea
If these sections are carefully blended and developed, chances are high for your post to attract attention and generate comfortable results.
Don't just go away without dropping a comment to let me know what you think. I will also appreciate a tweet or Facebook share so other bloggers learn how to write a blog post outline. Make sure you tag me in the social media share so I may know you did.
I look forward to your views in the comments section. Do you have more suggestions about how to write a blog post outline?
Author: Enstine Muki, Blogging Coach, Certified Cryptocurrency Expert and Serial Entrepreneur