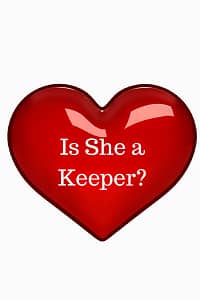 Are you insecure in your relationship?  Do you wish you could feel more secure?
There is a movie called, "What Women Want" with Helen Hunt (okay, Mel Gibson was in it too).  It's about a man who wishes he could know what women think and ends up getting that wish.
This post is for women that want to know what men think.  Whether it is to feel more secure in a relationship, to get a relationship that results in longevity, or to be able to coexist in a world where Men Are From Mars, and Women Are From Venus, this post is for you.
The inspiration came from a reader whose comment motivated me to redo a study.  On January 7, I published,  16 Ways to Know If He (or She) is a Keeper.  The reader complimented me on an "interesting" study, but said the post was erroneously titled.  He said that it didn't apply to my writing because it was only for women.  He implied a more appropriate title would be, simply, 16 Ways to Know if He is a Keeper.  In that reader's honor, I am redoing the study.  This time, I have only interviewed men.
Like with my past studies, I will be looking to see if there is a difference in age and marital status.
My other studies are 15 Secrets of Marital Longevity and What is the Secret of Happiness?
Me: How do you know if she is a 'keeper'?  In other words, how do you know if you want longevity with someone?
I like the woman to be nurturing.
Someone I could be myself with and have heart-to-heart talks.
A woman who is easy to talk to and make conversation with.  She should share my interests.  We should care about the other person's moods.
Someone who gives me unconditional love.
A woman who has the same eye color as me.  I have light-colored eyes, which is a recessive gene.  I wanted a woman with eyes like that so our children would inherit my recessive gene and have light eyes.
A woman with personality, background, and brains.  She should be flexible–it won't be important to her to be right.  We should also share the same religion.
Someone who is happy and interested in learning about me.
A woman who is gentle, not loud.
Someone who could provide domestic care for the family and the home.
A woman who wants longevity like me.
She wants a family because it creates stability.
Ability to talk a long time without a break in the conversation.
Someone I think looks like a model, and she would find me attractive too.  She needs to want children since I do, and be the same religion as me for that reason.  She can't be taller than me.  She should motivate me to be the best version of myself.  Our personalities should mesh well.  She should be confident.  Insecure girls take themselves too seriously.  I want a girl who can laugh at herself.
Observations:
Commonalities: Both men in their 60's expressed desire for good conversation with their partners.  However, the man in his 20's indicated he likes this as well.  Religion was also mentioned more than once by men in different age groups.  The most common answer was a factor related to a desire for children.
Problems With the Study:
Not enough people in each age group to be able to draw accurate conclusions.  Therefore, these are generalizations that would indicate a need for further study.
Surprises:
Only one man mentioned appearance.  Is it stereotypical of me to think more would mention looks and sex?  No one mentioned a good sexual partner as a condition for longevity.
Indications for Further Study:
One of the men I interviewed predicted that only examining age and marital status would not be a thorough view of what men think.  In order to ascertain why men want longevity with a woman, I would need to consider region of residence, religion, and personality.
In conclusion, my readers know I watch the TV show The Bachelor.  The episodes feature up to twenty-five insecure girls.  Perhaps they should read my study.  Then they could know what the Bachelor and other men want.
Readers, sharing is caring.  If you know anyone who could benefit from reading my study, please share.
Readers, what is your opinion of my findings?  I know I have many male followers, but I only have 13 respondents in this study.  Would anyone like to add to these answers?  I look forward to your views.