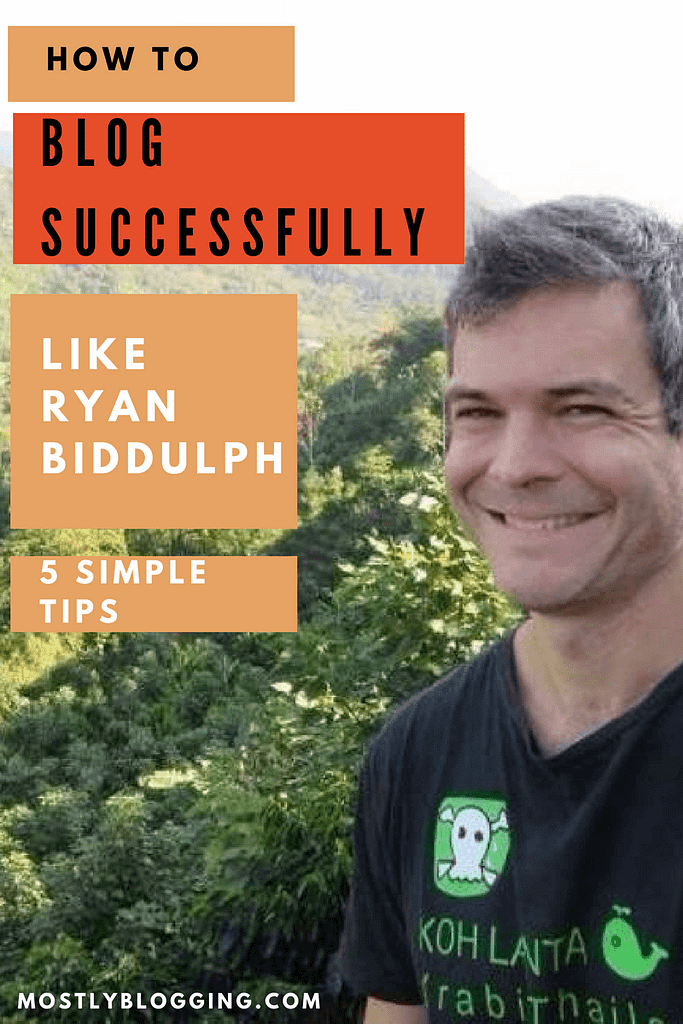 Are you wondering how to blog?
Did you know blogging tips are actually controversial?
People question whether there is a "one-size fits all" approach.
Celebrity blogger Ryan Biddulph explains there are tips for blogging the right way.
Let's see how to blog. Bring on the tips!
5 Tips for Blogging the Right Way
by Ryan Biddulph
Do you feel a bit lost with your blog?
You strayed from doing blogging the right way.
Following simple, practical tips persistently leads to blogging success as surely as the night follows the day.
Most bloggers struggle because they have no clue how to do blogging right nor do they have the clarity and confidence in these tips to see them through, often bailing just when things come together.
Admittedly, I was a blogging dingbat for many years. I did what worked for a minute then bailed to do what didn't work, for a longer time.
Eventually, I purged some deep fears through diligent energy management – meditation, yoga, prayer and simply, being present with my "stuff" versus denying it – and things took off with my blog and my life.
I could see clearly, blogging mainly for fun, with love, so I began following these tips to do blogging the right way.
1: Follow Your Passion
What can you gab about all day long?
Blog about that topic.
Tie the topic to some pressing problem suffered by your ideal reader. Maybe you can tie the passion to some idea that inspires people to live their dreams.
I covered both bases on Blogging From Paradise.
I love blogging. I love traveling. The pressing problem? Most travel bloggers are part-time bloggers and full-time employees, cursing the jobs they need to return to just for boosting savings for the next trip. But I also inspire bloggers or aspiring travelers to live their dreams of seeing the world at Blogging From Paradise.
Make the work the reward. Traffic and profits and comments and social shares and features on world-famous blogs will feel like extra, or a bonus, or icing on the cake.
This is the right way to cultivate patience, persistence and a willingness to learn from pros, which brings us to tip #2.
2: Learn from Pros
Pro bloggers know how to build successful blogs.
Established pros like Matthew Loomis point you in the right direction, showing you want works and what does not work when it comes to blogging.
Follow professional advice to cut your learning curve by years. Lessen your stress levels.
More than anything, please do not follow your own advice if you have zero experience as a blogger while pros have 5 to 10 years of experience or more.
Ditto for trusting your husband, wife or neighbor if none of these people are professional bloggers.
Would you trust a garbageman's financial advice over counsel from an established financial advisor with 20 years of experience?
Why would you trust your spouse's advice on your blog over insights provided to you from bloggers like Janice or me?
Don't be a dolt. Go to the pros for solid advice. Do blogging right.
Learn blogging. Study blogging. Take notes. Review notes. You are in blogging school, my little sweet robbins.
3: Practice Writing
Practice writing daily.
Get clear on your writing voice.
Gain confidence in your writing style.
My writing style may cause grammar obsessed authors, bloggers and teachers to retch but I also wrote one of the highest rated eBooks on Amazon for its category, garnering all 49 reviews as 5-star reviews:
How to Find Your Writing Voice
I inspire aspiring authors and bloggers to practice writing in order to find your voice. Writing in your voice positions you to have the greatest blogging success.
Case in point; I have been featured on sites like Virgin, Forbes and Fox News. I have no doubts that my travel stories about being chased by ladyboy prostitutes in Bangkok and being attacked by multiple wild men in Kathmandu – and how I crafted these hilarious tales – played a chief role in me landing on these big dawg sites.
Write your rear end off. Open a Word document. Hit 500 to 1000 words daily or more.
Distance yourself from the blogging crowd. Rock out your blog.
Write in *your* voice.
4: Create Helpful Content
Create helpful content through:
Blog posts
Guest posts
Podcasts
YouTube videos
Facebook Live Broadcasts
Carrier pigeons
Cup telephones
eBooks
Audiobooks
Share value.
Become valuable.
Makes sense, right?
After learning blogging and practicing your writing, begin to show off your writing stuff. Or if you are new to creating videos simply practice a bit offline with your smiling grille and your smartphone.
Creators rise above the field of bloggers who sit on the cyber sidelines.
I have created thousands of videos and now that I think about it, thousands of blog posts during my online career, with nearly 500 guest posts on Blogging Tips alone.
Readers want your help.
So…..help.
Writer's block got ya down? I have been there, dudes and dudettes.
Revisit Tip #1. Revisit Tip #3.
Writer's block happens when you allow your fears to bully your passion, goading you to skip writing practice, which inevitably creates silly little, ego-induced, funny writer's block.
Writer's block is like a guppy swimming at the bottom of the Mariana Trench saying:
"Oh No!!! I am running out of water!"
You live in abundance. Observe the world around you. Consider meditating daily to clear out head trash so you can become a watcher of people, circumstances and the endless flow of blog post ideas circulating around you.
[Read: How to Never Run Out of Blog Post Ideas: 45 Experts Share Secrets]
5: Build Meaningful Bonds with Top Bloggers
My friend Alonzo Pichardo is the perfect example of a guy who does blogging the right way.
He has become stunningly successful by building meaningful bonds with pro bloggers.
A quick visit to his blog shows many of my guest posts, Alonzo generously sharing his platform with me. Ditto on his Twitter and Facebook profiles.
When we started doing online success chats together on his YouTube channel he would link to my blog in the video description field, giving me massive exposure as our chats have netted well over 225,000 views.
Build meaningful bonds with bloggers by:
Promoting bloggers on social media
Promoting bloggers on your blog
Commenting genuinely on their blogs
Asking them via email how you can help them
Help bloggers, help some more, then help some more. Friendships form.
Co-promoting, sales, hiring, and all types of sweet benefits flow out of blogging friendships.
Your Turn
What tips can you add to this list?
How are you doing blogging the right way?
Do you follow any of these tips?
About the Author
Ryan Biddulph is a blogger, author and world traveler who's been featured on Richard Branson's Virgin Blog, Forbes, Fox News, Entrepreneur, Positively Positive, LifeHack, John Chow Dot Com and Neil Patel Dot Com. He has written and self-published 126 bite-sized eBooks on Amazon. Ryan can help you build a successful blog at Blogging From Paradise.
Readers, please share so other bloggers learn Ryan's tips about how to blog. If you already knew how to blog, hopefully, Ryan's tips served as a nice reminder.
I look forward to your views in the comment section. Which do you feel was his most effective tip? Do you have any tips on how to blog?