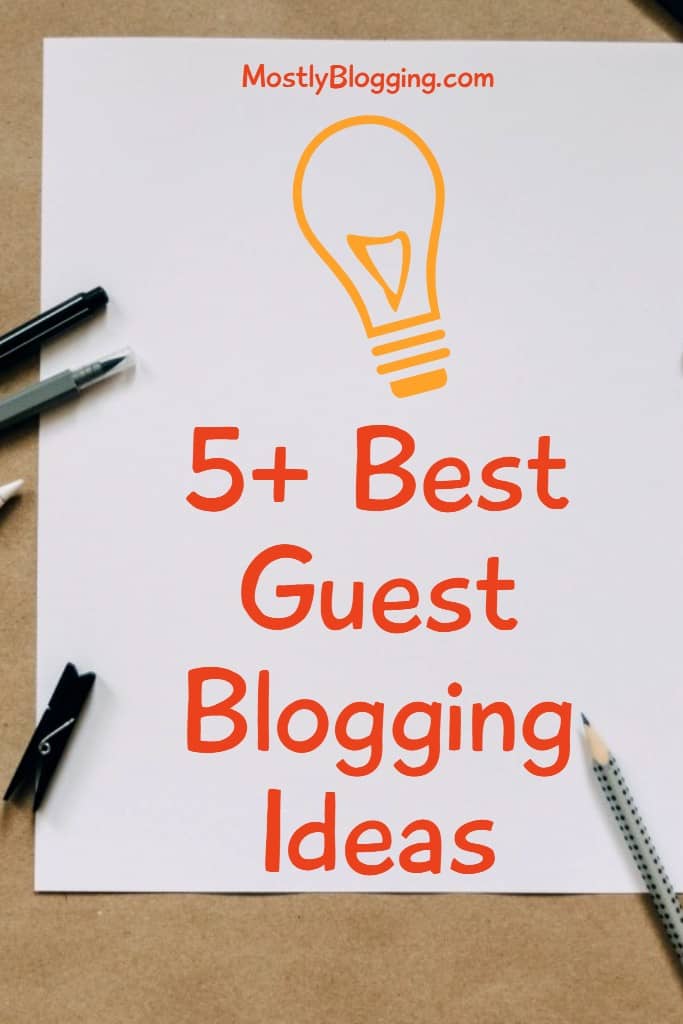 Have you heard of the guest post business?
It's true: Guest posting, also called "guest blogging" is a business.
How lucrative is the guest post business?
According to Yahoo! Small Business, you can easily find people to accept anywhere between $50.00 and $300.00 of your money in exchange for a guest post.
This post offers you ways to get free guest post opportunities as well as opportunities to get paid for writing.
By the time you are done reading, you will be happy to know ways you can guest post for free as well as how you can get involved in the guest post business for compensation.
First, let's explore ways to guest post for free.
Where Do You Guest Post? 5 Advanced Tips to Find the Right Blogs
Most bloggers can place guest posts on low-profile blogs.
Few bloggers possess the advanced skills to place guest posts on top blogs.
Finding the right blogs for advanced guest posting is not so much searching as it is making yourself:
Attractive
Skilled
Seen
Credible
Pro bloggers accept and place guest posts from skilled bloggers with substantial exposure.
Gaining skills and exposure requires many months of serious blogging practice. New bloggers cannot master advanced guest blogging tips; intermediate and pro bloggers can through their practice, patience and detachment.
Follow these 5 tips for finding the right blogs for guest blogging.
Build Relationships by Being a Giver Not a Taker
Before you do anything else, let this idea sear itself onto your mind:
Guest post on blogs where you are known, trusted, and loved.
If you skip this step, the remainder of the post will likely be a waste since advanced bloggers build strong relationships with pros to be seen as credible in upper-level blogging circles.
Be a giver to bond with top pros. Do not be a taker.
Help top bloggers by:
Promoting them on Twitter, Facebook and LinkedIn
Mentioning them on your blog
Commenting genuinely on their blogs
Ask for nothing in return. Expect nothing in return. Remember; do not be a taker. Help pros generously to earn trust, not to try to take links, traffic and profits.
My email inbox has routinely been littered with tens of thousands of takers over the past 14 years whose fear, greed, and desperation repelled me and other established bloggers. However, generous bloggers like Janice bonded with me as I bonded with her. We have placed each other's guest posts based on building a strong relationship with one another by generously helping each other.
Building relationships with pros goads top bloggers to lob guest post invites your way. 51,000 backlinks point to Blogging From Paradise. A hefty chunk of these backlinks seemed borne of guest posts I placed but I only pitched 2 bloggers since 2014 for guest post opportunities. 100 plus bloggers invited me to guest post before I even bothered to ask them to guest blog.
THIS is the power of a genuine blogger outreach campaign in action. Generously serve pros to make friends. Position yourself to gain guest post invites. But you better practice writing and publish stellar content to goad pros to offer guest post invites to you.
Write and Publish Frequently
I can write.
I write how I write because I practiced writing to the tune of many millions of words since 2007.
Some pro bloggers appreciate my writing skills through my crisp, clear blog content. Said pros tend to offer me guest blogging invites.
Connected bloggers who cannot write skillfully receive no guest post invites. Pro bloggers need to uphold their stellar reputations. Connected bloggers who write skillfully need a baseball bat to keep all bloggers begging for their guest posts at bay.
I offered my Facebook friends and Twitter followers a guest post a few months ago. 16 bloggers replied within an hour or two in part because I network generously but mainly because they dig my writing. Bloggers enjoy my writing because I practice writing and publish content religiously.
Write your rear end off. Write 500-1000 words daily in a Word document for practice. Publish at least 1-2 posts weekly to show off your writing skills. Be skilled and be seen to guest post on top blogs.
Stick to Your Niche
Guest blog mainly on blogs in your niche to target your campaign.
Do not spend too much time guest blogging outside of your niche.
Smart bloggers get as much bang for their guest posting buck by placing posts on blogs aligned with their niche. Ultimately, serving a highly targeted audience allows you to achieve the greatest returns. Interested readers tend to click through to your blog. But from an even more advanced perspective, guest posting on blogs from your niche enhances the leveraging potential discussed below.
Where to Find Niche Blogs
Query Google for competitive keywords in your niche; click through to blogs to find the guest blogging policy
Check out Anil's guide: 350 Free Guest Posting Sites
Get busy following tip #1 as your blogging buddies will invite you to guest post on their blogs
Choose High Profile Blogs as Your Presence Expands
Imagine blogging and guest blogging for 3-6 months from a committed, diligent intent.
Picture yourself popping up on the radar screen of top bloggers from your niche.
The time eventually comes for selecting high-profile blogs for guest posting to be seen in authority spots. Placing guest posts on low-profile blogs helps you to establish a foothold in the blogging game because being seen a little bit across a few blogs gets your name out there, a wee bit.
Guest blogging on high profile blogs allows you to succeed by:
Gaining credibility through the power of positive association
Tapping into the power of leveraging
Every time Janice publishes one of my guest posts, her readers associate me with her trusted, credible blogging brand. Being associated with her success allows my success to expand.
Entrepreneurs, entertainers, and athletes access this associative power quite often to bolster their credibility and to accelerate their worldly success. Observe singers collaborating, entrepreneurs brainstorming in a public setting, and athletes training together for the news media to understand how associating with pros boosts your credibility.
Guest blogging leverages your presence by increasing your exposure in front of audiences outside of your blogging community. Every guest post you place gives you and your blog visibility to individuals outside of your readership. Placing guest posts on a collection of authority blogs leverages your presence exponentially over the long haul.
Select Push-ers
Select bloggers who push your guest posts to their email list and on social media.
Observe prior guest posts on these blogs. Do bloggers blitz promote each of these guest posts across multiple channels? Make guest blogging worth your while. Guest post on blogs for bloggers who push guest content as aggressively as their own content.
Following this tip separates amateurs who guest blog for virtually nobody from pros who guest blog for large, loyal audiences headed by a host blogger who pushes the stuffing out of their guest bloggers.
In essence, guest post where you are loved. Place guest posts on blogs whose owners email the post to their list, promote the post freely on social media and share the post consistently for months or even years down the road.
Lisa Sicard is definitely a push-er who bends over backward to persistently promote her guest bloggers. Janice is another supportive blogger who blitzes posts she publishes from guest bloggers.
How to Get Involved in the Guest Post Business
Editor's Note:
There are two ways to get involved in the guest post business.
Publish a guest post for compensation
Write a guest post for compensation
Publish a guest post for compensation
Brands hire agencies to post their web content. The agencies become a third party in the guest post business.
This results in three parties being involved in the guest post business: The brand, the blogger, and the agency.
In the guest blogging business, the blogger is known as the "publisher."
Ethically, the blogger (or the "publisher") should disclose that they are publishing for a brand.
What if the brand wants the blogger to publish an opinion that makes the brand look good? Ethically, the blogger should reveal they are being paid. This way readers know the opinions may be biased.
Look:

Notice the disclaimer I put in my Fotor Easy Photo Editor Review: "This was a sponsored post but the opinions contained herein are my own."
This way readers knew I was compensated for writing the review but that I genuinely felt the photo editor was worth using.
How to write a guest post for compensation:
Being paid to write for someone else's website has a challenge: Many services have content mills where they employ writers cheaply.
However, I am a freelance writer and have been paid by different website owners to post for their blogs. Here you will see samples of my freelance writing gigs.
I published a static page telling people I am available for freelance writing gigs.
How to enter the guest blogging business posting for compensation:
I certainly didn't want to get paid the kind of low wages they pay in a content mill, so I published a static page telling people I am available for sponsored posts.
Static pages get indexed by Google faster than blog posts. I find this an effective method of getting compensated for publishing content and writing content.
Guest Post Business FAQ
What is a guest post?
A guest post, also called a "guest blog," is when you write an article for someone else's website. In other words, you are a guest on the other person's blog. That is why this practice is commonly known as a "guest post."
Does guest posting still work?
Yes! Guest posting works to extend your brand, bond you with influencers, and increase your SEO.
Conclusion: Guest Post Business
Advanced guest blogging strategies require a sophisticated skillset but bring far greater returns than guest posting for anyone.
Follow these tips patiently to place guest posts on top blogs.
Readers, please share so bloggers discover how to guest post for free and how to get involved in the guest post business either as a freelancer or a publisher.
Have you been involved in the guest post business? I look forward to hearing your experiences in the comments section.
About the Author
Ryan Biddulph shares successful blogging tips at Blogging From Paradise.