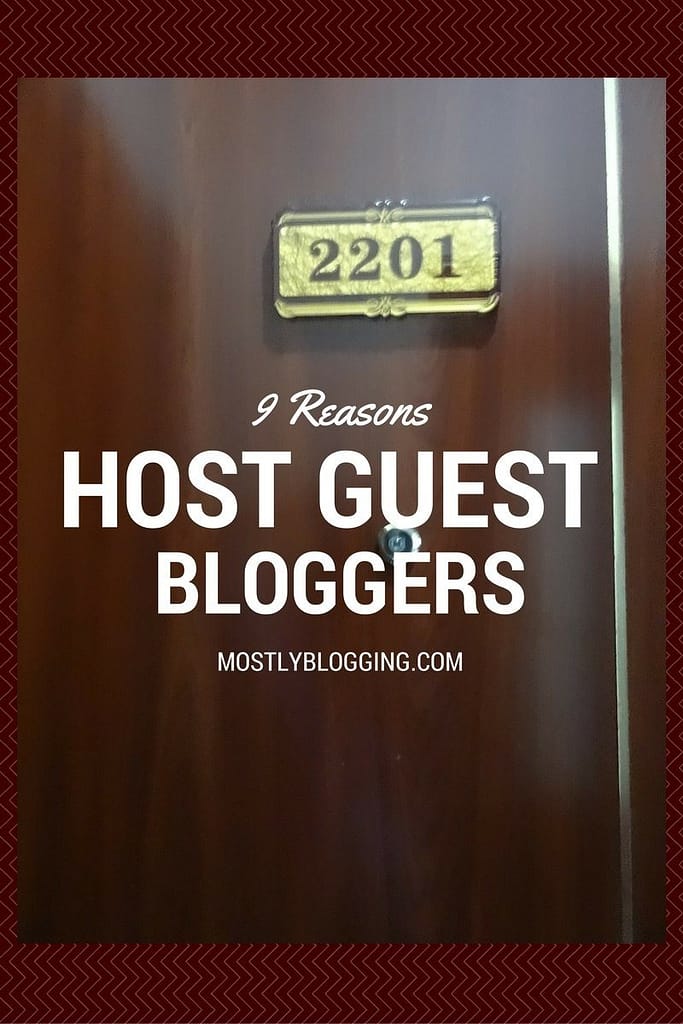 Today is guest author Tuesday.
However, we don't have a guest author today. Instead of a guest blogger, we have a post about guest blogging opportunities.
9 compelling reasons bloggers and other content creators should host guest authors on their websites are explained.
Shock!
Bloggers frequently express a disinterest in hosting guest bloggers.
When I started blogging, I was among them.
However, there are so many valuable reasons to host a guest blogger, that for the life of me, I can't remember why.
9 important reasons to offer guest blogging opportunities:
If they share the post on their site, you will get a link to your site. I suppose it's always possible they will share the post on their site and not credit your site, but that would be plagiarism. The article belongs to you. If they copy it on their site without crediting the site where it was first published, it's theft. If they link to you when they provide appropriate credit to your blog where the article first appeared, your Alexa score improves.
If they share the post with their readers, you will get exposure to their readers. Reblogging is easy if you are not self-hosted. Bloggers have posted posts they've written for my site with the disclaimer, "This post first appeared on MostlyBlogging.com."
If they share the post with their social media, you will get exposure to new audiences. Many host bloggers require that the guest blogger shares the link to the article they've written on social media. Even if they don't, it's still good etiquette to do so.
Guest authors provide a different voice for your readers. Just like a guest speaker provides a different voice for students, a guest author provides a different expertise and writing style for your readers. This makes you a more versatile blog administrator. It's considered a strength to be versatile. Keep your readers' interest with novelty. Caring bloggers host experts because it shows you care about empowering your readers.
Hosting an author saves you precious time. It's important to stick to your publication schedule, but it's not important to be the only author your blog publishes. In the time that someone else is writing for your site, you could be researching, writing, promoting, or photographing for one of your blog posts, networking your blog, or spending much-needed quality time with your family.
The comments on your post will increase by one-third. If your readers comment on the post, and your guest host responds to them, and you respond to the commenters, your comments have increased by 33.3%. According to the BandWagon Effect, more people will want to comment on your post than on a post that didn't have this spike.
Since the guest author is responding to your readers, your page views will be higher than usual as well. I make it clear when I host an author that I expect them to respond to the readers. It's polite, and the readers may have questions the guest is more knowledgeable about answering.
The guest author benefits when you host. You are giving another author exposure to your readers.
Your connection to your guest author grows. I am much closer to people now than when I originally guest posted for them. Blogging is about making connections. Guest posting strengthens those bonds.
Testimonial
When blogging expert Jacob Cass was asked how he finds time to balance blogging and a personal life, he responded, "I only blog for about four hours a week, to be honest. I have a lot of (guest) authors now."
Where You Can Find Guest Bloggers
There are many places you can find people who would like to write for your blog and offer guest blogging opportunities on your site for other writers:
On your blog. At the end of my guest posts, I advertise for guest authors. I will write "MostlyBlogging is looking for guest authors."
On Twitter. You can advertise for guest authors there. Use a hashtag like #blogging, so bloggers can find you.
On someone else's blog. I have found many authors, knowledgeable about topics that could help my readers, on other blogs. I invite the author to guest post. If they agree, I send them the link with my criteria and the instructions for submission.
In the Daily Post Community Pool
In Facebook groups
Conclusion
In conclusion, put your expectations regarding responding to readers and sharing the post in a static page on your site. You are welcome to use or tweak my criteria for guest authors. In my criteria, you will see I ask for an original article. I don't want to risk possible consequences over duplicate content.
Readers, please share so other bloggers know the nine advantages of hosting guest bloggers and why they should offer guest blogging opportunities on their websites.
Do you host guest bloggers? Would you recommend it? Can you think of any other reasons to host guest bloggers that I left out? If you don't choose to host bloggers and have guest blogging opportunities on your site, can you explain why? I look forward to your views in the comment section.
Related Posts:
How to Grow Your Blog While You Guest Post
How to Be a Successful Blogger in a World of Competition [Guest Blogging]
How to Blog Productively: 16 Experts Reveal Their Secrets