by Janice Wald and Josh Wardini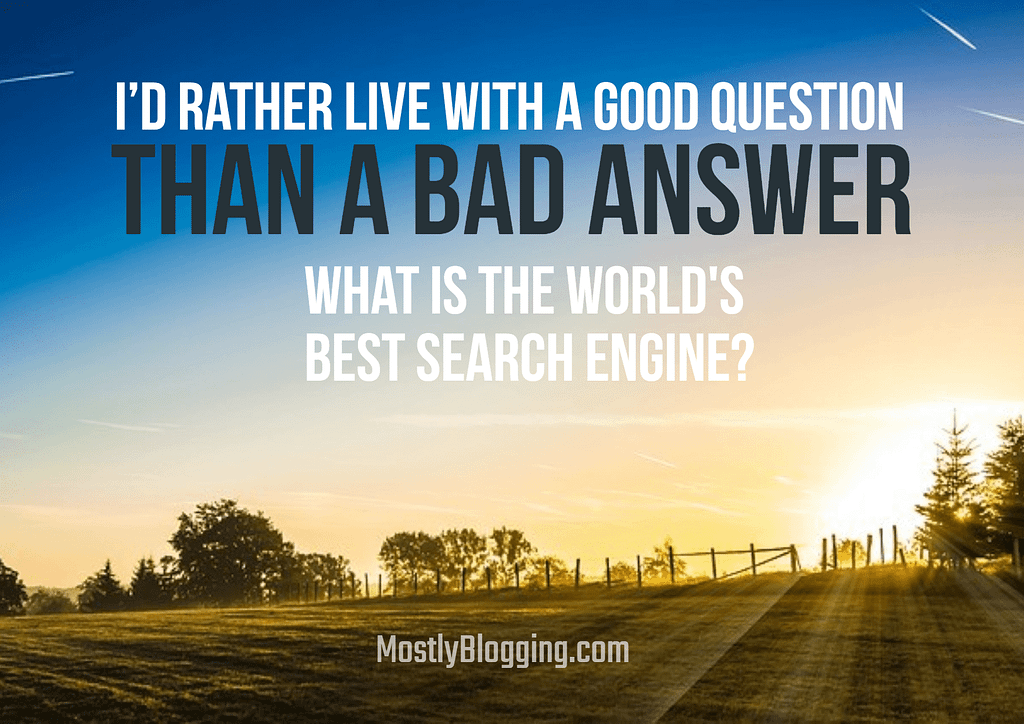 Why Google?
Have you ever asked yourself that?
This blog publishes many articles explaining not just how to get traffic from Google. but how to get on Google's first page.
Is Google the only search engine out there?
Google is the world's biggest search engine, but have you ever wondered, "Are there any Google search alternatives?"
Of course, there are!
Bing, Yahoo, and DuckDuckGo are only three examples.
With your choices growing by the day, what is the world's best search engine?
Many people consider Google as the world's best search engine, but is it?
This post answers that question.
Here's the best part: This article takes a pro/con format.
What is the World's Best Search Engine?
The Differences Between Google and Google Search Alternatives
Is Google Our Only Option Out There? Yes!
by Janice Wald
I was recently asked:
"When focusing on your site's SEO efforts, is Google your only focus? In other words, do you use Bing or Yahoo and provide a reason."
My response:
"Yes, when I optimize my posts for search engines Google is my only focus. Here's why:
Google wants our articles longer, at least 2,000+ words. Bing doesn't care. 300 words would be okay with Bing.
So, why do I optimize for Google when clearly writing quality articles that long would take me hours of extra time? Ask yourself what readers would want.
If I were a search engine user, I'd want a detailed solution. Articles that are guides, checklists, steps to follow, perhaps visuals to accompany the steps would help me.
For Bing, a cursory answer would suffice. However, as a search engine user, it wouldn't suffice for me. I couldn't get enough information to help me. With a longer article, the reader can pick and choose what information they find relevant and use that. With a short article, there isn't much information to choose from.
I don't want to be penalized by Google for anything.
Therefore, I read a great deal about Google penalties and I'm careful to avoid them.
Google is pretty powerful.
Are you aware Bing and Yahoo have combined advertising networks? Google Adwords didn't combine with anyone. They didn't have to. Google Adwords is the biggest advertising program in the world.
When I look at my dashboard, I see from my statistics that most of my search traffic comes from Google.
Many people tell me they find my blog on Google. I want to optimize for what works for me best."
5. Google constantly updates its algorithms which helps users more and more. For example, a 2019 update called BERT improves user queries. Now Google searh engine users can more easily find the information they are searching for. This improvement in Google helps bloggers and marketers get more organic traffic. 
6. Google's search engine has people who clean it up? The job is called "Search Engine Evaluator." I discovered this when I found out my friend is a Search Engine Evaluator.
Takeaways: The Google Search Engine helps bloggers boost their visibility. 
What is the world's best search engine? For me, it is definitely Google. If there are Google search alternatives, I ignore them.

Janice Wald is the founder of MostlyBlogging.com. She is an ebook author, blogger, blogging coach, blogging judge, freelance writer, and speaker. She was nominated as the 2021 and 2019 Best Internet Marketer by the Infinity Blog Awards and in 2017 as the Most Informative Blogger by the London Bloggers Bash. She's been featured on Small Business Trends, the Huffington Post, and Lifehack.
Is Google Our Only Option Out There? No!
by Josh Wardini
Just imagine a world without Google.
It is the first place that we turn to when we want the answer to a question, and the chances are it will have the answer we are searching for.
There is no doubt that Google is currently dominating the search engine market for a while now, but it is by no means our only option. Currently, none of these search engines are ready to pose a threat to the global giant, but that doesn't mean they won't in the future.
Google is not just on top, but it is leaps and bounds ahead of the competition. An infographic created by the team at SEOTribunal states that Google gets 66% more traffic than the second-placed search engine, Bing. Google is also dominating the mobile and tablet space, with a market share of 93%!
Bing is what Microsoft came up with when it attempted to challenge Google in the search engine world. However, despite the best efforts, it has so far failed to produce better results than Google.
Ask was known as Ask Jeeves, and although people are likely to have heard of this search engine, it only receives around 0.05% of the search share. Ask is slightly different from other search engines as it runs on a question and answer format and uses polls and forums.
Yahoo has 4.93% of the market share when it comes to desktop usage and only 1.11% when used on a mobile device. Although it is not commonly used when it comes to its search engine functionalities, it is still the most popular email provider.
Baidu is the most popular search engine in China, founded in 2000. Over the years, its market share has been slowly increasing, and now has 4.57% of market share on mobile devices and 12.84% on desktop computers.
UPDATE: After publication, I learned more information about DuckDuckGo. According to the powers-that-be at DuckDuckGo, you have complete anonymity when you use the site. No one can trace your browsing history.
Someone asked on Quora, "Why should I use DuckDuckGo instead of Google?"
My answer:
"DuckDuckGo was already in existence (having started in 2008). Gabriel Weinberg's search engine, DuckDuckGo, is meeting people's concerns about their privacy being violated.
You asked why you should use DuckDuckGo. A successful website is one that meets people's needs. DuckDuckGo meets people's needs for privacy.
DuckDuckGo claims that when you use the site, no one can trace your history of where you searched. Therefore, your anonymity, your privacy, is protected."
Wrapping Up: Google Search Alternatives
Even though each search engine has its own algorithm for showing search results, one thing is certain: businesses should focus on SEO practices and keep up with the current trends in order to stand out.
Learn more about the different search engines out there and some new trends that you should be following by looking at the infographic below!
URL:  https://seotribunal.com/blog/stats-to-understand-seo/
Host blogger's comments:
Now it's your turn to weigh in.
Which is the best search engine?
I look forward to your views about Google search and Google search alternatives in the comments section.
Please share so other website creators get to read this point-counterpoint approach to optimizing content for search engines.
This post was made possible by the support of our readers.