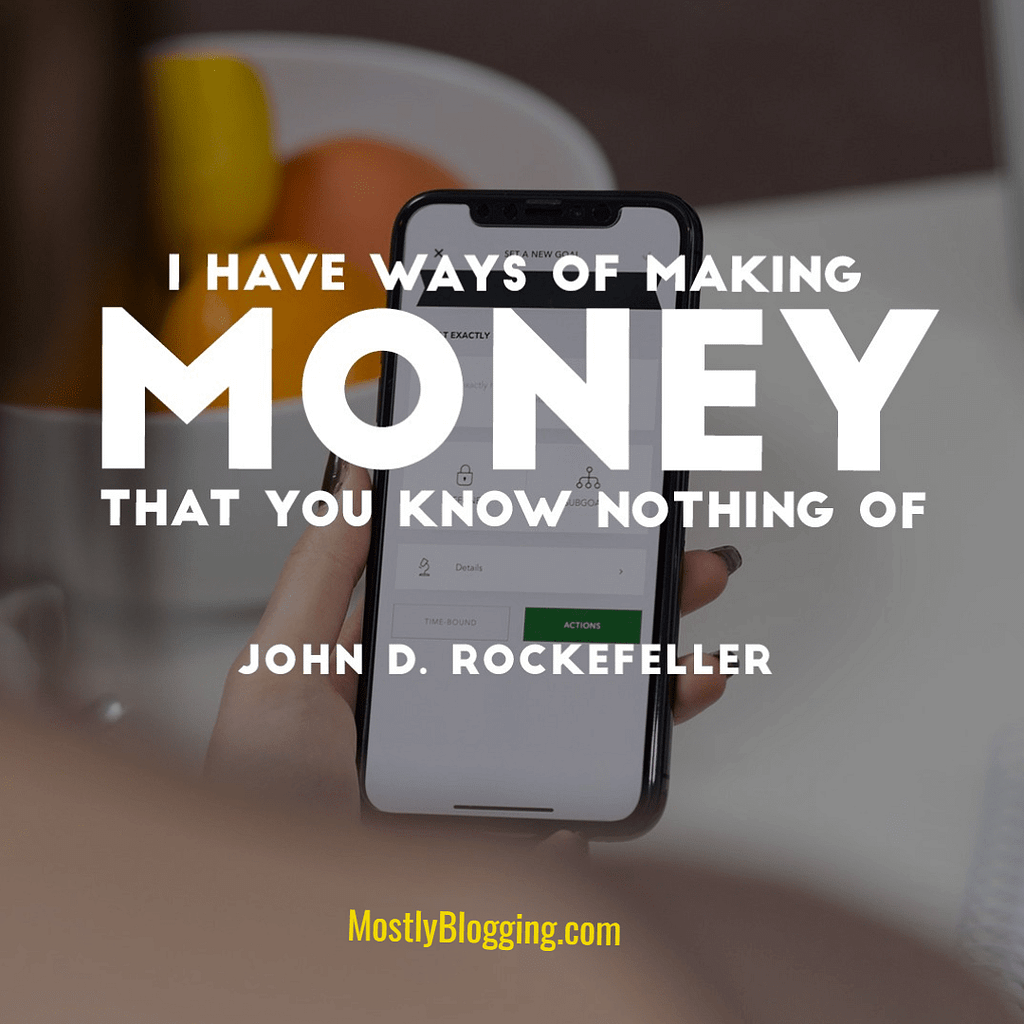 An all-purpose free tool.
That pretty much sums up the advantages of using Google Adwords Keyword Planner.
More specifically, Google Ad Planner has many important but extremely different uses
First, according to guest author Jean Jennings, Google Ad Planner can provide you with an accurate web report.
She actually praises Google Ad Planner as one of the 10 best SEO tools for this purpose.
Next, I use Google Ad Planner to find focus SEO keywords for my blog posts. Google's tool is one of the go-to SEO tools I use to research focus SEO keywords for my blog posts.
Use my Google Ad Planner tutorial if you're unfamiliar with the tool and you'd like to know how to use this popular SEO tool.
Finally, today's guest author, Harry Patel, offers a different purpose for Google Ad Planner entirely.
He explains how you can use Google Ad Planner to make money.
Harry explains how you can boost user experience with a landing page in order to make money from your blog using Google Ad Planner.
Since the number of clicks your ads get determines how much you make with Google Ad Planner, Harry explains how to boost the users' experience so they click through to your ads.
Are you interested in making money from Pay Per Click advertising (PPC)? Then this post is for you.
Smart Ideas to Improve Your Google Ad Planner Landing Page Experience
Guest Post
Google's AdWords contains great tools that allow advertisers to pay and display short advertising copies, product listings, and video content within Google's ad network to their target online users.
But for advertisers who are spending money on ads, there is something more than just getting the ads they purchase.
You need to think about the experience your users are having with these AdWords on their landing pages. Just how do you make this experience better for your visitors?
The answers to this question formulate the purpose of our post. So, stay with us to discover how you can give your online visitors a better experience.
What is a landing page experience?
But before proceeding to see how we can improve your landing page experience, it is necessary for us to define the experience.
In short, the AdWords landing page experience is a measure that tells how well your site gives users who click your advertisements the exact thing they are looking for fast and hassle-free.
The landing page itself, on the other hand, is where your users land when they click on your advertisements or any other call-to-action.
This experience is critical since it affects the ranking of your ads and consequently, your overall position and CPC (cost-per-click) in the advertising auction. With the stakes being this high, it is necessary to take decisive actions to enhance your users' experience on this critical page.
How to improve this experience
Improving your landing page experience is not a rocket science reserved for some few geeks, no. You too can do it without needing a special genius. Here are some steps and ideas that will help you to do it well.
1. Be sure to use relevant, insightful content
First, you need to use content that is relevant to your chosen keywords and ad text. It is needful to ensure that you give your users what they need specifically. For instance, if your users click on an advertisement about baby diapers, be sure that they will get all the makes and brands of diapers on that page.
But in cases where users want to enjoy multiple options, you have to give them a general approach so that you don't confine their searches.
Lastly, you should give your visitors enough content or product features that resonate well with their peculiar needs
2. Be transparent and build your website's credibility  
Another idea that will make this experience a "wow" for your users is building your site's credibility by being as transparent as possible. For instance, you ought to give them all the details they need and want to know about you and what you offer. Moreover, you should make it easier for them to find this type of information. It is necessary to describe your products or services fully before calling your users to action. Lastly, it is prudent to create a clear distinction between your ads or sponsored links and the rest of the information on your website.
3. Ease how your users navigate the pages
Your organization on the page is critical. Therefore, you ought to organize and design your pages in a manner that allows your visitors to find information easily. The proper organization will enable users to order your products as mentioned in the advertisement.
However, you need to keep off the temptation of bombarding and distracting your users with pop-ups lest they will abandon their decision to buy because you have annoyed them.
4. Increase the landing page's loading speed
The same way you approach other pages on your website, you should also mind and increase the speed of your landing page on both computers and mobile devices.
5. Improve this experience using an SSL certificate
Another way of boosting your landing page experience is using an SSL certificate. By installing a Cheap SSL certificate, you will boost your users' confidence since the certificate is an indication that the site is a safe place for them to share their sensitive information and payment information. In addition, your SSL certificate will help in the SEO rankings of your website, meaning, it will boost the traffic your pages need to attract more visitors.
The score is in the quality, not quantity
But how do you measure the effectiveness of your landing page experience? You can do this through its quality score. By quality score, we refer to the general sense of your ad's quality. On a scale of 1-10, it shows an estimation of the quality of your advertisements and the number of landing pages they trigger. This process depends on three areas namely: The landing page experience, the relevance of your ads, and the click-through rate you expect.
It depends on past performance data
The quality score of your adverts depends on the aggregated performance of an advert in previous advert auctions with a score of 1 being the lowest and 10 the highest. However, if the advertisements lack any click, they will be designated as "null quality score."
Varying scores for the same keyword
It is not strange to see varying quality scores for the same keyword in different campaigns and advert groups. The reason is that the key pillars that constitute the score depend on how well you have targeted your ads, your landing page, and how creatively you have designed the whole campaign. Therefore, it is not surprising to notice this variation where your ad groups are different.
How does it differ from auction-time ad quality?
However, you need to note that quality score has no relevance when it comes to determining your rank since it is not used at the auction.
On the contrary, the ranking of your ad comes into the picture when a user's search causes your advertisement to accomplish an auction. The process of calculating your ad's rank factors in real-time signals, for instance, is the context of the user and queries. These signals calculate specific parameters regarding the CTR (Click Through Rate) that you expect, the relevance of your ad, and the kind of experience your users get on your landing pages.
Steps to improving your ad quality
So, how do you improve your AdWords quality and make it stand out? Getting answers to this question is critical since in this game, only ads that perform well make sense to people's searches. The reason is that they are more relevant to their needs and preferences. For instance, if you were on any site looking for kids' shoes, you will not pay attention to textbooks since they are outside the range of your needs at that particular time. Armed with such awareness, you should focus your ads, keywords, campaigns, and landing pages to suit your customers' needs. This way, you will increase their chances of clicking through them and making purchases. Here are ideas to help you do it better.
6. Specify your ad groups
First, you need to ensure that all the ad groups in your campaigns target particular products or services so that your visitors can find them relevant and interesting.
For instance, if you are targeting athletic people with sports shoes, you need to come up with various ad groups for all of them. In this case, you can create a group for soccer players, runners, tennis players, and skaters.
7. Select your keywords cautiously
When creating your ad groups, you should use specific keywords that are directly related to the particular theme of your ad group and landing pages. To make your keywords more impactful, it is necessary to use keywords with multiple words, for example, two, three, or even more depending on what you want to achieve. In our sport shoes example, you can use keywords such as "affordable tennis shoes," "the best soccer shoes," and "skating shoes."
8. Incorporate keywords in your ad text
Still on keywords: You need to incorporate your chosen keywords in your advertisement's text and headings too. This way, you will help your customers to see the relevance of their searches since the keywords will confirm to them that they are in the right place doing the right thing. For example, if you included the keyword, "the best soccer shoes" in your title, you also have to include it in the text of the advertisement.
9. Keep your ads simple but distinct
To succeed in your campaigns, you ought to distinguish your products and make them stand out of the competition. Therefore, it is beneficial to focus on the distinctive features and benefits of your products. For example, if you give your customers free shipping, you have to inform them so that they can take advantage of that before they move to another vendor who offers it.
10. Strengthen your calls-to-action
Strengthening your calls-to-action is another way of encouraging your users to click on your ads and understand what they need to do when they arrive at your landing page. Some of the calls are: Try it out, Ask for a quotation, purchase now, and place your order.
11. Test several advertisements
Additionally, you can try out various offers and calls-to-action to find out which ones will yield the highest fruits. You can do this better by looking at how the Google AdWords system rotates your advertisements in a given group, showing the ones that perform better. This way, you will be in a better position to tell the best performers from underperforming ones.
12. Audit your campaigns' performance regularly
Lastly, you can bolster your ad quality by testing and tweaking your promotional campaigns regularly to get your desired results. This review process will help you to know their overall success and come up with the best ways of achieving your goals. By observing how your ads perform over time, you will tell if there are any changes in the conversion rates or how much people click through to the ads. Depending on the findings, you can remove ads and add others that will bear maximum results.
Closing remarks
Your website's landing page is one of its best pages you can use to make money.
It is on this page that your website receives that much-needed conversion rate for your online business. However, the kind of experience your visitors get here when they click on your Google AdWords is critical to your online marketing campaigns.
That is why it is necessary to pay attention to this experience because it can either make or break an entire marketing campaign. However, improving your users' experience here is not a special science that only a few people can engage in.
By paying attention to the ideas we have discussed in this post, you too can get your name on the list of online marketers who are making impressive success in this area. Therefore, we urge you to take advantage of them and apply them well to see your marketing campaigns yield more fruits that are satisfactory.
Host blogger's comments:
Do you use Google Ad Planner? Do you make money from other forms of Pay Per Click advertising?
If so, do you feel Harry's tips were helpful? Do you know any other tips from making money by having ads on your site?
Readers, please share so other website creators looking to monetize through Pay Per Click advertising learn Harry's tips.
This post was made possible by the support of our readers.