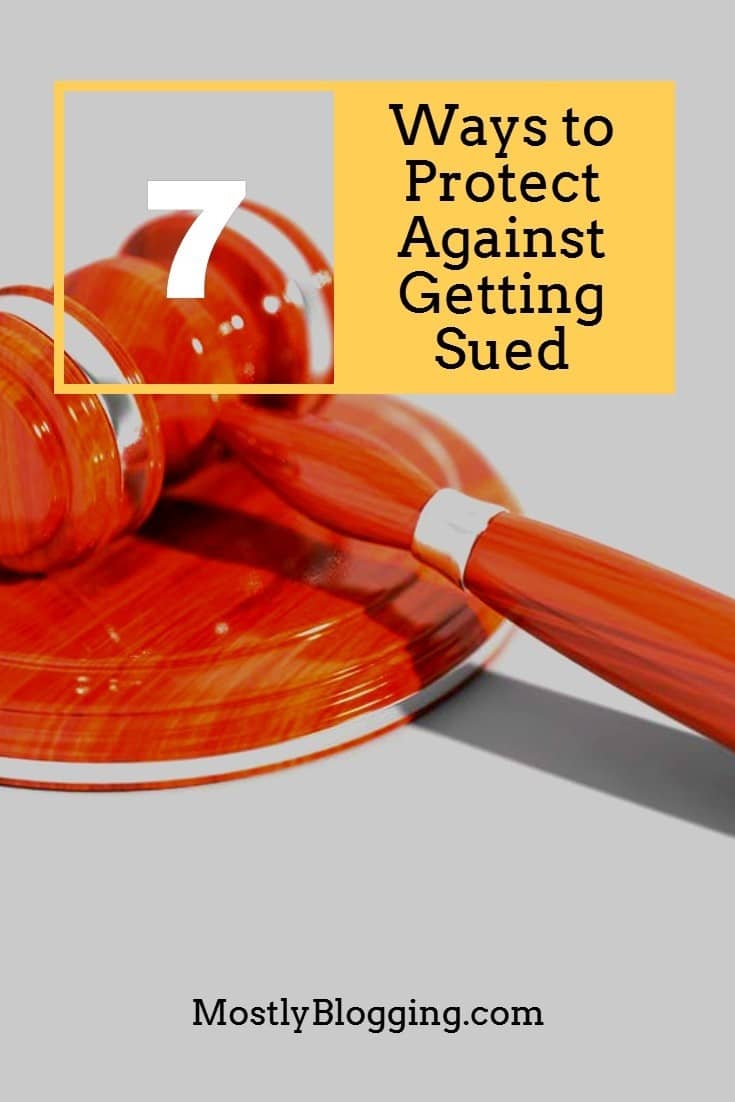 Have you heard instances of bloggers getting sued
Has it ever occurred to you that you could be sued?
Blogger Debby Geis was sued when her guest author used a photo without the consent of the photographer and Debby unwittingly published it on her blog.
Consider this scenario:
Your blog gets big enough that you have a board of directors. The board of directors decides to rehire a substandard virtual assistant by majority vote. Your stockholders could sue if they feel the decision by the board to rehire the virtual assistant cost them money.
Class action suits even have groups of people suing.
Guest author Robert Keith returns to tell us how to prepare ourselves against such litigation.
It's true: Like my friend Debby, you can be sued even without a Board of Directors or stockholders.
Although Robert writes his post for business people, you'll find the parts applicable to bloggers in brackets.
Let's see how to prepare ourselves against ever getting sued.
Robert Keith
Stocks are a great place to park savings. As companies continue to grow and expand, stockholders get to share in that expansion. They can watch as stock prices start to climb. They can also enjoy further income in the form of stock dividends.
Those who own stock find it an ideal way to help build a long-term nest egg. At the same time, stockholders also have a say in how the company may be run. When there's a dispute about the direction of the company such as further expansion plans, it may be necessary to engage in litigation in order to help all involved reach a satisfactory conclusion.
[
Host blogger's comments:
There are pros and cons in the decision-making process. Even if you need money, which is what going so big you sell stock on the open market, some times staying small is preferable so you don't have to share decision making power.]
All Documentation
Before any kind of shareholder litigation begins, it's best to have all documentation in hand first. Having all necessary documentation will make sure that all parties are properly represented during the dispute.
Each party may be called upon to back up their statements factually. If anything it is not clear, it's best to make sure that the party in question can back up their statements with accurate information in writing. Keep several copies around. This way, everyone can read all material with ease. Using electronic devices is useful but it should be backed up by printed copies of all relevant materials.
Before It Begins
Keep in mind that the date and time of all proceedings may change. This is one of many reasons why it is best to stay on top of all ongoing issues. All involved should have a rough idea of the timeline and how long each aspect of the case is expected to take before it is finally resolved. All parties should also be aware of the fact that the litigation may take place in multiple locations. Everyone should know when they are expected to arrive as well as how long any given act will probably take from start to finish.
Understanding the Process
Any form of litigation can be quite complicated. This is why it is essential to understand what's likely to happen before the case begins.
While all cases of litigation vary, there are certain things that can be said for them. For example, litigation related to shareholder issues may involve a great deal of information from financial experts as well as laymen who have a vested interest in the company. Each will be allowed to contribute something during the process of hearing the case.
Any preparation for the dispute should include a list of all those who are involved as well as all those who are likely to show up during the proceedings.
Legal Help
Some people, especially those with a legal background, may feel perfectly comfortable acting as their own representative during such legal proceedings. However, it is best for all those concerned to have the best possible shareholder's dispute lawyer.
Legal counsel can offer the help that everyone needs in order to come to a satisfactory conclusion. Legal help can also help everyone involved make sure their interests are represented to the outside legal authority presiding over the proceedings.
Effective legal research should begin before everything starts. Lawyers can prepare all the necessary documentation that will build a case in the client's favor. They can also assist by speaking for the people involved in the litigation once it starts.
A lawyer can examine all evidence carefully before it is entered into the legal system. They can determine what kind of evidence should be used and what evidence may not be as strong before it is seen by those in charge of making a legal judgment.
Keep in It Writing
In these days of electronics, writing still remains the best form of documentation. Before beginning the process of litigation, all those involved should be prepared to have everything they plan to present in writing.
They should also have other materials that can be used in front of legal counsel. This may include detailed photographs as well as any kind of testimony.
If someone cannot come to the procedure in person, a lawyer can speak to them and get their testimony. It may also be possible for people to testify from afar using modern technologies.
Technological decisions are always in the process of being changed. A good lawyer will help people plan out the kind of ways they can use this technology to their advantage during any kind of litigation all the while making sure that such technology is used within the permitted bounds of the law.
[
Host blogger's comments:
When writing or using stock photos, you need to link to your source. This gives you legal protection in case people think you're stealing. External links are important for your SEO and a helpful way to avoid plagiarism.]
Long Time
All those engaged in shareholder dispute litigation should be aware that it may take at least some time to resolve. A dispute between shareholders and others who run the company may take several months or even longer to be satisfactorily determined in a way that offers the ideal resolution to all involved under the terms of the law.
This is why it is best to keep in mind that the start of any form of litigation may only be the beginning. There may be additional hurdles to overcome as the process of litigation continues apace. More than one hearing may be required. Each person involved in this kind of litigation should be prepared to set aside time as needed in order to attend all legal proceedings if possible in person.
Ultimate Goals
Different people may have different goals when it comes to litigation. One party may want to see extremely distinct changes within the company's culture. Another may be in search of monetary damages as a result of action by the company they believe damaged them in some way.
Others may only be in search of minor changes that they think can be made quickly and easily during the process of litigation. Everyone involved should bear in mind the kind of end result they would like to see best before they begin this highly important process. Doing so will make it likely that everyone will walk away happy with the final end results.
This post was made possible by the support of our readers.
Wrapping Up: Precautions to Take Against Getting Sued
In closing, whether you're a blogger or a business person, these tips are important. For example, consider all the time you'll lose from your blog or business if you have to go for legal hearings.
Readers, please share so people know what precautions to take in the event they are sued.
What precautions do you recommend people take to prevent against getting sued? I look forward to your comments.
Related Reading
87 Blogging Mistakes You Should Never Make