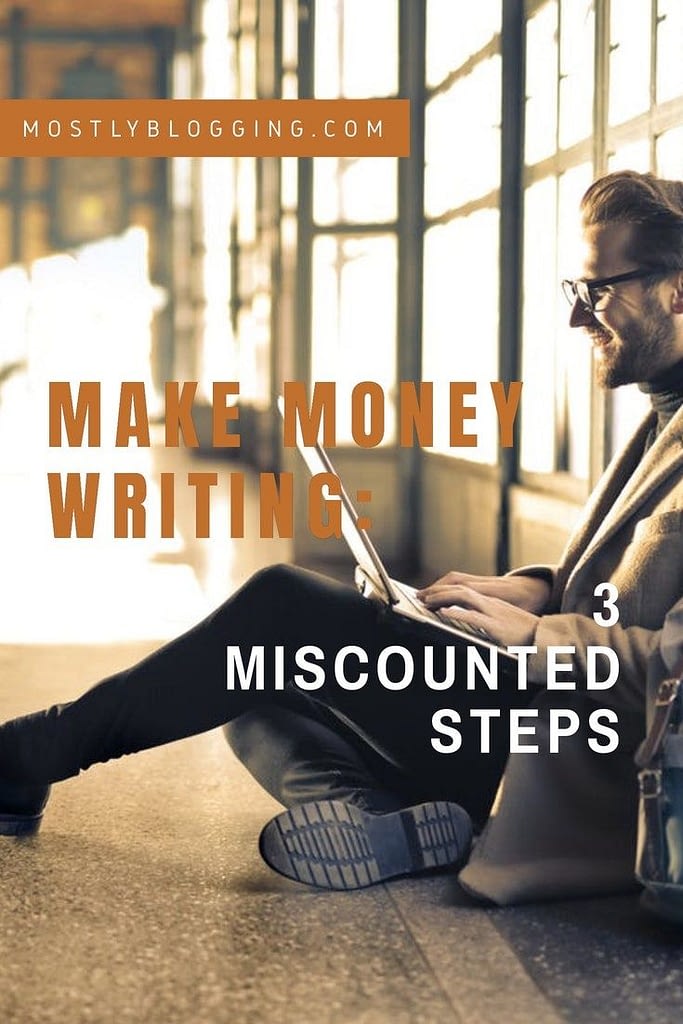 Are you interested in getting paid to write?
There are many legitimate ways to make money online.
Despite concerns to the contrary, getting paid to write is one way bloggers can monetize.
Today's guest author explains getting paid to write is possible if you follow these steps.
The (Incredibly Miscounted) 3 Steps From Starting a Blog to Getting Paid to Write Online
Let's say you are a beginner. You have stumbled upon an article about how to start your own blog and found that it's easy – and you had some spare cash in your pocket to spend on a domain name and hosting.
You thought of a great name, you found a beautiful theme, you puzzled out the basics of WordPress, you have your topics at hand, you write your first article and… now you wait for the readers to come.
Blogging, in turn, is about way more than just launching a new online publication and trying to dodge the bundles of money thrown at you by advertisers. Between these two, there are many other steps you must take before you can make a living writing.
Step 0: Blog for the right reasons
As Mark Manson, the author of the successful books "The Subtle Art of Not Giving a F*ck" and "Everything Is F*cked: A Book About Hope", pointed out in his article called "33 Things Every Aspiring Entrepreneur Should Know", a blog is not a business plan. "Don't start a blog to make money", he says, then he points it out that no blogger who has ever grown to the point where he or she makes "megabucks" started with the plan to do so – instead, they started writing and things just evolved from there.
His advice for blogging beginners is to just start writing because of their love of writing. What I might add is that you should also find something you are passionate about and write about that. Science fiction? Yes, that's a great idea. 3D printing? That will do as well. Virtual reality? Electric cars? Docu-dramas? Best places to visit in Mexico? The environment? Anything will do – just make sure you write for the right reason. Not with the single goal of making money.
Step 1: Choose the right topic
There are many so-called "bloggers" out there who write about a certain topic only because it is popular.
The last couple of years, for example, saw an explosion of cryptocurrency-related blogs inspired by the insane explosion of the price of Bitcoin and the increased media attention focused on cryptocurrency in general. Many of these blogs were, in turn, nothing but collections of articles rewritten from a variety of expert sources. And as such, these so-called blogs have almost all disappeared today, with only those with true expertise and original content remaining.
It is important to choose the right topic to blog about – a topic in which you can add value to the conversation, otherwise you have no chance to build a loyal audience. It also doesn't hurt to be passionate about the topic – see below.
Step 2: Being passionate about it
In the first few months or years you can't expect to have too many visitors – unless, of course, you are willing to spend on promoting your blog.
The saying "build it, and they will come" is a myth – you have to work hard to make your blog known, attract readers, and keep them coming back for more.
You have to invest a lot of work, countless hours of digging through the internet to find similar blogs, posting valuable comments, sharing information on forums, and posting on social media before you'll start to have a significant audience – but when you reach a point in the evolution of your publication, it begins to be worth it.
The more loyal readers you have, the easier it becomes for your voice to be heard, and the more visible you'll be for various brands that will want to collaborate with you – and the bundles of money will also probably start to fly in your direction.
To be able to do this, you'll have to be passionate about your blog. If you are not, you'll probably lose the last bit of your enthusiasm long before you'd have the chance to earn the first cent.
Step 3: Writing regularly
"It would have been better to come back at the same hour," said the fox. "If, for example, you come at four o'clock in the afternoon, then at three o'clock I shall begin to be happy. I shall feel happier and happier as the hour advances. At four o'clock, I shall already be worrying and jumping about. I shall show you how happy I am! But if you come at just any time, I shall never know at what hour my heart is to be ready to greet you . . . One must observe the proper rites…" Antoine de Saint-Exupéry – The Little Prince
When you find your voice, it's important to let it be heard by continuously updating your blog. As I said above, it's important not to simply regurgitate the content produced by others but to comment on it, giving it a personal touch, adding your own opinions to the information, perhaps presenting it from a different point of view. And make sure to write regularly – you can't expect your audience to be loyal to your blog if you only publish only sporadically.
And just like the fox's heart gets ready to greet the Little Prince, your readers' hearts will get ready to greet your words and ideas each day after you "tame" them – after you turn them from occasional visitors to returning, loyal readers. "It is updated too rarely" is a legitimate critique I hear much too often about otherwise valuable blogs. Don't be that guy – write regularly.
Last but not least, share your support. If you are good at what you're doing, you'll find people who will read and link your writings from their blogs – and you should do the same. Don't be afraid to link to blogs at the beginning of their roads – it will not cost you readers or, for that matter, anything except maybe a few seconds of your time. Remember how good it felt when others did the same for you – and share that link, love to help others grow.
Host blogger's comments
This post was contributed and made possible by the support of our readers.
Please share so new bloggers understand what getting paid to write involves.
Are there any additional steps you would suggest adding to go from new blogger to problogger? I look forward to your views in the comment section about what getting paid to write entails.