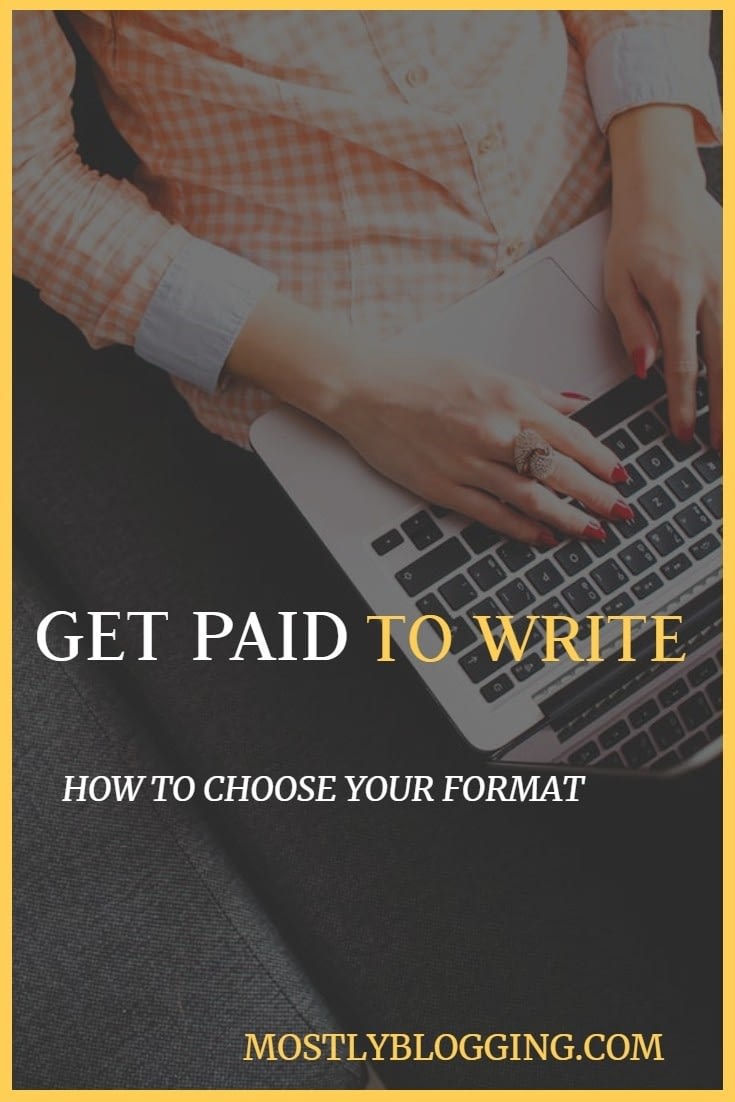 Exciting!
You decided to be a professional writer and get paid to write.
However, you don't know which writing format to choose.
Today's guest author helps you decide how to choose the style of writing you want to get paid for producing.
If you've ever asked yourself, "Should I start a blog or write an essay?" this post is for you.
Blogging vs. Essay Writing: Let's Find 5 Agreements and 5 Differences
This post was contributed.
The talent of a writer is unique and people who are skilled may reach great success. First of all, advanced writing skills help to get the highest grades for different pieces of writing. Secondly, if a college or university graduate associates his/her career with writing, it's possible to earn a great income. There are various ways to earn money. Two basic opportunities are blogging and essay writing.

These activities have much in common. We are quite sure that some people believe that they are the same. People mess up these two professions and they are right to a definite extent. These activities have some similarities and differences. We have found five for each side and wish to share the results of our research.

It's necessary to give short definitions of both activities.
"Blog" is short for "weblog." A blog is an informational website that offers a set of stories dedicated to a specific topic. It is commonly offered in chronological order. The blog posts may be of various kinds. They can be scientific, as well as dwell on personal opinion. Thus, many bloggers make posts to simply express their opinion or share impressions. Most bloggers prefer to cover special themes, such as health care, sport, business, management, etc.
What is an essay?

Essay writing is a freelance experience. Educated and talented academic writers from essay writing services help students cope with their assignments. They can write, edit, proofread, rewrite, outline, find relevant data and so on. They may write the full papers or some of their parts, as well as give online lessons and consultations.
5 Major Similarities
Now, let's review things that are typical for blogging and essay writing. These are as follows:
Advanced writing skills. Both a blog writer and an essay writer are supposed to have properly developed writing skills to satisfy the needs of their readers and clients. Nobody would like to read ugly constructed texts with weird word choice and inappropriate structure. Accordingly, writers polish their writing skills to construct beautiful and readable texts. [See Writers Apps.]
Originality. Both professions demand to express great creativity. Blog readers expect to read something captivating and new. Students need to compose only non-plagiarism papers and essay writers use their wits to meet this condition.
In-depth knowledge. They are supposed to be smart and possess extensive knowledge. In most cases, such writers graduate a college or university and have a good academic score. Accordingly, they know a lot of things that can be used in their texts. They can effectively cover merely every topic to make it catchy, relevant, original, and meet certain standards.
A possibility to earn money. Both professions allow for earning money. It is understood that paper writing is perspective because students pay money for academic help. Blogging is also a good way to enrich your income. Many website owners hire blog writers to stuff their platform with thematic articles that are important for their business. For example, they need blog articles about the latest news in the sphere they work, some improvements, innovations, etc.
Helping other people. Blogger and paper writers help other people as well. Academic writers compose different pieces of writing, offer various editing, citing and other services. Bloggers disclose various important topics, provide facts, relevant information, and so on. They cover topics that are relevant today and try to help to give some recommendations and effective tips. Even sharing some meaningful facts about a concrete issue may help because people will be aware of it. For example, they may make a list of products that harm our body. Knowing this information, you'll be able to avoid those products.
5 Clear Differences Between Blog Writing and Essay Writing
In turn, we should discover and analyze 5 major differences between blog and article. Consider these next points:
Different forms of income. Though both professions allow earning money, the blogger and the essay writer get paid to write from different types of income. Blogging may even be non-commercial while academic writers always get paid to write. All kinds of services – writing, rewriting, editing, citing, outlining, etc. should be paid. Many bloggers write for free just to express their opinion and don't get paid to write. If bloggers want to earn money, they apply for a job at some online magazines, journals or websites that require good posts. Bloggers may also work for themselves. They may use the option called pay per click (PPC). When users visit the blog and make even a single click, it results in a certain amount of money that is instantly transferred to the blogger's account.
Various writing styles. The way writers deliver the main message and structure texts differs too. Blogging allows using a casual writing style. Essay writing demands a rather sophisticated and strict writing style.
Peculiarities on keyword choices. Academic writers aren't obliged to use strict keywords when they compose academic papers. However, bloggers have to use certain combinations to find the targeted audience.
Different length. Blogs may be of different size, and commonly they aren't really long. Paper writing has strict rules and the length is fixed. These are commonly lengthy papers.
Optional and obligatory grammar checking. Bloggers aren't troubled with grammar. It's commonly optional. Academic writers must always check their texts and brush up grammar, spelling, punctuation, and similar things.
As you can see, this matter has two sides.
How do you prefer to get paid to write? It's up to you to decide. Please answer in the comments.
At any rate, these avenues allow you to earn good money, help other people, enlarge your knowledge, and improve creativity.
This post was made possible by the support of our readers.
Please share so writers struggling with which type of professional writing style to pursue learn their options when deciding to get paid to write.