How to Get Free Backlinks:
4 Tried And Tested Ways to Get High Authority Backlinks In 2018+
Who else wants to get more traffic?
Silly question, right?
Every blogger (including bloggers with high traffic sites) wants to get a ton of traffic to their sites.
Why? The reason is simple: traffic is the lifeblood of any profitable blog.
But how do you get more traffic to your sites? The answer is not as simple as the question.
There are a ton of bloggers who quit blogging due to lack of website traffic. If you're also one among them who is struggling to get more traffic from search engines, this post is a treat for you!
The secret to getting more traffic from search engines
Did you know that backlinks play a HUGE role in getting more visitors from search engines like Google? Google gives #1 priority to the web pages with quality links.
Google treats backlinks as votes. So the more quality links that you attract the more traffic you can get. It's as simple as that.
So the secret to increasing your search traffic is this: attract as many quality links as possible.
In this post, you'll discover 4 of the PROVEN ways to attract high-quality backlinks to your sites. So are you curious to find them out?
Let's get started.
Top 4 Ways to Attract More Quality Links to Your Website
#1. Create case studies
Skyscraper technique:
If you're blogging for a while, you might already have heard about this crazy link building technique which was coined by Brian Dean from Backlinko. It is one of the very few blog posts that got a TON of backlinks and buzz online.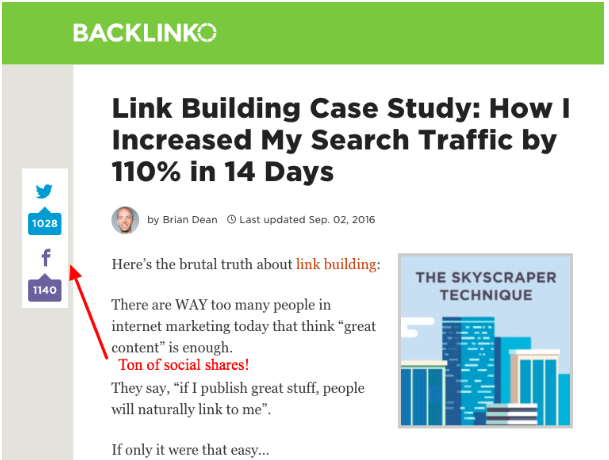 It was written by Brian Dean several years ago and that one case study made him an instant celebrity in the blogging world.
Case studies work like magic. Skyscraper technique post (written by Brian Dean) itself is a case study!
Why case studies are best for attracting quality links
The simple reason is: they go beyond opinions and focus on facts.
Everyone loves to read facts based content over junk, right? That's why case studies grab a ton of attention online along with social shares, traffic, and more importantly links.
Enough said!
How to create case studies that attract more links and buzz
Over the years I analyzed a ton of case studies and here are few strategies I noticed. You can use the following tips to create link-worthy case studies.
Don't create case studies just for the sake of getting more traffic. Don't copy others ideas as well, otherwise, you'll fail miserably. Trust me, I've written a ton of case studies and I know that case studies work only when you know what you're talking about. So gain expertise and write only cover those topics as case studies where you have prior experience. For example: if you went from fat to fit in 1 year, you can easily make it as a case study by showing all the pictures along with the diet you followed. That's how you grab more attention and acquire quality links from other sites using case studies. Always write about the topics that you know!
Format your case studies in an easy-to-follow way. No one likes to read a long and boring case study with no images, videos, data points or visually appealing graphs. You need to take care of formatting your case studies in such a way that they are easy to consume by your audience. Add lots of subheadings, bullet points, images etc. to make them look appealing.
Promote your case studies like anything. There's no point in taking 20 hours time to write an exceptional case study and just spend 10 minutes promoting it. You have to go out, get as much exposure as possible to your case studies by using platforms like social media sites, Quora, blogging forums, guest posts, videos etc.
Last but not least: you've to update your case studies frequently. Most people don't do this, they simply create useful case studies and they often forget about updating them with the latest information, new links, images etc. As a rule of thumb, update your detailed case studies with new advice, images or links every 3 to 4 months. You can also do long tail keyword research to sprinkle some potential and relevant keywords within your case studies to bring more search engine traffic.
#2. Write extremely in-depth and well-researched content
Let me tell you how blogging used to be in 2012 (that's when I first started my professional blogging).
People used to publish blog posts almost every single day. Almost everyone used to publish contents around 500 to 600 words.
If they wanted more traffic, they wrote more blog posts.
Gone are the days where you can publish more content to increase your search traffic. Google is getting smarter every month.
Google wants to give the BEST content to its searchers.
The more important thing to notice is: Google started rewarding the sites that post in-depth and high-quality articles.
Have a look at the image below.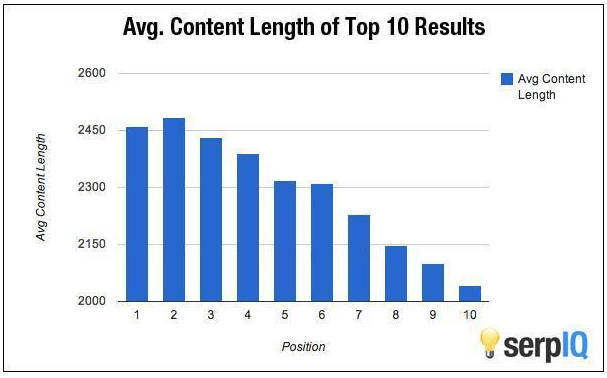 What did you notice? The average content length of top 10 results on Google is around 2300 words.
Still not convinced?
Long form content is what attracts more social shares and creates a lot of buzz online.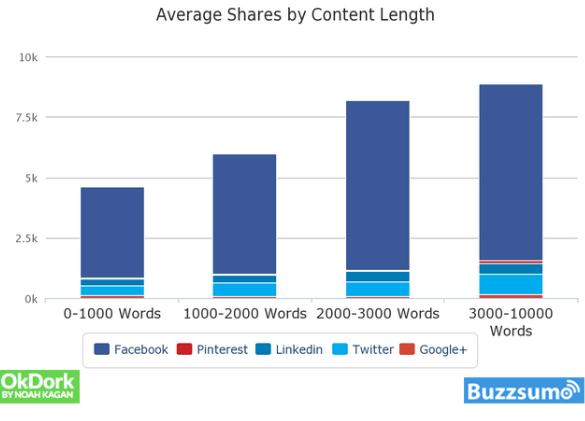 The blog posts with 2000 to 3000 words attracted over 7500 shares at an average.
So what can you learn from the above studies? If you want to get more traffic, backlinks and social shares, create long-form content typically around 2000+ words.
Pro tip: Publishing ONE piece of 2000+ word article is better than publishing 2 articles with 1000 words. So adjust your blog posting frequency accordingly.
So how do you create in-depth articles?
Here are few tips I personally use to create long-form content that attracts more links and traffic:
Come up with a killer topic idea. Make sure it goes well with your target audience. There's no reason to write about a particular topic just for the sake of getting more traffic or links. You can use tools like Buzzsumo to find the most popular topics for your niche.
Research. This is the most important step. Take as much time as you want. But make sure to analyze all the top 10 search results that are ranking for your desired topic. That way you can easily find out what to include and what to exclude.
Use Google Docs. I don't know whether you're already using it or not. But it's the best tool out there. You can even save your content offline. Come up with subheadings and include all the links that you can use as a reference to make writing easy.
Start writing without editing. Don't edit while writing. Most bloggers edit while they write and that's why they never finish their content on time. You can turn off your monitor (or dim your screen) while writing, worked well for me!
Figure out how other bloggers in your niche are writing. Find out how someone is creating long-form content. You'll take a lot of notes and implement those tips while creating content for your own site.
Once you're done with the writing part, give your content some rest. Take time. Read your content again after a day. Read it out loud. Send it to your friends for feedback. Just make sure your content is not filled with typos or grammatical mistakes.
Last but not least, don't focus on the word count. Writing long form of content is intimidating at first. But once you get used to it, you will start loving (if you're someone like me). Just don't focus on the words while writing.
#3. Infographics are still link magnets
Back in 2012, infographics were much popular. Almost every blogger I know used to create or outsource infographics to attract backlinks to their sites.
Now in 2017, I don't know why people stopped using infographics. Just like guest blogging, infographics are evergreen and they still work like magic to attract quality links from other sources.
How to create stunning infographics with zero budget
Most people don't create infographics because they think it's a rocket science. No, it's REALLY not.
I have a simple tip for you that you can use to create great infographics without spending any money. The best part is that you don't need any technical or design skills. Heck, you don't even need access to Photoshop.
Use Canva. It's a free tool to create stunning images including blog post images, infographics, eBook covers and what not.
If you're wondering about how you can create infographics to get quality backlinks from other sites, here are few effective tips for you.
Find the RIGHT topic and research A LOT. The key to creating link worthy infographics is the content itself. Make sure to add meaty information to your infographics and also include all the relevant resources that you used for references at the end of your infographics.
Determine your target audience while creating infographics so you can use the appropriate writing tone within the content. Also use appealing images, illustrations, badges etc to make your infographics design look appealing to your target audience.
Reach out to the right people to promote your infographics once you're done with creation. Promotion is the most important part that can make or break your content success. Use tools like SEMrush for finding backlink sources of your competitors to see how you can promote your infographics to attract more backlinks to your site.
#4. Reach out to other bloggers
Blogger outreach strategy is one of the most powerful ways to build relationships and attract quality backlinks to your site.
Blogging or link building is all about win/win approach. Help others before you seek help. That's how you can succeed. Instead of asking others for a link, be abundant and link out to as many bloggers as possible whenever you create new articles.
That's how you can build a strong rapport with them. Sooner or later, other people will notice you and link back to your stuff if they find your content informative for their audience.
Just make sure to send emails to those bloggers who you are constantly linking to. That's how they will know that you're adding value to their sites by linking to them. Here's a great guide on blogger outreach strategy you can use for building better relationships and also attract quality links easily.
You can use the below mentioned quick tips for getting more out of blogger outreach strategy to earn links and traffic to your sites.
Create truly informative and high-quality content. No one likes to share or link to your content if it is not worth reading.
Comment and share as much as you can before you start blogger outreach. The more they see your name on their sites or social media, the better results you can get with blogger outreach strategy.
Always remember that networking paves strong relationships. So network as much as you can. Use social media and emails. Attend webinars or seminars to get in touch with other bloggers. The more you network, the better results you can get.
You should also make sure you offer something of value to the other person who's about to give you a backlink. Think from the other person's point of view – what's in it for them? The reason why someone would be ready to link to your site is different for every industry so find the approach to link-building that works for your niche and stick to it.
Final thoughts on building quality backlinks in 2018
Most people think that link building is time-consuming and often ignore it. If you want to get more search engine traffic, you should always be building quality links to your site. Google considers backlinks as the most trusted sources so never stop building backlinks if you want more traffic.
What do you think of the above 4 link building tactics? Do you like them? Share your thoughts in the comments below.
Author Bio:
Anil Agarwal who is an SEO and blogging expert is the owner of the Bloggers Passion blog where he is writing on the topics related to blogging, SEO, affiliate marketing, web hosting and social media. You can connect with him on Facebook here and Twitter here.
Host Blogger's Comments:
Were you aware that people pay for backlinks from high-quality sites?
Are you operating on a tight budget or no budget? Then, Anil's tips to get free backlinks are for you.
You don't need to pay to outsource your SEO needs. Anil's tips are definitely affordable SEO strategies.
Readers, please share so other bloggers discover how to get free backlinks from high authority sites.