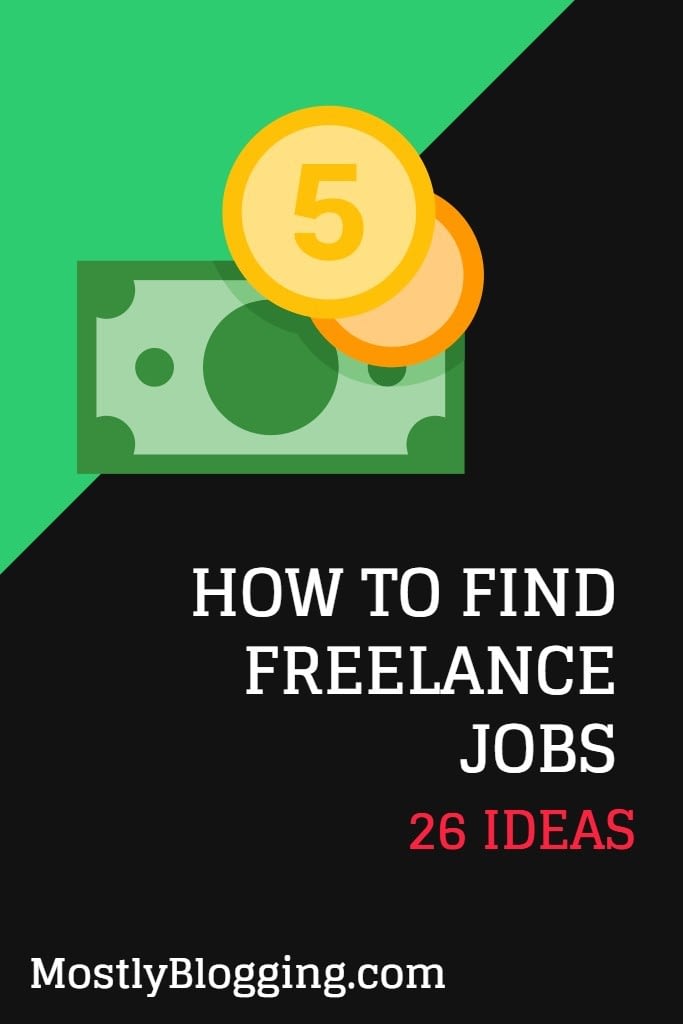 Are you interested in freelance job ideas?
How do you know the time is right to consider freelancing?
Do you feel a sense of dread and impending doom when Sunday rolls around?
Maybe you just constantly think about what you have to do the next day and that all of the stress just becomes too much sometimes.
Either way, it's more than possible for you to stop all of this stress and worry. The only thing that you have to do is make a positive change, whether that's in the career you have now or whether it involves you changing careers entirely.
If you're not sure if you need to change careers in order to put an end to your job dread, then this is the guide for you.
Source: Pexels (CC0 License)
By reading this guide, you learn 4 reasons you might want to consider changing careers and pursuing freelance jobs. In addition, this guide shares 26 freelance job ideas and how to find freelance jobs.
Let's get started learning about why you need freelance job ideas and where to find them.
Clear Signs that You Need to Change Jobs and Freelance
Are You Learning?
The one question that you need to ask yourself is "Am I learning?" If you are not learning, then this shows that it is time for you to make a change. It may be that your heart and your head are telling you that you need to make a change because you're just not growing, professionally or personally.
If this is the case, then you may find that you are in a bad position and that something needs to change. If you don't, then you may find that you end up being stuck in a dead-end job and this is the last thing that you need. Freelancing is a fantastic way for you to break down this barrier.
You Don't Feel Valued
When you don't feel as though your input is valued, you may find that your work becomes way less fulfilling. This shows that you need to make a change. One of the underlying components of a good relationship is being appreciated.
If you do not feel appreciated at work or if you don't think that you are being both respected and recognized, then now may be the time for you to think about moving on. If you feel unsettled in your job because of your current status, then you should know that you can get an ILR from a UK spouse visa. An ILR is an Indefinite Leave to Remain.
Look at Your ROI
When you enroll in a particular job or even a career, you will get on a curve, which is your contribution over time. This curve should rise alongside your ROI. There comes a point in your career when your contribution will ultimately start to trend downwards.
It may be that you are not getting as much out of your job as you'd like, or that you have not been given a promotion but you are still working on weekends. Things like this can help you to make the decision as to whether or not it's time for you to move on and start working for yourself.
You Have a Lot of Negative Thoughts
If you find yourself constantly complaining or feeling negative, then you need to stay focused on what is working for you. If you can do this, then you can be sure to make a positive change. If your feelings stem from the core aspects of your job, such as a bad boss or a toxic working environment then your only option may be to leave your job and go out on your own. This is especially the case if you have tried talking to your boss about your situation in the past but to no avail.
What are Freelance Job Ideas?
Some of the best day jobs for writers are freelance job ideas.
A freelancer is a person who works for themselves and is not under contract.
Freelance Job Ideas
Okay, you're convinced. You've had it. You're done.
Bring on the freelance job ideas!
There are many freelance job ideas that may be right for you:
Freelance Writer
Copywriter
Ebook Writer
Grant Writer
Graphic Designer
Web Designer
Logo Designer
Interior Decorator
Photographer
Videographer
Pro-blogger
SEO Services
Affiliate Marketer
Accountant
Researcher
Virtual Assistant
Gardener
Fitness Instructor
Pet Trainer
Translation Services
Tutor
Actor
Property Manager
IT Helper
Child Care Provider
Coach or consultant
How to Find Freelance Job Ideas
Agencies
In some cases, people who are self-employed belong to freelance agencies like Fiverr or Upwork where people who need freelancers find them.
If you decide to offer your skills through a freelance agency, be aware, the agency takes a percentage of your income.
Here you find more information about Fiverr and Fiverr alternatives like Upwork.
LinkedIn
LinkedIn is famous as a place you can find jobs and return as often as needed to review the freelance job ideas you are considering.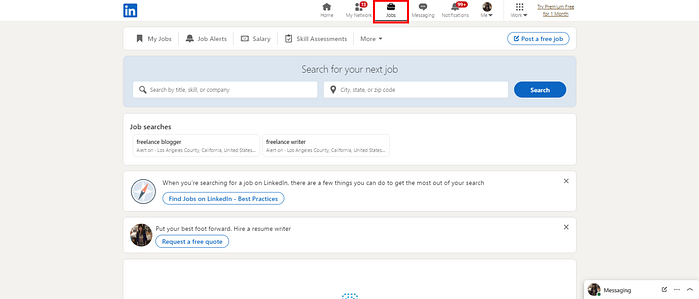 When you go to your LinkedIn homepage, click Jobs.
If you look at the screenshot, you see that LinkedIn is already recommending freelance job ideas for me to search: freelance blogger and freelance writer.
As you see, you can search LinkedIn by title, skill, company, and location.
How to View Saved Jobs on LinkedIn
If you look in the upper right-hand corner of the screenshot, you see My Jobs and a bookmark icon.
As you search and find interesting freelance job ideas, use the icon to save your jobs.
You can return to the My Jobs section of LinkedIn anytime you want to view saved jobs.
Freelance Job Ideas: FAQ
What Job Is Best for Freelancing?
Whatever job gives you pleasure is best for you. For instance, if you enjoy gardening and being outdoors, you might want to be a landscape gardener.
What Work Can I Do Freelance?
You can be a writer, a decorator, a landscaper, or a translator, for instance. Basically, any job where you are working on your own and not under contract for someone you can do as a freelancer.
Wrapping Up: Freelance Job Ideas
In closing, this article shared 4 reasons you might consider changing careers and pursuing freelance jobs. Also, this guide shared 26 freelance job ideas, how to find freelance jobs using LinkedIn, and how to use LinkedIn to collect and view saved jobs.
Readers, please share so future freelancers discover these reasons to consider quitting their jobs, learn of these freelance job ideas, and how to use LinkedIn to pursue making the switch.
I look forward to your views in the comments section. Are there more freelance job ideas you can suggest?
Authors: Janice Wald and a Contributing Author

Janice Wald is the founder of MostlyBlogging.com. She is an ebook author, blogger, blogging coach, blogging judge, freelance writer, and speaker. She was nominated as the 2021 and 2019 Best Internet Marketer by the Infinity Blog Awards and in 2017 as the Most Informative Blogger by the London Bloggers Bash. She's been featured on Small Business Trends, the Huffington Post, and Lifehack.
This post was made possible by the support of our readers.