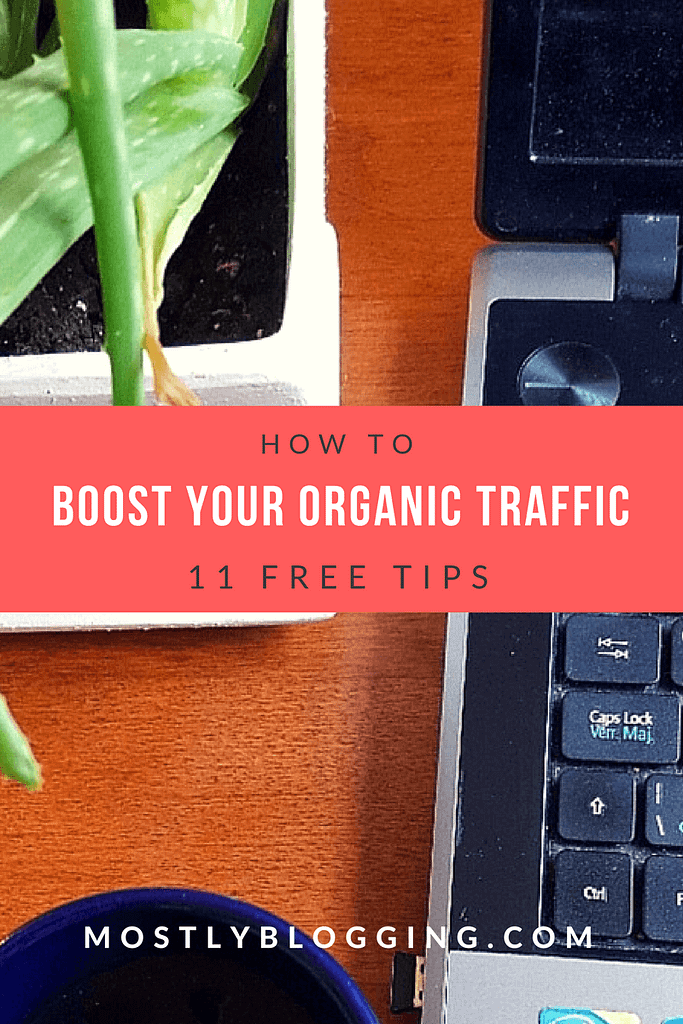 Do you know how successful bloggers get most of their traffic?
Do you want to guess?
No, it's not from social media.
Okay, time is up. Here's the answer:
Successful bloggers get most of their traffic from search engines.*
This post will explain 11 free SEO Tips that will increase your organic traffic.
I've made tweaks to my search engine optimization that follow these strategies. You can see search engine users at your blog or website. All you have to do is implement the tips.
This post will show you six free SEO tools and five free SEO methods. Following this action plan will result in increased organic traffic for you.
These SEO techniques are easy to follow. Implement these 11 tips, and search engine users will be knocking on your door.
The best part: all these free SEO tips are universally recognized to effectively boost your search engine traffic.
I became irritated with my friend Clay, an SEO expert.
He wasn't telling me what I wanted to hear.
I wanted to hear that if I made my keyword "blogging tips," search engine users would come flocking to my blog if they needed those tips.
Clay insisted, and rightly so, that they would go to the Neil Patel's of the world and not me.
These 11 tips will tell you what you can do to compete for readers despite all the competition for readers on the web.
Free SEO Tips that Really Work
High Search Volume You want the number of searches for your keyword on search engines to be high. The more people looking for your topic, the more likely your article will be found on search engines.
Fortunately, there are free tools to tell you how many searches there are for your topic each month. These stats are important. It takes the subjectivity out of blogging. High search volume to one person might be too low for another person. This post will describe those tools and explain which metrics are considered to be high, low, and a medium level of difficulty.
2. Low Competition You want low competition. When search engine users look your keyword up on Google and other search engines, you don't want them to find many choices. Having a low competition for readers will improve the probability they will click your link.
What helps, according to Brian Dean from Backlinko, is having a long-tail keyword as your focus keyword. This will help minimize the competition since there will be more specific searches for your topic.
Dexter Roona agrees with Brian Dean:
If however, you optimize your pages for related long tail keywords phrases, then you will find that you will do much better as there is far less competition because the phrase is specific to what is searched. You see the top keywords are dominated by well-established sites with age and authority in their corner so don't set yourself up for failure. This is one of the big reason why a  site doesn't rank well.
According to I Am Wire, "One of the most common mistakes is choosing keywords that are too generic and avoiding long-tail keywords."
The Dapper Fox agrees. "When a phrase becomes very specific, you're competing with fewer sites and therefore showing up higher in the rankings."
Self-Made Success discusses the value of low competition keywords: "You can still use the tried and true tactic of targeting keyword phrases. But, the trick is, you need to target the ones with low competition while consisting of 3-4 words or more."
Try to put the focus keyword at the beginning of your headline. Notice "Free SEO Tips" is at the front of my headline.
[Read: 13 Best Free Tools You Need to Improve Your Long Tail Keywords]
3. Get links to your post. The more other blogs link to your post, the more visible your article will be in search engines. Google feels if other blogs are linking to you, your site must be full of quality content. SEO Quality Backlinks stresses the importance of having links to your post:
With backlinks remaining one of the top ranking factors in all of the search engines, this is a major plus for the SEO of your website, and something you should be striving for.
According to SEO expert Matthew Woodward, building backlinks to your site is the most effective way to improve your search engine rankings as long as the link comes from an authority site in your niche.
Rohan Bhargava, from I Am Wire agrees. "Google understands that a website is trusted and reputable when there are backlinks to it from high-quality websites."
It's true. It's necessary to build links to your article. This is a proven SEO tip. Here is the proof:
Look:

At the time of this writing, my article about Niume is at Position 4 with 1,700 searches each month for the keyword! That puts me in excellent jockeying position for search engine traffic when people search for "Niume".
However, my article about writing at Niume doesn't receive search engine traffic. What's the difference? Why aren't they getting equal visibility in search engines?
The difference is Debby Kaye linked to my first article. A link to the article tells Google it has quality content, and it will show it first to its readers before the Niume article without a link.
There are many ways to get quality links to your blog. For example, Mostly Blogging's Link Exchange is ideal for finding like-minded bloggers to trade links with.
The screenshot above shows my Ahrefs stats. How will you know which post to try to get links to in order to improve your search ranking? Ahrefs can tell you how to boost your SEO.
What can you do if you don't have an Ahrefs account? Ahrefs only offers a trial for a few weeks. Hubshout gives the same information for free: http://report.hubshout.com/?p=Research.
Look at these Hubshout stats:

My virtual assistant article will appear on Page 1 of Google if users type in "virtual blogger." There are 90 searches a month for the term.
Try an experiment:
My Fotor article is in position 19 at Google, which puts it on Page 2. I checked, and it really is on Page 2 for the keyword phrase Fotor Facebook Cover.
Look at the screenshot:
With 100 searches a month, it would be worth my time to try to get it higher. Could I boost it with links?
It is not considered "black hat SEO techniques" to ask like-minded bloggers for links. Google will be impressed that you are recommending relevant content to your readers instead of only linking to your own articles.
How to Find High Search Volume, Low Competition Keywords
According to Hafiz Akinde, "Before you choose a topic, it is important to carry out keyword research."
Where to find keywords that fit this description of high volume and low competition?
4. Your keyword needs to match your content.
It would help if you wrote about more obscure topics, not mainstream, in your niche. You want to be specific in order to filter out your competition.
Look: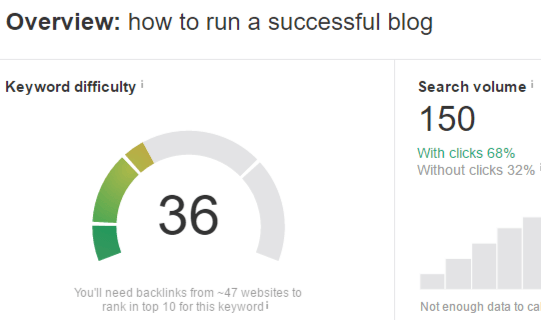 I needed to choose a keyword for a blogging tips article. However, they all had a high degree of difficulty. "How to run a successful blog," had a lower keyword difficulty but gets 150 searches per month. This would be considered "a long-tail keyword."
The more specific your keyword is, the easier it will be for you to filter out your competition at Google and other search engines.
What if you can't tell if a number is considered an easy keyword to rank for? No problem! The color green shows me it's considered an easy keyword to rank for.
Look under the 36. Can you tell I need up to 47 other blogs to link to my article for it to appear in the Top 10 on Google? This screenshot came from Ahrefs, a premium site. However, all the tools recommended below are free.
How to Find Keywords with High Search Volume and Low Competition 
Use Free SEO Tools to Help Your Google Rankings
5. KWFinder

I recommend registering. KWFinder is free to use, but if you register, you are allowed more keyword searches.
At KWFinder, I typed in SEO Techniques.
Look:

Of the three terms that came up, SEO Techniques had an easier level of difficulty than SEO or SEO Tips. Therefore, even though it had fewer searches than SEO that has over half a million, I considered "SEO Techniques" for this article. (I ultimately chose "Free SEO Tips.)
The bar graph at the right shows interest level over time. This screenshot shows interest in the keyword was recently high.
UPDATE: I am such a fan of KWFinder, I became an affiliate. If you make an account, please use my KWFinder affiliate link.
6. SemRush
At SemRush Click Keyword Difficulty.

I typed in Blog Traffic
This is what came up:
There is a 77.14% of difficulty, which is pretty high with 720 searches for the word per month.
Can you tell "blog traffic" is a link? Clicking it will show related keywords which may be easier to rank for.
SemRush will also show you alternate, related keyword choices
Click "Tools, Keyword Planner."
Click "Search for new keywords…"
Put in your keyword and click "Get Ideas."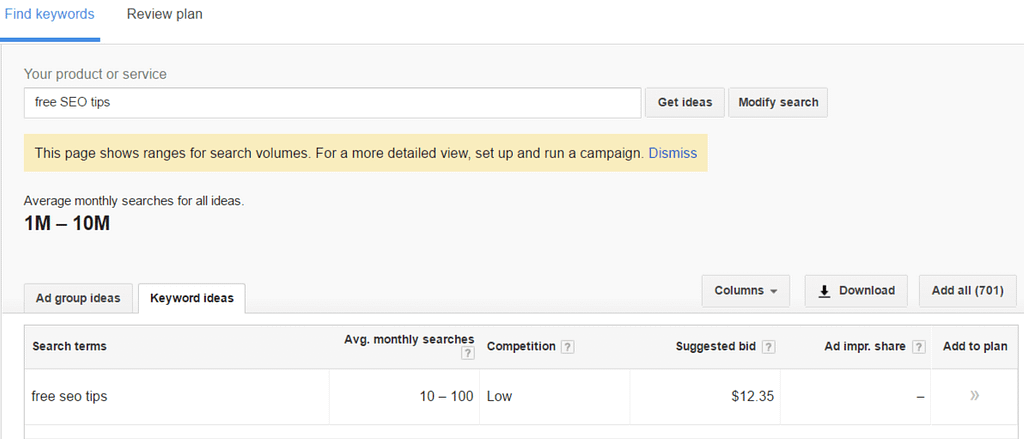 Notice Google Keyword Planner is showing me my keyword phrase "Free SEO Tips" receives between 1 and 10 million queries each month for this and related searches. Excellent! In addition, the competition is "low."
8. Moz
Moz will allow two free searches per day.
I am researching a high search volume, low competition keyword, so while at Moz, I typed that phrase– high search volume, low competition keyword– into the search bar.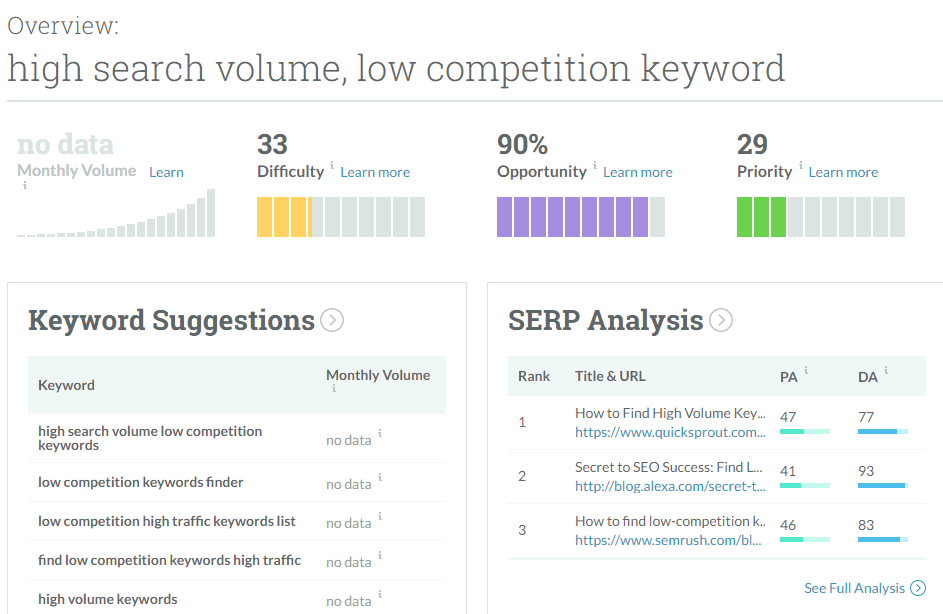 As you can see from the screenshot, the keyword difficulty is 33. Although yellow, which indicates a medium level of difficulty, the fact that the number is as low as 33 is encouraging.
However, this long-tail keyword phrase needs further consideration.
Why? Look at the search volume: Moz is telling me there is no data. Certainly, I don't want to pick a keyword phrase no one is looking for.
9. Consider your competition on the web.
Look to the right side of the screenshot. I saw Neil Patel of Quicksprout wrote an article with this keyword phrase in the headline. Neil Patel knows his stuff! Maybe the keyword phrase does have potential. On the other hand, do I really want to compete with Neil Patel for readership?
Clearly, there is a great deal of information to consider when choosing a keyword phrase.
10. Jaaxy

Jaaxy will give you 30 free searches.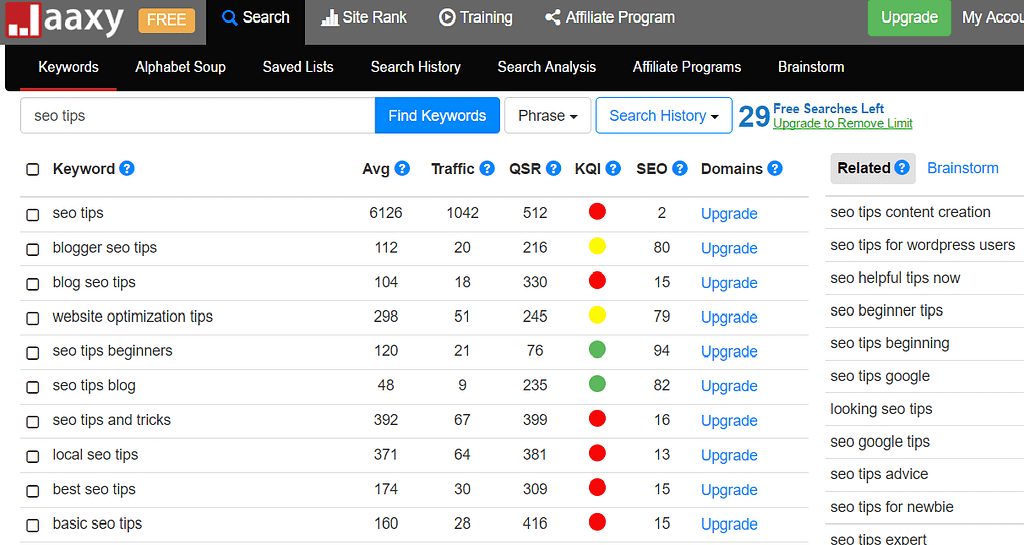 Notice the information the colors provide. If you are a visual person and don't want to read the stats, pretend you're driving a car. Green means it's easy to land on the first page of Google for this word. Yellow is of medium difficulty while red means it's the hardest to rank for that keyword.
Hovering over the question marks tells you what each column means.
11. Google Trends will reveal the amount of interest in your keyword. However, the site doesn't share the amount of competition on the web for readers interested in that topic.
Are You Ready to Increase the Chances of Your Posts Turning Up in Search Engines?

When I first started blogging, I found SEO confusing. That is not the case anymore.
SEO can be frustrating since there are so many elements that need to work together.
Be frustrated no more. If you implement these 11 SEO strategies, your search engine traffic will improve and improve dramatically.
The first 3 SEO tips– search for high volume, low competition keywords, and link building– are universally recognized as the methods that will lead to search engine visibility and high organic traffic. They are proven SEO techniques.
In other words, they work, so follow them. You will boost your organic traffic. If you are a marketer, you'll boost your sales.
Note: You shouldn't be in too great a rush to see results in Google's Search Engine Results Pages. Google gives priority to giving older blogs visibility. According to an Ahrefs study, the average age of posts on Page 1 of Google are 2 – 3 years old.
Therefore, if you are a new blogger, do not fret if you don't see these tips working right away. According to Ahrefs, if you follow these tips, you will see results, but it may take one to two years.
SEO Expert Ahfaz Ahmed agrees. "Ranking does take time. Six months is the minimum time according to me, to rank a keyword on the first page."
Blogging is for the patient.
Readers, please share, so other website creators looking to boost their search engine visibility know about these tips.
What is your perspective? Do you consider search engine optimization when blogging? Do you feel your search engine traffic shows the results of your efforts?
I look forward to your answers and your perspective about whether bloggers should consider these three proven SEO techniques when blogging or just write and hope for the best in the comments section.
Related:
The Ultimate WordPress Setup and SEO Guide for Small Businesses
Source:
Photo Credit:
Practical By Default Homeschooling Community