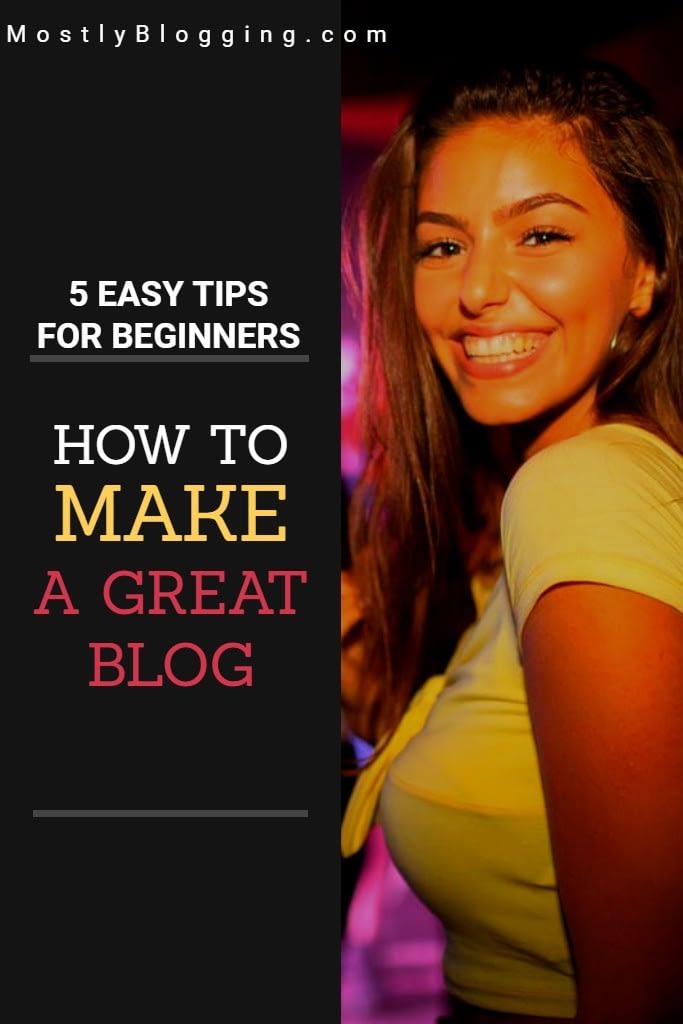 Are you a new blogger looking for your first blog post ideas?
By the time you're done reading this guide, you'll know free methods and tools to help you arrive at your first blog post ideas and whether blogging daily is helpful.
How to arrive at your first blog post ideas:
Use methods such as self-reflection and brainstorming.
Use templates.
Use free websites.
When you're done reading, you'll have an action plan to bookmark.
Five Tips for Creating a Blog
I am a blogger and legal assistant, and I frequently work for busy Philadelphia life insurance attorney Chad Boonswang, Esq. Over the years I've learned a lot about researching ideas and helping to create high-quality posts for Mr. Boonswang's successful blog.
In this article, I'll share with you the five essential tips for creating an effective blog.
Let's dive in and come up with your first blog post ideas.
Determine Why You Are Blogging
The answer to this question will dictate the style and content of your blog posts.
Before coming up with your first blog post ideas, ask yourself:
Why do you want to blog? Why do you think you should blog? These answers will help you arrive at your first blog post ideas.
If you've decided to blog just because all of your competitors are blogging, that is not enough.
For instance, ask yourself if you want to blog to help readers solve a problem. Great. Blog about your motivation for blogging, blog about how to solve the problem, how to avoid the problem, and so forth.
Did you notice by asking ourselves one question, "Why do I want to blog?" we came up with three of our first blog post ideas. This brainstorming method is easy.
Blogging is the tool that will get you in front of potential clients and persuade them to retain you.
Answer this: Why do you have a website? Chances are you will answer, I have a website to attract clients. That's the right answer.
Now, know that a website can be so much more than an online business card. For instance, you can style it and its content to appear on the first page in searches that are relevant to your areas of practice. This is called "keyword ranking."
Okay, so how you do rank? One way is to blog. Blogging provides periodic fresh content to your website, which Google AI likes.
Blogging also allows you to write on topics of interest to potential clients to attract them to you and persuade them to click on your site, contact you, and retain your services.
How do you use your blog to rank, get searchers to click on you in the search results, and persuade them to contact you and retain you? Read on.
Provide Value to Your Readers
Your blog posts must focus on topics that are relevant to people who are looking for the types of services you provide. For example, as of this writing, we are several weeks into a worldwide pandemic.
Mr. Boonswang just posted to his blog an article titled Can a Life Insurance Claim Be Denied Due to Coronavirus because this is a concern of life insurance beneficiaries whose loved ones died due to coronavirus and their claim is delayed or has been denied. People with this problem are looking for the services of a life insurance beneficiary lawyer such as Mr. Boonswang.
Think about what potential clients may be searching for if they have questions related to the types of law you practice. For example, a bankruptcy attorney may post an article to his blog about discharging medical debt from the coronavirus in bankruptcy. A workers' comp attorney might blog about how to get workers' comp for having been exposed to the coronavirus in the workplace and having contracted COVID-19.
Well-written and comprehensive posts will be perceived by Google AI as valuable, and this will help you rank and get you in front of more potential clients.
Related Reading: Marketing Philosophies: The 5 Best Strategies for Now and After 2020
Consider using a template to help you come up with your first blog post ideas:
Review a book, movie, or tool used in your niche.
Recommend a favorite blogger in your niche.
Conduct and publish a before and after case study using a method in your niche.
Write a "How-to" post explaining how to solve a problem in your niche.
Write a tutorial explaining how to use a tool in your niche. Include a video and show people how to use the tool.
The possibilities go on and on. Rinse and repeat. By changing the format, your readers won't get bored with your content, and neither will you.
Implement SEO
"Search Engine Optimization" (SEO) is a technique that will help you rank better.
SEO has a reputation for being complex, but search engine optimization can be easy. For instance, this post on SCO marketing only has three easy steps.
The Google AI knows what viewers are looking for depending upon the search terms they use. You want to include in your post the search terms and long-tail keywords that people who need your services use in their search.
How do you find out what those potential clients are searching for? There are online tools one can purchase to help with that, including one by AHREFS. However, simply using the Google search function can give you a lot of SEO information.
Related Reading: How to Use the MozBar [for Free To Boost Your SEO Now], 3 Ways
Using "People Also Ask" in Google Search Results for SEO
If you type "life insurance claim denied" into Google search, in the results you will see a box titled "People also ask." These questions may be long-tail keywords you want to include in your blog post so that the Google AI directs searchers to your site.
Answer the "People Also Ask" questions that populate at Google when you enter your keyword. Answering them in your post can boost your rankings in the Search Engine Results (SERPs) pages.
Using Auto Suggest to Generate Relevant Keywords for SEO
Often when you start typing into the search field, Google will auto-fill with words or phrases that people commonly type in next. Are any of those auto-completed suggestions relevant to your topic and your area of practice? Include them in your post.
Exploring auto-suggest will also provide you with other relevant topics that people needing your services are searching for. And, it's free.
Post to Your Blog Regularly
In general, stale websites do not rank well in Google search. Adding fresh content regularly keeps your blog, and therefore your website, in front of the Google AI. This helps with ranking.
How often should you post to your blog?
Perhaps once or twice a week, no more.
Blogging daily is a no-no. Dumping a bunch of fresh content on your site is a bad idea because that too has a negative effect on your ranking. Aim to post to your blog once a week, every week.
Write on Current Topics
Just as Google AI likes to see fresh content, it likes to see content about current events. So does a whole new category of potential clients.
By providing comprehensive coverage on current events as they relate to your areas of practice, you are signaling to the Google AI and to the viewer that you are keeping up-to-date on the latest developments in your field.
There are many free websites offering current topics:
Google Trends
Twitter Trends
Exploding Topics
Writing about current topics helps you rank. You are also positioning yourself to capture that new segment of the market that has arisen due to current events, just as Mr. Boonswang did with his coronavirus post.
A blog is the most useful tool you have to get yourself in front of the searchers who might retain you. Use it with this in mind, and you will realize your goal of attracting more clients online.
Related Reading: 13+ Pros and Cons of Blogging
Authors: Janice Wald and Veronica Baxter
About the Author
Veronica Baxter is a blogger and legal assistant living and working in the great city of Philadelphia. She frequently works with Chad Boonswang, Esq., a life insurance lawyer in Philadelphia.
Wrapping Up: First Blog Post Ideas
Takeaways:
This guide taught you methods and tools to help you arrive at your first blog post ideas.
Methods to arrive at your first blog post ideas:
Self-reflection.
Brainstorming.
Answer Frequently Asked Questions for your keyword.
Use Google Auto Suggest.
Free tools to arrive at your first blog post ideas:
A template
Google Trends
Twitter Trends
Exploding Topics
First Blog Post Ideas FAQ
What should my first blog post be about?
You could write a review, a "how-to," a tutorial, or a current event in your niche just to name a few of the many ideas.
How do I promote my first blog post?
Facebook groups are free, available for most niches and demographics, and contain many members.
Readers, please share, so new bloggers discover their first blog post ideas.
I look forward to your ideas in the comments section. Are there additional methods or tools to help new bloggers come up with their first blog post ideas?
This post was made possible by the support of our readers.