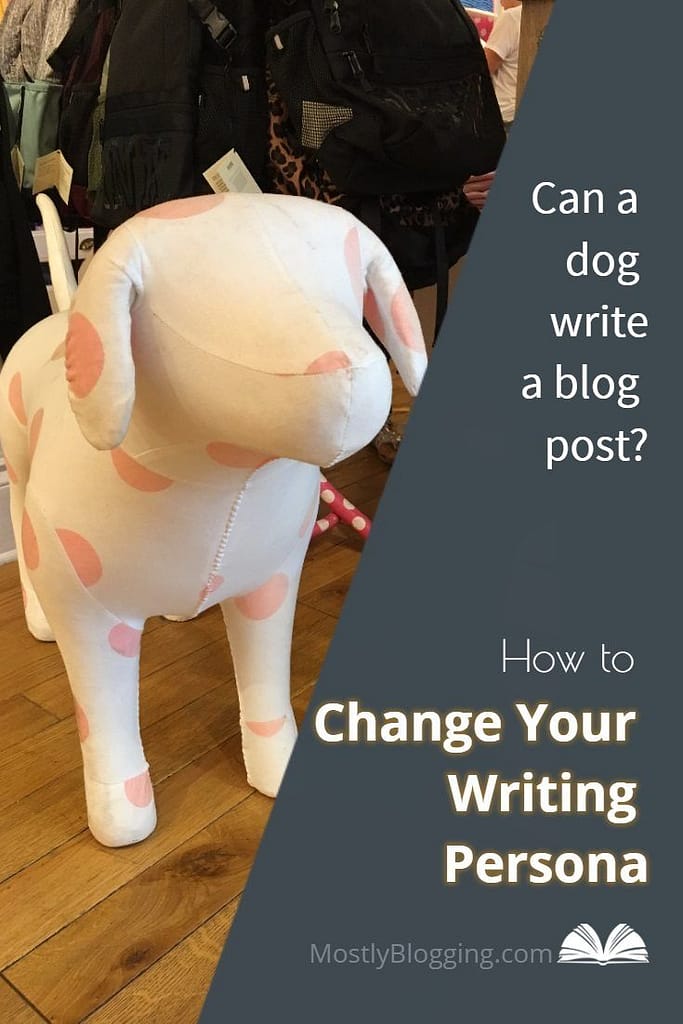 Will you take blogging tips from a dog?
Today's guest author will help you find your voice as a writer: an important skill.
Does it matter that she is a dog named Bree?
Of course not.
On the contrary, being different will help you get readers' attention in this competitive blogosphere.
Repeatedly, blogging coaches echo an important tip: being different results in online attention.
Therefore, today's post is about how to be different.
Blogging coaches use to tell you to be yourself, to use your own voice, to show your own personality when writing.
Jeanine Michaels, the brains (and the voice) behind Bree, breaks that #1 rule.
She succeeds by not being herself, by not writing as herself. Instead, she writes from the persona of a dog named Bree.
Today, Bree will offer you 8 blogging tips.
Will her tips be just as valuable?
Perhaps more so.
In addition to offering helpful blogging tips, Bree is quite a personable writer. Therefore, in addition to offering the same tips you might find on other blogging tips blogs, Bree's post provides entertainment value.
By reading this post, you will learn 8 proven blogging tips. You can also use Bree's post as a model for how you, too, can entertain your readers while you inform them.
Consider these comments:
The blogging space is indeed competitive but I find that to be more of a challenge…
A lot of newbie bloggers wonder how they can be original when everything seems to have been written/recorded by someone else already? We forget that every one of us has our own unique voice. Source – Sheeroh
You might find it unusual that I'm letting a dog guest post for me today.
Like my other guest authors, Bree sent me a pitch to see if I liked the topics she would cover in a guest post. Would you like to read it?
Find your unique bark/voice when writing
Be authentic, honest
Find your humor…
Can someone be authentic and honest while writing from the persona of someone (or something) else?
Today we shall see.
Therefore, without further delay, I give you… Bree
HOW DOES A DOG BECOME A BLOGGER?
It seems to me there are so many helpful blogs out there. From Ms. Janice and all of her helpful tips of the tail for blogging to the best yummy recipes for chicken. You hoomans are very creative!
WHY BLOG?
I wanted to write to enter-train/entertain readers with cute stories about spying on my family. First "tip of the tail" is write what you know. I "nose" my family!
When I first started I wasn't sure what to write about. That may be an issue for someone starting a blog.
Write what inspires you! Write what would you like to read, and make it your own.
Once you have your general topic, people will get to know you and come for your specific subject matter.
If you get stuck
, use a moment from your day,
a story
from your past related to your subject, or your love of something or someone.
Do what you love and love what you do, and you are on the right path.
Write with a passion for your subject, and have an original unique voice on your topic. Woof! How would you say it? That is your "hook."
Be authentic, be your honest self!
SPELLING: ABC 123
Watch your spelling, punctuation, and paragraph breaks so it is easy to read.
You look silly if you don't spell well. I only include my "Bree speak" because/be-paws it fits my unique voice. Get creative and have fun.
Do you have a "hook" or a "button"?
An actor's tip, a button is the close of your audition or presentation. It is your finishing touch that leaves an impression.
Mine is Bree-loha at end of my articles. Choose something reflecting you that you can use regularly.
PASSION:
Mama told me the best advice she got as a young actor because the odds of success in that field are similar to blogging:
Do not do it unless it is the only thing you can, or want to do!
I Bree-lieve/believe that everyone has a unique voice. We all have something to teach or learn, much like my early pup training. They taught me how to behave, and I taught them about love and loyalty.
Think: What do I have to offer from my own special experiences in life?
How can I help others with my blog? It always/paw/lways comes back to you when you give of yourself.
ADDITIONS:
I highly recommend using pictures, or music like I have, video clips or images that will break up your text and make your blog interesting.
Maybe put your best photo at the top of your article to capture your reader's interest. And know who your readers are. You can best create your entry by knowing your target audience.
Example: you have a grr-eat new recipe to post. Maybe don't just use a picture of the yummy finished product, but one of the people eating and enjoying your meal! And, send me your leftovers, if you have any!
Run your blog article by some trusted friends, or a fellow blogger before you post, and be willing to hear their opinions. You will get some valuable feedback, and you can incorporate constructive criticism into your editing.
You want it to be the best it can be/Bree! But don't get overwhelmed because/be-paws everyone has an opinion and they may all be different. Trust YOU!
WRITING:
For me, I write my first draft from the heart and let the ideas and words flow naturally. Then, check with your "proof reader" of choice and see if their suggestions work for you.
Don't be afraid to edit, or even start over if you have to. Those words remain once posted. But always listen to your intuition first and last.
Then, paws/pause a minute to take it all in. Do you like what you wrote?
Can you make it even better?
Then, post! You are a writer and there is no right or wrong, it is you!
Please remember to have fun and not be/bree stressed about it. If you are not having fun, chances are your reader won't either.
MANNERS AND GRATITUDE:
Your attitude will affect readers' mood.
I believe/bree-leave in please and thank you. So be nice always!
Please be kind! Someone may be having a hard day, and your blog post can make it better! Giving is receiving. It is a gift to be able to share your ideas with others, so always/paw-lways thank them for visiting you.
And return the favor by visiting other people's blogs, and comment.
Even if it is a short remark that you appreciate their efforts. I think we have lost the art of being polite and gracious, so if you can, be/Bree!
Unless your thing is ranty stuff with profanity: I know a couple of very successful bloggers whose voice is that way. Their audience knows what to expect, and that's not for everyone.
Mama loves a couple of wildly successful bloggers where that is their "shtick"/thing. It is their unique take on life and funny stuff.
If you don't do this naturally, I'd say write like your grandma is going to read it! Paw haha.
NEW POSTS:
I recommend you have a few posts in advance of your posting schedule.
It is a living, ongoing process that requires a commitment to start and maintain your blog. I write every day.
Just take notes on something interesting, even if it is not directly related to your blog theme.
It can always become something you can use. Write, write, write, right?
I would love to see what you have in your blog, so you are welcome to send mama your links.
WRAPPING UP
In closing, I would like to thank Janice for allowing/paw/llowing me to be her guest. And I truly hope some of my ideas help you on this journey we are on together, of BLOGGING!
She has so much information on blogging to share, I recommend reading all her posts. Mama has learned a lot from her generosity.
Thank you! I wish you good luck, the inspiration for your work, happy writing and as paw-lways, Bree-loha.
Come see me! Comments on my Doggie Bloggie are welcome!
Host Blogger's Commentary:
In this post, Jeanine offers an excellent example of how you can find your voice and write from a different persona.
I once saw a television show about a painfully shy man. He adopted many personas ranging from cowboy to movie star. While pretending, he was outgoing and funny.
You don't need to be an introvert to adopt an alternate persona. Make your blog different, and it will stand out in the crowded internet.
If you make your blog stand out, you'll beat the competition for readers.
Bottom line: You can be a successful writer even if you aren't authentic.
If you are not authentic, you might be more entertaining.
Entertained readers stay longer on your blog, your bounce rate drops, and your SEO improves.
You might feel free of the constraints of trying to be the "real" you.
While trying to find your voice, you might have fun.
Variety engages readers but it could engage you too. Blogging might feel different for you as well as your readers when you alter your writing voices. This, in turn, helps prevent Blogger Burnout.
For all these reasons, use Bree's post as a model for how to find your voice when writing.
Please share so other bloggers can see this model and discover how to find your voice.
Then, go check out
Bree's mom's blog
. I'm sure both Bree and Jeanine would be happy to greet you.
Readers, I'd love to hear what you thought of the post in the comments section. Jeanine Michaels and her alter, Bree, make it seem easy to find your voice when writing.