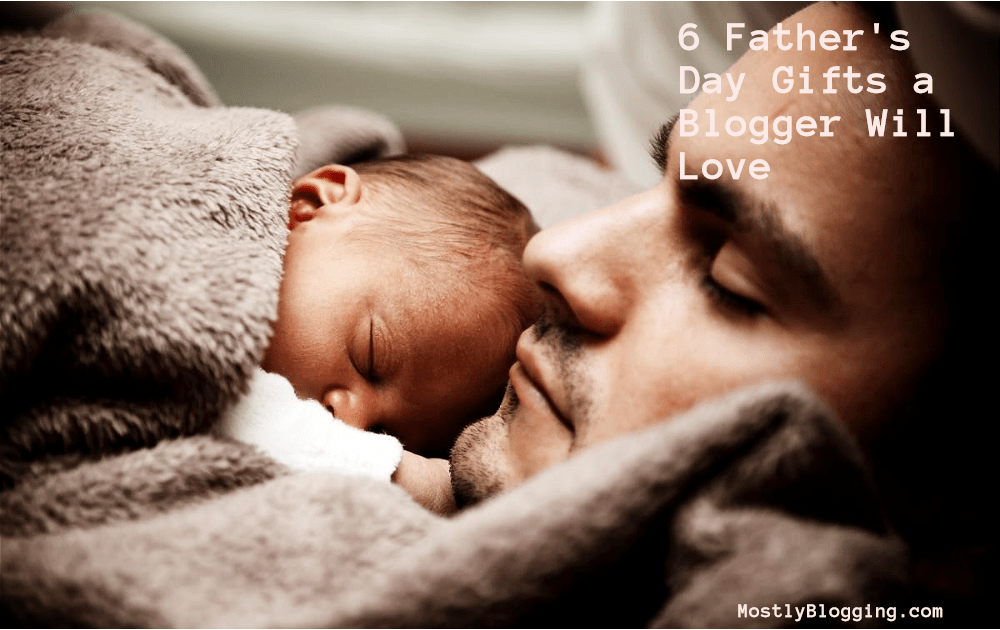 Father's Day.
Is your dad as hard to buy for as mine?
If he's a blogger, never worry about finding a gift he needs again.
This post offers 6 best tech gadgets that make the perfect gifts for bloggers.
by Amreen Makhani
The blogging industry has seen a tremendous change from what was to simply write and post your thoughts online to being able to earn money. These days bloggers invest in their writing and their chosen platform to bring in businesses and clients. Apart from that, bloggers take their niche segment and spin articles, videos, and a lot more about the same on their blogs.
The Vlogging industry has changed too with the introduction of YouTube, everyone can be a star with the number of views and hits a particular video makes on YouTube.
If your passion is all about writing, blogging or even making a video, where the content plays the king, then rest assured as we have you covered on the best tech gadget accessories you must have.
For instance, when you're on your own typing out a blogging assignment you may feel the boredom or that Writer's Block hitting you straight up or your ideas that you planned for the sketch on YouTube just seemed good in your brain but not in reality.
Types of bloggers
There are so many types of bloggers, which one are you?
The Picturesque Location Tagger: The one who loves traveling, and almost all his blogs have a mention of the places he's been to and the local cuisine he's sampled. Apart from the writing parts, there are also many foods and location photos from his Instagram handle.
The Food Thulp: The one who writes in detail about gastronomy of molecular food, well that's just the kind of detailing one does especially when it's all about food. Their phone becomes their best friend and you could equally add a writing pad because they need to be specific when it comes to flavors and tasting sessions.
The Vlogger: If you mistook someone for being really loud, at least on their camera then you've bumped into a vlogger. Life is a video for most of them. Documenting each and every aspect of a place, a culture, or even simple rants account for their time as they spend a lot of time on their laptops editing their footage and uploading it. You'll mostly find them with a selfie stick, a laptop, and charging cables to transfer it all onto their system.
The DIY Blogger: This blogger loves the challenges to take things in their own stride whether it's making a project straight out of YouTube or building from scratch. You've mostly seemed to be a writing ninja because that's what they are when they're at work.
Best tech gadgets that you can count on
If you're a blogger or a vlogger, these gadgets are a complete must-have especially while you work solo; they not only contribute to your work hustle but make the process a lot easier.
Pump up the volume
Any blogger/vlogger must have the power of music. The power of portable speaker will be an important gadget on your list especially while you work solo late into the nights or early in the mornings. Just when you've arrived at a Writer's Block, you can easily run through your playlist and watch that creativity block slowly disappear. If you're traveling most of the time, this small piece can get you entertained when you're watching a movie on your phone or listening to your playlist as a morning routine. You can pick a range of bold/fresh colors and definitely look at multi-connectivity options while you're buying one.
Headphone/Earphones boost
There is nothing like diving into good audio which is crisp, just the way you like it. While you're busy editing your videos or are particularly focused in editing a segment, good audio will help you discover the good, the bad, and the ugly with which you can finetune your video a lot better.
You can look headphones with mic options which may not just help you listen to good audio but also record good audio for your videos/podcasts. Choose a headphone that comes with a mic and extra soft cushioning for that extended period of usage.
Power it up
There is no feeling like the power of a fully charged phone, your confidence brims to take up multiple tasks whether it's getting a photo right or getting that boomerang which may give you more clicks. A power bank is definitely an essential gadget that you must have and if you're a travel blogger/vlogger it's the essential thing to carry around. In terms of power bank, you can think of buying a 20000 mAh power bank that can quickly charge your phone/laptop/tablet a multiple a number of times during the day.
The Mechanical punch
If you're a blogger constantly churning out ideas one after the other on a blank document, it can be a relatively tiring experience. When you're in the field of writing, ideating and bringing words to life, the must-have gadget is a mechanical keyboard. The input of the mechanical keys not only help you type faster but make the entire process error free. An experience that makes you write better with a tactile feedback can only make blogging an even more pleasurable experience for you.
Writing pad
Almost always when ideas come, you need to pull out a notepad and waste a page or two and sometimes when there is a diary, the pen seems to be missing. At such times in a frantic rush to find a pen, the idea vanishes in no time. Well, a bigger solution to that is buying an LED slate which is extremely light and portable and what's more is it comes with a stylus which fits into its design scheme so no more frantic rush to find a pen.
Cooling
If you like your freedom with laptops and working from remote locations then a laptop cooler is also a must-have gadget. While you're rendering your videos, the laptop tends to get overheated and requires additional cooling.
Of course, you don't have to opt for tech or gadgets. You could go for something more personal like personalized embroidered patches with their blog logo on from the woven patch factory. If you are a blogger/vlogger we totally recommend these items on your must-have list. These are excellent gifts for bloggers. If you do have any suggestions, drop them in the comment section below.
Author Bio: Amreen Makhani is a travel blogger from India.
Host Blogger's Comments:
With Father's Day fast approaching, consider buying these gifts for the writer in your life.
While you're at it, pick up two. Since these are the best tech gadgets, you might want one for yourself.
Please share, so people looking for presents learn about these gifts for bloggers.